Bohemia Escura
| Antarctica (Companhia Brasileira De Bebidas)
BA SCORE
77
okay
10
Reviews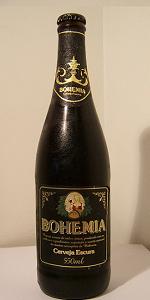 BEER INFO
Brewed by:
Antarctica (Companhia Brasileira De Bebidas)
Brazil
antarctica.com.br
Style:
Schwarzbier
Alcohol by volume (ABV):
5.00%
Availability:
Year-round
Notes / Commercial Description:
No notes at this time.
Added by soper2000 on 06-18-2004
Reviews: 10 | Ratings: 24
2.49
/5
rDev
-16.4%
look: 3.5 | smell: 2 | taste: 2.5 | feel: 3 | overall: 2.5
Dark mahogany color. Pour a little head. Aroma of roasted malt, very mild with a hint of sulfur.
Good carbonation. Very mild taste, a little watery, fortunately not overly sweet, in that matter true to its style (Schwarzbier). Good drinkability but a little tasteless. Hops not easily perceived.
295 characters
3.56
/5
rDev
+19.5%
look: 4.5 | smell: 3.5 | taste: 3.5 | feel: 3.5 | overall: 3.5
(Served in a strange)
A- This beer pours a dense glowing auburn body with a sticky beige thin film and a rapid carbonation of microbubbles forming strands that trail from the base.
S- The soft dark toffee malt note is clean and lagered with a slight sulfury tangy hint in the finish.
T- The crisp clean soft pale malt has a slight tartness in the finish with a roasted malt hint in the finish with no bitterness and just a touch of sulfur.
M- This beer has a creamy full fizz in the finish and no alcohol heat.
O- The crisp clean beer has some nice black malt hints that come through when it warms with no bitterness from malt or hops. Easy to drink just a bit thin.
672 characters
2.71
/5
rDev
-9.1%
look: 3.5 | smell: 2.5 | taste: 2.5 | feel: 3 | overall: 3
Brazilian Schwarzbier, never knew such a thing existed... dark mahoghany brown pour, tan foam forms a feeble broken skim on the surface. Spotty froth on one side. Looks like a black tea in the light. Nondescript wet barley nose, toasted and tea like. Spiral jetty foam pattern.
Sort of papery and oxidized, light toastiness, a little metallic twang. Light and watery feel, almost tangy which doesn't seem quite right. Dull flavor, somewhat drinkable, but not the most well developed that's for sure.
Obrigado Paulo e Duda!
524 characters

2.68
/5
rDev
-10.1%
look: 2.5 | smell: 2 | taste: 3 | feel: 2.5 | overall: 3
Straight pour from twist-off, foil-wrapped 355ml bottle to small tumbler; best by date of February 22, 2012 printed on label (220212)
Appearance (2.5): Dark in the glass, almost black, but a deep mahogany shines through when held up to the light. The head starts at about a finger, diminishes to none rather quickly, but while it's there it's a nice, rich khaki color.
Smell (2.0): Mild in the nose, not a lot going on, but some basic barley / grain with maybe something roasty, very faint.
Taste (3.0): Simple malt profile, light barley with a mild roasted note, some blackened grain action, almost a bit smoky. Very mild. Just a hint of some darker sweetness in the background. Yeast is very neutral, don't taste it, and there's no hop note to speak of.
Mouthfeel (2.5): Smooth, fine bubbles coat the tongue, but they disappear pretty quickly. Body is insubstantial, and there's no hop oiliness or anything like that—just light and smooth. Nothing special.
Overall (3.0): This tastes very, very similar to regular Bohemia, but with a roasty note. I'd actually be willing to bet that it's the same recipe, but lowering the hops and adding maybe a bit of molasses for a hint of dark sweetness, and some roasted component in the malt profile. It's not a joyless beer, but I'm not going to go out of my way for it, either.
1,349 characters
3.06
/5
rDev
+2.7%
look: 3.5 | smell: 2.5 | taste: 3 | feel: 3.5 | overall: 3.5
Got this in a small store outside downtown Larajeiras II, Vitoria, ES, Brasil.
Pours a 1.5 finger fizzy head that fades fairly quickly over very dark caramel colored molasses brown beer.
Nose brings plenty of cheap macro beer, a slight skunked lager aroma and cheap adjunct malt extract, but with that is a bit of a dark roasted malt and dark crystal, and bit of a slight porter like aroma.
Taste brings some light lager crisp flavors, a slight skunked lager but not much, more adjunct macro malt extract cheap flavors, a slight darker malt flavor, but not real dark flavors, bit of a toasty darker malt, and very slight metallic flavor. Finishes pretty dry, no real off flavors on the finish at least, fairly clean, a bit of a fizzy carbonated feel on the finish and bit of bitter adjunct malt extract flavors.
Mouth is medium to lighter bodied with tons of carbonation.
Drink is OK, no real booze, drier finish, some light off flavors but not too much, especially compared to many of the other beers I had in Brazil.
1,023 characters
3.11
/5
rDev
+4.4%
look: 3.5 | smell: 2.5 | taste: 3 | feel: 4 | overall: 3.5
I bought a Bohemia Escura on my last trip to Brazil, but never got around to drinking it. This sample was bought at a gas station on the way to Grêmio game, and yes, I drank it in the car from a plastic cup. On to the beer:
It´s a cola colored beer, maybe a bit darker in color than that. It leaves a good amount of head on top, and a fair amount of lacing in the cup. Its aroma is on the weak side. There´s a very faint coffee note, but it seems more pilsner-esque with the bitter hops up front. It tastes better than it smells though, but not a whole lot better. Pretty clean overall. Very light roasted notes in this scwarzbier. Mild bitter hops create a bitter citrus note. The creamy texture, absent from any fizzy carbonation, makes the mouthfeel the best part of the beer. It´s easy to drink too.
Although Bohemia Escura is missing some key companents, it´s doesn´t leave any nasty off-flavors in the mouth, even as it warms. I´ve already had more than my share of Skol in three days here in Brazil, so I can use this as a `in case of emergency, break open glass´ kind of beer the next time I´m at a store with limited beer options.
1,150 characters
3.22
/5
rDev
+8.1%
look: 3 | smell: 3.5 | taste: 3 | feel: 3 | overall: 3.5
This beer, with her "sisters" Bohemia Weiss and Bohemia Confraria, put this brewery in another level among the macro breweries.
The color is dark brown, like coca-cola, the nose is not too intense but rather complex. The head is a little creamy with a pale tan color.
The malt body has a taste of sweet brown bread with a hint of molasses and sugary sweet toffee. The hops have a light citrusy lime bitterness and not much else. The alcohol content wasn't perceivable to me (5,0% ABV). The aftertaste is well balanced between hop and malt bitterness.
Available in can and 350ml bottle.
586 characters
3.47
/5
rDev
+16.4%
look: 2.5 | smell: 3 | taste: 3.5 | feel: 3 | overall: 4.5
Available only in either 550ml bottles or on tap this bottom fermented schwarzbier is a macro brew from the best Brazilian macro brewery, Bohemia. Higher quality ingredients are used, but Carmel Coloring III- INS 150c is used to help obtain its deep rich color. The bottle has a validity date on the back label along with other info about the beer and brewery.
The nose is not too intense but rather complex, diverse and well rounded and balanced with a slight citrus hoppiness but over all has more of a toasted whole grain bread character. The latter is obtained through a mix of mild roasted and smokiness to the malt with a little hint of sweet carmely malt smell, which becomes more pronounced as the beer warms. The head is frothy and a little creamy with a pale tan color and produces better retention than most Brazilian beers. Lingering for quite some time and never entirely dissipating it also produced better lacing than can be expected from most of its Brazilian brothers. It is rather carbonated but not to the point that it is like drinking a soda as some Brazilian beers can be. The beer itself is dark brown almost black in color but is maroon when held to strong light, which shows its crisp clear body.
The taste is as complex and diverse as the nose following it mainly but with some surprises. The first taste I encountered was a metallic tinge to the powdery dry felling head, which at first displeased me, but as it quickly faded to a faint citrus hop. I think this metallic taste comes from the yeast but I am not sure. It is only present in the head and initial taste of the beer leading me to believe it is a combination of the yeast and hops. The beers maltiness quickly over powers, dominating the palate, but even this is diverse. The malt character starts out sweet then melds to a roasted bitter slightly smoky taste. In all this raw malty or more of a raw wheat flavor is perceivable and is both pleasant and expected as the beer does employ un-malted grains in its grist/grain bill. Alcoholic notes are almost entirely undetectable only coming through when the beer has warmed considerably. The aftertaste is well balanced between hop and malt bitterness leaving me wanting another sip. The mouthfeel is thin and light which is true to style and finishes dry and powdery. On the whole true to style, but more malty than other schwarzbiers I have had. I think this is due primarily to Brazilians aversion to hoppy bitterness.
For me this has one of the highest drinkabilities of any Brazilian macro beer it is balanced and delicious. I think it is great no matter what the temperature, the occasion or regardless of what I am eating. It is the easiest dark beer to find in stores and is on tap in most bars and restaurants throughout Brazil. In addition it is priced at around R$3.50-4.00 a 550ml bottle which is very cheap for the quality beer that it is. It is also, in my opinion, better than the macro pilsens and other common Brazilian beers. All these reasons add up to make it my favorite Brazilian session beer.
3,062 characters
2.68
/5
rDev
-10.1%
look: 3 | smell: 2.5 | taste: 2.5 | feel: 3 | overall: 3
Served in a dark brown bottle. Freshness date 12/6/04.
It pours a dark Coca cola color with a fading mocha head.
An aroma of cut hay and mowed lawn is lasting. An odd smell of a box of Wheaties comes to mind.
The malt body has a taste of sweet brown bread with a hint of molasses and sugary sweet toffee.
The hops have a light citrusy lime bitterness and not much else.
Not a bad Schwarzbier...and not too good either
422 characters
3.13
/5
rDev
+5%
look: 3.5 | smell: 3 | taste: 3 | feel: 3 | overall: 3.5
Bohemia is AmBev's premiere brand and the environment here always makes me enjoy their beers. This is a dark lager style beer for those awfully cold Brazilian winter months (it's about 75 degrees where i'm staying but people are freezing). The alcohol content wasn't perceivable to me though. The pour was a nice deep brown color with a very small foam head. Aroma was very faint but sweet. This beer has a strong malt taste but without much hop backing. I don't believe Brazilians really care for hop bitterness. Body was decent but nothing special. This beer struck me as decent but nothing I care to bring back.
614 characters
Bohemia Escura from Antarctica (Companhia Brasileira De Bebidas)
2.98
out of
5
based on
24
ratings.