Tidings
| Port City Brewing
BA SCORE
83
good
39
Reviews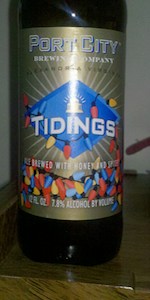 BEER INFO
Brewed by:
Port City Brewing
Virginia
,
United States
|
website
Style:
Belgian Strong Pale Ale
Alcohol by volume (ABV):
7.80%
Availability:
Winter
Notes / Commercial Description:
No notes at this time.
Added by WMEugene on 11-19-2011
Reviews: 39 | Ratings: 120

3
/5
rDev
-17.6%
look: 3 | smell: 3 | taste: 3 | feel: 3 | overall: 3
Bottle gifted by Thorpe429. Merry Christmas buddy!
The beer is golden yellow with just a slight haziness. The head is quite thin at the onset, fading to nothing within a minute or so.
The aroma brings an abundant serving of honey, followed by Christmas spices, a touch of coriander, lemons, sweet malt, hard candies.
The flavor Is sweet, with spices and a lasting honey flavor. I can already tell that one pint will be more than sufficient. Lingering notes of honey cough drops. Lacking a sufficient malt bill to support the honey and spice components, which should be subtle compliments to a tasty base beer, rather than overrun the beer in a cloying fashion.
The feel is thin with low carbonation. Too sweet and somewhat out of balance.
Overall, fun to try but not something I could recommend.
★
802 characters
3.75
/5
rDev
+3%
look: 3.5 | smell: 3.5 | taste: 4 | feel: 4 | overall: 3.5
A: a highly hazed straw yellow. head starts big and recedes to a rim and a thin top. was expecting some more bustle from a belgian base.
S: menthol-like. Listerine? spruce tips. this is a deep mintyness, unlike any brew i have smelled before. not gonna lie, i dont love it. a little too one-note/overpowering.
T: similar to the nose, there is an almost medicinal minty-ness. a full-bodied pale malt is backing up the mint/spice. fruit in there too. a fig or white grape. a spicey clove/all-spice lingers into the finish with the mint.
M: pretty moderate mouthfeel. medium/full-bodied.
D: not my favorite from port city. good flavor, just wish the menthol was a bit toned down on the nose. otherwise solid and worth grabbing a bottle of if you are in the market.
★
768 characters

3.5
/5
rDev
-3.8%
look: 3.5 | smell: 3.5 | taste: 3.5 | feel: 3.5 | overall: 3.5
On draft at Churchkey DC, I've had every beer from this brewery, not my favorite from them, check out the Oktoberfest next year, hopefully it will just as good.
Beer is sort of gold with a thin tan head of small bubbles, no lacing, low carbonation, looks fine.
Aroma is a little spice, nothing too much, mild overall.
Beer is light in body, mild spice, nice finish. A decent ale overall, I might have it again if it were at a party.
★
436 characters
3.35
/5
rDev
-8%
look: 3 | smell: 3 | taste: 3.5 | feel: 3.5 | overall: 3.5
Pours a murky yellow color with a thin off white head. Minimal lacing on the side on my snifter glass. The nose is very medicinal, with lemon, pepper, and other spices coming through. The medicine quality really detracts from this category however. The taste is better than the nose. The medicine taste is minimal, and the lemon, spices, and malt really shine through. Feel is medium, with little carbonation, and a slightly syrupy vibe to it. Overall, this is a decent brew- but I probably won't look for it again.
★
515 characters
3.35
/5
rDev
-8%
look: 2.5 | smell: 2.5 | taste: 4 | feel: 3 | overall: 3.5
Thin white trace of head, hazy blond body.
Nose is mostly sour malted wheat.
Decent taste; quite wheaty down to the finish which explodes in spices. Wheatiness, then honey, then whatever fun spices are thrown in there. I guess I believe the claimed cardamom. The spice is a bit overbearing though, and it comes through as an almost metallic warmth, but not from booze, if that makes sense.
Feel is pretty average, maybe its the carbonation I'm tasting...
This is decent. Possibly overpriced, but a decent winter seasonal. I don't think I'd categorize it as a Belgian Strong Pale though.
★
590 characters
3.8
/5
rDev
+4.4%
look: 3.5 | smell: 3.5 | taste: 4 | feel: 4.5 | overall: 3.5
Pale gold color, a bit hazy. Pours a nice white head, smallish but with good retention.
Strong spicy aroma with some mint and cinnamon that has me afraid to taste it. A bit overpowering.
Slightly sweet initial flavor with the Belgian spices noted in the aroma. The use of honey is evident in the flavor as well. Never bitter, but does dry a bit in the finish. Some complex flavors, and definitely doesn't taste like an everyday beer.
MF - Medium body and carbonation. Has a distinct but gentle alcohol warming.
I'm not a huge fan of spiced ales, so I found the spices a bit too much for my taste. However, a nicely made stronger seasonal offering from Port City, and worth a try.
★
685 characters

3.43
/5
rDev
-5.8%
look: 3.5 | smell: 3 | taste: 3.5 | feel: 4 | overall: 3.5
12oz bottle into my Ithaca glass. It poured a slightly hazy, golden yellow color with a thin white head scattered across the top of the beer.
The aroma is strong with the spice and honey additions. I get an overwhelming ginger and coriander presence with a lighter honey sweetness. It's zesty and citrusy, but also feels a little medicinal at times. The additions were a little too domination for me.
The taste has more of the zesty, citrusy spices coming through in the front end. Towards the finish I get more of a malty, honey presence mixing with some balancing bitterness and belgian yeast spice. The spice additions are still a little dominating, but it the taste has more balance and range then the nose did.
The mouthfeel is a little heavier than average with carbonation being moderate. Overall, I thought it was a decent beer but not one of the better beers of the season. The spices and additions seemed a little too over the top for me at times, and a little medicinal.
★
986 characters
3.97
/5
rDev
+9.1%
look: 3.5 | smell: 4 | taste: 4 | feel: 4 | overall: 4
Picked up fresh from the brewery, but it slept in my fridge for a little while before I opened one up.
A- Foggy golden color, with a fluffy, two-finger cumulus cloud for a head. The head disappeared after a short time and left no lacing.
S- Mulling spices, ginger, honey and a little whiff of yeast. Very pleasant, like fresh gingerbread men right out of the oven
T- Ginger! Very strong notes of ginger, some hoppy bitterness but all of this serves as a foundation for delicate flowery notes that play with spices and honey.
M- Fizzy, but not aggressive.
Overall, a well balanced and tasty seasonal beer that --unlike other seasonal beers that rely on a gimmick-- stands well on its own or paired with something else.
★
725 characters

4
/5
rDev
+9.9%
look: 4 | smell: 4 | taste: 4 | feel: 4 | overall: 4
I live right up the road from the brewery and never even knew they produced this beer until I saw it on the shelf in the store.
A: Strange color indeed: Light peach/orange/honeysuckle mesh, extremely murky, and with a very slight, if even relevant head.
S: More than a hint of ginger. Dang! Additionally, some clove and definitely cinnamon which was pretty potent.
T: Okay, I tried this one the other day as a sample in my local Whole Foods and didn't really care for it. However, after a couple of sips, this one is starting to grow on me. The honey/wheat combo is a fun duet, with coriander, ginger, and cinnamon thrown in to boot.
M: Not only is there a tinge of sugar linger, there is also a spice one as well. The carbonation was mild, yet effective and the lacing was non-existent.
O: I was going to write about how this one is only best in small doses, but that would totally negate my comment to the contrary in the taste section. My suggestion: Drink lots, and lots, and lots, and lots, and lots, and lots, and lots, and lots of this one, and then send me a BM with your verdict.
★
1,093 characters
3.57
/5
rDev
-1.9%
look: 3.5 | smell: 4 | taste: 3.5 | feel: 3 | overall: 3.5
Pours fizzy and straw yellow; a bit hazy. The head dissipates quickly leaving no lacing. Intense yeast and spice aromas; tart and estery with a grainy malt backing and a touch of caramel. The flavor is simultaneously sweet and spicy. Medium to full malt body with cherry and raisin fruit notes. Borders on cloying at times. Sharp, spicy yeast character, with lemon and coriander notes. Not a bad warmer for the holidays but the malt sweetness is a little out-of-whack with the slightly more subdued yeast and spice notes.
★
521 characters

3.67
/5
rDev
+0.8%
look: 3.5 | smell: 4 | taste: 3.5 | feel: 4 | overall: 3.5
12 ounce bottle courtesy of Mike, fresh from the brewery. Poured into a tulip glass.
A: Cloudy golden orange body with an initially fluffy, creamy white head. The dissipation was fairly standard, and it did leave some minor lacing and a thin foamy ring. Not at all what you'd expect for a typical "winter" beer, but Port City seems to be taking a different approach in style.
S: Lemon, wheat, coriander, clove, orange oils, white pepper and a bit of sweet honey/mead in the back end. It's a very light, airy smelling beer which I really do like about it. Well spiced and tons of aromas are going on, nicely done.
T: Zippy lemon and orange citrus notes up front, backed with a seriously nice wheat and pale malt backbone. The coriander and clove come in mid-palate and give this a very bright spicy character. The back end has some sweet honey notes and a touch of a peppery flavor.
M: Well carbonated, lots of tiny bubbles around the mouth giving the illusion of a very silky, smooth feel. Quite impressed, no off lingers or flavors - a sharp cut. For being 7.80% ABV this is dangerously well hidden.
Port City took a chance at doing something other than your traditional Belgian Strong Dark, Strong Ale or Winter Warmer style for the winter. A Belgian Strong Pale Ale? You just don't see that as a winter seasonal, but this works really well. It has a lot of Witbier spices with some warming winter-like spices that really make this beer shine. A fine attempt at their first one.
★
1,485 characters

3.68
/5
rDev
+1.1%
look: 4 | smell: 3.5 | taste: 3.5 | feel: 4 | overall: 4
Picked up a 6 pack of this today at the brewery, $10.99/6er. Poured from a 12 oz. bottle into a pilsner glass.
a - Pours a murky pale golden-yellow color with one finger of fluffy white head and moderate carbonation evident. Light lacing left on the glass and about two to three minutes of head retention.
s - Smells of wheat, coriander, lemon, pepper and spices, cloves, and light honey. Not as citrusy/lemony as their Optimal Wit, but the coriander and spices come out a lot more. Pretty nice.
t - Tastes of coriander, spices, pepper, cloves, wheat, bready malts, light citrus and floral notes, and light honey. Again, heavy on the spices, and pretty nice.
m - Light to medium body and moderate to high carbonation. A touch too carbonated, but still nice and pretty easy to drink.
o - Overall a pretty good beer. Tried after an Optimal Wit and while I think I like that one a little more, this is still pretty nice. This obviously had a ton more spices, while the Optimal Wit is more citrusy and lemony. Tons of coriander here and overall pretty easy to drink. Worth checking out.
★
1,087 characters

3.53
/5
rDev
-3%
look: 4 | smell: 3.5 | taste: 3.5 | feel: 3.5 | overall: 3.5
Thanks to Amyliz4 for grabbing a sixer of this at Rick's in Alexandria last night. Served in a mug.
Pours a hazy golden-yellow color with a good white head and a good bit of lacing on the sides of the mug. Good retention as well and a thin cap throughout. The nose brings forward plenty of spice along with a bit of malt sweetness and honey. Light pepper, clove, and coriander. Flavor is a good mixture of malt sweetness and spice. Nice yeast presence. Medium body and slightly chewy. Good carbonation for the style. Quite nice for a Christmas ale.
★
549 characters
4.35
/5
rDev
+19.5%
look: 4 | smell: 4 | taste: 4.5 | feel: 4.5 | overall: 4.5
From a growler purchased today - the 1st day of its availability at the Port City Brewery.
A - Pours a hazy golden color with a thick head that dissolves to a thin ring with noticeable lacing.
S - Smell of yeast, spice, and fruits. Touches of wheat in the nose as well.
T - It has that traditional Belgian style flavor. A nice blend of spices (I picked up the cardamon and coriander flavors) and sweetness. Fresh and a little on the complex side, which is nice.
M - Thin to medium bodied, nice carbonation level. Smooth finish and a slightly spicy aftertaste.
O - Tidings is the second straight great seasonal from Port City. It's a very fresh and tasty take on the style. Available in bottles and draft, I look forward to having this several more times this season...well done!
★
783 characters
Tidings from Port City Brewing
83
out of
100
based on
39
ratings.