Kaiser Pilsen
| Cervejaria Kaiser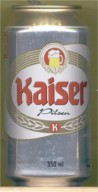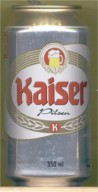 BEER INFO
Brewed by:
Cervejaria Kaiser
Brazil
kaiser.com.br
Style:
German Pilsener
Alcohol by volume (ABV):
5.00%
Availability:
Year-round
Notes / Commercial Description:
No notes at this time.
Added by BeerAdvocate on 06-23-2004
HISTOGRAM
Ratings: 9 | Reviews: 7
2.76
/5
rDev
+26.6%
look: 3 | smell: 2 | taste: 3 | feel: 3 | overall: 3
Kaiser Pilsen tastes just like Bavaria to me and it is like any other big macro Pilsner. Pours golden clear with good carbontaion that provides an intial froathy white head that dissapates quickly. The smell and taste are bolstered by grain with some hop in an effort to balance the beer. This is a standard no-frills beer. Drink it cuz its beer.
346 characters
3.2
/5
rDev
+46.8%
look: 2.5 | smell: 2.5 | taste: 3 | feel: 4.5 | overall: 4
My co-worker, stationed in Sao Paulo, brought me 5 samples of Brazilian beer (all pilsners) – so these are fresh (and cheap, only .50 each from a market).
Best by 6/21/06 printed on the bottom – good. Pour – hmm. Candy yellow with a fast disappearing white head – disappointing. Aroma of veggies. Taste of lite malts and underlying grains, including corn. Finishes with a nice hop bite.
Crisp and biting in the mouth. But overall not too bad – and with 4.5% abv, this could be a decent session candidate. Just because it's a pilsner, you should not overlook this one – or look down your nose at it.
611 characters
2.48
/5
rDev
+13.8%
look: 3 | smell: 2.5 | taste: 2.5 | feel: 3 | overall: 2
I hope that this is the correct beer, but I had a Kaiser Pilsner at Sweetwater in Williamsburg. I didn't hate it as much as most of the other rates here, but it wasn't much of a pilsner, either. It was gold and lemony and had a sour aftertaste. It would've been more acceptable had it eased up on the lemon tartness.
316 characters
1.6
/5
rDev
-26.6%
look: 1.5 | smell: 1.5 | taste: 1.5 | feel: 1.5 | overall: 2
hmm.. Not my favorite. Pours with a very thin yellow color with virtually no head. Didn't really pick up a smell, but I guess at least it didn't smell awful. Taste is very subtle all i picked up was hints of corn or something of the like. Just a tad more body than Kaiser summer. Not a great beer in my opinion, but it seems to be the only beer at most of the soccer matches i go too. Vending contracts i guess.
411 characters


1.29
/5
rDev
-40.8%
look: 2.5 | smell: 1 | taste: 1 | feel: 1 | overall: 2
This is another industrial beer that gives a shame to beer nature.
As Quilmes rystal in Agentina this beverage must be forbidden,they are not beer at all.
Sincerely i don´t want to rate it in any description, it is something you just don´t need to drink.
257 characters
1.63
/5
rDev
-25.2%
look: 2 | smell: 1.5 | taste: 1.5 | feel: 1.5 | overall: 2
Kaiser Pilsen is a industrial pale lager, as many competitors in Brazil. Appearance, taste, smell are intended to be neutral, as a "refreshing beer".
But you will find a remarquable aroma of "apples", due to a higher than usual level of ethyl hexanoate. So it is not so neutral in taste, although I don´t really apreciate that caracter.
As expected, the bitterness doesn´t match with the "Pilsen" style.
408 characters
1.63
/5
rDev
-25.2%
look: 2 | smell: 1.5 | taste: 2 | feel: 1.5 | overall: 1
Ok, I don't like to slam things, but sometimes it's unavoidable.
This beer has no taste, but it's so "heavy". I get a stomachache every time I drink it (so I don't drink it anymore). It's a little less bland than it's "sister" Kaiser Summer, but still not good. Funky smell (even coming from a can). Drinkable only if very, very cold. Can't explain why, but it's the favorite beer of one of my uncles. Go figure...
416 characters
Kaiser Pilsen from Cervejaria Kaiser
Beer rating:
2.18
out of
5
with
9
ratings