Bavaria Premium
| Cervejaria Kaiser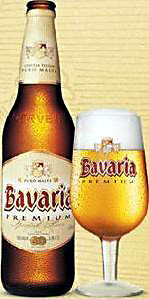 BEER INFO
Brewed by:
Cervejaria Kaiser
Brazil
kaiser.com.br
Style:
American Pale Lager
Alcohol by volume (ABV):
4.80%
Availability:
Year-round
Notes / Commercial Description:
No notes at this time.
Added by cypressbob on 08-28-2004
Reviews: 9 | Ratings: 18
2.2
/5
rDev
-10.6%
look: 2 | smell: 2 | taste: 2.5 | feel: 2 | overall: 2
Made a two finger head that dissipated quickly. Pale yellow color.
Aroma hints of booze and cereals, it does not feel to be a pure barley malt as the label says.
Good carbonation and a thin watery body.
Flavor a little better than aroma, a mild bitterness with grassy hops and light malt sweetness, with a booze finish. Less metallic than others Brazilian adjunct lagers but still so.
385 characters
2.76
/5
rDev
+12.2%
look: 3 | smell: 2 | taste: 3 | feel: 3 | overall: 3
Brahma Premium is like any other big macro beer/american adjuct lager. Not sure what makes this more better than the standard Bavaria. Pours golden clear with good carbontaion that provides an intial froathy white head that dissapates quickly. The smell and taste are bolstered by grain with some hop in an effort to balance the beer. This is a standard no-frills beer. Drink it cuz its beer.
392 characters
1.93
/5
rDev
-21.5%
look: 3 | smell: 2.5 | taste: 1.5 | feel: 1.5 | overall: 2
A- Nice white persistant head leaving a fair lace on the glass.
S- Smoky with distinct alcohol notes. A little fruity and malty.
T- A little rotten and too bitter. Very hoppy. The malt is overpowering and it tastes bad.
M- Flat and thin.
D- Stay away, stay far far away.
276 characters
2.05
/5
rDev
-16.7%
look: 3 | smell: 3 | taste: 1.5 | feel: 2.5 | overall: 1.5
semi light gold semi lacy with a decent head
smokey apple smelling
taste piss and hops burnt in a bad way ashes and cigarettes
watery
this is garbage i poured it down the drain
brazil dosnet have good pale lagers, i havent found one and i had a bunch
256 characters
3.02
/5
rDev
+22.8%
look: 4 | smell: 2 | taste: 3.5 | feel: 3 | overall: 3
Pale yellow in with active bubbles and a head that hangs around.
Smells unremarkable other than it has a hint of stalebread.
The taste is fruity swet and finishes bitter.Its pleasant in he mouth with the right amount of carbonation.
Its a good thirst quencher and built for hot days
Pefect for watching beach volleyball.
Label 5/10
337 characters
2.29
/5
rDev
-6.9%
look: 2.5 | smell: 3.5 | taste: 2 | feel: 1 | overall: 2
Reviewed without prejudice, clear 330mL bottle, paper around the neck.
Appearance: Looks all right, the ideal orange/amber colour for the style. Head retention a little less than other similar adjunct lagers. Lacing good, as expected (appearance being important in this style - more important than the other characteristics).
Smell: Quite impressive at first. Smells grassy and potentially refreshing. Not too adjuncty, although a little watery.
Taste: Uh-oh. I thought this was going to be good! Clear glass bottle has eliminated any vestige of hop flavour. Chemicals very evident. Not much else to comment on.
Mouthfeel: Totally lousy. Stomach-feel is not good either. Feels like you shouldn't drink it - remember, all comments are said without prejudice. But this mouthfeel is remarkably bad. 'So you mean that when I grow up I'm gonna be a failure?" "That's right son. A SPECTACULAR failure!"
Drinkability: Wouldn't be so bad in a smoky club straight from the bottle. Clearly trying to crack into the Corona market, at least in Australia - not succeeding too well, in my experience at least. I'd drink this over most Aussie adjuncts, especially if they were cheap or someone were buying them for me. Otherwise, forget it.
Brazilian ripoff trying to convey the mythical party image of Latin America. Nothing especially partyesque about the bottle, label or anything else. A beer for the poser who is sick of carrying Corona around, and wants to pose with a brand new prop. Boo-urns!
1,504 characters

2.06
/5
rDev
-16.3%
look: 2.5 | smell: 1.5 | taste: 2 | feel: 1.5 | overall: 3
Pours a very very light golden color with a white creamy head, almost marshmallow looking.. That fell away pretty quickly though, leaving a very thin layer and some lacing. The smell is mostly skunk with a tiny bit of hops. Flavor isn't too great, pretty dry with a really dry, sour finish. Mouthfeel is pretty thin and pretty weak carbonation, all in all, I can't think of anything that's terribly bad about it, but I wouldn't bother to get it again.
451 characters

3.3
/5
rDev
+34.1%
look: 2.5 | smell: 2.5 | taste: 3.5 | feel: 3.5 | overall: 4
A pretty generic looking beer. Smells identical to Corona, except there is a hint of skunk to it, like this batch was bad. The taste is also generic except for the finish... it has a delightfully sweet finish like yellow candy that makes it easy to drink a couple of them. If this wasn't imported, I would drink it often!
321 characters
2.3
/5
rDev
-6.5%
look: 2.5 | smell: 2.5 | taste: 2 | feel: 2.5 | overall: 2.5
330ml bottle
Pours with a light yellow body, slight head but very light with little retention
Smell, limited, slight grassy malty aroma, mabye a slight sweetness
Taste, the usual adjunct lager, very like corona but with a slight heavier body, slight bitterness
A dull mass produced adjunct lager, dull, dull
319 characters
Bavaria Premium from Cervejaria Kaiser
2.46
out of
5
based on
18
ratings.