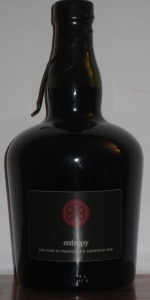 BEER INFO
Brewed by:
Mystic Brewery
Massachusetts
,
United States
mystic-brewery.com
Style:
American Barleywine
Alcohol by volume (ABV):
14.20%
Availability:
Rotating
Notes / Commercial Description:
No notes at this time.
Added by johnnnniee on 12-04-2011
Reviews: 15 | Ratings: 89
3.34
/5
rDev
-17.3%
look: 3.25 | smell: 3.5 | taste: 3.25 | feel: 3.5 | overall: 3.25
Served in a brandy glass, perhaps 5 ounces. No head, no lace. Brown and cloudy where light can pass through the center.
Lots of smooth semi sweet chocolate with a raspberry and brandy nose.
Nearly flat but not very full in the body. Chocolate start and then the alcohol kicks in. Not much of an aftertaste--some sweetness and strong alcohol. Rather simple flavor for the style.
★
381 characters
3.5
/5
rDev
-13.4%
look: 3.5 | smell: 3.5 | taste: 3.5 | feel: 3.5 | overall: 3.5
Small little 2 oz pour provided by Bob at his tasting.
Pours out a still dark brown, with no head, or lacing. A guess I should've expected that.
Smells like a rush of booze. Some burnt brown sugar and dark fruit.
Tastes more like a liquor than a beer for sure, much like Utopias. However, at 29%, Utopias hides its alcohol a bit better than this 14% quad/barleywine/strong ale/monstrosity. Huge alcohol burn, followed by vanilla, dark fruits, and burnt sugars. Very Cognac like.
Medium bodied, feels silky and delicate on the tongue. Alcohol content is very noticeable.
An interesting beer, but not one I'd want much of again due to how hot it is.
★
652 characters

3.75
/5
rDev
-7.2%
look: 4 | smell: 4 | taste: 3.5 | feel: 4 | overall: 3.75
2013 bottle. Waxed and corked.
A: Pours a murky, cloudy dark brown. No head of course, this beer is still. I won't mark it down too much on appearance, it's an atypical and intended style.
S: Boozy dark fruits. Like rum-soaked raisins, fig and prunes. Loaded with very sweet caramel and some molasses too.
T: Again, huge boozy dark fruits as mentioned in the aroma. Very oaky throughout. Big alcohol with a nice sting in the finish. Sweet but not as sweet as I was expecting. Lots of lingering dried fruits and earthiness in the aftertaste. I'm not sure if this was aged in fresh barrels or what, but it does have a slight white wine flavor too. Not strong, like their wine barrel saisons, but its there.
M: Thick and heavy, but not ridiculously so. Flat, of course.
O: Well, one of the more unique beers I've ever had. Ignore the fact that it says barleywine, it barely resembles any normal beer. I'm not sure what I'd even use for classification, probably just the generic "american strong ale". It's a big, boozy and fruity ale with barleywine, wine and belgian yeast characteristics. A belgianwine? It's not bad, curious to age one for a while and see how it turns out. Surprisingly drinkable given 14.2% ABV and completely flat.
★
1,240 characters
3.83
/5
rDev
-5.2%
look: 4.25 | smell: 3.75 | taste: 3.75 | feel: 4.25 | overall: 3.75
Shared with my friend and poured into a tulip. Opened this only because of mystics recall sure to bottle explosions.
A - Poured a slightly hazy garnet with a half finger light tan hue that never really fades to leave s thin blanket. No real lacing though.
S- Aromas of caramel, rum raisins, toffee, light alcohol, light malt sweetness.
T - Taste is full of activity from yeast which is a bad thing. Zombie year herewith more dark fruits, caramel, sticky sweetness, fair amount of alcohol, fair amount of raisin sweetness here. Not much barrel notes though and unfortunately lots of yeast notes that shouldn't be there.
M - Mouthfeel is nicely carbonated for a barleywine, even though it shouldn't be.
O - Overall this was unfortunate as I really wanted to age this for years but due to bottle fermentation issues I had to drink this now. Sigh
★
848 characters
3.85
/5
rDev
-4.7%
look: 4.5 | smell: 4.5 | taste: 3.5 | feel: 3.5 | overall: 3.75
Unique: "Non-carbonated 'still' ale"
Fantastic presentation in a uniquely stout bottle that's fit for a cordial, corked, and preserved with a wax seal.
Pours real dark without any head -- almost like a syrupy coke out of a flat fountain.
Smells brilliantly boozy, enveloped in dark cherry, prune, slight caramelized brown sugar, and a hint medicinal.
Tastes like the intersection of a whisky, a big red wine, and a reprised Belgian strong ale. Sweet, boozy finish reminiscent of a bourbon.
Feels a bit viscous. Very smooth without a bite.
While not that drinkable, it's a fascinating product that pushes the envelope of what beer is -- and of what can be done with beer's limited ingredients. Experiments like this are the hallmark of American brewing, so muxh respect for the innovation.
★
799 characters
4.06
/5
rDev
+0.5%
look: 3.5 | smell: 3.75 | taste: 4.25 | feel: 4.5 | overall: 4
Looks flat, smells oxidized...but tastes delicious. Fantastic representation of the barrel and the brew; only slightly sweet. 14% disappears down the throat.
★
157 characters

4.09
/5
rDev
+1.2%
look: 4 | smell: 4.25 | taste: 4 | feel: 4.25 | overall: 4
I was at the Mystic Brewery today and had the pleasure of getting a tour of the place by its founder. He had just returned from the Craft Beer expo down in DC and was a bit tired. He did however make it a big point that all of us on the tour try the new Entropy batch that had just been released.
This was batch #17 of Entropy and let me tell you it was DELICIOUS!
Appearance: Dark brown, no head, little to no carbonation.
Smell: This beer smells like you're about to take a sip of a fine cognac not of a beer and that is not a bad thing as long as your know what you're getting yourself into.
Taste: This beer tastes almost like sipping on a fine cognac like previously stated you get the dark fruit notes in your sip and it finishes with a bit of an aftertaste comparable to hard alcohol. I would put it closer to a Sam Adams Utopia finish than a standard Belgian quad finish, but good nonetheless.
Mouth: Without carbonation some may not like it very much and I was told that the longer you let it aged the heavier it will feel in your mouth. I thought it was about medium bodied and delicious.
Overall: A great specialty beer that is currently only available at the tasting room of Mystic. I was talking to the guy running the tasting room and they have plans to bottle it (750ml w/cork & cage) and sell it around $20 a bottle so getting a free taste before you buy is recommended as this beer in my opinion is only for beer connoisseurs or extremists.
★
1,466 characters
4.14
/5
rDev
+2.5%
look: 3.75 | smell: 4 | taste: 4.25 | feel: 4 | overall: 4.25
Pours a dark brown black with the wispiest trace of head. Aroma of earthy stone fruit and raisin the faintest boozy trace. Woody flavor, raisin. Yum. Really fulfilling... poor man's utopia.
★
190 characters

4.15
/5
rDev
+2.7%
look: 4 | smell: 4 | taste: 4.5 | feel: 3.5 | overall: 4
I got the opportunity to try this at the brewery today at the founders party. Pours a solid dark brown with barely any head that never really disappears. Smells like an aged German dopplebock at first. Lots of dark and burnt sugars, melanoid, dark dried fruits like prunes and raisins with a touch of alcohol. Taste is sweet with lots of burnt sugars, caramel and dark dried fruits. A bit of warming alcohol reminds you this is a serious beer, but never gets harsh. Medium to thick body, light level of carbonation with a sweet sticky mouthfeel. Wow this stuff is great. 18 % and it drinks like its 8. I can't wait to get a few bottles of this when it gets released.
★
666 characters

4.18
/5
rDev
+3.5%
look: 3.5 | smell: 4.25 | taste: 4.25 | feel: 4 | overall: 4.25
Tried this at a weekly tasting local to me.
This is a "still beer", no carbonation. It is very complex and has many features similar to wine and a flat stout like body. It's very dark and pours with no head. Also oaky. I bought a bottle for myself so I could age it for some time. The website says up to 20 years...
You can taste this beer for a while and discover new flavors. However, it is not a "mega super awesome" brew like the price might suggest. But its certainly unique and high quality.
★
499 characters

4.23
/5
rDev
+4.7%
look: 4.25 | smell: 4.25 | taste: 4.25 | feel: 4.5 | overall: 4
A-EBF sample pour. Body is thick and viscous. Dark brown color.
S-Big notes of dark fruits. Smells a bit like a port or sherry. The aroma was very rich. Also there was some alcohol in the nose.
T-The four yeasts used really bring out different flavors. The sherry, Barleywine and Trappist yeasts are the most noticeable. It tastes like sherry, and it also has flavors synonymous with both Barleywines and dark Belgian beers. Dark, booze-soaked fruits, rich brown sugar and some vinous flavors.
M-Flat. Viscous and pleasurably oily. Alcohol is actually more forgiving than one would expect it to be.
O/D-I have only had a few beers like this one. The Xyauyu beers are similar. This one is awesome and should be tried if the opportunity arises. I would like to grab a bottle and age it.
★
788 characters
4.25
/5
rDev
+5.2%
look: 4.25 | smell: 4.25 | taste: 4.25 | feel: 4.25 | overall: 4.25
Pretty good beer.. It's like taking a shot.. The 14% alcohol this beer is taste stronger.. Well brewed... Great beer to taste after you've tasted the lower percentage beers on the list when you're at the brewery.. Bottle is fashionably nice .. This is a beer you would like to pour a glass in sip on it during a nice steak dinner..
★
331 characters
4.49
/5
rDev
+11.1%
look: 3.75 | smell: 4.75 | taste: 4.5 | feel: 4.25 | overall: 4.5
From the batch released on Black Friday (not the exploding batch). Pours a deep dark brown which is almost black in the glass. Complex odor, sherry is the most prominent. Smooth flavor with obvious notes from the barrel and some dark fruitiness from the yeast. No carbonation, tastes like a strong beverage, but the alcohol is only a little noticeable on the lips.
Overall this is really likable, and obviously a brew that Mystic put a lot of care into. 'Belgian Quad' doesn't really describe it. Maybe more like a strong barleywine. I'd like to pick up another and see how it ages.
★
584 characters
4.5
/5
rDev
+11.4%
look: 3.75 | smell: 4.25 | taste: 4.5 | feel: 5 | overall: 4.75
a beer like no other, if we can even call it that. something like four or five yeasts make this quad turned barleywine something to behold. it pours an almost still looking rich dark caramel brassy color, darker than that, shaded, clean looking, not much head, thick and sticky. the smell of this is a quad at heart, i do get a genuine belgian yeast with all its fruity esters and big dark grain sugars, but i also get so much more. a white wine yeast is apparently used to dry it out, which is highly successful, i get some mild acidity in the nose, but none in the feel. i also get a ton of fruit, some dried cherries and even plums, but fresh fruit too, red grapes, tangy pomegranate, and a woody nuttiness like pecans, all in the smell. it also has a spirit sort of nose, likely from the sherry yeast they continue to referment this with. the flavor oozes vanilla and belgian dark malts. molasses, brown sugar, cherry juice, black tea, this is impossibly complex. lots of woody mustiness, almost no residual sugar even though this is like dessert to me. the sherry yeast is a very interesting touch, giving this a velvety texture that is light in spite of its thickness. it coats the mouth and glides down the throat finishing more english than belgian really, but mixing the best of both worlds. even at room temperature all this alcohol is magically well hidden. one of the most memorable mouthfeels in beer for me, not a lick of carbonation, rich and decadently full bodied, but soft and delicate and gentle and clean and slippery, really just a beautiful creation. my first and only beer from mystic to date. this is refined to a level usually reserved for some of the heavy hitters in craft brewing. this deserves much more attention, much higher ratings, and is honestly some of the most special beer ive ever encountered. like nothing else out there.
★
1,861 characters
5
/5
rDev
+23.8%
look: 5 | smell: 5 | taste: 5 | feel: 5 | overall: 5
Only the second beer I have opted to give all fives to. Mystic produces some of the best beers in this state and this is a complex masterpiece. Taste is rum, dark fruits, plum, toffee, vanilla, caramel, alcohol, and oak barrel. Just blends together perfectly with multiple layers of complexity. This to me is the top beer coming out of Massachusetts.
★
354 characters
Entropy from Mystic Brewery
4.04
out of
5
based on
89
ratings.