Saison Asterisk
| Mystic Brewery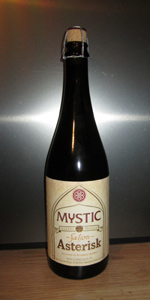 BEER INFO
Brewed by:
Mystic Brewery
Massachusetts
,
United States
mystic-brewery.com
Style:
Saison / Farmhouse Ale
Alcohol by volume (ABV):
7.80%
Availability:
Rotating
Notes / Commercial Description:
No notes at this time.
Added by Jason on 04-22-2012
This beer is retired; no longer brewed.
Reviews: 8 | Ratings: 31
3.66
/5
rDev
-4.9%
look: 4 | smell: 3 | taste: 4 | feel: 4 | overall: 3.5
I love saisons, and love bourbon, but not sure how well they will blend. I'll give this a shot though.
Pours a lighter fizzy 1/2 finger head that fades at a med pace with lots of layered lacing over hazy sunshine colored yellow orange color.
Nose comes right out with some phenols, a light alcoholic phenolic aroma with touch of glue, which is quickly joined by light saison aromas, fluffy rustic farmhouse malts, little saison yeast spices, a light vanilla and just slight buttery oak, light floral fruity esters, touch lemon and grassy aromas, but no real bourbon.
Taste starts with Belgian saison flavors, first esters and light fruity flavors, little saison spices, a bit of citrus and lemongrassy, grassy hops I think, little toasted wheat flavor. The barrel comes in just a bit, touch of vanilla and oak flavors, but again no real bourbon, almost as if they barely aged it in the barrel, or it was like 8th fill. The booze comes out a bit more than expected for only 7.8%, and brings a very slight phenolic taste but nothing like the levels the nose had. Finish gets drier and a bit more bitter as a slight spicy hop comes through, more esters and fruit flavors, a touch of citrus and light grainy malts.
Mouth is med bodied, good carb.
Overall Ok but not great. No bourbon, and barely any barrel, decent saison flavors but not a lot. It seems like a lower end beer for Mystic who makes great saisons. Maybe I got a bad bottle, but it was a bit lackluster.
1,468 characters

3.97
/5
rDev
+3.1%
look: 3.5 | smell: 4 | taste: 4 | feel: 4 | overall: 4
Served in a Bruery snifter.
Thanks to cbeer88 for this bottle!
Reviewed blind as part of Blind BIF 7. This stuff pours a cloudy orange-straw topped by a finger of white foam. The nose comprises orange zest, sweet vanilla, a touch of Brett, and sweet flowers. Imagine a lightly Brett-ed Creamsicle... The taste holds notes of orange zest, earthy greens, light Brett, bitter lemon peel, and a stroke of bourbon. (Initially, I perceived this as Sorachi Ace funk, but the bourbon-ness became more apparent and clear as the beer warmed up.) The body is a light medium, with a light moderate carbonation and a fairly dry finish. Overall, a nice barrel-aged saison, something you definitely don't see every day. Good times.
718 characters

4.07
/5
rDev
+5.7%
look: 4 | smell: 4.5 | taste: 4 | feel: 3.5 | overall: 4
Pours a deep clear golden color with a decent sized white ehad that slowly dissipates to a cap. This is the clearest saison yet from Mystic. Smells of bourbon and vanilla right off with lots of caramel, apple, and pepper underneath. The flavor is caramel and light and pomme fruits up front cut with some pepper and yeastiness finishing with a lingering vanilla bourbon and oak tannic treatment. Medium body with a moderate level of carbonation and a sweet bubbly mouthfeel. I really liked this one. The bourbon is there, but its not hit you over the head strong like lots of beer these days. Oh and there's a pretty good saison underneath there too.
650 characters
3.48
/5
rDev
-9.6%
look: 4.5 | smell: 4 | taste: 3 | feel: 3.5 | overall: 3.5
750ml bottle purchased as a single from somewhere localish. Corked and caged. Batch 001.
Poured into a DFH snifter, formed a 3/4" off-white head over the cloudy orangey amber brew. Head has substantial staying power, with thick coating lace. Aroma is spicy, with a lightly alcoholic tartness.
Taste begins lightly sweet, some tannin alcohol in the middle, then some spices, and closes with a tartness and a blink of somewhat harsh alcohol again. Mouthfeel is not as nice as one would hope, and drinkability feels the same effects. This one just doesn't come together for me.
577 characters

3.8
/5
rDev
-1.3%
look: 4 | smell: 4 | taste: 3.5 | feel: 4 | overall: 4
750ml corked and caged bottle served in a wine glass. Pours a carmel/orange hue with a loose, quarter inch, off-white head. Nose is floral with just the merest suggestion of buttery and bourbon notes. Taste expresses a hint of spice (perhaps chamomile) as well as green apples and buttery and peppery nuances. Mouthfeel is light in body with a pleasant and even carbonation as well as a slightly oily consistency and a trace of acidity. Overall, a very interesting beer - perhaps a little too clean for the style, but the bourbon notes add an interesting element to the beer without being overly forward. I really appreciate what this brewer is doing with the style and look forward to further experimentation.
710 characters

3.77
/5
rDev
-2.1%
look: 3.5 | smell: 4 | taste: 3.5 | feel: 4 | overall: 4
Batch 001.
A: Pours a hazy light orange with a decent sized bubbly white head. Fade fairly quickly. Minimal lacing.
S: Decent but not overpowering bourbon. Heavy on the caramel and brown sugar. Mild dark fruit. Some nice sweet bubblegum.
T: Bourbon up front. Toffee, caramel and brown sugar. A touch oaky. Turns more saison-ish with a grainy, yeasty, bread kicking in. Mild grass and oak in the finish. Bourbon takes over a little bit as it fully warms to room temperature.
M: Medium bodied, smooth and slick.
O: Haven't seen too many bourbon-barrel saisons. Definitely unique. I really didn't think the flavor combinations would work but it's quite nice. Most saisons are light, crisp, refreshing. This one is much smoother and subdued. Much more complexity than an average saison but the balance is still there.
820 characters
4
/5
rDev
+3.9%
look: 4 | smell: 4 | taste: 4 | feel: 4 | overall: 4
750 ml bottle.
Pours clear copper with an inch of white froth that drops down to a partial skim coat and smeary lacing.
Bourbon, cloves, apples, butterscotch, vanilla, and scorched honey lead off the nose. Light pepper notes and boozy fruit follow through.
Light bodied with a slightly tacky, slickish mouthfeel.
Boozy bourbon, vanilla, clove-studded apples, and spicy hops start the palate. A hint of smoke, caramel, and grass-rubbed red fruits run underneath.
Finishes with warming booze, vanilla, honey-drizzeld malt and light funk.
Another tasty variation of a Saison from Mystic. Certainly funkier than Allagash Curieux but on par with the balance. Nice beer.
670 characters
4.12
/5
rDev
+7%
look: 4 | smell: 4.5 | taste: 4 | feel: 4 | overall: 4
Yet another good offering from one of my new favorite New England breweries. It isn't overly bourbony, but it has a nice butter/oaky smell and a lightly oaky taste that mixes well with the saison. It's fizzier than I expected, which makes it a good accompaniment to a giant bowl of chicken noodle soup and an Anna Magnani flick. It's young and will probably change over time, which is why, at $10 a bottle, it's worth buying a few and storing them away for a while. If you're looking for something with a sharp bourbon edge, go buy a bottle of... well, good bourbon.
566 characters
Saison Asterisk from Mystic Brewery
3.85
out of
5
based on
31
ratings.