Wolverine Dark
| Wolverine State Brewing Company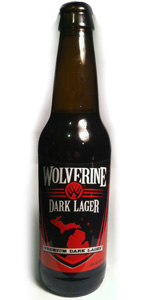 BEER INFO
Brewed by:
Wolverine State Brewing Company
Michigan
,
United States
wolverinebeer.com
Style:
Euro Dark Lager
Alcohol by volume (ABV):
5.00%
Availability:
Year-round
Notes / Commercial Description:
No notes at this time.
Added by jale on 08-16-2011
Reviews: 6 | Ratings: 32
3.9
/5
rDev
+6.8%
look: 4 | smell: 4 | taste: 4 | feel: 4 | overall: 3.5
12 ounce bottle into lager glass, no bottle dating. Pours crystal clear reddish brown color with a 1 finger dense light khaki head with good retention, that reduces to a small cap that lingers. Spotty soapy lacing clings on the glass, with moderate streaming carbonation. Aromas of toast, biscuit, chocolate, cocoa, coffee, roasted malt, light nuttiness, herbal, and roasted/yeast earthiness. Damn nice aromas with good balance and complexity of roast/bready malt notes with some light hop presence; and good strength. Taste of toast, biscuit, chocolate, cocoa, coffee, roasted malt, light nuttiness, herbal, and roast/yeast earthiness. Light earthy/roasted bitterness on the finish; with lingering notes of caramel, toast, biscuit, chocolate, cocoa, coffee, roasted malt, light herbal, and roasted earthiness on the finish for a good bit. Very nice robustness and complexity of roast/bready malt with light earthy hop flavors; with a great malt/bitterness balance and zero cloying flavors after the finish. Medium carbonation and body; with a smooth, moderately crisp, and lightly chalky mouthfeel that is nice. Alcohol is well hidden with minimal warming present after the finish. Overall this is a very nice schwarzbier style. All around good complexity and robustness of roast/bready malt and light earthy hop flavors; and very smooth and crisp to drink. A very enjoyable offering.
1,385 characters
3.54
/5
rDev
-3%
look: 3.5 | smell: 3.25 | taste: 3.75 | feel: 3.5 | overall: 3.5
A $4 or $5 bottle had at Three Blind Mice in Mt. Clemens, Michigan.
Appearance: Ruby. Head dissipates pretty quickly. Only a bit of lacing.
Smell: Malt. Roasty character to deem this a "dark" lager. Nothing especially interesting, but it smells nice.
Taste: Like the smell. A lot like it. A slight sort of coffee or chocolate flavor comes off as well, but it's in the background. Hey, I guess some roasting will do that to a beer, eh? Fairly high carbonation which is expected for the style. A pretty nice beer. Simple tasting sort of beer that you can drink without feeling compelled to think too much about what you're tasting. I'm not the only one who does that... right...?
680 characters
3.42
/5
rDev
-6.3%
look: 3 | smell: 3.5 | taste: 3.5 | feel: 3 | overall: 3.5
A - Nothing of particular note - color to style, small head.
S - Nice malty nose with some roast coming through.
T - Malt with some coffee-like roasted character, but no bitterness to speak of. Lightly hopped.
M - Medium body, not too heavily carbonated.
O - Wolverine Dark is the best among their standard offerings. The niche of lagering everything they serve left me wondering if they use lager yeasts on all of their beers or if the just cold condition some fermented with ale yeasts. The Dark was flavorful and appropriate to style, but only slightly better than average.
580 characters
3.41
/5
rDev
-6.6%
look: 4 | smell: 3 | taste: 3.5 | feel: 3.5 | overall: 3.5
Poured dark and bubbly. This is my first brew from Wolverine and I've never been there despite living right in town. It smelled a subtle mix of grains with no hop. The flavor was a pretty standard lager but with more body. I'm not usually a lager guy (aside from mexican), but this was decent.
293 characters

3.81
/5
rDev
+4.4%
look: 3 | smell: 4.5 | taste: 4 | feel: 2.5 | overall: 3.5
I picked up a bottle of Wolverine's Dark Lager yesterday for $1.59 at The Lager Mill. This is my first time reviewing a beer from Wolverine State Brewing Company, I have tired some of their beers at festivals before, at first I didn't like them, but after giving them another try recently I decided that I should review some of their beers, so lets see how it goes. No visible bottling date. Poured from a brown 12oz bottle into a imperial pint glass.
A- The label looks ok, it's clean and simple, but it's not that eye catching. It poured a medium dark brown color that took on a dark ruby color when held to the light. It had a finger and a half of off white head that quickly died down to a very thin ring that left no lacing. The head on this beer was prettty disappointing, but everything else wasn't that bad.
S- The aroma starts off with lots of roasted malts that have a medium amount of sweetness and impart some nice roast, grains, chocolate, caramel, vanilla, with some black coffee sticking out the most and I also pick up a really slight hazelnut like aroma. I didn't get any hops in the aroma. I like this beers aroma, it's nice and roasty, pretty damn good for a Black Lager.
T- The flavor seems to be pretty similar to the aroma, it starts off with some nice medium roasted malts that have a lower amount of sweetness and impart some nice roasted and chocolate flavors along with some black coffee which still seems to sick out the most. I still don't get any hops, but I do get a slight cream flavor towards the end. This is a good tasting beer, it tastes like a lighter version of robust Porter, I like it.
M- Pretty smooth, crisp, on the light side of being medium bodied, and it had a high amount of prickly carbonation. The carbonation really hurts this beer, it's just too high and prickly and unfortunately it makes the mouthfeel bellow average.
Overall I thought that this was an decent beer and a slightly above average example of a Dark Lager, it had some nice aspects to it, but it all had some downsides that held this beer back from being as good as it should be. It had good drinkability, the flavor held my attention but the prickly carbonation hurt the smoothness, but I still wouldn't mind drinking two or three of these in a row. What I liked most about this beer was the aroma, it was damn good and one of the best I have encountered in the style, the taste was also noteworthy. What I liked least about this beer was the appearance and the carbonation, the carbonation hurt this beer the most and it was it's biggest flaw. I would buy this beer again, but it isn't something that I just have to have in the fridge, it's worth a try. This made for an ok first impression for this brewery, it tasted good and smelled great, but the carbonation was this beers biggest flaw, if it was fixed this beer would be one of my favorites in the style. Good job guys with a little more work this could be a great beer, I'll have to see what else you guys have to offer.
2,997 characters
4
/5
rDev
+9.6%
look: 4 | smell: 4 | taste: 4 | feel: 4 | overall: 4
Had on tap at the brewery. They said it was an American dark lager.
A: Pours a clear dark brown with a finger of tan head. Good retention.
S: Mild roasted malt and a hint of coffee.
T: Flavor is a crisp and clean roasted malt upfront followed by mild roasted coffee. The finish is mild hoppiness that grows for a short while between sips.
M: Medium body with great carbonation.
O: I was surprised I liked this as much as I did. Would have another.
462 characters
Wolverine Dark from Wolverine State Brewing Company
3.65
out of
5
based on
32
ratings.