Envy
| Circle Brewing Company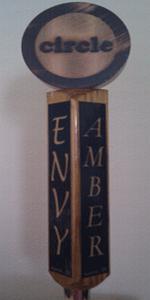 BEER INFO
Brewed by:
Circle Brewing Company
Texas
,
United States
circlebrewing.com
Style:
Extra Special / Strong Bitter (ESB)
Alcohol by volume (ABV):
4.80%
Availability:
Year-round
Notes / Commercial Description:
No notes at this time.
Added by wagenvolks on 02-06-2011
Reviews: 8 | Ratings: 48
4.35
/5
rDev
+41.2%
look: 4 | smell: 4 | taste: 4.5 | feel: 4.5 | overall: 4.5
Appearance - good foam head, dissipates moderately slow. Dark red to copper color, slightly opaque. Excellent lacing.
Smell - some chocolate and slight caramel notes. Pleasant and mild.
Taste - clean, dry, malty. Malt taste edges out any hoppy taste.
Mouthfeel - here's where the hops and bitterness stands out! Maltiness fades out and hops and bitterness fades in. Reminds me more of an ordinary bitter than amber. Low astringency.
Overall - If you're expecting something like New Belgium's Fat Tire, you're going to be surprised at the bitterness levels here. ENVY is almost a blend of an American Amber (10B), American Brown (10C), and an Ordinary Bitter (8A). The balanced maltiness up front compliments the pronounced hoppy and bitter finish. A unique, excellent beer and very drinkable.
792 characters
3.77
/5
rDev
+22.4%
look: 3.5 | smell: 4 | taste: 3.5 | feel: 4 | overall: 4
This was the first time I have seen beers from this brewery. I'm always game for something new!
At the Ginger Man, served in standard pint the beer is an almost opaque dark garnet with a skim of beige head.
The aroma is nice; I get some lightly roasted malts, apples and caramel.
The taste is earthy with toasted bread, red apples and some piney hops.
The mouth was soft with low levels of carbonation. All-in-all, I thought it was a pretty decent stab at style that seems to get lost in the shuffle of big beers.
518 characters
3.53
/5
rDev
+14.6%
look: 4 | smell: 3.5 | taste: 3.5 | feel: 3.5 | overall: 3.5
On tap at the Draught House 43rd Anniversary Party. This is my first beer from Circle Brewing.
The beer pours an amber color with a white head. The aroma is full of toffee and caramel malt, with a little bit of grain and some grass mixed in.
The flavor is similar. I get some nice toasted malt character, along with some grass and a little bit of bitterness. There is also some nice malt sweetness from all of the caramel and toffee malt. The alcohol is completely hidden and the beer is easy to drink.
Medium mouthfeel and medium carbonation.
547 characters
3.45
/5
rDev
+12%
look: 3.5 | smell: 3.5 | taste: 3.5 | feel: 3 | overall: 3.5
Had this on Tap at the Circle open house recently.
A - clear brown in color with a half-finger tan head that left behind quite a bit of thick lacing
S - caramel malts and a bit of nuttiness on the nose
T - quite a mild flavor (perhaps too mild), with some malty sweetness and a bit of tart fruit in the finish. Not overly enduring.
M - medium bodied with lots of carbonation.
D - goes down easy but lacks a bit of character.
A decent beer. Unfortunately wouldn't be my first pick given other local Austin choices.
519 characters

3.35
/5
rDev
+8.8%
look: 4 | smell: 4 | taste: 3 | feel: 3.5 | overall: 3
On-tap at the Circle Brewing Company grand opening.
Appearing dark for the style, Envy is an iced-tea color with a creamy custard head that retains well and coats the glass with lacing. The aroma is pleasing, with notes of bright caramel nuttiness up front followed by tropical fruit, pine, and a little citrus from the hops. Well-balanced nose.
The flavor unfortunately falls flat for me. Malts are pale and bland with a little toasted presence, and while the hops add a little fruit flavor to the finish, their bitterness isn't kept in check. Mouthfeel is appropriate for the style with a medium body and good carbonation that finishes crisp with a lingering bitter bite. Overall, Envy is just OK...a solid B- for the style and for a beer in general. Either a boring recipe or poor execution (or both) make this a pass for me next time.
841 characters
2.78
/5
rDev
-9.7%
look: 3.5 | smell: 3 | taste: 3 | feel: 2.5 | overall: 2
EDIT: beer has improved on recent batches. Not as astringent.
Appearance. Good amber color Moderate carbonation
Aroma. Nutty. No hop aroma no esters
Taste. Weird unbalanced carmelly bitter mess
Dry finish. And I mean dry. The most astringent beer I've ever had. I want to chug a pint of water Did I say this beer is dry?
Mouthfeel. Dunno. My throat was closed up from the dryness mouthfeel don't matter
Overall. Guys. This beer needs help. I would never serve this. Hopefully you'll get your technique dialed in and make better beer
534 characters

2.75
/5
rDev
-10.7%
look: 2.75 | smell: 2.75 | taste: 2.75 | feel: 2.75 | overall: 2.75
12 ounce bottle at the bar of the W Hotel in Austin on a business trip from NY. Because of the name I was expecting an APA or Amber Lager. Was surprised by the taste and that it falls (supposedly) into the ESB category. Odd taste. Not at all bitter with lots of plum or raisin or both, to my palate at least. Not awful, but not a beer I will be ordering again.
360 characters
1.51
/5
rDev
-51%
look: 3.5 | smell: 2.5 | taste: 1 | feel: 1 | overall: 1
Had as much of a pint as I could drink after trying to pass this off on my buds at the drafthouse.
Appearance: Pours a nice amber with little off white head.
Aroma: Smells of nuts and caramel, almost like a candy bar.
Taste: This is where the beer goes horribly wrong. Taste is very astringent and dry. Way too much crystal malt used.
Mouthfeel: Not very nice either, thick and almost chewy especially for an amber. Seems like this beer was rushed out of the brewery to market. This brewery needs to step up their game to hang in what is becoming a very tough Austin market.
576 characters
Envy from Circle Brewing Company
3.08
out of
5
based on
48
ratings.