Ramble On Rose
| High Water Brewing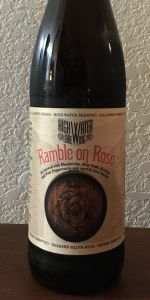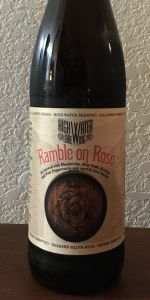 BEER INFO
Brewed by:
High Water Brewing
California
,
United States
highwaterbrewing.com
Style:
Lambic - Fruit
Alcohol by volume (ABV):
6.00%
Availability:
Limited (brewed once)
Notes / Commercial Description:
Ramble on Rose was aged in used wine barrels for 12 months with locally grown blueberries, rose buds, rose hips and pink peppercorns. Refreshingly tart and crisp with flavors of berries and the aroma of the American Beauty rose.
Added by brewgiehowser on 02-23-2016
This beer is retired; no longer brewed.
HISTOGRAM
Ratings: 14 | Reviews: 7
Reviews by TheSixthRing:
4.05
/5
rDev
-1.5%
look: 4 | smell: 4 | taste: 4 | feel: 4 | overall: 4.25
Tasting notes from June 1st, 2016. Had on-tap at Alley Katz in Citrus Heights, CA
Appearance - Served up in a tulip with a half finger width, pinkish head. The brew itself is slightly hazy and ruby red in color. Fair retention, breaking down to a mostly barren surface.
Smell - Tart aroma. Lots of floral character sitting beneath the tartness.
Taste - Follows the nose. Lemony tartness upfront, then a undertone of rose creeps in along with a bit of honey and toasted malt. Faint berry. Evenly flavored finish.
Mouthfeel - Medium-bodied with fair, spritzy carbonation. Semi-dry finish.
Overall - Unique, interesting take on a lambic. The rose really adds a nice touch.
674 characters
More User Reviews:
4.33
/5
rDev
+5.4%
look: 4.25 | smell: 4.25 | taste: 4.5 | feel: 4 | overall: 4.25
i think this brewery is my spirit animal! tons of cool grateful dead references across their portfolio, and a lot of neat extra ingredients in some really innovative beers. this one has rose hips in it, with rose buds and blueberries in wine barrels, pretty awesome idea, and execution to match. my favorite of the three beers i had from these fine folks! the wine and the fruit go together perfectly, lots of beer in each, and the sourness sort of forces them into a cool unity. the rose elements are about as pugent as you could imagine, not subtle in the least, but also not artificial and perfumed out, the essence of spring, and cool with the wine and the oak from the barrels as well. this beer tastes like nothing i have ever had, it really brings together some interesting ingredients in a cool new way, and although its very sour, it really is pretty easy to drink on too. seems like everything these guys make is interesting and delicious. the rose here is awesome, its fresh and true to its name, and it makes me want to go here really bad! anyone out there with bottles let me know! dying to taste this one again...
1,127 characters
4.02
/5
rDev
-2.2%
look: 4.25 | smell: 4 | taste: 4 | feel: 4 | overall: 4

4.06
/5
rDev
-1.2%
look: 4.75 | smell: 3.75 | taste: 4.25 | feel: 3.75 | overall: 4
16.9 oz bottle poured into nonic pint
A: Small slightly reddish hued head that disappears as quickly as you can pour it.
S: Lots of vinegar, tanins, oak, cherries, berries almost raspberry like.
T: Lots of wine taste, oak, cherries, flowery, vinegar, a little peppery, a touch sour
M: Prickly and slightly sour
O: This is a pretty good wild ale, the flowery taste is prominent and the berries are subdued, but the wine barrel comes through nicely.
455 characters

3.67
/5
rDev
-10.7%
look: 4.25 | smell: 3.5 | taste: 3.75 | feel: 3.75 | overall: 3.5
High Water's Ramble on Rose, sour ale brewed with blueberries, rose buds, rose hips, and pink peppercorns, aged in wine barrels. 6% ABV.
A: A thin ring of slightly pink head; fades immediately. Dark pink. Hazy pink in the dimple; hazy white at the bottom. Sturdy, yet ragged sheeting. Zero lacing.
S: Floral, rose. Slight funk with mild sourness.
T/MF: Slight piquant sensation. Dirt, pink peppercorn, floral/flower petal. Moderate acidity. Blueberry skin. Interesting, but not great.
Poured from a 16.9 oz. bottle, into a Belgian tulip glass.
547 characters

3.99
/5
rDev
-2.9%
look: 4 | smell: 4.25 | taste: 3.75 | feel: 3.75 | overall: 4.25
Bottled 2016-02-19, this is a new bottle release for High Water as part of their CAlambic series.
A: Pours a brilliant ruby red with minimal carbonation.
S: Prominent rose-hip character; juicy and tart. Moderate berry and floral notes. Slight vinous quality; like a jammy Zinfandel.
T: The blueberry is more prominent on the palate. Bright. rose hips are slightly more subdued than in the aroma. That vinous Zin character follows through to the end offering additional dark fruit character.
MF: Medium-minus, thin body with moderate-plus tartness / acidity and a semi-dry finish.
Overall this is a pretty fantastic offering from High Water and a great followup to their Central Valley Breakfast Sour.
702 characters

3.71
/5
rDev
-9.7%
look: 3.75 | smell: 4 | taste: 3.5 | feel: 3.75 | overall: 3.75
My wife picked this brew up....we love unusual and interesting brews. This one is a pinkish, reddish colored liquid. No head at all. The aroma is tart...sour smelling...with a variety of berries. I get grape skins, blueberry skins, and flowers. The taste is not as sour as the sell predicted, and has a bit of spice, more meaty fruit, and a very modest underlying sweetness. Still plenty of tartness, bu the overall flavor is excellent. Lots of complexity and very drinkable.
482 characters

4.21
/5
rDev
+2.4%
look: 4 | smell: 4.25 | taste: 4.25 | feel: 4 | overall: 4.25
A: Rosehips, peppercorns give way to blueberries, faintly vinous – quite floral and fragrant.
A: Bright pink color, opaque with a moderate dense white head. There is light lacing in the glass.
T: Blueberry upfront, with a light pink peppercorn flavor, there is a light rose hip flavor (but not as strong as in the aroma).
M: Medium bodied with moderate carbonation.
O: Very solid; it isn't easy to achieve a beer that integrates fruit, floral and sour notes. This beer has a great fragrant and floral aroma. The blueberries provide a slightly sweet/tart flavor that is complimented by the sourness and used wine barrels.
631 characters
4.5
/5
rDev
+9.5%
look: 4.5 | smell: 4.5 | taste: 4.5 | feel: 4.5 | overall: 4.5

4
/5
rDev
-2.7%
look: 5 | smell: 4.25 | taste: 3.75 | feel: 3.75 | overall: 4
4.25
/5
rDev
+3.4%
look: 4.25 | smell: 4.25 | taste: 4.25 | feel: 4.25 | overall: 4.25
4.5
/5
rDev
+9.5%
look: 4.5 | smell: 4.5 | taste: 4.5 | feel: 4.5 | overall: 4.5
4
/5
rDev
-2.7%
look: 4 | smell: 4 | taste: 4 | feel: 4 | overall: 4

4.26
/5
rDev
+3.6%
look: 4 | smell: 4.25 | taste: 4.25 | feel: 4 | overall: 4.5
Ramble On Rose from High Water Brewing
Beer rating:
4.11
out of
5
with
14
ratings