Old And In The Way - Healthy Spirits Buffalo Trace Single Barrel Edition
| High Water Brewing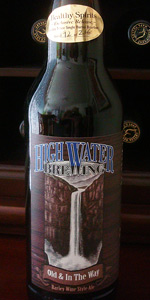 BEER INFO
Brewed by:
High Water Brewing
California
,
United States
highwaterbrewing.com
Style:
English Barleywine
Alcohol by volume (ABV):
10.50%
Availability:
Limited (brewed once)
Notes / Commercial Description:
No notes at this time.
Added by brotherloco on 04-14-2012
This beer is retired; no longer brewed.
Ratings: 10 | Reviews: 5
Reviews by Gobzilla:

More User Reviews:



3.86
/5
rDev
+15.9%
look: 3 | smell: 4.5 | taste: 4 | feel: 2 | overall: 4
22oz bomber. Bottle 192 of 216. Vintage 2011. Served in a snifter.
Reviewing this beer side by side with the regular version that was aged in 12 Year Heaven Hill Bourbon Barrels.
Pours a slightly translucent dark matte brown with slight red highlights. A little clearer than the regular version. No head forms, even with a vigorous pour, just a ring of large and loose bubbles. No lacing.
Aroma has a stronger barrel presence than the regular version, and is stronger overall. A lot of bourbon, some vanilla and oak. Dark fruits. Bakers chocolate. Caramel malt. Some alcohol. Smells great.
Flavor is a little more aggressive than the regular version. More bourbon and vanilla up front before things get sweeter in the middle where the malt emerges. Dark fruits and caramel are there. Fairly salty through the middle and finish and less floral hoppy bitterness than the regular version, or at the very least it's masked by the other flavors.
Medium bodied with very low carbonation. Too flat, and inferior to the regular version in this department.
I really wish the carbonation was better as I bet that would help the flavor shine even more. In any case I still think it's very cool Healthy Spirits is creating their own barrel aged versions of local beers.
1,275 characters
2.98
/5
rDev
-10.5%
look: 2 | smell: 4 | taste: 3 | feel: 2 | overall: 2.5
Poured from the bottle into a tulip glass. Big thanks to leschkie for this one! Bottle #173/216.
A - Pours flat. With a very vigorous pour, I could barely scrounge up a couple bubbles, and they quickly faded. Color is murky brown, lighter around the edges. Not the most visually appealing beer, that's for sure.
S - Strong bourbon notes dominate the nose, with vanilla as the dominant scent. The barleywine comes through after the barrel characteristics, with a faint smell of sweet caramel and dark fruits. Would like to see the base beer come through a bit more, but overall the nose is fairly pleasant on this one.
T - The taste definitely features the base beer a little bit more, but not really in a pleasant way. There are the bourbon notes up front, but the caramel and dark fruits follow quickly. However, there is also somewhat of a charcoal grill flavor that also comes through, which is followed by a HARSH alcohol burn. The beginning of the taste is nice, but the finish is not very good.
M - Flat, with huge alcohol burn in the finish. Not very pleasant.
O - Overall pretty disappointed with this one. I think more carbonation would help it, but something else would need changed before I decided to revisit. Bourbon-bal barleywines have been my favorite style of late, so I'm glad to have the chance to try it, but this one was a miss for me.
1,361 characters

1.91
/5
rDev
-42.6%
look: 3.5 | smell: 2.5 | taste: 1.5 | feel: 2 | overall: 1.5
7/6/2012
Bottle shared by Jason. Thanks!
A: Deep brown with a fast fading beige head.
S: Big boozy grain alcohol character with a touch of caramel. Whisper of vanilla. Nostril stinging booze.
T: Tastes like grain alcohol. This is harsh as hell. Bitter and astringent as well. 
M: Thin body with low carbonation.
Overall: Not good. Harsh and incredibly boozy. 
367 characters


4.32
/5
rDev
+29.7%
look: 4 | smell: 4.5 | taste: 4.5 | feel: 4 | overall: 4
A - Pours a cloudy dark brown color with a thin ring of bubbly head around the edges. The head fades fairly quickly leaving behind very little lace.
S - Aroma is a mix of sweet rich caramelized malts with some dark fruit, brown sugar, bourbon, oak, vanilla, and some booze.
T - Starts off with some rich sweet caramelized malts, some dark fruit including some raisin and fig, and a bit of vanilla and licorice. Through the middle, some more Bourbon and oak flavors come through with a bit of brown sugar. The finish is a mix of sweet caramelized malts, dark fruit, bourbon, oak, vanilla, and a bit of booze.
M - Medium-full bodied with mild carbonation. Feel smooth with a syrupy, warming, and sweet finish.
D - Very drinkable. Much more Bourbon flavor than the other version. Also a bit less carbonated. Though the Bourbon also balances out the strong malt flavors nicely.
877 characters

3.8
/5
rDev
+14.1%
look: 3 | smell: 4.25 | taste: 3.75 | feel: 3.5 | overall: 3.75
Bottle shared by Dr. moll. You da mang!
The beer appears caramel brown with no head. The aroma is quite nice. Booze and toffee with a touch of chocolate. The flavor follows suit. Devoid of carbonation. Silky smooth on the palate, bu could use at least a prickle of carbonation to liven up the palate. Nice caramel and toffee notes. Oak and bourbon character is assertive throughout. Pretty good.
396 characters

Old And In The Way - Healthy Spirits Buffalo Trace Single Barrel Edition from High Water Brewing
3.33
out of
5
based on
10
ratings.