Flemish Kiss
| The Commons Brewery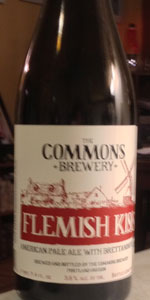 BEER INFO
Brewed by:
The Commons Brewery
Oregon
,
United States
commonsbrewery.com
Style:
American Wild Ale
Alcohol by volume (ABV):
6.50%
Availability:
Year-round
Notes / Commercial Description:
Right out of primary fermentation this beer is decidedly an American Pale Ale, but as it enters secondary, a bridge to Belgium is built with a dose of Brettanomyces Bruxellensis. A 5 week maturation results in slightly dry, fruity beer with a hint of floral Brett character that will evolve over time.
Added by chumba526 on 03-19-2011
Reviews: 36 | Ratings: 195
3.98
/5
rDev
-0.7%
look: 4.5 | smell: 4 | taste: 4 | feel: 3.5 | overall: 4
Appearance. Pours gold-orange with a very light haze and almost three fingers of billowy off-white head.
Smell. Light fruits and some cherry, some funky brett and a bit of wood and cloves.
Taste. Dry brett with a little bit of light grains, spicy saison yeast and light fruits. Quite dry overall, just a little bitterness in the finish.
Mouthfeel. Medium body, medium-strong carbonation.
Overall. A nice dry saison with plenty of brett. I thought this was a saison anyways until looking up at the catagory. Okay, well it's a very saison-like pale ale ...hmmm. Good stuff, whatever you want to label it.
608 characters
4.48
/5
rDev
+11.7%
look: 5 | smell: 4.5 | taste: 4.5 | feel: 4 | overall: 4.5
A: A burnt orange and just a minimal level of haziness. The head poured out a giant and soapy 4 fingers leaving incredible lacing on the glass and even a moon crater surface in the head as it settled.
S: Scent is both sweet and funky with fresh tart fruit, wet hey and a funkiness with floral notes of orange flower water.
T: Cereal, maltiness, barnyard funkiness without the sweetness in the smell. The Bretta is present, but not overwhelming, and seems to encourage the maltiness and pale ale dryness. Excellent balance of malts & bretta.
M: Crisp and dry with a forward buzz of carbonation, and a medium bodied mouth feel.
O: This brew is a stand out, the bretta can be overwhelming, but Flemish kiss offers the Bretta characteristics while skillfully matching malts. The result is crisp and dry, offering a scent and taste not found elsewhere. Highly recommended.
875 characters
4
/5
rDev
-0.2%
look: 4 | smell: 4 | taste: 4 | feel: 4 | overall: 4
Bottle from Whole Foods in Tanasbourne. Thanks for the recommendation, Mike!
Pouring a nice, clear, golden copper with a dense, off-white head with excellent retention and nice lacing, this is a good-looking beer. The nose is all Brett. very spicy, almost saison-like, with pepper, clove, fresh-cut herbs (grass, a little lavender), honey, mineral, some oak-like tannins, a little vanilla... this is pretty complex while remaining light. It does have some bandaid esters that I'm typically not a huge fan of, but with the freshness and vibrancy of the rest of the beer, it works. Dried sour cherries are also present. Very nice.
The palate is a delightful blend of all the nose has to offer with a dash of acidity tying it all together. The acidity is clove-heavy with a touch of plastic, but again, it works with the combination of dried fruit, honey and fresh cut grass, it is very refreshing. A mild toasted malt sweetness is present. The mineral character does keep things bright and snappy as well. Drying and almost a little tannic on the finish (husky, grainy tannins), there's a blend of lingering spice and Brett B flavors on the finish. Light in body and highly carbonated, this beer is very enjoyable. Recommended.
Adding the yeast does muddy up the palate a little bit, so I'd actually look for this on tap for a different experience
1,348 characters
3.7
/5
rDev
-7.7%
look: 4 | smell: 4 | taste: 3.5 | feel: 4 | overall: 3.5
Thanks to AndrewK for sharing this one at his tasting.
Pours a clear orange with a foamy bone colored head that settles to a film on top of the beer. Foamy swaths of lace form around the glass on the drink down. Smell is of malt, fruits, and Brett. Taste is much the same with the Brett being the dominant flavor. There is a mild bitterness on the palate with each sip. This beer has a good level of carbonation with a crisp mouthfeel. Overall, this is a pretty good beer but it smells better than it tastes in my opinion.
523 characters

4.47
/5
rDev
+11.5%
look: 4 | smell: 4.5 | taste: 4.5 | feel: 4.5 | overall: 4.5
On tap at St Augustines in Vancouver.
A: hazy amber liquid with 1/4" of foamy cream colored head
S: Sour funk and some sweetness and raspberries
T: Hint of Brett as well as strawberries, figs, cereal malt and earth in the finish
M: Medium viscosity and carbonation
O: Complex and tasty, well done. I would definitely have one again.
337 characters

4.68
/5
rDev
+16.7%
look: 5 | smell: 4.5 | taste: 4.5 | feel: 5 | overall: 5
I don't hand out 5s that often, but I really am at a loss as to what The Commons could have done too much differently to improve upon Flemish Kiss.
The beer pours perfectly: clean and clear, with a fluffy head like Cumulus Clouds. It lingers to the very last sip, all the while clinging to the edges of the glass with a perfect lace.
The nose is amazing with aroms of peaches, sherry, apples, and funk. These flavors all come through again in the mouth, but are perfectly balanced. Also making appearances are subtle floral flavors (rose hips?). With an excellent effervescent mouthfeel to boot, this is one supremely crafted beer.
It's certainly a unique beer: an American Pale Ale meets Brett. But what The Commons does magnificently with this brew is keep everything within reason; there is even a certain simplicity to the beer. The brett is there, don't get me wrong, but it's not muscling its way to the center. Rather, it's perfectly balanced with the citrus hops and a clean, malt finish, that makes this beer truly something to behold.
Highly, highly recommended.
1,077 characters
3.9
/5
rDev
-2.7%
look: 3.5 | smell: 3.5 | taste: 4 | feel: 4.5 | overall: 4
Picked up a bottle in Portland and opened it on 6.12.12
A - Pours a opaque dark orange with a large light tan head with very good retention.
S - Bret, some Belgian spices, and apples?
T - Subtle spices and funk. Pretty muted, but tastey.
D - Great carbonation and a light body.
O - Light pale with some Bret funk and spices.
329 characters

3.92
/5
rDev
-2.2%
look: 3.5 | smell: 4 | taste: 4 | feel: 3.5 | overall: 4
On draught at Bailey's, Flemish Kiss is a dull and murky caramel brown. The small off-white head leaves scattered lace.
Smell is pretty brewtty, this one has a fair amount of the fruity pineapple esters.
Taste is pretty snappy, again, it's really about the brett here. I suppose there is some herbal bitterness to the hops, but I'm not getting anything from a flavor perspective. The maltiness, which is greater then most belgian blondes, adds a nice layer.
Mouthfeel is dry, but a bit heavier then I prefer in the style. Indicative of their hybrid approach I suppose. Nice amount of fine carbonation.
Drinkability is pretty good, it washed down a Santeria buritto muy mueno. I prefer a cleaner malt base though for bretty blondes.
739 characters

3.45
/5
rDev
-14%
look: 4 | smell: 4 | taste: 3 | feel: 3.5 | overall: 3.5
750ml : tulip snifter
Pours a lightly hazy golden-orange with a thick, foamy, craggy off white head.
Light Brett tartness blends nicely into faintly sweet, fruity and floral hops.
Floral notes transition into lightly tart Brett notes. Decent malty backing.
Medium body, with active, foamy carbonation.
An enjoyable Belgian-inspired take on a pale ale. The brett added a nice tartness without becoming downright sour.
421 characters
3.85
/5
rDev
-4%
look: 4 | smell: 4 | taste: 4 | feel: 3.5 | overall: 3.5
Poured into a beautiful Riedel white wine glass.. slightly hazed orangish red... off white head... good retention...
The nose is surprising... good malt profile with a nice bite of fruity brett brux.. a hint of sweet cherries and sweet acetic notes...
Flavor begins as a nice malty pale ale.. good balance between light funk and mildly sweet malt vinegar... cherry essence.. finishes surprisingly dry.... really digging this one... I had easy 4 good pours... finishes a bit dry and certainly fruity..
This brew will bridge the gap between nerds and "light" beer folks.
4/4/4/3.5/3.5
587 characters

4.67
/5
rDev
+16.5%
look: 4 | smell: 4.5 | taste: 5 | feel: 4.5 | overall: 4.5
From Beetje website: "ABV: 5.7% || IBU: 35-40
A clean Northwest pale ale with a subtle kiss of Flanders. Brewed predominantly with organic 2- row, the malt bill is rounded out with organic light munich, organic 60L crystal and caravienna. Northwest Golding and Hallertauer hops provide a pleasant hop character. Right out primary fermentation this beer is decidedly a Northwest pale ale, but as it enters secondary a bridge to Belgium is built with a dose of brettanomyces bruxellensis."
The beer appears clear red with a small off white head.
It smells very fruity: it almost smells like tomato juice. . There is a bit of a citrus like smell. I also get a bit of a cherry type of a smell.
It tastes very fruity: get a strong cherry flavor. It is slightly sour and there is a mild citrus type of a flavor. There is a bit of a spicy hoppy flavor to balance out the fruity flavor. There is a tad bit of a slightly sweet malt flavor. The beer finishes with a refreshing bitter flavor. All the flavors of the beer blend perfectly. This beer is very smooth.
There is a crisp mouthfeel to the beer.
Overall this is a fantastic complex, light and refreshing fusion pale ale. The Brett interacts nicely with the citrus and fruity hop flavor. I cannot find any faults with the beer.
1,280 characters
Flemish Kiss from The Commons Brewery
4.01
out of
5
based on
195
ratings.