Bière De Garde
| The Commons Brewery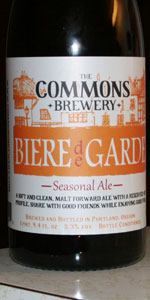 BEER INFO
Brewed by:
The Commons Brewery
Oregon
,
United States
commonsbrewery.com
Style:
Bière de Garde
Alcohol by volume (ABV):
5.30%
Availability:
Spring
Notes / Commercial Description:
Our Biere de Garde was inspired by the farmhouse beers brewed in Northern France and our friend Steve Jones, Proprietor and Cheesemonger at Cheese Bar in Portland, Oregon. Traditionally, Biere de Garde was brewed while the climate was cooler, then garded (lagered) during the cool months. This beer offers a soft and clean, malt forward flavor with a reserved hop profile.
Added by dirtylou on 05-02-2012
Reviews: 10 | Ratings: 43

4
/5
rDev
+7%
look: 4 | smell: 4 | taste: 4 | feel: 4 | overall: 4
750mL into a tulip. Pours a clear amber w/ a big fluffy head that settles to a thin collar.
Aroma is bready and fruity. Pear and toasty caramel malt.
Taste follows nose. Sweet, malt-forward, fruity. Bready, toasty. Somewhat reminiscent of a Märzen.
Mouthfeel is semi-dry, slightly prickly carbonation. Balanced.
Overall a really nice, tasty beer.
351 characters
3.33
/5
rDev
-11%
look: 3.5 | smell: 3.5 | taste: 3.25 | feel: 3.25 | overall: 3.25
Bottle: Poured a light amber color ale with a medium size foamy head with some good retention and some light lacing. Aroma of dry caramel malt with light bready notes is OK. Taste is also dominated by bready notes with some dry caramel malt notes and a grainy finish. Body is about average with good carbonation. OK for style but falls a bit short on complexity and I don't think I would been seeking this on a regular basis.
427 characters

3.71
/5
rDev
-0.8%
look: 3.5 | smell: 3 | taste: 4 | feel: 3.75 | overall: 4
Bottle purchased from Whole Foods - looking to try some new up and coming Saison / Biere De Garde styles.
A: pours a nice (1-2) finger light tan head that unfortunately disappears instantly and leaves minimal lacing on glass when swirled. Color is a fairly clear deep copper and seems spot on for the style. Looks lean.
S: wife says metallic - i have no sense of smell
T: toasty (toffee) malt sweetness characteristic of style is right up front and carries through flavor. Some nice raisin bread, stone fruit laced, maybe even some orange hiding in there, and minimally noticeable hops at end. Typical of style it tastes of rustic and earthy flavors . The metalic smell comes through in flavor as well. A little heat that holds on and what seems to be some spices - from Strisselspalt hops. Mouthfeel is medium and also very lean.
O: Did not like the first couple sips, but the beer grew on me after the first glass. Not my favorite flavors but does well to hit the style spot on from appearance to flavors. Personally would like a little more complexity, fuller flavor, and less toffee / toasty. That said, the style is typically fairly lean like this beer. The more I drink and think about style the more it continues to impress me.
1,238 characters

3.79
/5
rDev
+1.3%
look: 3.75 | smell: 3.5 | taste: 4 | feel: 4.25 | overall: 3.5
Handsome amber color in the Maredsous goblet. Streaming bubbles with a modest white foam and plenty of spritz on the tongue. Creamy carbonation is a nice feature. There is a very light grainy aroma with a whiff of the manger.
There is some appley malt with a touch of sweetness, but mostly this is very dry and yeasty. The finish is rather austere but the exceedingly dry taste is subdued by the sudsy mouthfeel. A little malty substance.
This seems like a real Bière de Garde with that softer, yet Saison-seasoned flavor. From the 750 ml bottle purchased at Bine & Vine in San Diego for $9.99.
597 characters

3.34
/5
rDev
-10.7%
look: 3.5 | smell: 3.25 | taste: 3.25 | feel: 3.5 | overall: 3.5
Pours a fairly deep amber orange color. Looks a bit murky but easy to see through. I'm guessing there's a fair bit of yeast sediment at the bottom of the bottle. The head is small to medium in size, white and relatively sticky. Aroma is light caramel malt, herbal hoppiness, mint, grapes, apple cider and some earthiness. The malt seems sweet with a fair bit of caramel and a somewhat bready character. Lots of that grapey, appley sweetness, which is not entirely pleasant. The taste is sweet, herbal and earthy. More apple cider sweetness. The malt flavor could be a lot fuller. It's a bit stale and lifeless. It's slightly too sweet. Something about it needs to be cleaned up. It's a touch cloying, though too thin to really go too far in that direction. The mouthfeel is fairly effervescent and almost light but the sweetness gives a sense of body in a funny way. I don't much like this one. I wouldn't call it a very clean beer, which is advertised on the label. That apple cider sweetness gets to me and kills most of the refreshment that I was expecting. That said, it's not bad. The hops seems nice - wish they were a bit stronger - and I appreciate anyone attempting a Biere de Garde.
1,192 characters

3.14
/5
rDev
-16%
look: 4 | smell: 2.5 | taste: 3.5 | feel: 3 | overall: 3
Thanks to jconrick1 for this bottle. Served in a cervoise. Pours a slightly-hazed caramel-bread color with a good white head. Nice retention and good lacing on the way down, along with a thin collar throughout. The nose has a nice initial breadiness plus just a touch of earth. Flavor is similar with some added hop bitterness. A bit of a leafy quality to it. Medium body; a bit chewy. Carbonation is appropriate. Finish is fairly-dry with a bit of alcohol warmth, which is surprising for a 5.3% beer.
501 characters
4.26
/5
rDev
+13.9%
look: 2.5 | smell: 4 | taste: 4.5 | feel: 4.5 | overall: 4.5
750ml bottle shared with a buddy on 8.4.12.
A - Pours a hazy, dark orange with a crazy off-white head that fills the glass and seems to never fade.
S - Spices, malts, subtle yeast.
T - Smooth spices, dark oranges, and some wheat.
D - Tons of carbonation with a light body.
O - Smooth and spicy at the same time. Nice refresher for a 90 degree Seattle day.
360 characters

4.03
/5
rDev
+7.8%
look: 4.5 | smell: 4 | taste: 4 | feel: 4 | overall: 4
A big thanks to James (cavemanbeerlawyer) for this great extra. Cheers!
Appearance – Pours into a tulip with a slightly hazy, vibrant tangerine color and about three fingers of off white head that dissipates slowly leaving big chunky lacing.
Smell – Slight funk, earthiness, floral and grass notes, bready malts and a hint of green apple.
Taste – Quite similar to the aroma. A slight fruity sweetness up front, musty earthiness next, a nice peppery bite, then roasted grains, dough, and slight malt sweetness.
Mouthfeel – Medium bodied, plentiful carbonation, finishes dry.
Overall – An extremely quaffable beer and one I am rather enjoying. I would like to have this again.
690 characters

3.75
/5
rDev
+0.3%
look: 4 | smell: 4 | taste: 3.5 | feel: 3.5 | overall: 4
750ml : tulip snifter
Pours a clear copper with a foamy off-white head.
Aroma is fruity, almost cider like notes, with sweet bready malts.
More fruity apple notes blend with floral and sweet bread malts.
Medium body, medium-low carbonation.
Balanced, easy drinking beer.
275 characters
3.68
/5
rDev
-1.6%
look: 4 | smell: 3.5 | taste: 3.5 | feel: 4 | overall: 4
750ml bottle, purchased @belmontstation in portland
split, paired with seared wild salmon and asparagus
COMMERCIAL DESCRIPTION
Our Biere de Garde was inspired by the farmhouse beers brewed in Northern France and brewery friend Steve Jones, proprietor and cheesemonger at Cheese Bar. Steve was lamenting the dearth of food-friendly Biere de Gardes and we took that as a cue to develop a beer that would fill the gap. Traditionally, Biere de Garde was brewed in Winter and early Spring while the climate was cooler, then garded (lagered) during the cool months, and reserved for consumption during the summer. This beer offers a soft and clean, malt forward flavor with a reserved hop profile.
appearance: served in my ale asylum chalice, hazy auburn body, light tan lace
smell: sweet dough, earthy malts, grassy
taste: a nice subtle biere de garde - earthy and rustic, toasted grain, doughy malt, biscuit, black pepper
mouthfeel: light and well balanced
overall: nice beer - versatile and balanced
1,018 characters
Bière De Garde from The Commons Brewery
3.74
out of
5
based on
43
ratings.