Madrone
| The Commons Brewery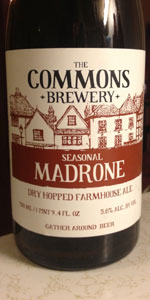 BEER INFO
Brewed by:
The Commons Brewery
Oregon
,
United States
commonsbrewery.com
Style:
Saison / Farmhouse Ale
Alcohol by volume (ABV):
6.00%
Availability:
Rotating
Notes / Commercial Description:
Madrone is an amber saison with a hint of tartness and a big burst of fruity west coast hops. Citrus and tropical fruit in the nose this might be the closest to an IPA we'll get.
Added by vkv822 on 06-04-2012
Reviews: 15 | Ratings: 70
4.05
/5
rDev
+5.2%
look: 4.25 | smell: 4.25 | taste: 4 | feel: 3.75 | overall: 4
Tap pour has an orange toast color. Aroma is orangey with floral notes. This is very much a saison. The saison and wild yeasts blend well and the dry hopping helps to balance the sweetness and dry the finish. Unique and delicate flavors here.
243 characters

4.73
/5
rDev
+22.9%
look: 4.75 | smell: 4.75 | taste: 4.75 | feel: 4.5 | overall: 4.75
From the bottle direct from Portland to So Cal. Pours a ruby golden, bit of head. A beautiful saison, with just enough fruit on the nose to hide the hops, until you take a sip that is. A perfect balance of hops and tartness and a bit effervescent. A really stellar beer, not like anything you've had. Go find it.
312 characters

4
/5
rDev
+3.9%
look: 4.5 | smell: 3.75 | taste: 4 | feel: 3.75 | overall: 4.25
Picked up this bottle at one of the shops in PDX. Tasted 5 June 2014.
Pour is eruptive, but a gentle touch controlled it. Medium orangey amber, cloudy. Three fingers of white head, great retention (not so long that I'd get impatient), and outstanding lacing. Leaves a cap and a ring of foam on top.
Smell is bright and floral, with some light herbal hops to complement the typical floral notes of a bright saison. I like it, but I do wish there were more of it - more potency or more variety.
Taste is good. Very orange (the color, not the fruit), and fairly sweet; reminds me a bit of some kind of delicate fruit-infused soda. Great floral presence here, too, like sucking on sweet flower petals. Yummy.
Feel is really good. Medium-bodied, smooth and light in the mouth thanks to the bright, fizzy carbonation. Lasts exactly as long as I want it to, allowing the flavors to all come through, then as it tilts bitter, it fades out at just the right time.
A very tasty saison. Bright, floral, and lightly fruity. Perhaps the best balance I've encountered between those two aspects of saisons: flowers and fruit. Good stuff.
1,127 characters
3.55
/5
rDev
-7.8%
look: 3.25 | smell: 3.75 | taste: 3.5 | feel: 3.5 | overall: 3.5
Bottle pour at the post-FWIBF bottle share held at the Adelaide Inn in Paso Robles, CA.
Pours a murky orange with a foamy bone head that settles to wisps of film on top of the beer. Small dots of lace form around the glass on the drink down. Smell is slightly sour malt, grain, fruit, and spice aromas. Taste is much the same with grain, fruit, and spice flavors on the finish. There is a mild amount of spice bitterness on the palate with each sip. This beer has a lower level of carbonation with a slightly crisp mouthfeel. Overall, this is a pretty good beer with a solid taste, but I think the smell on this one is slightly better.
636 characters

3.83
/5
rDev
-0.5%
look: 4 | smell: 4 | taste: 3.75 | feel: 3.75 | overall: 3.75
Poured from a 750ml bottle into a pint glass.
Pour carefully! This one picked up a big, fat 3-finger ivory head from a casual pour. The head is big and 'fluffy'. Retention is high. Many minutes later, I still have a good head on it.
The color is great - deep yellow-orange / amber. Definitely unfiltered and cloudy. Smell is fresh and full - lemon and grapefruit but on the sweet side. The yeast comes through which I like in a saison.
I went through the full bottle and took some time and the change over that time was noticeable. It came out of my fridge a little cold (it's set at 37F) and my initial sips were not as favorable as what I got once it warmed up a bit. When it did warm up it was dry at first, then filled and and finished sweet and buttery, almost like butterscotch. Nice. The yeast comes through here as well.
You might want to gently turn the bottle over before you cap it to mix the sediment, or pour gently and leave it at the bottom if you prefer that route.
This is a really nice beer. I've been trying a bunch of different local saisons lately and this is not the very best of the bunch but it's definitely good and I'd pick it up again.
1,167 characters
3.99
/5
rDev
+3.6%
look: 4.25 | smell: 4 | taste: 4 | feel: 3.75 | overall: 4
Thanks to Dan for hosting and sharing this one :thumbup:
Quick review from written notes.
Dark gold color, slow gusher, sudsy head of foam with spotty lace present.
Floral aroma of cascades presumably. Lemony tart yeast flavors, clove in the aroma, crisp dry finish with a lightly lingering bitterness. Fairly utilitarian but well put together. Not sure of the age, dry hopping seemed a little muted. Thanks Dan!
415 characters

3.78
/5
rDev
-1.8%
look: 4.25 | smell: 3.75 | taste: 3.75 | feel: 3.75 | overall: 3.75
Appearance burnt gold with a big white head leaving chunks of foamy lace.
Smell is light skunk and citrus, banana esters, touch herbal.
Taste is more estery than hops, there's a slightest bit of sourness, cut by a bitter finish. Little bit of maltiness accentuates the citrus notes similar to an English ale.
Mouthfeel is dry, light.
Drinkability is ok, a solid saison, with a little more malt and hops than classical compositions, which is my preference.
463 characters

3.67
/5
rDev
-4.7%
look: 3.75 | smell: 3.5 | taste: 3.5 | feel: 4 | overall: 4
Pours a golden orangey color in the glass. Some big foam at first couple of pours. Very sprightly on the tongue with clouds of bubbles melting in the mouth.
Some malty sweetness on the lips, followed by the drying yeasty sensation. Something of a mineral taste with woody hints. There isn't much in the way of fruit in the flavors, but a hint of plums perhaps. Overall this is rather sweet with caramel and winey. It's balanced by the scratchy Belgian yeast and the bitter aftertaste.
Quite pleasant, but more of a hot evening quaff than something to savor. From the 750 ml bottle bought at Market of Choice on 29th in Eugene.
630 characters

4
/5
rDev
+3.9%
look: 4 | smell: 4 | taste: 4 | feel: 4 | overall: 4
750mL into a tulip. Pours a slightly hazy copper color w/ a 1-finger eggshell head, some nice sticky lace.
Aroma is a blend of bready pale and fruity caramel malts and floral PNW hops. Spicy and earthy Belgian yeast.
Taste follows nose. Fruity, floral, musty, earthy, spicy. Crackery pale malt with more sugary caramel malt underneath. Very nicely balanced and refreshing.
Mouthfeel is medium to full bodied with a nice bitter finish.
Overall a rock-solid hybrid between a classic saison and an old-school Northwest pale ale.
529 characters

3.86
/5
rDev
+0.3%
look: 3.75 | smell: 4 | taste: 3.75 | feel: 3.75 | overall: 4
Appearance: dark orange, hazy, white finger of head.
Aroma: floral, yeasty, earthy, musk hints, lemon, herbs, bread.
Taste: floral, earthy hoppiness, moderate bitterness, hints of lemon, yeast, white grape.
Mouthfeel: moderate carbonation, could be a bit more effervescent, style wise. Light body, clean.
Overall: solid Saison with nice hop notes, though I don't think the choice of hops mesh 100% with it. Still, quite enjoyable.
435 characters

3.85
/5
rDev 0%
look: 3.75 | smell: 3.75 | taste: 4 | feel: 3.75 | overall: 3.75
Poured into a 3 Monts tulip. Pours a clear, medium golden amber with a fine three finger white head with good retention and lots of lacing. Aroma of spicy saison yeast, hints of caramel malt, light citrus, slight earthiness. Flavor follows with semisweet, light caramel malt and citrus quickly drying out to reveal the saison yeast, wood and a hint of wild yeast funk. Light bodied with pleasant active carbonation. A light, fairly subdued saison, but there is a lot going on in the subtle flavors. Interesting flavor progression from lightly sweet to quite dry in the finish. The dry hopping is also lightly done with light grassy hops notes in the finish. This is quite a bit drier than the ales I usually prefer, but I really enjoyed this start to finish and will be sampling the other beer from this brewery. Possibly not for traditionalists because of the unusual dry hopping.
881 characters
3.59
/5
rDev
-6.8%
look: 5 | smell: 3.5 | taste: 3.5 | feel: 3.5 | overall: 3.5
A: Poured a lightly hazed golden color with great carbonation leaving a big beautiful billowing dirty white cap. Tere is a lot of foam here, not like infected home but proper head and retention for this style. A lot of lacing present long into this beer.
S: Pretty mundayne and standard for the style. I'm getting a good amount of light citrus notes with underlying grass and light horseblanket. A little bit of banana is detected as well.
T: Upfront I get a little bit of astringency with a light spiciness and banana. A subtle citrus comes in afterwards. I can tell the dry hopping presence with its light citrus and light to moderate bitterness.
M: This beer has good carbonation, light-medium body, a dry presence and finish with a nice bittering.
O: Not to shabby.
775 characters
3.57
/5
rDev
-7.3%
look: 3 | smell: 3.5 | taste: 3.75 | feel: 3.5 | overall: 3.5
A - Pours a murky light caramel tan color with a thin, even white head and sticky lacing.
S - Musty straw, light funk, bready, light citrus. Overall it's subdued and subtle.
T - Barnyard funk, light citrus tang, spice, somewhat grassy, lemon zest, and finishes with some bitter citrus rind that's bone dry and lingering.
M - Light medium body and incredibly dry.
O - Descent, doesn't particularly stand out in any way and sits somewhere in the middle of the pack.
468 characters
3.64
/5
rDev
-5.5%
look: 3.5 | smell: 3.75 | taste: 3.5 | feel: 3.75 | overall: 3.75
On tap at the brewery.
A - Served a cloudy medium orange with no head at all.
S - Subtle citrus, malty and spices.
T - Malted pale with subtle citrus, wood and spice. Pretty muted and mild.
D - Light body and low carbonation.
O - Muted crisp citrus and light.
269 characters

3.85
/5
rDev 0%
look: 4 | smell: 4 | taste: 4 | feel: 3.5 | overall: 3.5
on-tap at Belmont Station.
from notes.
Medium orange with foamy, off white head.
Floral notes predominately, blends into lightly spicy, clove yeast notes.
Medium body, foamy, prickly carbonation.
A good saison, nothing too memorable overall but still enjoyable.
274 characters
Madrone from The Commons Brewery
3.85
out of
5
based on
70
ratings.