Eidolon
| The Commons Brewery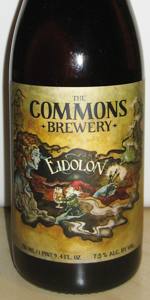 BEER INFO
Brewed by:
The Commons Brewery
Oregon
,
United States
commonsbrewery.com
Style:
American Wild Ale
Alcohol by volume (ABV):
7.50%
Availability:
Rotating
Notes / Commercial Description:
Eidolon is a collaboration between our brewer, Sean Burke, and friend Sean White. A sour farmhouse ale with Meyer lemon juice and peel, jasmine green tea and flowers, and New Zealand Hallertau hops. It is then matured in wine barrels with two strains of brettanomyces.
Added by Sarlacc83 on 08-18-2012
Reviews: 10 | Ratings: 29

4.32
/5
rDev
+5.4%
look: 4 | smell: 4.5 | taste: 4.5 | feel: 4 | overall: 4
A: poured a bright pineapple yellow in color with pale yellow highlights and a half finger of bubbly head that left a little lacing sticking to the glass.
S: there definitely was plenty of bretty funkiness upfront on the aroma with floral spice notes such as jasmine but had some nice citrusy qualities. I also managed to sniff out a little oakiness and vinous tones as well.
T: the jasmine herb character was more prominent in the flavor alongside bretty funk all over, citrus spice accents, oakiness that added dimension and a touch of floral undertones. I did however have slightly grape vinous wine barrel qualities.
M: the brew was medium in body with a good amount of carbonation which had a bretty, funky, oaky, vinous, slightly fruity, spice, floral, mild herbal and tart finish.
O: It was a solid american wild all the way around and was very surprised on the flavor. Very delicious and a must have if your in the northwest.
★
938 characters

3.72
/5
rDev
-9.3%
look: 3 | smell: 3.5 | taste: 4 | feel: 3 | overall: 4
A: Orange-golden with good clarity. Doesn't raise much of a head or display much carbonation.
S: Fruity and somewhat musty. I'm not particularly familiar with Meyer lemons, but to me the aroma is closer to orange than lemon. Mild floral notes, but jasmine doesn't come out clearly to me.
T: A very unusual beer. Honestly, it reminds me somewhat of bottled green tea with lemon, but without the awful artificial flavors that most such beverages have. It's a tasty beverage, but pretty far off the typical beer spectrum, even for a wild beer.
M: Low carbonation. Relatively light body. Lingers nicely.
O: A hard beer to rate -- not really falling into any accepted style -- but I'm pretty positive about this overall. With so many unusual ingredients, it could have been a real mess, but things work together well to create something that, while not typically "beer-like" is pretty enjoyable.
★
894 characters

3.92
/5
rDev
-4.4%
look: 4 | smell: 4.5 | taste: 3.5 | feel: 4 | overall: 4
750mL bottle poured into a taster glass. Thanks Jason for the bottle!
(A)- Pours a hazy golden orange color. Some tan froth and lacing. Fairly good retention to it.
(S)- A dry lemon peel and funky hay bit. A touch of tartness with some mellow dry oak components. Not overly complex, but the aroma as a whole is just really nice.
(T)- Lots and lots of a hay/wheat and biscuit-like lemon. Bits of oak with subtle tartness. Very subtle Brett in the background.
(M)- A good carbonation level. An ok balance to it too. It does get a touch chalky in the mid palate as it warmed, but otherwise quite nice.
(O)- Overall, a nice wild ale that could improve a bit with some time on it if you have the patience; might bring the Brett forward more, but this is quite a nice wild ale as it sits now too.
★
795 characters
3.97
/5
rDev
-3.2%
look: 3.5 | smell: 4 | taste: 4 | feel: 4 | overall: 4
Bottle opened on 9.5.12.
A - Pours an opaque medium orange with a fluffy cream-colored head. Lots of fizz, but it fades fast.
S - Lots of tartness and funk hits your nose hard. Some floral tones as well.
T - Barnyard funk, some butter, wildflowers and citrus.
D - Lots of carbonation with a medium body. A tart middle with a buttery finish.
O - Not sure about the butteriness, but the funk really saves it.
★
411 characters
3.95
/5
rDev
-3.7%
look: 3.75 | smell: 3.75 | taste: 4 | feel: 4.25 | overall: 4
Thanks black13!
Appearance. Pours a lightly hazy rich gold with a finger of cream coloured head that fades to a skim fairly quickly.
Smell. Funky and sour with some nice orchard fruits coming through, mainly pears and peaches and a little dank old wood and floral hops.
Taste. Very funky again with a nice floral/herbal flavour that I can't quite describe. Orchard fruits are present like the smell and a nice mild sourness.
Mouthfeel. Medium body with fine medium carbonation.
Overall. Very much enjoying this unique brew. Thanks again black13!!
★
551 characters

4.25
/5
rDev
+3.7%
look: 4 | smell: 4 | taste: 4.5 | feel: 4.5 | overall: 4
750mL bottle from the brewery. Served in LA tulip.
A: Hazy copper with a thin lasting lacing. This is a sour saison in wine barrels, so I'll expect a darker color.
N: Blast of saison yeast and some leather and earthiness from the wine barrel. Cedar and green tea grassiness. Maybe a little bit of Brett here, but not much (spiked with 2 strains.) The Meyer Lemon is very prominent.
T: Dry and tannic. Lemon juice. Very earthy, and it's easy to tell this has tea in it. As mentioned before this is very tannic and woody, and it's very close to the wine with the cherry, leather, and earth. Pine and cedar. Sharp lactic acid mixed with the citrus sting. Solidly in between saison and sour. This one is hard to put my finger on - there are a lot of flavor components here but they work together harmoniously. A little bit of alcohol.
M: Very, very dry. If you're looking for refreshing, this is not your beer. If you're looking for a palate scraping, go no further.
O: I want to keep drinking this and drinking this in order to further explore its depth. Quite good with the potential to become marvelous as the brettanomyces eat away at the tannins. Be aware this has a ton of wine characteristics to it.
★
1,207 characters

4.22
/5
rDev
+2.9%
look: 3.5 | smell: 4 | taste: 4.5 | feel: 4.5 | overall: 4
750 ml bottle, picked up yesterday from the brewery. Served in a tulip. Farmhouse style ale, two barrels blended with meyer lemon juice, meyer lemon rind, and jasmine tea, with two kinds of brettanomyces, one being brett lambicus.
Appearance is amber, murky, very slight off-white head. Head recedes quickly with light lacing.
Smell is dusty and citrus. Lemon hits you at the end and becomes more prominent as the beer comes to room temp. Nice preview of funk.
Taste is initially dominated by pinot noir with cherry and citrus on the follow-through. Nice oak and barrel character, balanced well by the citrus. Finishes clean and dry, with a hint of the jasmine as the beer came up to room temp. I recommend letting this beer fully warm up to enjoy the jasmine.
Overall, a clean and refreshing take on a wild farmhouse ale. Hides all traces of alcohol. The tea and meyer lemon are subtle and complement the final product. The tannins will fade and the brett will become more pronounced.
★
992 characters
4.24
/5
rDev
+3.4%
look: 3.5 | smell: 4.5 | taste: 4.5 | feel: 3.5 | overall: 4
This beer pours a light amber. Aroma of citrus, bubblegum, must and barnyard - really great, complex aromatics. Lemon definitely comes across as a major flavor, balanced well with the malt, and finishing with the wonderful hop and tea. It's got some great tannins from the barrel which really, really remind me of a about as oaky as a true Burgundian Pinot can get in a younger-ish barrel. Maybe a little of that astringency comes from the jasmine tea as well? This is really a wonderful beer. Great Brett character expertly balanced with the lemon and hop.
★
557 characters

4.5
/5
rDev
+9.8%
look: 4.5 | smell: 4.5 | taste: 4.5 | feel: 4.5 | overall: 4.5
opened 9.11.12
glass type: tumbler
A - pours an opaque deep amber color, light copper. subtle white head that fades rather quickly.
S - bright citrus tart smell. light grapes. slight dark, earthy funk.
T - layers of flavor that pick up where the nose left off. bright citrus tartness on the front of the palette followed by a buttery, earthy cheese note. finishes into funky dark floral flavors. bottle says jasmine green tea, lemon juice and flowers. definitely picking that up through this beer.
M - lightly carbonated, smooth, great.
O - A fantastic beer. Looking forward to holding onto a bottle to see how it progresses. A unique sour blend for sure and no complaints. well done.
★
692 characters
4.17
/5
rDev
+1.7%
look: 3.5 | smell: 4 | taste: 4.5 | feel: 4 | overall: 4
Aroma: Big barnyard funk and sourness, sweet lemon, grapes, and some spiciness
Appearance: Slightly cloudy. Light amber in colour. The head dissipated quickly.
Taste: Big lemon flavour with a tart front end and big complex brett finish. I also found it a bit briney.
Mouthfeel: The beer was very crisp and quite dry and the carbonation kept it nice and light on the tongue.
Overall: I really liked this beer, though i found many aspects of it hard to describe. It was very palatable and extremely complex. I would definitely approach it again.
★
547 characters
Eidolon from The Commons Brewery
4.1
out of
5
based on
29
ratings.