Bourbon Little Brother
| The Commons Brewery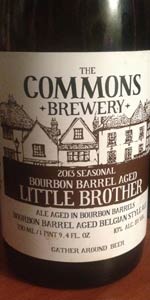 BEER INFO
Brewed by:
The Commons Brewery
Oregon
,
United States
commonsbrewery.com
Style:
Belgian Strong Dark Ale
Alcohol by volume (ABV):
10.00%
Availability:
Winter
Notes / Commercial Description:
A portion of Little Brother is added to Heaven Hill bourbon barrels after primary fermentation where it picks up a rich, bourbon flavor. After a few months this is then blended back with a non-barrel aged version that had been cold conditioning.
Added by vkv822 on 01-01-2013
Reviews: 13 | Ratings: 71

3.82
/5
rDev
-1%
look: 4 | smell: 3.75 | taste: 3.75 | feel: 3.75 | overall: 4
Such a nice sudsy mouthfeel. Dark brown with a golden edge in the Crooked Line tulip. Plenty of foam. Fruity and roasted grain nose.
Sugary taste along with the intriguing Bourbon taste. Not as boozy as a lot of barrel-aged brews. Faint burnt
Pleasant fruity, dark, and dry yeasty taste. An interesting brew with a more modest barrel influence. From the 750 ml bottle purchased at Whole Foods just off Burnside in Portland.
427 characters
4.3
/5
rDev
+11.4%
look: 3.75 | smell: 4.25 | taste: 4.5 | feel: 4 | overall: 4.25
A year old bottle which may explain the very high levels of carbonation. Almost a root beer float sort of suds. Aroma is vanilla, oak, dark fruit. Flavor follows with some of the classic Belgian clove and banana as well as a cola /root beer flavor. Some criticize the body but we have to remember this is a Belgian dark, but a stout. The strong Bourbon flavors without the boozy heart is an accomplishment. One of the nicest mergers of Belgian flavors with Bourbon that I've had.
483 characters
3.51
/5
rDev
-9.1%
look: 4.5 | smell: 3.5 | taste: 3.5 | feel: 3 | overall: 3.5
750 mL bottle poured into a snifter.
Appearance - Huge khaki head. Lasts forever. Great surface foam with a thick collar. Brown body.
Smell - Dark fruity character. Belgian sugars. Caramel and some yeasty notes.
Taste - Nutty caramel sweetness. Belgian sweetness. The only hint of a barrel is some vanilla in the back.
Mouthfeel - Way overcarbonated. Lingering sweetness. Medium body.
Overall - Pretty good, but where's the bourbon?
437 characters

3.98
/5
rDev
+3.1%
look: 4 | smell: 4 | taste: 4 | feel: 3.75 | overall: 4
Poured into a Gulden Draak tulip. Pours a dark burnt orange with a big three finger light tan head with great retention and lacing. Aroma of mixed fruit; cherry, orange and plum with a bit of dark dried fruit, spicy and a hint of bourbon. Flavor starts with classic Belgian strong dark flavors of light and dark stone fruit and dark dried fruit then transitions to Belgian yeast, sweet light stone fruit and bourbon. Finishes with lingering bourbon and light barrel oakiness and vanilla. Light bodied with sharp, peppery carbonation, almost overcarbonated. A nice domestic take on a Belgian strong with a light to moderate bourbon component that melded well with the other flavors. The flavors are all somewhat subdued, but work well together and leave a pleasant finish. Enjoyable, especially if you like bourbon flavors with your ale.
836 characters

4.24
/5
rDev
+9.8%
look: 3.75 | smell: 4 | taste: 4.5 | feel: 4 | overall: 4.25
Picked up a bottle at Belmont Station during NW Beer Safari. First shot at The Commons, and hoped to have a good intro.
A: Big frothy head; settles to a full foam. But still a bit bubbly.
S: Nose was full of dark fruit, touch of leather, bready with some yeast
T: Really liked the taste. Big flavors. Fruit, leather, chocolate, bourbon with pronounced vanilla, Tasty sipper!
M:Very good, but... Unfortunately, a bit bright with carbonation. Would have enjoyed a something more velvety with those flavors. Still..was very good. Full, and carried the malt well.
O: A very nice beer. Would purchase again. Definitely has me interested in more beer from The Commons. Just can't help but think it could have been special.
716 characters
3.65
/5
rDev
-5.4%
look: 3.5 | smell: 3.5 | taste: 3.75 | feel: 3.5 | overall: 3.75
reinheitsgematt brought this gem over tonight.. 2013 vintage... Pours a clear walnut... fizzy dark tan head... dies back pretty quickly... decent lacing... Thanks a bunch Matt!! New to me beer!!
Nose shows pretty strong dark fruity esters... not really enough malty backbone IMO.. bourbon shows a bigger vanilla.
Flavor mirrors the aromas but has more intricacies.. some light cocoa and hints of yeasty phenols remind me of clove.. bourbon barrel presence is there, but is pretty balanced and never gets out of whack.
Big carbonation for the style, but it isn't too bad.. just a little too prickly... and could use a little more background maltiness to help on the palate and it would also deliver the sorta convoluted flavors into one wheelhouse.
Again, big props to Matt.. This is a new to me beer from a brewery that I really like.
3.5/3.5/3.75/3.5/3.75
861 characters
4.27
/5
rDev
+10.6%
look: 4.5 | smell: 4.25 | taste: 4.25 | feel: 4.25 | overall: 4.25
Bottle opened on 2.1.13
A - Pours a medium dark brown with a fizzy tan head that fades slowly.
S - Yeasty, raisins, slight coffee.
T - Toffee and raisins, some wood, yeast and finishes with a hint of bourbon.
D - Good carbonation and a lighter body.
O - Belgian dark with a nice subtle bourbon finish.
306 characters

3.65
/5
rDev
-5.4%
look: 3 | smell: 3.5 | taste: 3.75 | feel: 3.75 | overall: 3.75
Bottle courtesy of beastmaster from the Pirtland airport. Pours dark brownish purple with massive khaki head and a shit ton of sediment. Aroma of dark fruits, yeast funk, spices, banana, chocolate, and vague booze. Flavor is actually really nice. Funky yeasty banana up front with a bit of prunes and raisins, then there is a nice punch of sweet bourbon and vanilla, spice, a lingering vanilla caramel marshmallow, and some oak. Body is a bit weak on the thinner side for the style with lowish carbonation. Overall this was better than expected with a strong bourbon whiskey presence that is actually kind of nice and almost a spicy rye whiskey note with the quad-bourbon combo. Not bad.
687 characters
3.85
/5
rDev
-0.3%
look: 3.75 | smell: 3.75 | taste: 4 | feel: 3.75 | overall: 3.75
750ml, Winter 2012 release
Kennett Brewfest plastic cup
A: Murky dark amber. I thought this would be darker than it actually poured out. Hazy. Light tan head. Nice carbo. Sticky lacing when you swirled it.
S: Lots of bread. Not getting a lot of bourbon. Dark fruit. Almost dark cherry. Some hints of vanilla from the barrel but thought this would be more pronounced.
T: You get some dark fruit initially. Thinner mouth than planned. I was surprised all around here.
M: Big medium. High carbo.
496 characters

3.53
/5
rDev
-8.5%
look: 4 | smell: 3.5 | taste: 3.5 | feel: 3.5 | overall: 3.5
750ml : tulip glass
2012 Seasonal.
Bourbon barrel aged Little Brother.
Pours mahogany with a foamy off white head.
Bourbon upfront, transitions to dark fruit, as well as some caramel/toffee notes.
Medium body, with low prickly carbonation.
An enjoyable Belgian dark. When slightly chilled, the bourbon is the most prominent feature, but as it warms it becomes much more balanced between bourbon notes and dark fruits/toffee.
438 characters
3.59
/5
rDev
-7%
look: 3.5 | smell: 3.75 | taste: 3.5 | feel: 3.75 | overall: 3.5
Appearance- Pours up basically no head- I had to swirl it to get a sense of the color. The head is a light beige with malted notes while the body is a muddy, chestnut brown with slight hints of ruby which appears as a mix of dark amber and maroon when held up to the light.
Nose- Very subtle. Thought I got notes of bubblegum at first but that may have just been the banana that seems to be the dominant note of the aroma. Some cloves, a bit of ashiness which transitions into light bourbon notes that seem to suggest leather and tobacco. Slight oak. Swirling adds nothing to the aroma.
Taste- Starts off pretty thin, only to show big notes of grain and cereal. Not quite what I expect from a Quad/BDSA. Even a little bit of corn. I sure hope more notes show up. Some underlying dark fruits, some banana, but nothing that has much presence. Bubblegum even. Slight raisins. Huge grain, lots of brown bread. Some candi sugar. Very low on any sort of bourbon notes. Maybe some oak on the finish and linger? Some lemon citrus appears. Some cocoa, not really chocolate as mentioned on the label. Very low heat. Not a bad beer but doesn't really match the expectations I had based on the label. Above average to good. I wonder if aging would benefit but I'm not sure if I want to spend the money to find out. Good amount of complexity, balance, and integration- simply needs more presence. Less flattering notes fade and allow the more enjoyable fruit esters to show but nothing close to the complexity I wish for appears.
Mouthfeel- A little more than light bodied with very light carbonation. Pretty airy for such a high gravity beer. Almost delicate.
Drinkability- Very drinkable but also has a flavor profile that is very easy to miss. 11-12 bucks is reasonable for a 750 but I don't think I would buy this again. I would try it on draft again but that's about it.
Overall- Above to good beer which could be a really good beer if it just had more going for it. It doesn't really show any barrel aging but I can't complain as there isn't a hefty price tag to boot. It's pretty much in line with most of The Commons beers (which I really want to like but still haven't delivered that aha moment). I will keep trying- everyone else speaks so highly of them.
2,262 characters

3.66
/5
rDev
-5.2%
look: 4 | smell: 3 | taste: 3.75 | feel: 4 | overall: 4
750mL bottle from the brewery
A: Pleasant brown with a reddish tint. Thin head around the perimeter. Light legs.
N: Sweet peas, bananas, cloves, some biscuit, raisin, prune. Brown sugar is also evident. Some caramel and vanilla, but it's pretty light.
T: Biscuit, yeast, prune, some raisin, and lots of brown sugar. Yeast is quite evident with its clove and esters. A little bit of leather. Caramel and vanilla from the bourbon. The bourbon integrates with the body - don't expect it over the top. Some smoke and leather.
M: Very well carbonated. Alcohol peaks out now and again, and it dancing on the tongue despite how heavy the body can be.
O: Could use some more bourbon to make it pop. A well made beer, but it needs some extra dimension.
757 characters

4.3
/5
rDev
+11.4%
look: 4 | smell: 4 | taste: 4.5 | feel: 4.5 | overall: 4.25
Poured into Belgian Ale glass. Served a little below room temp. Appearance was a murky, brown with a light tan head that quickly dissipated. Average lace. Picked up the stronger alcohol and bourbon in the aroma. Above medium carbonation. It felt like dozens of sharp little pins pricking my lips and tip of my tongue. Taste was sweet and strong, hint of raisin (I think). Any bitterness is overpowered by the high alcohol. Slick viscosity. Delicious bourbon aftertaste kept me raising the glass quickly in between sips. Daddy liked!
532 characters
Bourbon Little Brother from The Commons Brewery
3.86
out of
5
based on
71
ratings.