Refined Ale Beer
| Refined Ale Brewery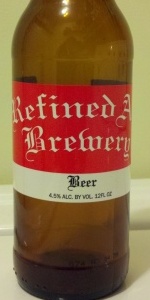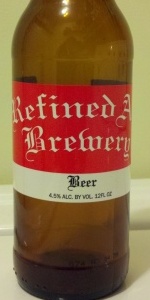 BEER INFO
Brewed by:
Refined Ale Brewery
Arkansas
,
United States
refinedale.com
Style:
English Bitter
Alcohol by volume (ABV):
4.50%
Availability:
Year-round
Notes / Commercial Description:
Refined Ale Beer is our flagship ale. It is a full bodied ale that has a subtle carmel character. Compliments most grilled or baked foods.
Added by Thorpe429 on 02-14-2011
HISTOGRAM
Ratings: 7 | Reviews: 6
Reviews by Fatehunter:

2.25
/5
rDev
+38%
look: 3.5 | smell: 3.5 | taste: 1.5 | feel: 2 | overall: 2
Poured into a pint glass. Golden/straw color with a finger and half of head, which held well.
Smells like honey and pine. Quite pleasant.
First taste, "this is soda water with a sweetener." A slight metallic finish. Yep.
Light body, lots of fizz.
I'm not sure what to make of this, what's the point of charging a premium for an essentially flavorless beer? I can get that by the 30 pack for lots cheaper.
405 characters
More User Reviews:
2.43
/5
rDev
+49.1%
look: 3 | smell: 2.5 | taste: 2.5 | feel: 3 | overall: 1.75
This beer and this brewery is taking a serious beer snob beatdown on this site and here's why: This is not an amber or red anything, the brewery either changed the style for this label or it was misclassified at the start. [Update: since this was originally written, the style has been updated on BA to "English Bitter" which is what the brewer calls it.] Also, the brewer has stated on their website that they are deliberately making easy drinking, low bitterness beers: BA's are not their target market. Also, as a local I know that the expectations are different for a brewery that is this new and tiny. In a matter of months the technical quality of this brewery has noticeably increased, yet the head brewer still brews beers that he and his friends like, for better or worse. With this in mind, on with the review:
Pours out to a generous sudsy, bubbly white head and pale straw -gold color. Head retention is good and there is some lacing with this batch. Aroma has some esters that indicate warm fermentation, it is fruity and very estery. Yeast, cooked corn and biscuits in the smell as well. Flavor is light, dry, grainy yet balanced. Tart finish, much like a dry wheat beer. This brewery is on record in their website for deliberately trying to downplay bitterness of hops while using noble German hops in a way that adds some character. Mouthfeel is watery and sudsy. Overall, this is not undrinkable, but tastes is very "gamey" and amateurish and not worth the craft beer price. "Refined Ales" needs some refinement. I hope they step up to the challenge because there is a good foundation here.
1,608 characters

1.24
/5
rDev
-23.9%
look: 3 | smell: 1.5 | taste: 1 | feel: 1 | overall: 1
1The brewery's website does not offer much here. It does say they don't use adjuncts and they make ales, so I'm assuming this is an all-malt ale. The closest style I could think of for this would be a cream ale. It was hard to tell; the beer itself is not good at all.
Poured into a tulip.
Color is light straw-yellow with a bit of haze. Really thin white head without any retention. A dot or two of lacing on the sides of the glass. The nose is loaded with DMS and creamed corn underneath a strong solvent presence. Acetone galore. I didn't know a 4.5% beer could get so boozy. Taste is not at all better; in fact, it's worse. Just awful. Dominated by nail polish removed, the best thing this beer had going for it is the canned vegetables that come through after the alcohol burn. Light in body. Drinkability is beyond bad. I couldn't much to swallow much of this.
872 characters

1.15
/5
rDev
-29.4%
look: 3.5 | smell: 1 | taste: 1 | feel: 1 | overall: 1
Bottle shared by Thorpe, I have to say that this is the best beer I've had from this brewery and this state to date. Setting bar pretty high for yourself here.
Beer is served in a Russian River wine glass. Beer is straw yellow with a wispy head of small and large bubbles, no lacing, moderate to low carbonation, beer is pretty hazy. Eh, it looks OK.
Aroma...oh God no. Where to begin? It is like a case study in off aroma. Beer smells like acetone with a back burn of hydroxybutanone style butterness. The boiled vegetables come up next with an intolerable raunchy / rotten vegetable boiled cabbageness to it. What the hell happened in this beer?
Beer is thin on the palate and hit you with solvency the second it enters your mouth. There is a phenolic and almost formaldehyde character to this beer. I suspect a lot of Ar-kansasans either have or will go blind from this particular beverage. This is TRULY one of the WORST BEERS I'VE EVER HAD. I seriously feared for my health after one ounce and poured the rest down the drain. Think gasoline in a bottle. Not a smart move. I won't be trying ANY beers from this brewery until I am SURE they have figured out how to make a beer. TRULY HORRIBLE.
1,199 characters

1.54
/5
rDev
-5.5%
look: 3 | smell: 1.5 | taste: 1.5 | feel: 2 | overall: 1
Bottle shared by Thorpe429. Thanks Mike!
This beer appears a very hazy, straw yellow hue with just a wee little head. The aroma is way off kilter, and smells similar to nail polish remover. Heavy acetone scents blanket the nose. The flavor continues this downward spiral, with a dose of over-cooked vegetables thrown into the mix. The body is thin and watery. I just don't get it. Never again.
394 characters
1.06
/5
rDev
-35%
look: 2 | smell: 1 | taste: 1 | feel: 1 | overall: 1
Tried this beer last night at a tasting and it didn't have a single thing going for it. Straw color with a thin, rapidly receding head with quite a bit of haze. The smell is terrible and is dominated by acetone and smells like some sort of cleaning chemical. The taste isn't any better - in fact, it's worse. A strong alcohol/acetone/chemical taste dominates all else, with no real malt or hop flavors whatsoever. This beer is the worst brew I have ever tasted and I am extremely disappointed that it is from AR - it is a poor representation of some of the great beers this state produces.
589 characters
Refined Ale Beer from Refined Ale Brewery
Beer rating:
1.63
out of
5
with
7
ratings