Three Blind Mice
| Mother's Brewing Company
BA SCORE
80
good
40
Reviews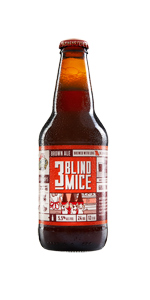 BEER INFO
Brewed by:
Mother's Brewing Company
Missouri
,
United States
mothersbrewing.com
Style:
Altbier
Alcohol by volume (ABV):
5.50%
Availability:
Year-round
Notes / Commercial Description:
Three Blind Mice is inspired by our favorite qualities from English brown ales, German altbiers, and Irish reds. Mother's trio of beer connoisseurs sipped away many a night, working to find this ideal combination. Mother's beautiful brown beer is medium-bodied with caramel, toffee, and subtle chocolate malt flavors—all balanced by moderate hop notes and a clean, dry finish.
Three Blind Mice combines components of several malty beers for the unique brown beer experience you've been missing. After lots of research to find the perfect styles for our base, the clear winners were the lighter body and caramel characters of Irish red ales, the soft chocolate and toffee flavors from English brown ales, and the hop component and balance of German altbiers. We used traditional elements from each beer style and added our own touch for one incredible brown beer.
24 IBU
Added by MarzenMan on 05-22-2011
Reviews: 40 | Ratings: 224
2.86
/5
rDev
-17.6%
look: 4 | smell: 3 | taste: 2.5 | feel: 4 | overall: 2.5
Three Blind Mice
Mother's Brewing Company
Style: Altbier
ABV: 5.50 %
LOOK: Clear ruby colored brew with an off white form that leaves a few spots of lace.
SMELL: Toffee, caramels, roasted malts, sherry, and floral herbal hops are all apparent in the smell.
TASTE: Mellow roasted malt and stewed hop flavors are there but fairly acidic with sherry like oxidation notes that are fairly distracting. Some coarse, leafy hop notes are in effect with a mild bitterness. Muted fruit, stale bread, faint nuts and watery caramel round things out.
FEEL: Medium bodied, well carbonated, smooth, and clean on the finish.
OVERALL: An attempt at a German altbier. Possibly has lost some character due to oxidation. This is still an alright beer, but can certainly use some cleaning up.
778 characters
2.15
/5
rDev
-38%
look: 3 | smell: 3 | taste: 2 | feel: 1.5 | overall: 1.5
Bottles purchased on a business trip through Springfield, MO from Price Cutter. Five of the bottles out of the six purchased contained a high volume of what looked like rubber material floating in them. I called the brewery to notify them but no one answered at 11:00 AM on a Thursday. The following is a review from the clean bottle poured into an Imperial pint glass:
A: Bright, but blackish brown in appearance.
S: One of the first things I noticed is the light hop resins indicating obvious post fermentation hops are utilized. Smells of roasted barley, caramel, and chocolate malts.
T: I picked up a hint of trans-2-nonenal on the nose, but it came through more on the taste. Tasted a tiny amount of Czech hops, possibly Saaz or Sterling. The caramel and chocolate came through, even through the light oxidation.
M: This is when I poured out the pint. Watery and flat. I can tell they were going for something between an Alt and a Brown, so the texture was meant to be medium to light.
F: The beer never had a real head, even after a pretty rough pour. Lacing was also missing.
O: Overall, I wouldn't buy another beer from this company. Not only do they have some serious production concerns with oxidation, but the product doesn't even appear safe with black pieces of rubber floating in nearly every bottle I purchased. I checked the Julian date on the bottle that many brewers have printed on their products and it does appear this bottle has been sitting on the shelf since mid March, which may excuse the trans-2-nonenal.
It appears other's have had better luck with with this company than I.
1,612 characters
3.73
/5
rDev
+7.5%
look: 4 | smell: 3.5 | taste: 4 | feel: 3.5 | overall: 3.5
On tap at the brewery.
A; Pours a reddish brown color with a good head that fades to some lacing.
S: Nice muted aroma of roasted malt, caramel sweetness and roasted malt.
T: Taste is a blend of the caramel sweetness, bit of chocolate and roasted malt. Nice easy bitterness and a clean finish.
F: Medium body, smooth and a bit creamy. Nicely balanced.
O: Good drinker that goes down easy. This beer hit the spot for some reason. Worth checking out.
452 characters
3.16
/5
rDev
-8.9%
look: 4 | smell: 3 | taste: 3 | feel: 3 | overall: 3.5
Pours a deep ruby red color, with about a 3/4 inch tan head. Nice looking beer.
The smell is mainly malt, with a bit of yeast and pepper.
Starts out with a bit of caramel and toffee notes, also a hint of coffee. Then the pepper kicks in, giving it a bit of bite, and finishes with a touch of hop bitterness.
Just a bit thin on the feel, was expecting a touch more body.
Overall a pretty nice beer. Bit spicier than others of the style, but glad I was able to try this one, which I was able to get on vacation, as this brewery's products are not sold in my area. Worth a try if you can find it.
598 characters
3.8
/5
rDev
+9.5%
look: 3.5 | smell: 3.5 | taste: 4 | feel: 4.5 | overall: 3.5
A - Poured a clear, light brown color with hints of red. It had a small, off-white head of bubbly foam.
S - Smelled of mild chocolate, caramel and some roasty malt.
T - Good sweet caramel with some toffee and light chocolate flavors. Nice grassy bitterness.
M - It was very crisp, sharp and smooth. A medium bodied ale with a dry, clean finish.
O - This is a pretty nice brown ale. A nice brew by Mother's.
410 characters
3.86
/5
rDev
+11.2%
look: 4 | smell: 3 | taste: 4 | feel: 4 | overall: 4.5
Pours dark brown with a nice sized head. Has a nice carmely aroma which carries over into the taste. Carmel malt dominates the flavor of this beer. Finishes with a slight hop bitterness which I found quite pleasant. Not a super complex brew, but a reliable always-on-hand beer. I almost always have a few in the fridge.
319 characters
3.35
/5
rDev
-3.5%
look: 3 | smell: 3 | taste: 3.5 | feel: 3.5 | overall: 3.5
12 oz. bottle tried 29 Nov 2011. Served in the Bright Brewing shaker pint.
Large fizzy light brown head. Lightly carbonated. Clear ruby brown in color. Muted aroma, earthy (in a good way), slight bit of chocolate. Light chocolate malt to start. Malty sweet throughout. Medium body, moderate ethanol. Slightly bitter earthy finish and aftertaste.
Overall not bad.
364 characters
3.77
/5
rDev
+8.6%
look: 3.5 | smell: 4 | taste: 3.5 | feel: 4 | overall: 4
Description on bottle says the brewers were inspired by English browns, German alts, and Irish reds in creating this beer.
Deep brown color with a tinge of red; smallish head, but a small layer sticks around.
Aroma is actually detectable a foot away or so, which surprises me for the style. But I'm getting a lot sweet and doughy malts, maybe a hint of cocoa and coffee too.
Not sure this comes off as a hybrid style; in a blind taste test, I think I'd peg this as a brown. Then again, it's not huge on chocolate malt and could be mistaken for a red. The dry hop bite in the finish definitely feels like a red. The beer really grows on me. It's high on drinkability, especially for a style I'm not crazy for. Carbonation and body are just fine. Flavor seems to kick off like a brown but then finish like a red. Neat!
My first Mother's beer and I look forward to having more! Nice to see another brewery in my old stomping grounds. Will be trying their offerings as soon as I'm back in Springfield again.
1,021 characters
3.76
/5
rDev
+8.4%
look: 4.5 | smell: 3.5 | taste: 4 | feel: 3.5 | overall: 3.5
Pours a clear, amber color. Two inch head of an off-tan color. Great retention and great lacing. Smells of sweet malt, hops, slight roasted malt, and slight pale malt. Fits the style of an Altbier. Mouth feel is sharp and clean, with an average carbonation level. Tastes of sweet malt, slight pale malt, hint of chocolate, hint of roasted malt, and a hint of grain. Overall, great appearance, decent body, and good blend.
421 characters

3.12
/5
rDev
-10.1%
look: 3 | smell: 3.5 | taste: 3 | feel: 3 | overall: 3
A: pours a clear copper-brown with a finger of off-white head that fades into a thin ring with little lacing
S: dry roasted aromas with some nutty notes as well. Slightly sweet caramel malt notes bring up the finish.
T: dry, roasted nut flavors dominate with some faint chocolate notes and a slightly bitter and charred finish.
M: medium body and carbonation, this beer could benefit from a creamier body.
O: an alright beer, though nothing special. I'd like a bit less bitterness and a creamier body.
505 characters

3.53
/5
rDev
+1.7%
look: 4 | smell: 3.5 | taste: 3.5 | feel: 3.5 | overall: 3.5
12 oz bottle pours a clear, light brown color with a nice float of tan head. Nice retention and lacing.
Nose is some earthy and burnt toffee malt with a fairly significant grassy hop aroma. This beer smells pretty unique, I am not sure if I have had anything quite like it before.
Lots of malty flavors ranging from biscuity to caramel to even some chocolate. Hops are mostly on the back end with a fair amount of bitterness. Yeast throws out a few light fruit flavors and a bit of bread. It is not as rich as it looks or smells, but the body is solidly medium. This beer is a little beguiling, odd little critter. I like it well enough, and always glad to try a small, new brewery. Could use a few improvements, mainly some richness and sweetness would be nice, but overall Im pretty happy with a six-pack purchase.
818 characters
3.83
/5
rDev
+10.4%
look: 4.5 | smell: 4 | taste: 3.5 | feel: 4 | overall: 4
12 oz. bottle poured into a pint glass.
Per the description on the bottle this is somewhere in the middle of a German alt, English brown, and Irish red, so I'm trying to review it as such.
Pours a clear bright copper-mahogany topped by a nice, slightly sticky cream-colored head. Nice lacing.
Nose is completely malt-forward, with notes of walnuts, caramel, fresh wheat bread, and maybe a hint of buttery toffee. A very subtle tropical fruit aroma lingers in the background.
Considerably earthier on the palate. Walnuts, toffee, a hint of cocoa powder. There's a subtle dried leaves and old hay note, presumably from the hops. Finishes dry and a bit tacky, with a sensation of walnut skins minus the astringency.
Medium bodied, firm and dry. I'm not a big fan of the style(s) in general, but this one's pretty good.
820 characters
3.35
/5
rDev
-3.5%
look: 3 | smell: 3 | taste: 3.5 | feel: 3.5 | overall: 3.5
Had this on tap with Sushi in Joplin tonight!
Pours mahogany with some tan head that drops away fairly quickish. Okay lacing & head retention
S: Some herbal hoppyness & faint toasty notes
T: Toasty malt & herbal hops up front. As this warms, a bit of roastyness comes through as well along with dryness & more toasty notes. Finishes semi-crisp with some toasty sweetness
Medium bodied, slightly over carbonated along with nice balance
An easy drinker that needs a little more malt depth & hop snap to make this a good Alt, would buy this again though...
558 characters
3.73
/5
rDev
+7.5%
look: 3.5 | smell: 3 | taste: 4 | feel: 4 | overall: 4
Reviewed at a pre-launch brewery tour, though the beer is now available at local bars on tap, and in growler's at local fine beer stores.
As a high hop fan who enjoys IPAs and stronger beers, I was very surprised to find that even though the beer was mellower than my tastes, I was quite happy with it.
Color was hard to discern for a pint-level, as I sampled in a flight glass. Poured a light brown color.
Tasted slight chocolate/caramel flavors, finished clean.
Of the three beers currently available; an IPA (little helper), Tow Head as well, Three Blind Mice rates second.
580 characters
4
/5
rDev
+15.3%
look: 4 | smell: 4 | taste: 4 | feel: 4 | overall: 4
Nice dark brown ale. Smell malty. Malty, a little sweet and very slight hopping. Malt profile more biscuity, sticky and sweet than roasty. I'll be looking for this come fall.
Again no clear style for this beer. They're calling it an alt/english brown/irish red cross. Reminded me most of an alt.
298 characters
Three Blind Mice from Mother's Brewing Company
3.47
out of
5
based on
224
ratings.