Doozy
| Mother's Brewing Company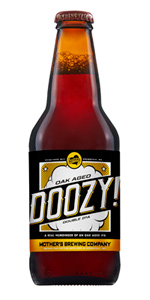 BEER INFO
Brewed by:
Mother's Brewing Company
Missouri
,
United States
mothersbrewing.com
Style:
American Double / Imperial IPA
Alcohol by volume (ABV):
9.00%
Availability:
Spring
Notes / Commercial Description:
Big and hoppy and pleasantly bitter, Doozy is a Double IPA crafted for hop lovers by hop lovers. At every stage of the brewing process, we saw another chance to add more coveted Citra hops. The result is a medium-bodied, deep-golden beer that's knock you back bold from start to finish. Did we mention the hops?
80 IBU
Added by CRJMellor on 05-19-2013
Reviews: 12 | Ratings: 103
4.96
/5
rDev
+23.1%
look: 4.75 | smell: 5 | taste: 5 | feel: 4.75 | overall: 5
The combination of the fruit forward hop flavor and the pleasant bitterness worked well for me. This also came through with the aroma. The elevated alcohol was well presented. It was a very good example of a big, delicious Double IPA. I will drink it again. Cheers to Mother's for brewing this.
294 characters

4.57
/5
rDev
+13.4%
look: 4.25 | smell: 4.75 | taste: 4.5 | feel: 4.25 | overall: 4.75
Pours a golden yellow, clear yet thick. Tons of thick white lace on the side of the pint. Solid head retention.
Aroma is all Citra all the time. Undertone of resin and heavy orange citrus and just a hint of pine tar.
Taste is strong hops but very solid caramel with a residual citrus taste.
Mouthfeel is thick and creamy with a great bitter zing on the finish. Reminescent of 3F Dreadnaught in a way. Maybe just a tad lighter on caramel.
Overall this a great beer and probably the best Mother's brew to date.
Find you some !!
533 characters

4.2
/5
rDev
+4.2%
look: 4 | smell: 4 | taste: 4.25 | feel: 4.5 | overall: 4.25
Smells of pine and hops. A lot of double ipas have a strong alcohol smell and taste and super bitter. This beer has neither. Big full flavor but very balanced and very good.
173 characters

4.18
/5
rDev
+3.7%
look: 4 | smell: 4 | taste: 4.25 | feel: 4.25 | overall: 4.25
Ran across this double IPA at Brown Derby International Wine Exchange in Springfield, MO. A fan of Mother's Brewing, this was a must have as I'd not seen it before.
Pouring Doozy into a Bodum hand blown pint glass revealed a very nice clear copper-orange beer topped with a single finger of off white foam which thins to a ring leaving behind some loose random patterns of sticky lace. The 9.0% abv is probably responsible for the seemingly short head retention.
Before pouring the aromas are evident. Once poured pronounced aromas of sweet bread, apple, orange, melon, pine, and caramel drift to the nose.
Flavors pretty much follow the nose with expressed sweetness - white bread, apple, orange, grapefruit, caramel, and pine followed by fading bitter. Makes me feel like I'm drinking something brewed with honey. Very nice. Really unlike any other IPA I've encountered.
Mouthfeel is medium, oily, and has that "chewiness" that BAs always quander.
Overall this is exactly what I expect from Mother's - a terrific beer. Nobody on the planet expects an IPA quite this good from this corner of the world, yet here it is. At 9.0% I would be very careful of how much and how fast these are consumed. A nice sipper and another winner from the guys at Mother's. Beer traders take notice.
1,287 characters
4.14
/5
rDev
+2.7%
look: 4 | smell: 3.75 | taste: 4.25 | feel: 4.5 | overall: 4.25
Pours a chill-hazed amber with2+ fingers of ivory colored head. Some floaties, crazing lacing & decent head retention
S: Pineapple, breadyness, both seem to drop off over time. A little leafy hops hangs in there
T: Follows the nose, also throw in some passion fruit, some orange rind & just a little pine, pears & woody hops up front. Pineapple & pink grapefruit duke it out as this warms, plus a bit of short cakeyness. Finishes with big-time pineapple sweetness & citric bite, a little bit of leafy & woody hops
MF: Fairly chewy, subtle carbonation, stellar balance
A very drinkable DIPA that whould be awesome with Vindaloo or Panang Curry. Not a home run, but an easy stand-up double (IPA) that I will buy again if I'm jonesing for some pineapple. Another winner from Mother's
786 characters
4.13
/5
rDev
+2.5%
look: 4.25 | smell: 4.25 | taste: 4 | feel: 4 | overall: 4.25
Look -- Nice, golden color. Good head, good lacing.
Nose -- My nose runs to the huge grapefruit, orange, and pineapple character. There is definitely a strong bready undercurrent with a slight herbal (rosemary?) note going along for the ride.
Taste -- Orange rind and other citrus. I get big pineapple character right in the middle. More breadiness. A toffee-like sweetness. Pretty straightforward. The alcohol is pretty prevalent by the finish. I think it still hides the 9% abv pretty well.
Feel -- Bold body, but nice and dry despite the lingering flavor.
Overall -- I think this is a great beer that stays away from the overly caramel-sweet pitfall that gets so many DIPAs. I wish the booziness was a little less pronounced, but I'll be drinking many more of these.
790 characters

4.07
/5
rDev
+1%
look: 4 | smell: 3.75 | taste: 4.25 | feel: 4.25 | overall: 4
Bottled April 21, so has a bit of age on it.
Aroma is very floral and limey, with big sweet caramel malt presence.
Flavor is sweet and caramelly, but more citrus notes emerge, almost juicyfruit-like, as well as a moderately bitter finish. Likely to sweet for some palates, but suits mine nicely.
297 characters
3.9
/5
rDev
-3.2%
look: 4 | smell: 4 | taste: 3.75 | feel: 4 | overall: 4
Pours a hazy, gold color. 1/3 inch head of an off-white color. Good retention and good lacing. Smells of alcohol, sweet malt, strong pungent hops, hint of resin, slight grass, and a hint of earthiness. Mouth feel is smooth and clean, with an average carbonation level. Fits the style of an American Double / Imperial IPA. Tastes of alcohol, strong hop resin, earthy hops, sweet malt, hint of pale malt, hint of citrus hops, and hint of grass. Overall, good appearance, pungent aroma and body, but the body finishes weak.
528 characters

3.84
/5
rDev
-4.7%
look: 4.25 | smell: 4 | taste: 3.75 | feel: 3.75 | overall: 3.75
Rich golden hue with excellent clarity. A tightly knit half inch thick off white head rests on top. Brussels lacing. Strong aroma of citrus hops greets me. The flavor is more citrus hops along with a nice light malt backbone. The nose seems to suggest more hop intensity. The mouth is moderately carbonated and yet creamy.
322 characters

3.73
/5
rDev
-7.4%
look: 3 | smell: 3.75 | taste: 3.75 | feel: 4 | overall: 3.75
A- Ours a hazy copper with one finger white head with very good retention and lacing. The beer does appear "chunky". Lots of floaties in there.
S - Wonderful aromas of grapefruit, pine, and raisins with a very nice sweet smelling maltiness in the back
T - Similar to the aroma. Lots of citrus and pine up front. Love the grapefruit tastes in this beer. It did not have the sweetness that I noted in the aroma.
M - Good heavy bodied beer with a very creamy mouthfeel. Also has a nice warming sensation in the mouth.
O - A good solid Imperial IPA from Mothers. I love supporting home state brewies. They make it easy when they make good beer. Only disuturbing thing about the beer is the floaties.
699 characters
3.44
/5
rDev
-14.6%
look: 3 | smell: 3.25 | taste: 3.5 | feel: 3.75 | overall: 3.5
Bottle opened on 6.26.13
A - Pours a cloudy, dark orange with a one finger tan head with a few floaters.
S - Subtle all-around. Orange, toast, sweet malts, leaves.
T - Bready malt-sweet, then some heat and melons, finishes bitter.
D - Medium carbonation with a medium body.
O - Sweet, malty, and hot. Not impressed with this one.
334 characters
3.3
/5
rDev
-18.1%
look: 4 | smell: 4 | taste: 3 | feel: 3 | overall: 3
Deep orange in body with bubbly white head that retreats to the side of the glass. Aroma of citrus, candy, grass. Tastes of candied oranges, nectar, grass, big bitterness and booze. Medium bodied with medium carbonation.
220 characters
Doozy from Mother's Brewing Company
4.03
out of
5
based on
103
ratings.