BA SCORE
83
good
14
Reviews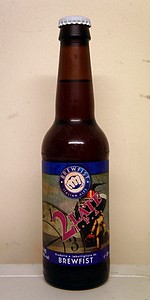 BEER INFO
Brewed by:
Brewfist
Italy
brewfist.com
Style:
American Double / Imperial IPA
Alcohol by volume (ABV):
9.50%
Availability:
Rotating
Notes / Commercial Description:
No notes at this time.
Added by spicelab on 02-15-2013
Reviews: 14 | Ratings: 43

4.3
/5
rDev
+19.8%
look: 4 | smell: 4.5 | taste: 4.25 | feel: 4.25 | overall: 4.25
Picked this up at a great little beer store in Arlon, Belgium, Miorge Mihoublon. Slightly hazy yellow-amber pour with a nice white two finger head with decent retention and nice lacing. The nose is huge with tons of juicy, citrusy, piney hops along with hints of tangerine, caramel, and a bit of grass. The taste follows suit with mouth-puckering grapefruit, resiny pine, tangerine, orange peel, caramel, and some subtle herbal notes on the finish. The mouthfeel is medium bodied and slightly fizzy with a nice oily, tangy finish. This is hugely drinkable for a 9.5 ABV IPA. And that subtle herbal thing it has going on definitely makes it stand out for me. Will definitely be picking up more of this one!
705 characters
4.25
/5
rDev
+18.4%
Poured at a perfect temperature with a somewhat long-lasting had plenty of lace and a hazy too cloudy honey amber color. Aroma is fresh resin hop, wet grain, malt. flavor is like aroma not very complex but perfectly balanced between bitter sweet and tart for this kind of beer. Body is perfect. Very slight medicinal aftertaste in the finish
341 characters
4.21
/5
rDev
+17.3%
look: 4 | smell: 4.25 | taste: 4.25 | feel: 4 | overall: 4.25
Fresh tap at Bir & Fud.
Nice amber color with small white head.
Smells very citrusy , grapefruit, orange, mango, and pineapple.
Taste is a litteral explosion of fruit in your mouth. Instant hit. Not substatially bitter though. Also, the alcohol doesnt come out ether, despite the high ABV.
Great beer.
303 characters
4.04
/5
rDev
+12.5%
look: 4 | smell: 4.25 | taste: 4 | feel: 3.25 | overall: 4.25
Pours amber with a large, white head.
Nose shows pine, grapefruit, biscuity malt and bready notes. Nice malt character.
Big malty and hoppy flavours. More sharp pine alongside lots of sweet clean malt.
Carbonation could be a bit higher.
Nice stuff.
251 characters

4.01
/5
rDev
+11.7%
look: 3.75 | smell: 4 | taste: 4 | feel: 4.25 | overall: 4
Hazy dark amber, poor white frothy head.
Really nice tropical smell, with lots of pineapple and mango, overripe orange, sweet floral notes, rich caramel, nice pine. By the book.
Straight up juicy pineapple, with sweet pink grapefruit, tangerine and a bit of sour lime. Hints of papaya and mango. Thick caramel maltiness, giving a nice sugared orange slice feel. Finishes with pine resin, a bit of dankness and bitter citrus peel.
Medium body, a bit sticky, medium fizz. Aftertaste is hoppy, sweet, citrusy, with a hint of tropical fruit still lingering around there.
A really solid imperial IPA, fits the profile nicely and actually entices you to get one more.
661 characters
3.99
/5
rDev
+11.1%
look: 3.75 | smell: 4 | taste: 4 | feel: 4 | overall: 4
Coming in a 330ml slim brown bottle; BB 28/02/14, served lightly chilled in a GuldenDraak's short-stemmed tulip-shaped sniffer.
A: pours a murky, dark orangey copper colour, coming with a creamy beige head with o.k. retention and very mild carbonation.
S: intensely sweet flowery, grapefruit-citric, sweet piney, candy-ish and honey-ish malty at the same time; a swirl gives rise to resinous hop perfume and sweet caramelised apples with a mild touch of ripe lychee shells.
T: mildly acidic-sweet upfront, intense and juicy on the pale malt side, followed by a resinous "bite" of bold & rich citric hops, plenty of lychee-shell-ish aromatic tannins, grapefruit-peel-like bitterness and a tangy touch of lightly toasted Chinese tea leaves. The lingering palate has a little… muddy-yeasty feel to it, but overall the rich hop flavour and a rather "clean" bitter palate dominate at the finish, where only a very mild feel of alcoholic warmth creeps down the throat by stealth.
M&O: rounded on the palate, very soft on carbonation, the body is full but never too rich or thick, while the hoppiness is executed at a level that complements the maltiness nicely without going oily. All in all, a well-crafted "Imperial IPA" designed to be enjoyed in quantity (to me!), this is a nicely drinkable example albeit ut not the most complex or colourful interpretation I've tried.
1,387 characters
3.71
/5
rDev
+3.3%
look: 3.5 | smell: 3.75 | taste: 3.75 | feel: 3.5 | overall: 3.75
A: The beer is very hazy yellowish orange in color and has a slight amount of visible carbonation. It poured with a thin beige colored head that quickly died down, leaving a thin layer of bubbles on the surface and a collar around the edge of the glass.
S: Light to moderate aromas of passion fruit and citrusy hops are present in the nose along with some notes of herbal hops and hints of malts.
T: The overall taste very much follows the smell and the hops contribute a moderate amount of bitterness. Notes of gooseberries are also noticeable from the Nelson Sauvin hops.
M: It feels medium-bodied and somewhat crisp on the palate with a moderate amount of carbonation.
O: This beer is quite drinkable considering its strength—you can tell that it's a strong beer by the amount of underlying malts but you don't get any of the alcohol in the taste. It definitely lives up to its name because as the brewery says, you won't realize how strong this is until its 2Late! The hops didn't taste as fresh as some Imperial IPAs, but this could be attributable to the beer's voyage across the Atlantic Ocean.
1,105 characters
3.5
/5
rDev
-2.5%
Teku glass. Bottle. Aroma of citrus (orange, mandarin) sweet malty character noticable. Taste is at first malty and sweet, some hoppy flavours in the background. Medium sweet, soft carbonation, sticky texture. Aftertaste bitter. Little alcohol warming.
253 characters
3.5
/5
rDev
-2.5%
look: 3.5 | smell: 3.5 | taste: 3.5 | feel: 3.5 | overall: 3.5
Got this at the De Molen beer shop in Bodegraven.
From a bottle into a snifter
Best before 30 July 2014
IBU: 90
APPEARANCE: Pours a one finger, medium looking, fizzy, off-white head with good retention, despite the fizz. Clear burnt orange in color with medium levels of carbonation. Head fades to a splotchy wisp and ring that remains until the end and leaves some dots of lacing. Decent looking, finally.
SMELL: Pale malts, caramel, light melon and some lemon notes. Toffee and a touch of grassy hops as well. Good.
TASTE: Finally a good beer. Their black IPA was good too, but finally a second good one. Toffee, caramel with some melon sweetness up front. A bolder finish is bitter with lemon, floral bitterness, as well as some sweet caramel and melon. Not bad at all.
PALATE: Medium body and medium levels of carbonation. Creamy enough on the palate, goes down okay and finishes slightly mouth-coating.
OVERALL: Finally a second Brewfist beer worth drinking. Their black IPA was solid too, but the other five have ranged from lousy to horrible. This one has a decent look and feel, with an aroma and flavor profile that's at least enjoyable. One worth drinking I guess.
1,186 characters
3.49
/5
rDev
-2.8%
look: 3.25 | smell: 3.5 | taste: 3.5 | feel: 3.5 | overall: 3.5
Draught in Ma che siete venuti a fa (Rome) during December 2013.
Misty amber in colour with a white head that produced some good lacing.
It wasn't as hoppy as I expected for a Double IPA, although it was hoppy in nature. The hops giving a spicy, citrus feel to both the aroma and taste. Not too bitter and the depth of flavours hide the alcohol level very well. There was also a fresh, yeasty feel to the whole thing, which enhanced it's appeal.
A nice brew and I really enjoyed it.
485 characters
3.38
/5
rDev
-5.8%
look: 4 | smell: 3.5 | taste: 3.25 | feel: 3.5 | overall: 3.25
33cl brown bottle purchased from Domus Birrae in Rome.
Pours a fairly clean orange copper colour, with a fine, filmy crest of white that settles to some pocked bubbling. Lacing forms in tiny specks. Body is certainly solid, at 9.5% ABV, and holds very fine carbonation. Looks good all up.
Nose is clean but dusky, with a solid malty caramel note and some slightly herbal and medicinal overtones. Hops are certainly present, but they have a murky character to them, giving a lot more earth and overripe fruit character than clean crispness.
Taste follows on from this greatly—strong mashed banana and Jersey caramel sweetness, with a crushed red apple character to lift it up slightly. Bitterness on the back is much better, giving it a herbal twang and a hint of something medicinal or mineral. Finish is lingering with pithy fruit and a slightly over-fragrant malt like sprouted grain. Aftertaste has some aniseed. It has a lot going on, but I'm unsure that I like it all that much.
Feel is firm and full. Solid and would support a better array of flavours over the top.
I don't feel like this beer really does enough to warrant its hefty ABV. There are good characters in here, and some pleasant complexity, but it doesn't work together and doesn't create something spectacular enough to make me want to write-off most of the night on drinking it's 9.5% ABV entirety. At the end of the day, that's a little disappointing.
1,430 characters

3.34
/5
rDev
-7%
look: 3.5 | smell: 3.25 | taste: 3.25 | feel: 3.5 | overall: 3.5
Copper with amber highlights and a cloudy complexion. A fingernail of off whit head is present on half of the top. Brussels lacing. Aroma is citrus hops with a hint of light malt. The flavor is full on citrus hops and is so tart and unbalanced that it comes off as artificial. The mouth is sticky and chewy.
312 characters
2.09
/5
rDev
-41.8%
look: 2.25 | smell: 2 | taste: 2.25 | feel: 1.75 | overall: 2
330mL bottle from Slowbeer.
Amber orange, pretty clear with a rather anaemic off-white head that drops off to a collar.
Nose is very sweet and one dimensional, dominated by orange syrup in the vein of Sunny Boy ice-blocks. Baked caramel malts. Ethanol lurks. Not quite terrible, but really poor hop expression.
Immediate hot alcohol, which fails even to alleviate the fruit concentrate sweeteness. On the positive side, there is a welcome albeit insipid transition into pine and herbal bitterness that is an improvement on how it starts, but not a big one.
Hot, heavy and harsh. Could almost be passable if there was a good beer behind it, but alas no.
Totally unimpressed with this amateur effort. In this day and age a good IIPA has character in spades but also subtlety. This has neither.
799 characters
1.84
/5
rDev
-48.7%
look: 3 | smell: 2.75 | taste: 1 | feel: 2 | overall: 2
Poured from a bottle into a standard beer glass. Murky copperish color. Not much of a head.
I can't find a date on the bottle, so it is possible that what I'm drinking is expired. Smells acrid. The more I smell it, the worse the smell gets. The taste is also acrid. I suspect this is what people mean when they talk about skunkiness.
If I knew for a fact that it was expired, I wouldn't rate it at all. But I just don't know, and the bottle is no help. It's supposedly an import from Italy, so there could definitely be issues.
I've given somewhat lenient scores only because of the distinct possibility that my bottle got skunked. Otherwise, I would likely have given 1's across the board.
Date of bottling should be *prominently* displayed by all breweries on all product. I may have no choice but to pour this one. I hate having to do that, but I just cannot drink it. And I may be afraid to try it again - unless I can see that it is not expired.
954 characters
2Late from Brewfist
3.59
out of
5
based on
43
ratings.