Anadromous
| Anchorage Brewing Company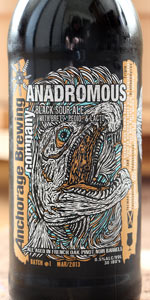 BEER INFO
Brewed by:
Anchorage Brewing Company
Alaska
,
United States
anchoragebrewingcompany.com
Style:
American Wild Ale
Alcohol by volume (ABV):
8.50%
Availability:
Rotating
Notes / Commercial Description:
Brewed with Summit Hops. Aged in French Oak Pinot Noir barrels with Brett, Pedio and Lacto. Triple Fermented.
Added by DucksFan16 on 06-02-2013
Reviews: 56 | Ratings: 276

4.44
/5
rDev
+15%
look: 4.25 | smell: 4.5 | taste: 4.5 | feel: 4 | overall: 4.5
Batch #1 bottled in March 2013
Poured into a standard tulip glass
Appearance: (4)
Pours a deep black with a wispy, finger and a half tall, beige head. The head recedes fairly fast and leaves no lacing behind, which is consistent for a barrel aged sour. Upon uncorking the bottle, the bottle began to gush, but luckily my glass was nearby. Overall, this is a pretty killer looking beer.
Aroma: (4.5)
Tart cherry pie filling right up front, with sour notes of lemon and light acetobactor(think red wine vinegar). The acidic sharpness is sheathed in a wave of funky brettanomyces; wet hay, horse blankets and tangy pineapple. Just before the sour funk gets to be all encompassing, the Pinot Noir barrel comes into play, bringing notes of plum skin, vanilla and faint coconut. As the beer warms, a mere hint of roasted malt from the base beer shows itself.
Taste: (4.5)
As soon beer enters your mouth, you're greet with a deep, ever so faintly tart, black cherry and lemon rind presence that gracefully blossoms into also a very deep, dark and rich chocolate malt body with some nice roasted coffee and nutty notes. These dark stone fruit flavors are coupled with a nice, barnyard funkiness from the Brettanomyces. Surprisingly, the Pinot Noir barrel makes it's presence known not in the finish, but right in the middle of the taste. It's rich, vinous dark plum and cherry flavors intermingle and intertwine beautifully with the wild yeast, souring bacterias and roasted malts. The beer finishes dry, bitter, slightly tart with a moderate tannin presence(for barrel aged beer, that is). There are lingering notes of cherry and plum, as well as vanilla and coconut from the barrel.
Moutfeel: (4.00)
Full bodied, robust with soft carbonation.
Overall: (4.5)
An amazing, complex and unique sour from Anchorage brewing co. The sourness is very toned down and really allows the Pinot barrel to really shine and play with the dark, roasted malts. The sour head in me was really hoping for more of an assertive acidity, but I am more than happy that it has been dialed down enough for the other components for this beer to shine through. Highly recommended for the curious palate.
★
2,178 characters
4.32
/5
rDev
+11.9%
look: 3.75 | smell: 4.25 | taste: 4.5 | feel: 4.25 | overall: 4.25
This beer is such a winner I had to give it a full review. I generally greatly dislike the newer "black ales" and find them a meaningless style. This one really works and lives up to what it purports to be. I'd actually call this a must try since it is so balanced, so integrated and such a wonderful example of a creative brew.
Pours black with a thin, dark khaki head. Decent looking.
Nose is complex and integrated with sweet black chocolate, sweet bing cherries and oak. The characteristics are all very distinct and yet balanced in a wonderful olfactory delight. I actually don't get the pedio, brett or lacto in the nose but I really don't care the nose is otherwise so nice. There is actually an identifiable pinot noir character in the nose which is really nice to see.
Mouthfeel is medium to full yet bright. It is wonderfully balanced with small bubbles and a complete integration of texture and flavors.
Flavor profile beautifully follows the nose. Rich chocolate, black cherry, light roasted grain and some light sweet coffee, all really well balanced with an acidic fruit sour. This is a wonderful use of brett, pedio and lacto used to enhance the flavors, not dominate. Burgundian pinot noir tones are present in the flavor profile which, like the nose, is really nice to see. This is actually a beer that wonderfully tastes like what reads on the bottle!
Finish is a light citric chocoate; light milk chocolate and cooked fruit. I think this is a creative beer that's not creative just for creative's sake; this one works beautifully.
★
1,557 characters
3.76
/5
rDev
-2.6%
look: 3.25 | smell: 4 | taste: 3.75 | feel: 3.5 | overall: 3.75
Thanks to jmgrub for sharing this one at drewone's tasting.
Batch # 1. Bottled 3/2013.
Pours an opaque black with a foamy dark khaki head that settles to wisps of film on top of the beer. Small dots of lace slowly drip into the remaining beer on the drink down. Smell is sour, tart, and funky with fruit, wine, and wood aromas. Taste is much the same with sour fruit, dark roasted malt, and wine flavors on the finish. There is a mild amount of roasty bitterness on the palate with each sip. This beer has a lower level of carbonation with a slightly crisp mouthfeel. Overall, this is a pretty good beer with a smell that is more sour forward and a taste that is more roast forward.
★
685 characters
3.97
/5
rDev
+2.8%
look: 3.75 | smell: 4.25 | taste: 4 | feel: 3.75 | overall: 3.75
Batch 2 from a 750 - 10 months old in a Teku
L: Dark with a thin coffee colored head with an aggressive pour
S: Dark berries, red wine, a bit of heat
T: Tart for sure, some oak and whiskey, red wine on the back - low bitterness
M: Medium body, minimal carbonation
O: I prefer this one draft - a bit of sweetness to balance out the tartness - the bottled version always seems inferior to me. Nice beer for sharing - a whole bottle may be a bit much for one person
★
464 characters

3
/5
rDev
-22.3%
look: 4.25 | smell: 3 | taste: 2.75 | feel: 3.75 | overall: 2.75
Gusher! A quarter of the bottle ended up on my brothers table. The beer pours black like an imperial stout with a lighter body. Light khaki head. The aroma isn't too strong - light roast notes with a mild lactic note. The taste is lightly sour, mild roast , ash, rubber and a strong astringency on the back end. There are some barrel notes but most of the nuance is overwhelmed by the strong astringency and rubber. Borderline offensive. Maybe I got a bad bottle. I hope so. Not good.
★
484 characters

4.37
/5
rDev
+13.2%
look: 4.5 | smell: 4.25 | taste: 4.5 | feel: 4.25 | overall: 4.25
The latest release from Anchorage Brewing Company, Anadromous - Black Sour Ale with Brett, Pedio, and Lacto.
Poured from a bottle into my Tulip glass. Very dark with a one-half inch light brown head that dissipates rather quickly. This beer almost looks as dark as an imperial stout.
The smell is slightly sour, with an aroma of dark cherries. Not nearly as funky as I was expecting, especially since this beer has brett, pedio, and lacto, but it surprises in a good way.
Taste is very complex. Fruity and sweet, with the dark malts playing nicely in the background. With a beer this dark, I was expecting more of a roasted malty flavor, but I think that the lack of that makes this beer taste much better and you are able to appreciate the different flavor profiles from the aging in French oak pinot noir barrels. I am really enjoying this one.
Medium mouthfeel, very smooth, and relatively low carbonation.
I continue to be extremely impressed by Gabe's mastery of barrel-aging. The label on this bottle states that over 40 different pinot noir oak barrels of sour beer were blended to capture the unique contribution of each. I would have to agree that the barrel-aging on this one is fantastic. Absolutely worth seeking out.
★
1,234 characters
Anadromous from Anchorage Brewing Company
3.86
out of
5
based on
276
ratings.