Mongozo (Mango)
| Mongozo B.V.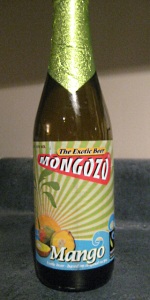 BEER INFO
Brewed by:
Mongozo B.V.
Netherlands
mongozo.com
Style:
Fruit / Vegetable Beer
Alcohol by volume (ABV):
3.60%
Availability:
Year-round
Notes / Commercial Description:
No notes at this time.
Added by biboergosum on 04-16-2011
Reviews: 8 | Ratings: 17
2.88
/5
rDev 0%
look: 3.5 | smell: 3 | taste: 3 | feel: 2.5 | overall: 2.5
330ml, green foil capped bottle, new to these parts, and apparently 'Exotic'! Made with 62% 'Fairtrade' mango content, apparently - good to know!
This beer pours a slightly hazy, medium golden straw colour, with one fat-ass finger of puffy, tightly foamy, and essentially soapy off-white head, the sort not long for this world, and gives up a bit of layered cloud-form lace upon its speedy exit.
It smells of fleshy, semi-sweet, and pungent mango puree, mildly biscuity pale malt, and a weirdly zingy, indistinct, um, hoppiness, I guess. The taste is way too sweet isolated sugar-addled grain, saccharine mango flesh, and sweet, sugary, oh, wait, no, the rather faint earthy hops happen to be the only thing that is not seemingly over the top, well, sweet, in this particular concoction.
The carbonation is pretty much plainly frothy, in a sort of deaf and mute sense, the body medium-heavy in that cloying simple syrup manner, so 'smooth', I guess, if that's your thing. It finishes still pretty bloody sweet, the earthy, somewhat musty mango character the only thing somewhat capable of meekly pointing in the other direction.
Upon closer inspection of the label, it comes as no surprise that this is actually brewed by the good folks at Huyghe in Belgium, as this duly resonates with memories of their Ninkeberry fruit-fuck of a 'beer'. If it wasn't clear already, this is one sweet-as-sin tipple, diabetes-temptingly so.
1,430 characters

3.5
/5
rDev
+21.5%
look: 3.5 | smell: 3.5 | taste: 3.5 | feel: 3.5 | overall: 3.5
3330ml bottle poured into tulip 14/3/12
A hazy golden yellow with some random chunks floating around yeast maybe? short lived finger of foam leaves lots of lace where it existed
S smells of mango and peach candy, not quite "real' though smells like the nose was made in a lab
T a little cereal on top of what I smell, reminds me a little bit of Martini Asti
M light and bubbly rather refreshing in a weird way, lingering fruity aftertaste if faint
O I be surprised if its real fruit but I didn't mind it, not something I'm going to be excited about when I see it but I might point it out to the Misses
I could pound a few of these back under a hot sun without getting buzzed but who wants that?
705 characters
3.12
/5
rDev
+8.3%
look: 4 | smell: 2.5 | taste: 3.25 | feel: 3.25 | overall: 3.25
A: Deep orange and so cloudy its hard to see some fast rising carbonation within. Topped with a finger of creamy white head.
S: Fruity candy, sure mango but its hard to specify as this fruit at first. Melon, orange all come to mind. A sort of phenolic, yet tart quality reminiscent of witbiers.
T: Tart, sweet, fruity, again orange and yes I do get the mango now.
M: Light body with a balance of strong sweetness and tartness, finishing with plenty of soda like carbonation.
O: I don't mind visiting the 'Belgian' fruit beer scene every so often, its like a beer sub culture. As far as this, this beer is not bad tasting, just not specifically mango or at least fresh mango in my opinion. Pleasantly sweet and tart, and almost not like a beer except for some witbier qualities in the background. Got and drank in Kunmning, March 14th, 2015.
860 characters

3.22
/5
rDev
+11.8%
look: 3.5 | smell: 4 | taste: 3 | feel: 2.5 | overall: 3
330 ml brown bottle with flourescent green foil around the neck and cap, best before date clipped in back label. Front label as pictured. We tried a sample size taste at the Calgary CAMRA event, so had to search out a full bottle, and try some newly available beers.
"The Exotic Beer. Exotic beer brewed with Fairtrade mangos. The Fairtrade Certification Mark is your independant guarantee that this beer has been traded in accordance with international Fairtrade standards. The purchase of this beer enables the improvements of working and living conditions of producers in developing countries and encourages environmental protection." - now my conscience can rest easy.
Pours slightly hazy, yellow straw color, short white head but minimal retention or lace. Great smell of fresh, juicy sweet mango. The flavor is again, all mango. Quite sticky sweet, some malt hidden in there. The finish and aftertaste are is quite sugary, almost like drinking the syrup from a can of peaches. Mouthfeel itself is light, but does leave a sticky coating. The carbonation was low, keeping it more on the smooth side. More fizz, and you could easily mistake it for a soda.
Good all around, though many will find it too sweet. This another beer to introduce some of our friends to new and different beers/styles (there is so much out there even if you don't like 'beer').
1,356 characters

2.85
/5
rDev
-1%
look: 3.5 | smell: 3.5 | taste: 2.5 | feel: 3 | overall: 2.5
From a 330 ml brown botte, bright lime green foil around the neck and cap. Pours out a hazed straw colour, quick splash of creamy white head that retains as a thin cap.
Smells great at first, intense mango that starts to regress to somthing more akin to gummi candies, then some grains and spicy hops peak through from the background.
The flavour is all fruit, the eponymous mango in question, but has an even more prominent gummi candy quality to it, quite sugary sweet, with some light malt in the background near the finish that has a bit of a bready character. The finish and aftertaste exhibits an unavoidable sugary presence.
Mouthfeel is light with a velvety slick texture, although seems under attenuated with all that residual sugar in there.
Perhaps this might make a nice picnic beer to share, but I find it too sweet and sugary trying to finish off this bottle on my own. I enjoy mango, but this comes across more as an alcoholic pop or flavoured malternative than a serious fruit beer.
1,002 characters
3.44
/5
rDev
+19.4%
look: 2.5 | smell: 3.5 | taste: 3.5 | feel: 3.5 | overall: 3.5
330 ml bottle. Hazy orange colour, short head an d little retention. Smell is as you can guess mango, though I think I can detect a bit of citrics. Smooth and silky palate, and the taste is of course mango, very refreshing. Maybe to sweet, but the the taste is not artificial and it's not bad at all, though it's not one I'd have some of them in a row. Correct, but it's the one I like less of Mongozo .
403 characters
2.5
/5
rDev
-13.2%
Review: Bottle of Mongozo Mango Flavoured Fruit Beer, 3.6%ABV
I tried the mango flavoured Mongozo fruit beer.
"The Exotic Beer" is a lovely sweet drink and a free trade product. So you know by drinking lots of it you are doing your little bit to help people in the less developed world. Building up your karma bank no end.
On pour there is a dark hazy golden colour with a nice enough head and a bit of lacing. As you would except there is a very strong ripe mango smell throughout which is very refreshing.
The taste is, naturally, of a very sweet fresh mango flavour. It is strong tasting with some lingering malty aftertaste.
This is a good beer for the summer time, nice on a hot day.
697 characters
1.5
/5
rDev
-47.9%
In brief: Mid-straw colour, 3mm head in glass. More like a fruit soda than a beer. Fruit overload, nothing indicating it's beer or alcoholic at all. Nasty, and definitely won't repeat.
184 characters
Mongozo (Mango) from Mongozo B.V.
2.88
out of
5
based on
17
ratings.