Brandy Barrel Peche
| Almanac Beer Co.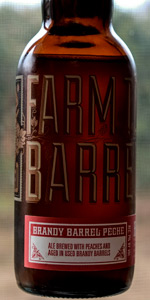 BEER INFO
Brewed by:
Almanac Beer Co.
California
,
United States
almanacbeer.com
Style:
American Wild Ale
Alcohol by volume (ABV):
7.00%
Availability:
Limited (brewed once)
Notes / Commercial Description:
Historically, fruit-infused sour beers were a way of preserving the summer harvest. In that tradition, this blonde ale was added to brandy barrels with high-summer peaches, hand-picked by the Loewen family at Blossom Bluff Orchards in Reedley, California. We aged this liquid gold for six months until we needed a reminder that summer will come again. Pair with Prosciutto, crusty bread and fruit preserves.
Added by Tyrus on 02-04-2014
This beer is retired; no longer brewed.
Reviews: 40 | Ratings: 428
4.01
/5
rDev
-4.3%
look: 3.5 | smell: 3.75 | taste: 4.25 | feel: 4 | overall: 4
Somewhat cloudy golden body and a small white head shows itself on the pour.
Comes off more citric than peachy. Brandy barrel.
Pretty refreshing with lots of fruity flavor of lemon and peach. Nice lactic sourness. Lighter bodied. Musty funk. Ends a little dry.
Amazing flavor on this bad boy.
296 characters
4.19
/5
rDev 0%
look: 4 | smell: 4.25 | taste: 4.25 | feel: 4.25 | overall: 4
on-tap, Chucks Central District
Light straw-orange body - aromas of peach, lemon, apricot jam. Barrel notes are nice, albeit light, though it's hard to really pinpoint the brandy other than the residual sweetness it imparts on the beer. Tart and lively body but a bit of an off grainy finish that didnt sit well with me.
321 characters

4.5
/5
rDev
+7.4%
look: 4.5 | smell: 4.5 | taste: 4.5 | feel: 4.5 | overall: 4.5
A: pours a hazy light orange with a small white head that fades quickly
S: smells of peaches, a slight funk, and some slight maltyness. There is a bit of tartness on the nose as well
T: the drink starts off with a nice smack of sourness, there's some nice peach flavors and some oak. There's some funk in there as well. swallow brings a nice bit of sourness and peach in the finish with some clean wheat flavor
M: lighter side in medium on the mouth with good carbonation. drying finish
O: Another fantastic sour beer from Almanac. It's a little expensive but it's world class.
577 characters
4.28
/5
rDev
+2.1%
look: 4 | smell: 4 | taste: 4.5 | feel: 4.25 | overall: 4.25
A- Pours a golden peach hue with no head
S- Citrus, brandy, lemon peel
T- Sour up front with hints of brandy, lemon and wheat. Finishes with a lingering bright fruit notes.
M- Effervescent and medium bodied
D- Extremely drinkable beer. Another good on from Almanac.
269 characters

4.44
/5
rDev
+6%
look: 4.5 | smell: 4.25 | taste: 4.5 | feel: 4.5 | overall: 4.5
I've been digging Almanac farm-to-barrel series. Should be getting more hype. Brandy Barrel Peche was right up there with Farmer's Reserve #3 and Dogpatch Sour as the best I've had. A nicely balanced sour that hits all the notes from peachy sweetness to sour pucker, barrel woodiness to a bit of funkiness. It might not reach the complexity of RR or Cantillon, but still great. Seek this out.
392 characters

4.26
/5
rDev
+1.7%
look: 4 | smell: 4.25 | taste: 4.25 | feel: 4 | overall: 4.5
A-Cloudy bright yellow orange, some carbonation
S-Peaches, lemon, tartness, wheat, oak some spices.
T-Very fruity. Peaches and lemon abound. Some spice, but more of the brandy barrel would have been nice. As it warms it becomes more tart, but not quite sour.
M-Medium in body, nice carbonation, dry finish.
O-A very good beer. More brandy characteristics and sour notes would take this to the next level.
408 characters

4.07
/5
rDev
-2.9%
look: 4 | smell: 3.75 | taste: 4.25 | feel: 4.25 | overall: 4
375ml bottle (bottled Feb 2013) poured into a Jester King Funk n' Sour glass.
A - Pours a pale peachy golden color with a strong haziness. Almost no head forms - just a faint cap of white bubbles that barely forms a collar and leaves no lacing on the glass.
S - Sour up front, almost Sweet-Tart like, peaches, lemon-lime citrusy. Not really picking up much else - no real malt character and not getting any brandy out of this either. Smells good but lacking in dimension/complexity.
T - Nice firm tartness/sourness up front. Acidic lemony/limey citrus character makes the first impression. The brandy kicks in here adding some flavor but remaining restrained in the overall profile - definitely only complementary in the flavor palate. Mild funkiness mixes in with the peaches from here ending with a sour fruit presence that lingers past the swallow.
M - Medium body with a firm mid-high level carbonation that is finely bubbled and tingly on the tongue. Assertive sourness gives a slight puckering sensation. Tartly fruity and just a hint of funk play well off of the subtle brandy flavors.
O - Overall, I like this a lot. Not the most complex wild ale out there especially in the aroma department. Flavor is quite good with a firm sourness. The fruit and barrel contributions are well received, integrated nicely and not overpowering. Some would probably prefer a more forward barrel treatment on this, but I like the subtlety it provides - it doesn't overpower the beer, just adds a little more nuance.
1,511 characters

3.88
/5
rDev
-7.4%
look: 3.75 | smell: 3.75 | taste: 4 | feel: 4 | overall: 3.75
A: Pours a muted golden color with a slight off white head that disappears pretty quickly.
S: Definitely get underripe white peach out of this. Some cinnamon and oak as well. A touch of doughy yeast in the background. Not getting anything close to brandy.
T: Opens with a light lemony smack of tartness. The tartness morphs into underripe white peach, nectarine and white grape. Finish shows a touch of oak and spice and just a hint of grain and bready malt. Zero brandy. Pretty good, but the lack of brandy leaves me wanting a little more.
542 characters

3.5
/5
rDev
-16.5%
look: 3.5 | smell: 3.5 | taste: 3.5 | feel: 3.5 | overall: 3.5
Pour is hazed golden yellow with a small amount of tight white head. Nose is faint, light sweeter barrel with some slightly un-ripened peach and notes of grain. Taste is a hint sweet; but not sugary. The sweet brandy barrel and the loads of peach in this seem to pile onto each other a hint more than I would like. It still drinks easily with a light body and soft carbonation.
377 characters
3.8
/5
rDev
-9.3%
look: 3 | smell: 4.25 | taste: 3.75 | feel: 3.5 | overall: 3.75
Bottle I brought to share at Retsinis' tasting.
Bottled February 2013.
Pours a murky gold with a foamy off-white head that settles to wisps of film on top of the beer. No lacing on the drink down. Smell is of malt, peach, perfume, and acidic aromas. Taste is much the same with slightly sour malt, grain, and fruit flavors on the finish. There is a mild amount of acidity on the palate with each sip. This beer has a lower level of carbonation with a slightly crisp mouthfeel. Overall, this is a pretty good beer with no distinct brandy qualities apparent in either the smell or taste.
587 characters

4.66
/5
rDev
+11.2%
look: 4.5 | smell: 4.75 | taste: 4.75 | feel: 4.5 | overall: 4.5
Bottle into stemmed glass.
Appearance is hazy light apricot color with small almost non existent head that settles to a white ring around edge of glass. Slow carbonation bubbles coming up from the bottom.
Aroma brings white wine, lemon juice, nectarine, orange peel, and bright crisp green apple juice concentrate. Smells wonderful! Almost reminds me of Temptation and a bit like a much toned down Duck Duck Gooze.
On the palate you get a super tartness and semi sweet middle to back of the tongue. Definitely dry on the finish though. Lemon pulp, under ripe peach, juicy white grapes, some oak tannins, and a drying pineapple like bitterness. This is wonderful. Personally, I think the flavors have a lot in common with the ones found in beers like Temptation and Beatification. Trying to detect Brandy but can't seem to find it. I will say this though, there is an undeniable grapey, peachy juiciness that may be accentuated by the barrels. Obviously the actual peaches are playing a part but Brandy has that peculiar grape like essence.
The mouthfeel is just right. Light bodied, just enough carbonation to scrub away some of those flavors and leaves you wanting more. Maybe a tad under carbonated but no biggie.
Overall this is a delight to drink. There isn't much hype around Almanac beers compared to other breweries out there. May be due to some underwhelming offerings they have produced but this is not one of them. Everything blends beautifully and its ready to drink now. If I had to have a complaint it would be that the flavors could be a bit more aggressive, but then I'd be asking for perfection!
1,617 characters

4.25
/5
rDev
+1.4%
look: 4.25 | smell: 4.25 | taste: 4.25 | feel: 4.25 | overall: 4.25
Bottle poured into a tulip glass. Beer pours a hazy golden yellow with a half finger of loose off white head that dissipates immediately. Plenty of fine carbonation streaming up from the bottom of the glass.
Nose is sweet ripe peaches, with some astringent peach and grape skin, oak, light lactic acidity.
Peaches and lemon hit the tongue, sweet stone fruit with a bit of lemon juice tartness and lactic acid, mellowing to biscuit malt sweetness and an old oak flavor. Not much brandy in the taste either, so the barrels used may have been old or second use.
Light body with soft but ample fine carbonation that lightly scrubs the tongue dry. Pretty peach forward wild .
676 characters

4.42
/5
rDev
+5.5%
look: 4 | smell: 4.5 | taste: 4.5 | feel: 4 | overall: 4.5
A
375ml into a glass. Pours a hazed yellow white peach indeed, nearly zero head faded immediately, zero lacing.
A wonderful treat of aroma, tremendous depth, sweetness, citrus and under ripe peach, a low acidity encased in funk. Mild oak and vanilla but no brandy.
The taste is all the scent promised, peachy keen. The barrel presents itself as a somewhat peculiar honey flavor which is smooth vanilla - a star here perfectly balanced - envelopes the tongue from start to finish. Nearly zero bitter, a peppery dry bite sits in, a very mild but clear herbal touch. Lightly acidic never crosses past tart. Unaware, never would I think of brandy barrels, I find no brandy here. Thin slick mouthfeel, negligible carbonation.
Absolutely delicious
cheers
jd
755 characters
4.37
/5
rDev
+4.3%
look: 3.75 | smell: 4.25 | taste: 4.5 | feel: 4.25 | overall: 4.5
Almanac Brandy Barrel Peche
A- pour yields a 1/2 finger white head fizzing away quickly. Beer is a hazy golden color. 3.75
S- the peaches and sourness is upfront. Also some sweetness. The brandy barrel provides some woody and sweet notes. Quite pleasant 4.25
T- nice juicy tart peach flavor is upfront and the dominant flavor. It's damn good. The brandy barrel isn't as strong as I'd hoped, but it's nice though. It's got that nice dark grape/woody/booziness and a little sweetness that is typical of good brandy. Light yeast in the background. Nice. 4.5
M- lighter carbonation fitting for the style. Medium body. 4.25
O- Another winner from Almanac, they have yet to disappoint me. So damn drinkable. Fantastic. 4.5
High A
729 characters
4.53
/5
rDev
+8.1%
look: 3.75 | smell: 4.5 | taste: 4.5 | feel: 4.75 | overall: 4.75
Poured on 7-Feb-14
From 375 mL bottle into Anchorage Teku glass.
The smell is fantastic. I get some tropical fruit, oak, and some additional sweetness that I'm assuming is brandy.
I get the tart blond ale at first, which gets rushed with sugary peaches and hints of lemon and apples. Get the soft oak barrel rounding everything out at the tail end. I want to say that the brandy heightens the fruity sweetness of the peaches. It's difficult for me to dissect all the flavors because they gel together so smoothly. Slight vinegar. I don't like my sours puckering sour that gets me smacking my lips and tongue a third of the way into a glass so IMO, the tartness in this one is spot on.
Typical of some of Almanac's barrel-aged brews, I didn't know what to expect. I'm not familiar with any other peche sour that's aged in brandy so I found it to be unique and was thoroughly satisfied. I prefer this over all their other sours I've tried (ranked below). Wish I was able to hunt down more.
Brandy Barrel Peche
Farmer's Reserve #3
Farmer's Reserve #4
Valley of the Heart's Delight
Dogpatch Sour
1,100 characters
Brandy Barrel Peche from Almanac Beer Co.
4.19
out of
5
based on
428
ratings.