Biere De Chocolat
| Almanac Beer Co.
BA SCORE
83
good
37
Reviews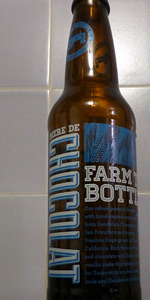 BEER INFO
Brewed by:
Almanac Beer Co.
California
,
United States
almanacbeer.com
Style:
American Porter
Alcohol by volume (ABV):
5.60%
Availability:
Rotating
Notes / Commercial Description:
Our Biere de Chocolat celebrates the long and lauded history of chocolate production in San Francisco. Our aim was to create a beer bursting with cocoa flavors and aromas, balancing sweet and savory to create a complex but quaffable chocolate brew. To accomplish this we partnered with Dandelion Chocolate in San Francisco to create this rich brew brimming with chocolate character. Working with the unique flavors of Dandelion's single-source beans, we created this decadent beer by layering in smoked and dark-roasted malts with citrusy Ivanhoe hops from Clearlake, CA. Finally, we added a blend of hand-roasted cocoa beans sourced from Madagascar and Río Caribe, Venezuela. The Madagascar beans add bright berry-cocoa flavors, while the Río Caribe adds dark chocolate and bourbon notes. A touch of vanilla rounds out the supporting flavors to create an eminently drinkable beer that is a chocolate lover's beer through and through.
Added by Trilogy31 on 01-28-2013
Reviews: 37 | Ratings: 210

3.96
/5
rDev
+8.2%
look: 4 | smell: 4.25 | taste: 3.75 | feel: 4 | overall: 4
Pours dark, DARK brown with one finger tan head. Aroma is vanilla and chocolate with a hint of coffee. Tastes somewhat bitter with notes of cacao and coffee balanced by sweet cola and vanilla. Medium bodied with high carbonation. Lacking a bit in the finish but overall a very good beer. Good aging potential.
★
309 characters

3.72
/5
rDev
+1.6%
look: 3.75 | smell: 3.5 | taste: 4 | feel: 3.5 | overall: 3.5
Very dark in the snifter with a modest foam and carbonation. Malty with a bare hint of burnt sugar sweetness at first. Thin body with a slight slick mouthfeel.
Tastes exactly like bitter chocolate on the first sip. Quite dry and melts away to a mineral, bitter finish. I don't sense much hop flavor, but supposed to be brewed with the aromatic Ivanhoe (California Cluster) hops. A hint of cocoa and some dark roasted grain. Quite drinkable and admirably austere for a chocolate-flavored beer, unless you like the sweet, milky variety.
Found this and a couple other Almanac beers at Bine & Vine in San Diego in 12 oz bottles. I took the photo.
★
645 characters
2.71
/5
rDev
-26%
look: 4 | smell: 3 | taste: 2.5 | feel: 2.5 | overall: 2.5
On Tap
Churchill's Pub & Grille
San Marcos, CA
Appropriate pour: dark brown, near black, and moderate in body. Small dark brown head. Leaves the glass slightly messy.
Aroma of roast, a bit of coffee, and some chocolate, though it's not exactly integrated into one altogether nicely. Inviting, however.
Any flaw in the aroma is a standout in the flavor; the individual flavors just don't seem to come together that well. A hoppy, bitter, piney porter, with just trace amounts of inexpensive chocolate and coffee. Not what I was looking for when I ordered this, so that may color this even further, unfortunately.
Thin to medium bodied with moderate carbonation.
A coffee chocolate black IPA, maybe, but not a chocolate porter. I ended up quite disappointed in this.
★
770 characters
3.65
/5
rDev
-0.3%
look: 3.5 | smell: 4 | taste: 3.5 | feel: 3.75 | overall: 3.5
5.5% ABV per the label.
Pours an opaque black with a foamy khaki head that settles to a partial film on top of the beer. A foamy latticework of lace coats the glass on the drink down. Smell is of dark roasted malt, cocoa nibs, and vanilla aromas. Taste is much the same with dark chocolate and chocolate syrup flavors on the finish. There is a medium amount of roasty bitterness on the palate with each sip. This beer has a lower level of carbonation with a slightly crisp mouthfeel. Overall, this is a pretty good beer with a nice aroma but the flavors are more bitter and roasty than the smell would lead you to believe.
★
624 characters

4
/5
rDev
+9.3%
look: 4 | smell: 4 | taste: 4 | feel: 4 | overall: 4
A - Dark black with a big finger of frothy khaki-tan head. Fades very slowly.
S - Roasted chocolate and caramel malts, coffee, cola, chocolate, some vanilla and a bit of floral hops.
T - Roasted chocolate and caramel malts, coffee, cola, cocoa, vanilla, floral hops, and a bit of black licorice.
M - Medium bodied with moderate carbonation. Smooth and creamy with a sweet and lightly bitter finish.
D - Nicely balanced chocolate porter. Great body, balance just slightly off.
★
479 characters

2.56
/5
rDev
-30.1%
look: 3 | smell: 2.5 | taste: 2.5 | feel: 2.75 | overall: 2.5
I'm 0 for 2 on Almanac's beers, so I'm hoping this'll be better. "Ale brewed with Coca Nibs and Vanilla." 5.5% ABV according to my bottle. I like the stylish label; blue etched on brown glass. 12 fl oz bottle with branded standard pressure cap served into a New Belgium stem-goblet in me gaff in low altitude Los Feliz, Los Angeles, California. Reviewed live.
Served straight from the fridge and allowed to warm over the course of consumption. Side-poured with standard vigor as no carbonation issues are anticipated.
A: Pours a one finger nice light tan colour head of pretty good cream, nice thickness, a bit of froth, and average (~2 minute) retention. Thin insubstantial lacing as the head recedes. Body colour is a predictable solid black. Nontransparent and opaque. No yeast particles are visible. No bubble show. It's standard fare for the style; nothing special or unique, but no overt flaws. There's nothing wrong with that. Unlike some, I don't mind a beer brewed to conventions.
Sm: The first thing I get is chocolate. Then I realize it seems way too hoppy for a porter. I get vanilla bean; often with these upstart breweries any vanilla is artificial vanillicin but this comes off genuine. I like that. The label claims smoke; that's definitely not detectable here. Roast is missing. Boy, that floral hop character really turns me off to it; it's way too heavily hopped. Dark malts. An average strength aroma.
T: Somewhat bland chocolate malt comprises the first half, with vanilla carrying the mantle - and boy is it overdone. Too sweet, almost cloying. I don't get much smoke at all; I don't know what that's about. Floral hopping destroys the balance, coming through far more than it should and ruining the focus of the beer. Where's the roast? Too sweet. A messy beer with no sense of balance. Lacks complexity and subtlety. Actually there's no subtlety here at all. I do like what they're going for, but they really missed the mark. If I had to pick a "favourite" note, I'd go with the chocolate, which feels like cocoa powder rather than generic chocolate malt. No yeast character or alcohol comes through. Too bitter.
Mf: Smooth and wet, just as it should be. Carbonation is almost there - just a touch overdone. Thickness is good. Palate presence is decent. It's got enough body, and suits the style, but the flavour profile just isn't there to meet it. It's a bit lumpy, which I don't like. Like powdered cocoa mix mixed with milk.
Dr: Overall, I'm underwhelmed - but there's potential here. I'll revisit Almanac but so far I've been disappointed. Still, I don't view them as hopeless; they're trying interesting things and I applaud that. If they could just get the execution up to par! Hides its ABV well. It's fairly drinkable, but the lack of quality really holds it back. It's a badly done porter with interesting ambition.
Low C-
★
2,870 characters
4.01
/5
rDev
+9.6%
look: 4 | smell: 4.25 | taste: 4 | feel: 3.5 | overall: 4
A: Pours a very dark near-opaque brown, with a fair amount of tan head. A small ring of foam around the edge of the glass leaves small spots of lacing.
S: Rich and lightly bitter cocoa; the chocolate note is very strong. There's also a small touch of hops.
T: Lightly sweet to start, becoming stronger through the mid palate, with a touch of cocoa. Hops kick in towards the finish. The balance is nice.
M: Lighter side of medium, medium carbonation.
Overall, nice, and very drinkable. I'd have it again, and it's nice to see something new and good in the ~5% range.
★
569 characters

2.86
/5
rDev
-21.9%
look: 4 | smell: 3.5 | taste: 2.5 | feel: 2.75 | overall: 2.5
Pours wall to wall black. Big, puffy, khaki head. The head foams up aggressively before settling into a thick blanket of fine foam. I'm mostly getting milk chocolate from the aroma, though some other aromas come in once I get used to it. At first blush, it legitimately smells like a dessert made with lots of milk chocolate. Big vanilla note, too. Smells very sweet. Hops provide a mix of floral and citrus and actually detract a bit from the aroma for me. I thought the chocolate seemed off, but the hops just add a funny twist. Still, it's overall a nice smelling beer. On the other hand, the taste is oddly harsh and just seems like a mess of clashing flavors. A fairly bland citric hop bitterness dominates the beer. Unfortunately, the sweeter flavors are mostly just an over the top vanilla tone. The chocolate is way too weak, particularly after the promise of the aroma. Plus, it's not a rich flavor, closer to baker's chocolate than anything. Lingering hop and roast bitterness. Mouthfeel starts out way too effervescent, gets creamy before it just thins out too much. Generally, too thin, though. The carbonation is off, particularly for a porter. It just takes away from the flavors. I liked this one better on tap, so this bottle is fairly disappointing.
★
1,274 characters

4
/5
rDev
+9.3%
look: 4.25 | smell: 4.25 | taste: 4 | feel: 3.25 | overall: 4
A - Great looking porter. Black-brown with cola highlights. Nice retention and lace on a tan head.
S - Dark bread crust, char, bitter sweet chocolate cookies, caramel licorice.
T - Super dry cocoa powder, caramel, vanilla, molasses-rich gingerbread, burnt sugar.
M - Light throughout with excellent drinkability. Chalky dryness on the finish.
O - The flavors remind me of dry, bold shwartzbier. One of the better tasting porters I've ever had, although I'm ambivalent about how light the body is.
★
500 characters
2.4
/5
rDev
-34.4%
look: 3.5 | smell: 4 | taste: 1.5 | feel: 2.25 | overall: 2
While I don't fully review much these days, I just can't keep quiet on this one. My first reaction is that I got a bad bottle; but, that's pretty much impossible since it's brand new and tasted immediately. I also confirmed by opening a second bottle.
Pours a dark "stout brown" with a nice but fast fading khaki head.
Nose is lovely creamed sugared coffee and chocolate with a chocolate/cherry undertone. Very inviting and pleasant.
Mouthfeel is medium thin but nicely carbonated. Mouthfeel is relatively insignificant as it is overshadowed by the questionable (in my mind) flavor profile.
Flavors are just not balanced; not well integrated and "not made for each other." The flavors are very distinct and the juxtaposition doesn't work. Huge bitter bold and assertive citrus and pine hops; like a good strong IPA type of hop flavor. At the same time, you get assertive malt, chocolate and a roasted grain flavor, almost like it's on the other side of your mouth. There is simply no balance and no integration. The hops come off bitter and sour and not in a good way. While at the same time what might be a nice malt character is completely overshadowed by an unpleasant assertive hop bitter.
Finish is completely short bitter hops with no malt or chocolate tones.
This brew is an anomoly and, for me, hard to believe it was done on purpose. It's like pouring two styles of beer into one glass, the result being that the total is much less than the sum of its parts. Just my opinion but the flavors just fight too much in my mouth. No need to try again, at least for me.
★
1,581 characters

4.81
/5
rDev
+31.4%
look: 4.75 | smell: 5 | taste: 4.75 | feel: 4.75 | overall: 4.75
This pours an intense midnight black with a thin lightly cocoa-colored ring of foam.
I'm loving this aroma—it's roasty and smokey, with dark chocolate nibs and a light 'Belgian' character contributing some floral notes. The flavor is similar, with the Belgian yeasty esters that mellow out an incredibly tasty cocoa roast. Whispers of smoke dance across the palate. No note needed; the beer itself says "drink me." Loved it.
★
439 characters
3.47
/5
rDev
-5.2%
look: 3 | smell: 3.5 | taste: 3.5 | feel: 3.5 | overall: 3.5
Pours a very dark brown bordering on black with a finger of mocha colored cap. Nose and taste mirror eachother with dark roasted malts, earth, a light roasted note. The taste does bring a slight hop bitterness along with a dry bitter chocolate taste, the chocolate brings it together but you do not pick it up until the very end. Interesting beer not bad but far from great, not sure if i selected the right style for this beer.
★
428 characters
Biere De Chocolat from Almanac Beer Co.
3.66
out of
5
based on
210
ratings.