Old Bag Of Nails Pub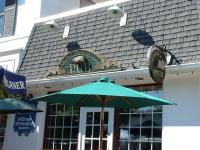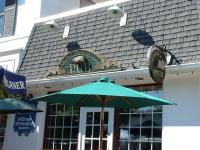 PLACE INFO
Type:
Bar, Eatery
663 High Street
Worthington
,
Ohio
, 43085
United States
(614) 436-5552 |
map
oldbagofnails.com
Notes:
No notes at this time.
Added by BeerAdvocate
PLACE STATS
Reviews:

10

Ratings:

pDev:

7.2%
HISTOGRAM
View: Place Reviews
Ratings: 15 | Reviews: 10

4.38
/5
rDev
+8.7%
vibe: 4.5 | quality: 4.5 | service: 4.5 | selection: 4 | food: 4.5
3.64
/5
rDev
-9.7%
vibe: 4 | quality: 3.5 | service: 4.5 | selection: 2.25 | food: 5
Nice irish pub atmosphere. Decent draft selection (not nearly an award-winning draft selection), but a good beer is still easy to find. GREAT food!
149 characters
3.86
/5
rDev
-4.2%
vibe: 4 | quality: 3.75 | service: 4 | selection: 3.75 | food: 4
3.55
/5
rDev
-11.9%
vibe: 5 | quality: 3.5 | service: 4 | selection: 2.5
I was on my way from Hillindale/Upper Arlington into Columbus and drove right through downtown Worthington. I noticed this place and stopped in for a beer.
Firstly, the beers are served in imperial pints. I wasnt prepared for the full 20oz beers, but I happily indulged. The selection leaves much to be desired. The only real craft beers were Great Lakes Burning River and an offering from Stone. They also had your typical, standard English/Irish beers like SMithwicks, Harp, Guinness, and Bass.
The atmosphere was awesome. I have been to many pseudo irish/english bars, but this one seemed to be the real deal. Besides a bar in Richmond, this seems to be one of the most authentic atmosphere. However, the food was far from authentic. No fish and chips, no shepherds pie, no bangers OR mash.
795 characters

3.86
/5
rDev
-4.2%
vibe: 4 | quality: 4 | service: 4 | selection: 3.5
This has got to be one of the better pubs out of the Bag Of Nails chain.
Nice homey, cozy feel to it, well located in old charming Worthington's downtown/High street. Good service, prompt and with a smile (granted, place was empty at 4pm).
Beer selection? Alright... They've got Dogfish 90, which seems to be a staple here. Also Goose Honkers, Great Lakes Burning and Nosferatu. That, plus a Sam Adams Seasonal, is all you can get from the craft side. There are another five or six taps with Irish stuff (a must in this area of Columbus/Dublin).
I'd be happy just sitting at the bar with a couple of Dogfish, but of course a wider selection would be great.
Didn't try food, but it appeared to be average pub grub. Prices? I was enticed by the $2 off drafts during happy hour, but alas my Dogfish was not entitled to discount so I paid $6 for a huge 22-oz pint. Not too bad, particularly for this somewhat wealthy area of town.
I probably won't go back because it's out of the way, but I'd frequent the place if I were a local.
1,035 characters

3.55
/5
rDev
-11.9%
vibe: 4 | quality: 3.5 | service: 4 | selection: 3 | food: 3.5
I had a really enjoyable after-work occasion here, and thought it worth reviewing. A friend and I sat at the bar and had some beers and apps, and this place had a fun and homey feel to it that I really liked.
However, the beer list is not so special. They were out of my first choice, so I had several DFH 90 Minutes. Bottle list was similarly unspectacular. But if I can find one beer I like on that particular day and the rest of the place makes me happy, I am OK with a limited beer list.
Food was OK - had some nacho dip and wings, and the wings were really pretty good. Prices were reasonable. And service was attentive despite the fact they were quite busy.
All-in-all, I enjoyed my visit to this Old Bag of Nails, and I would return to this one, or be willing to visit others again.
792 characters

4.13
/5
rDev
+2.5%
vibe: 4 | quality: 4 | service: 4.5 | selection: 4 | food: 4
Spent most of the night after Thanksgiving here. Small, cozy atmosphere. Lines were forming several times but I was able to not have to wait b/c I was with a small party. Several beers on tap, although I stuck with the DFH 90 min IPA. Delish! They were $6 for about a 20-22oz glass. The only food I had this visit was the pretzels and the onion rings. Both were tasty. The pretzels will fill you up fast. Our waitress was attentive and overall it was a fun experience. The waitress even allowed us to run across the street to grab a coffee without having to give up our table.
12/4/2013 - Came back here again over Thanksgiving and not much has changed! In fact, I've been here every Thanksgiving since that first review. Great Lakes Christmas ale on tap. Great food. Probably the same regulars eating at the bar every year. Wonderful spot! Small selection of beer, but bottles have been added.
895 characters
4.14
/5
rDev
+2.7%
vibe: 4 | quality: 4 | service: 4 | selection: 4.5
I came to the Old Bag of Nails Pub in early December on a Saturday night with two of my friends. We came in around 11 pm. The place is small, but clean and seems catered to a more affluent crowd. The people working the bar seemed nice. I had a Great Lakes Christmas Ale. There was a wide selection of good, craft beer on-tap. As I remember, there was about 10-15 beers on-tap along with a huge bottle selection.
Overall, the bar felt like a "neighborhood" bar with a nice informal atmosphere. Prices seemed a little high, but, oh well. I'll come back again.
559 characters
4.18
/5
rDev
+3.7%
vibe: 4.5 | quality: 4 | service: 4.5 | selection: 4 | food: 4
Visited this much heard about pub on Saturday evening, had to park on a side street as parking in downtown Worthington is dicey. As we approached the pub there were many people sitting outside but we didn't have to wait because we sat at the bar. First off I was dissapointed to see they removed old rasputin and replaced it with DFG Aprihop, I spoke to the manager and he said that old rasputin just wasn't selling and didn't know if they were bringing it back. The pub was very small with a small bar on the left and a small seating area, definately had that english pub feel. The only beers of note on tap were north coast red seal, DFH 90 minute IPA and the DFH Aprihop. The bottled beers varied from Warsteiner to Arrogant Bastard to Fullers 1845, I had several pints of the 90 minute and a couple red seal, after these beers it made up for the loss of old rasputin. The food was very good had the fish and chips along with potato pancakes. Overall a great little pub with an above average beer selection.
1,010 characters
4.22
/5
rDev
+4.7%
vibe: 4.5 | quality: 4 | service: 4.5 | selection: 4 | food: 4.5
The space used to be part of the Worthington hardware store which provided the name. Several other locations are larger, with nicer dining areas, but don't come close to the pubby atmosphere of the original. Exposed brick walls and uneven rough wood floors just compliment the crowded space. Excellent fish & chips, and better than average pub food. Beer selection on tap limited to the Guinness family offerings, but numerous imports & micros available by the bottle. Good location on the main strip of Old Worthington accentuates the quaint town pub feel.
557 characters
4.25
/5
rDev
+5.5%
vibe: 4.5 | quality: 4.5 | service: 4 | selection: 4 | food: 4.5
This location, Old Worthington, is great, but expect problems finding parking and be prepared to wait. You may want to try it for lunch when the crowds are less sizable.
Great tap beers that may not be found elsewhere, such as Burton Ales' Double Diamond, Paulaner Hefe, and others. Good selection of bottled beers as well, ranging from Samuel Smith to GLBC.
The seating is limited, but worth a small wait to sample such goodies the fish and chips. Outstanding!
467 characters

4.3
/5
rDev
+6.7%
vibe: 5 | quality: 4.5 | service: 4 | selection: 4 | food: 4.5
This is one of a handful of places I will take a visitor to Columbus when I have the chance. Located in Old Worthington, finding a parking spot can be pretty dicey if you go at peak hours. There is free street parking but you may have to walk a bit. Trust me it is worth it.
This location (there are a couple others in the Columbus area) is very tiny, the pub is nestled between small shops. They have "patio seating" meaning about 4 plastic tables placed on the sidewalk. Inside, you will be very cozy but I think that contributes a lot to the charm. Lots of old breweriana adorns the walls (I especially like the walls lined with old beer cans behind glass). The bar is pretty small but it maintains the whole English Pub look and feel. So many places spend a lot of money attaining that atmosphere but the Bag pulls it off without even trying.
The beer selection is very good given the lack of space. The bottled selection leans toward English beers (Sam Smith, Fuller's etc). The draught selection is in constant flux, but you can always get something from GLBC, Leinenkugel's, or an Arrogant Bastard. This is the only place I know of that has Old Rasputin on draught which is cause for celebration as far as I am concerned.
The staff is knowledgeable and courteous and I have never had a problem with the speed of service or with beer recommendations or knowledge. My one beef is that they serve their Stouts too cold.
Now, the food. If you go here and don't get the Fish & Chips you should be ashamed. It is unbelievably good (and BIG!). The Patty Melt is great too.
Overall I would recommend stopping here to anyone visiting Worthington, or the Columbus area. Old Bag and Barley's are 2 places I would never tire of visiting.
1,747 characters
4.38
/5
rDev
+8.7%
vibe: 4.5 | quality: 4.5 | service: 4 | selection: 4.5 | food: 4.5
I can't believe I am the first to give a review for this place! Of all the Ohioans involved here I am definetly surprised.
Styled after an English Pub this resaurant/pub is a great place to hang out and test MANY different selections. The bartenders are excellent and knowlegdeable.I can get a Molson Canadian or an Arrogant Bastard or turn to Draught and I can get Guiness, Bass, DFH 90(!), Burning River Pale....the list goes on.
If the beer can't get ya then the Fish-n-Chips should. They've got the best I've ever tasted and as close to "authentic" as possible. I'll go outt on a limb and say I've never tasted better. Not in the mood for Fish? Try the beer battered pickles or the Guiness Stew.
It's a tight squeeze if you visit the one in Worthington but I think that ones the best, expect to wait. If you don't want to go to the Worthington location, four others are available: Grandview, Dublin, Gahanna, Upper Arlington and Bexley (I had my rehearsal dinner there and it went without a hitch). They'r even building one in "uptown" Westerville. This may be bad for me since it's so close to home but we'll see. I know this may start to sound like a chain but it's family owned and it never feels like a chain to me or any one I take there.
Now I'm hungry for some Fish-n-Chips! Thanks for the thought...
1,324 characters
Old Bag Of Nails Pub in Worthington, OH
Place rating:
4.03
out of
5
with
15
ratings