Kalamazoo Beer Exchange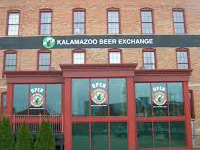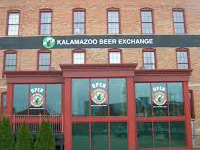 PLACE INFO
Type:
Bar, Eatery
211 E Water St
Kalamazoo
,
Michigan
, 49007-5823
United States
(269) 532-1188 |
map
kalamazoobeerexchange.com
Notes:
None provided.
PLACE STATS
Reviews:

15

Ratings:

pDev:

9.91%
Reviews: 15 | Ratings: 66

4.29
/5
rDev
-1.2%
vibe: 4.25 | quality: 4.25 | service: 4.5 | selection: 4.25 | food: 4
While cool in theory, the changing beer prices are actually pretty annoying. I don't like anything which makes me want to wait to order a beer. Food was good, tasty sandwich and exceptionally good friends. Service was weirdly friendly (my waitress's hard core eye contact and smile is still freaking me out a bit). That said, the beer selection was good enough that I'd definitely go back (and it's not like Kzoo is hurting for options).
442 characters

3.7
/5
rDev
-14.7%
vibe: 4 | quality: 3.75 | service: 3.5 | selection: 3.5 | food: 4.25
After a quick beer at Olde Peninsula, the wife and I had dinner at the Beer Exchange. This place is huge! Kind of reminds of Schlafly in St Louis and Maumee Brewing in Toledo. An old brick warehouse building with arches, nice details and great architecture.
Two floors and two bars, with lots of sitting. Service was good, we got a booth right by the kitchen (you know I like that).
Food was surprisingly good, including a kale salad-and-tofu salad to die for and a mushroom crepe. Some healthy options among the bar food. And prices weren't bad either- eleven dollars for a big kale salad.
The exchange thing is kind of silly. I've seen it before at New York Beer Company in NYC and don't care for it, the prices going up and down depending on the stock market or whatever. But $2.75 for a pint of Mt Pleasant Crazy Train? I'll take it, gimmick or not.
The beer selection didn't wowed me either: Bell's Oberon, Founders Breakfast, Arcadia, Griffin Claw, Stone By and Old Guardian, Vivant Red Cocq… not bad, but not outstanding either. Still, I would revisit when in Kalamazoo. It's a fun place and I loved that kale salad!
1,147 characters

4.01
/5
rDev
-7.6%
vibe: 4.25 | quality: 4.25 | service: 3.5 | selection: 4.25 | food: 3.75
I've been to the beer exchange about 4 times while visiting Kzoo, both for lunch and at night.
Atmosphere is really neat. It's inside the old Globe Building, which has been restored and is pretty awesome. High brick walls, a golden age mural, a three level lofted space - very interesting. Easy walking distance from Bell's and the other downtown spots.
During lunch it's more low key and they don't do the whole market price thing. In the evening, beer prices listed on the screen change every 15 minutes or so. The tap selection is one of the best in Kzoo. Nice variety, with lots of local stuff, some one-offs, and a constantly changing line up.
Food is a notch above normal. Nice variety of upscale bar/pub food. I've always had friendly enough service.
762 characters
3.97
/5
rDev
-8.5%
vibe: 3.75 | quality: 4 | service: 3.75 | selection: 4.25
KBE was running a fine line between beer geek haven to frat boy saloon.
It's a great location, a block from Bell's, has plenty of parking, fantastic building, multiple levels, wow. On the basement level, they have a couple pool tables and a dart board.
The upper level is where the kitchen is, with seating for about 25 people, and another 12 at the bar.
The idea behind the bar is that the prices are based upon what people order...you order more, the price goes up, and every so often (15 minutes or so), the market will refresh with new prices. Kind of a cool idea. At one point during the night, the market crashed and everything goes down to the cheapest price or cost, I'm not really sure. They go way down.
What it breaks down to is they had a really good tap selection, and some of them were a great price. If you're a beer geek, check it out. I'd say find a seat on the upper level.
The bartender didn't seem to overly knowledgeable about beer...
Solid Kalamazoo stop.
982 characters

3.78
/5
rDev
-12.9%
vibe: 3.5 | quality: 3.5 | service: 3.5 | selection: 4.5
Update:
I visited with a group over the 2012 winter holidays. My party had—simply put—the world's greatest server! She was amazing—friendly, professional, and knowledgeable. We spanned the gambit from beer geek (me) to teetotaler and she juggled all our interests and inquiries. Wish I had her name because she made our night. This would be a completely glowing review if it wasn't for the fact that her shift ended and the counter service was just plain rude to the point of being surly. Don't think that I didn't notice the eye-rolling, buddy—along with a couple of folks in my group. KBE, you're still a mixed bag in my book.
Previous: I have visited here a handful of times since they opened. My visits were all about six months apart so I've had the opportunity to see some limited changes, mostly having to do with the crowd and beers available. This last visit felt like there was much more of an emphasis not just on Michigan beers but also regional breweries from this part of the state. And the crowd went from what seems like groups of college- or recently-graduated students to ever-so-slightly older. (I didn't feel quite as out of place!) The server I had was friendly, and offered tastes of some of the beers I had never heard of. (Not a surprise as they have quite a few on the board.) Plus, thanks to the 'market' pricing you can get away with some steals on good beers.
BUT… two things that, while they won't keep me from visiting again, put a damper on my night. Sitting at the bar I noticed a 'bring back' on an order. I'm guessing the server poured the wrong cider or just had a mix-up with the waitstaff. But instead of either dumping, drinking, or comping someone I watched the server place the mystery drink in one of the energy drink fridges… and pull it out maybe 15 minutes later and give it to a waiter who served it to an unsuspecting customer. That's a serious service foul in my book.
The other negative experience was something that the KBE has no control over, where a patron I had been enjoying a friendly barstool conversation with casually referred to Mexicans as 'spics.' I bristled at this and it cut my enjoyable evening short. Nothing like being racially insulted while enjoying a few beers to ruin a good time. All in all a mixed bag.
2,324 characters
4.25
/5
rDev
-2.1%
vibe: 4 | quality: 4 | service: 5 | selection: 4 | food: 4
A really unique and interesting place. I know this place is not the only one around with this concept, but it was the first I had visited, which made the experience even more unique.
The tap list seemed to be about 25-30 strong with a decent list that was a little light on "big" beers and seasonal offerings in my opinion but still solid.
The service was outstanding - we actually had a fellow BA as our server who gave us great insight on some of the local taps and also chatted to us about beer in general for a while. The food was very good as well.
If you aren't too picky, you can really drink for cheap.
615 characters
4.38
/5
rDev
+0.9%
vibe: 4 | quality: 5 | service: 4 | selection: 4.5 | food: 3.5
I didn't get a chance to participate in the "Market," as I went for lunch, but I can review the quality of selection at the Exchange. They stock on tap some of the rarest Michigan beers around, from sundry brewers. If you are into Michigan beer, the Exchange will have some beers you will be excited to try. They also carry a number of good beers from other areas of the country, as well. The food is pretty good, and is slightly unique American fare. And the service is very knowledgeable and friendly.
503 characters

4.15
/5
rDev
-4.4%
vibe: 5 | quality: 4 | service: 4.5 | selection: 3.5 | food: 4.5
KBE resides in one of the best buildings in town. It's a multi-level bar that is very open. They always have a lot of decent beer on draft, and tend to turn their taps over relatively quickly. They used to have a nice Michigan bottle selection, but this has recently been significantly reduced. They do offer 1/2 off bottles from 3 to 6 on weekdays. The main attraction is the "exchange" that starts at 6. The exchange uses a stock market style pricing system that adjusts the price of the beer base on demand every 20 minutes. One to two times per night there is a "stock market crash" where all the beer prices fall significantly.
The food here is above average, and their Piedmontese burger and chicken pot pie are highly recommended. The bartenders are some of the best in town, and the waitstaff are usually quite good as well.
My only complaint is that if you go before 6pm on a weekday, you have no way of knowing how much the beer costs or even what is all on draft currently. They also tend to change over a high number of taps right at 6, so be prepared to be flexible with your choices.
KBE is only about a block from Bell's, so if you are in Kalamazoo, I would highly recommend a stop at KBE.
1,209 characters
4.63
/5
rDev
+6.7%
vibe: 5 | quality: 4.5 | service: 4.5 | selection: 5 | food: 4
I have been to th KBE a few times now and enjoy the wide selction f beers, especially from Michigan Brewers. The whole exchange atmosphere is pretty cool. I find my self watching the board to see how prices are changing. Never expreienced a crash there, maybe because I am usually there for just a beer or 2. My last visit was during Kalamazoo Beer Week where I was able to enjoy a few different beers from Short's. Our Bartender in the lower area was very friendly. This is a great place to come out and enjoy a beer you might not find at your local beer store.
562 characters

4.3
/5
rDev
-0.9%
vibe: 4 | quality: 4.5 | service: 4.5 | selection: 4
Came here with Kzoobrew while visiting Michigan for the CBS release.
Went in at I believe around six o'clock and got a couple seats at the bar. It was about half full, but filled up during our stay. A very innovative and neat idea on how the bar works. The "beer exchange" is directly related to what people are ordering and changes every fifteen minutes and every now and then there is a "crash" where you can get beers for cheaper.
There was a decent selection there. I was DD for the night so I only got a FBS but it was fantastic as always. The bartender was great. We all were BS'in with her the whole night. We were right by the kitchen so I was also able to bug a few of the waitresses who were pretty cute and were good fun.
The quality was nice too. Located in a nice looking building, and the place itself looked brand new. The night was an enjoyable experience and I will for sure be back here in the future.
934 characters

4.64
/5
rDev
+6.9%
vibe: 4.5 | quality: 4.5 | service: 4.5 | selection: 5
Went after rock climbing in kzoo on a Monday night.
Based on it being Monday the place had a pretty good vibe going. Kitchen was open late. They had an up and downstairs areas. I didn't ever go downstairs, but from what I could see they had a few pool tables and a bar down there. Upstairs they had a bar and a kitchen and tables.
The unique thing about this bar is the stock market themed beer prices. They have a huge electronic board in both the upstairs and downstairs that reads out prices of their beers on tap. Every 15 minutes the prices of the beer either goes up (beer is being bought), down (if the beer hasn't been bought in a while), or stays the same. I personally found this to be the BEST IDEA EVER! What better way to keep people from buying the beer that isn't selling well or to keep people from buying the place out of stock of popular items. It also keeps you interest and coming back. It's a win-win for the business and the customers. And it probably keeps the kegs in the place pretty fresh.
I didn't partake in any of the food they served, but my roommates had some of their nachos. They said there were pretty good but a bit over priced.
I order short's sustenance black bear first for the mere price of $2.75. After everyone was done eating and drinking we were gathering our things ready to go when a very loud whistle comes out of nowhere. My first thought was it was some kind of signal that the kitchen was closed, but to my astonishment when I looked up at the board 3/4 of the beers drop significantly in price. Our waitress immediately came over to our table and explained the circumstances. Of course none of us were able to resistance those tempting prices so even though it was getting late, we were all exhausted from the climb earlier, and still had a 30 min drive back we decided to stay longer. I order a $2.25 triple.
Overall a very, very good experience and I'm looking forward to coming back on Sunday.
*Since my original rating I've gone back to this place many times all on mondays and I can't be more happy. I've got to know the owner John, hes a great guy and a msu grad so I have this bar back 100%, it is literally the best bar I have ever been to.
2,218 characters
4.25
/5
rDev
-2.1%
vibe: 3.5 | quality: 4 | service: 4 | selection: 5 | food: 4.5
The atmosphere here is pretty standard for a bar. They have an upstairs and downstairs. The upstairs has tables if you are desiring to eat along with two bars. The downstairs has one bar, a couple pool tables and is mostly a standing area on the weekends when it is busier. If you come out on a weekend night be prepared to wait a little to get it. I do, however, believe it is worth the wait. Since I am a few minutes from the place I try to get here on a weekday when it is not quite as busy.
The food is quite delicious, but I think the food may be the slightest bit overpriced. I have had several different meals here and have yet to be disappointed.
The highlight of this place is the beer. Not only do they have a wonderful selection on draft that is rotated fairly steadily, the way the prices work makes buying your beer fun. I am a bargain hunter by nature so this especially appeals to me. Beer prices change every 15 minutes. The changes are based on if the beer is getting bought.
If a lot of people are buying a beer x during one 15 minute time block the price of beer x will go up in the following time block. If a beer is not getting purchased it will drop in price. Every beer has a base price it will not go under which varies depending on the beer, but if you are familiar enough with beer and typical prices you can drink pretty stellar beer well below the average cost of a pint at a bar if you buy at a price drop.
Occasionally, only on the weekends, there will be a market crash. They blow an air horn to signify the market has crashed. At this point all beers fall to their lowest price. Of course, everybody wants to purchase at that point, but the staff usually does an excellent job of getting all orders in.
This is a must try place for anybody who enjoys beer.
1,793 characters
4.53
/5
rDev
+4.4%
vibe: 4.5 | quality: 4 | service: 5 | selection: 4.5 | food: 5
I try to stop by the Beer Exchange everytime I am in Kalamazoo. I had been a Kazoo native for 7 years and recently moved to Indianapolis, I am sad I left now that the Beer Exchange is in town. It is a popular place so get there early. The food is great I suggest the Nachos or Pulled Pork and always save room for a deep fried Twinkie. The atmosphere is fun because you get to see the demand of new beers and watch the bafoons that keep ordering Bud Light. The great thing is if you catch a beer during the market crash you get a great beer like Matilda for $2.50. Anyone with in 100 miles of Kalamazoo should stop in and try out this great new idea. Hell you got the best of all of Michigan's Micorbrews on the way Founders from the North, Dark Horse and Arcadia from the East, 3 floyds in Indiana in the Far West, I am sure there is somthing good in the south Hell Sun King and Upland in the way south and Bells/ Old P right in Down Town Kazoo. You have to make it out and try the Kazoo Beer Exchange. The only improvement I would say is to get some Indiana and Ohio brews in. Kazoo Beer Exchange is a great time and generally the owner is running around looking for feed back so if you have somthing bad happen just ask for him and he is not far away.
1,254 characters

2.34
/5
rDev
-46.1%
vibe: 4 | quality: 1 | service: 1 | selection: 4.5
A friend and I went there and there was a wait to get in. Being the new hot spot in town we waited 20 minutes to get in to the bar. The wait for a table was over a hour. Got to the bar and saw they had tons and tons of beer. My friend and I got up to the bar and where going to sample some new brews we have never tasted. After another thirty minutes of waiting to order, the bar tender did not even acknowledge us. So we said screw this place and we went across the street to Shakespeare's. Too bad, I really want to like this place but way too busy to enjoy it. I should rate it lower. But they have the best selection of beers in Kalamazoo just be prepared to wait and wait and wait.
686 characters
4.13
/5
rDev
-4.8%
vibe: 5 | quality: 4 | service: 4 | selection: 4
The interior is gorgeous with lots of old brick, high ceilings, and large windows that keeps it well lit. I only had one beer at the bar and the server was attentive as I needed. The beer selection was pretty good- nothing mind blowing and I would have probably been really impressed if I was from out of state. I was kind of surprised with the price of $5.50 for a pint of Rogue Hazelnut Porter... now that I write that, it doesn't seem that bad, but I was significantly higher than other places in Kalamazoo on a Saturday. I would go back- mostly for the atmosphere.
568 characters
Kalamazoo Beer Exchange in Kalamazoo, MI
Place rating:
4.34
out of
5
with
66
ratings