The Hound Dog Scotch Ale
| Rogers Beer Company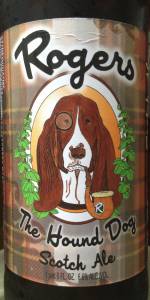 BEER INFO
Brewed by:
Rogers Beer Company
New York
,
United States
rogersbeer.com
Style:
Scotch Ale / Wee Heavy
Alcohol by volume (ABV):
6.60%
Availability:
Rotating
Notes / Commercial Description:
This tasty creation is a hybrid beer, mixing the best of both Belgian and English ingredients. Using 2-row with three Belgian specialty malts and Belgian Candi Syrup gives this beer its smooth malty flavor. We then use English hops to give this beer its great aroma, and finally we use a mildly malty and slightly fruity English style yeast strand to finish it off. Rogers The Hound Dog Scotch Ale clocks in at 6.6% ABV.
Added by TheBrewo on 07-17-2013
Reviews: 3 | Ratings: 9
3.52
/5
rDev
+4.8%
look: 3.75 | smell: 3.5 | taste: 3.5 | feel: 3.5 | overall: 3.5
interesting take on the style, more belgian inspired than anything else, with an intense flavor of belgian candy sugar and honey, bringing the sweetness level to an all time high for the style. english grain and yeast contributes less, i like the fusion though, even though i was glad to be sharing this bottle a few ways, its so sugary. nice toast on the grain with a hint of smoke under there, liquid butterscotch candy is a strong flavor, but hints of oaky vanilla and caramel malt are also there. long and sweet, a little thin in feel, with nice carbonation and a definitely unique overall complexion. i would taste this and say belgian strong, or english barleywine, but not scotch ale. i think it misses as a scotch, but its a success as a recipe. my first beer from these guys has me really curious for more, this is pretty interesting.
843 characters
4.77
/5
rDev
+42%
look: 5 | smell: 4.75 | taste: 4.75 | feel: 4.75 | overall: 4.75
Another one of my favorites. I really enjoy this beer on a hot summer day as it is extremely refreshing. It is very malty and sweet and I love the taste. Not at all bitter which I love as well. If you get a chance to grab one of these you definitely should.
257 characters
3.12
/5
rDev
-7.1%
look: 3.5 | smell: 3.25 | taste: 3 | feel: 2.75 | overall: 3.25
We pour a brew of golden ruby coloring, with light chestnut hues when held to light, into our Founders snifters. It puts up a one and a half finger tall head of creamy, latte colored bubbles, showing decent retention. Sheets and stripes of lacing are left around the glass as it goes. A definite haze cuts clarity, but no sediment is noted. Carbonation appears to be quite light. The aroma is wrought with cereal graininess, sweet caramel malts, light vinegar sours, cranberry fruitiness, raw powdered barley, steely metallics, pear and browned apple sugars, butterscotch syrups, sourdough breadiness, light vinyl plastics, and carrot rootiness. Light booziness comes out, along with soy sauce saltiness, with warmth. Our first impression is that the beer tastes much like the aroma smells, with forward graininess and no real surprises. As we sip, the flavoring opens with soy sauce saltiness, caramel and brown maltiness, vinegar and brown apple sours, fig skin dryness, golden raisin sugars, buttery diacetyls, tannic breakfast teas, Saltine crackers, and soft banana and cotton candy esters. The middle moves to the peak with icy mineral water, continued caramel and raw barley mash, pear and plum fruitiness, lightly citric and grassy hops, yeasty metallics, and clove oil slickness. Light smoke hits at the end, along with more tannic dryness, banana peel, melted plastics, hints of more cooked caramel against those base raws and powders, green twig resins, black pepper, sea saltiness, mineral, and corny adjuncts. The aftertaste breaths of bready yeastiness, salted pumpkin seeds, gingerbread, gluey paste, phenolic plastics, brown sugars, sawdust, caramel and barley rumbles, hints of honey, light floral hops, and browned banana sweetness. The body is light to medium, and the carbonation is medium. Each sip gives nice slurp, smack, cream, and froth, but waters through a bit, cutting said foaminess. The mouth is coated and wet, with eventual dripping astringency to dry the tongue more than the hard palate. The abv is appropriate, and the beer drinks back quickly.
Overall, what we enjoyed most about this beer was its aroma. Here we were given depth of grain to include sweetness, light roast and toast, and genuine rawness of malted barley. It smelled like a handful of the raw ingredients of the grain bill, with powdery dryness and that untarnished freshness. The flavor followed decently, but did lighten up a bit more than we would like through the finish, giving more of a watery, less robust end to carry on the blend. The feel was also light, taking away from the fullness and creaminess of the sip. This seems to be a deconstructed take on the style, and it is certainly welcome and interesting, but it just doesn't keep you hooked through the entire bomber, even when sharing.
2,807 characters
The Hound Dog Scotch Ale from Rogers Beer Company
3.36
out of
5
based on
9
ratings.