Hoosier Daddy
| New Albanian Brewing Company - Pizzeria and Public House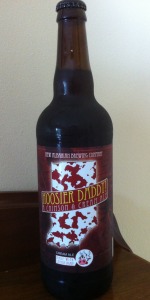 BEER INFO
Brewed by:
New Albanian Brewing Company - Pizzeria and Public House
Indiana
,
United States
newalbanian.com
Style:
American Amber / Red Ale
Alcohol by volume (ABV):
7.00%
Availability:
Rotating
Notes / Commercial Description:
No notes at this time.
Added by Cresant on 03-02-2007
Reviews: 9 | Ratings: 45
3.59
/5
rDev
-1.4%
look: 3.75 | smell: 3.5 | taste: 3.5 | feel: 3.75 | overall: 3.75
A: The beer is clear dark reddish brown in color and has a moderate amount of visible carbonation. It poured with a half finger high dense beige head that died down, leaving a thin head covering the surface and lots of lacing down the sides of the glass.
S: Light to moderate aromas of caramel malts are present in the nose along with some notes of citrus and evergreen.
T: The taste has an interesting mix of caramel flavors from the malts and citrusy and woody flavors from the hops. A slight amount of sweetness is contrasted by a light to moderate amount of bitterness.
M: It feels medium-bodied, a little crisp and slightly smooth on the palate with a moderate amount of carbonation.
O: Although none of the aromas or flavors seem to stand out in particular, the malts and hops are well balanced and work together. This beer is quite drinkable because the alcohol is well hidden from the taste.
899 characters

3.23
/5
rDev
-11.3%
look: 3.5 | smell: 3 | taste: 3.5 | feel: 3 | overall: 3
This beer arrived a couple weeks ago. Hoosier Daddy pours a light bodied chestnut brown with amber highlights and a slight off white lacing around the glass. It's pretty dark for an amber, and is a borderline brown. It isn't what I expected. The nose is pretty typical, somewhat sweet amber malts with little else. The flavors threw me for a loop. I expected an amber cream ale with a different lactose finish. What I got is a slightly hoppy amber with a strange bitter finish. There's actually a lot of hop presence. It's odd, and too bitter for the style despite only being 35 IBUs. I'd say it drinks almost like a pale. It drinks light in body and finishes dry with an odd after taste. Overall this beer was just ok. I feel that this beer is imbalanced and disjointed. Like the other beers from them in a bottle I'm left disappointed and wanting something more.
864 characters
3.92
/5
rDev
+7.7%
look: 3.5 | smell: 4 | taste: 4 | feel: 3.5 | overall: 4
22 ounce bottle. Served in a pint glass, the beer pours a reddish/copper color with a half inch off-white head that fizzled away somewhat quickly. There's a small amount of lacing. Aroma is sweet, it smells mostly like caramel malt, along with some bready malt and a sugary/cream like aroma (I assume it's the lactose). The brew tastes like caramel malt, dried fruit, cream, toffee and some light citrusy hops. There's also a slight bitter finish. Mouthfeel/body is medium, it's creamy and has a moderate amount of carbonation. I think this is a solid brew, it's definitely worth trying. $7.49 a bomber.
603 characters

3.99
/5
rDev
+9.6%
look: 3.5 | smell: 4.5 | taste: 4 | feel: 4 | overall: 3.5
A - It poured a translucent blood-orange. There was a one-finger, khaki colored head which did not remain for long after the pour; however, it left a slight rim around the glass with a decent amount of lacing.
S - The roasted barley/grain and sweetness comes through the nose. I get some caramel, which is really nice.
T - There is some bitterness from the hops coming through strong in the finish. The sweetness is nice for the balance of the brew, but the bitterness still holds strong.
M - Medium body and quite smooth; I would not have guessed it was 7% since the alcohol is barely noticeable.
O - I had high hopes for this brew because the addition of lactose always gets me excited. This was a good beer with a clever name and idea, but not a great beer.
765 characters

3.73
/5
rDev
+2.5%
look: 3.5 | smell: 3 | taste: 4 | feel: 4 | overall: 4
Received a 20 oz. pour into an imperial tulip pint at Rich O's in New Albany. Color was clay red and hazy, it cleared as it warmed. Small filmy head.
Smell was muted, somewhat hoppy and sweet. It was difficult to assess due to the small head and somewhat smoky conditions.
Taste was bright and malty. Hops were abundantly present and balanced well with the sweet malts. Caramel and slightly tangy.
Mouthfeel was smooth, medium bodied and mildly carbonated. A very satisfying red ale.
From the website:
Version 2.0 (January, 2007)
OG: 1.070
ABV: 7%
MALTS: 2-row, Cara Red, Special B, Chocolate
HOPS: Northern Brewer, Nugget, Simcoe
YEAST: London House
ALSO: Lactose sugar
MISC: Kitchen sink ale with lactose. First brewed in 2006, slightly modified in 2007.
796 characters

4.05
/5
rDev
+11.3%
look: 4 | smell: 4 | taste: 4 | feel: 4.5 | overall: 4
New local brew!
Pours a deep crimson with a 2.5 finger off-white head leaving good lacing and retention.
Smells of sweet caramel malts along with a little cream sweetness. Very true to its name. Some citrus hops as well, but this one is malt forward.
Taste follows the nose. Toffee/bread are the main flavor components along with some milky sweetness. Earthy, piney bitter hops back them up. Again, malt forward.
Mouthfeel is very creamy with medium carbonation levels.
A fun play on the phrase Cream and Crimson. Nothing special, but I think they hit the mark on what they were aiming for. Great mouthfeel and with a few more hops, this one would be awesome.
664 characters
3.53
/5
rDev
-3%
look: 4 | smell: 3.5 | taste: 3.5 | feel: 3.5 | overall: 3.5
Mostly what you'd expect with the pour. It's a combination of dark reddish brown, chestnut, thoroughbred horse color. It's dark, but still relatively clear. It's opaque due to the color, but still appears filtered. However, the head is a beautiful bright white. Sticks around an average amount of time, but it's as nice a looking head of bubbles as I've seen.
Very malty on the nose, but still a slight flowery hop presence. Somewhere along the way, I picked up cinnamon as well.
Just the opposite on the tongue as there are heavier hop notes than the malty nose. Somewhat resinous, like some pale ales. Almost piney.
Almost balanced, but a little more bitter than the malt can offset. Reminds me a lot of Santa's Private Reserse. Not quite a pale ale, but close. Medium- to full-bodied. Full bitter, stick finish.
The bottle claims it has lactose sugar, but I didn't detect any sweetness other than the caramel matls. Not a bad beer, I can see it going really well with their pizzeria, but a little bitter for regular drinking.
1,032 characters
4
/5
rDev
+9.9%
look: 4 | smell: 4 | taste: 4 | feel: 4 | overall: 4
Draft sample at New Albanian.
Poured dark hazy brown color with average white fizzy head that mostly lasted with good lacing. Moderate roasted grainy and sweet&sourt aroma. Medium body with a smooth texture and flat carbonation. Medium bittersweet flavor with a medium roasted sweet finish of moderate duration. Solid drinkable brew and standout for style.
Very interesting brew.
382 characters

3.54
/5
rDev
-2.7%
look: 3.5 | smell: 3.25 | taste: 3.75 | feel: 3.5 | overall: 3.5
Very clear, dark amber with a fleeting head but significant lacing. The smell is dominated by caramel from the malt with no noticeable hop aroma. The same goes for the taste - rich malt flavors with minimal bitterness. The feel is quite smooth and the finish very clean. The malt flavor does an excellent job of masking the rather high alcohol content. I dropped 6 bucks on a bomber of this at the brewery and while not terribly disappointed, I probably am one and done with this as there are better choices for less money.
527 characters
Hoosier Daddy from New Albanian Brewing Company - Pizzeria and Public House
3.64
out of
5
based on
45
ratings.