Dismiss Notice
Dismiss Notice
Jaxon
| New Albanian Brewing Company - Pizzeria and Public House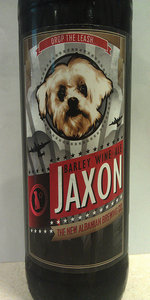 BEER INFO
Brewed by:
New Albanian Brewing Company - Pizzeria and Public House
Indiana
,
United States
|
website
Style:
American Barleywine
Alcohol by volume (ABV):
11.00%
Availability:
Limited (brewed once)
Notes / Commercial Description:
No notes at this time.
Added by aasher on 10-09-2011
This beer is retired; no longer brewed.
Reviews: 11 | Ratings: 44
4.37
/5
rDev
+10.4%
look: 4 | smell: 4.5 | taste: 4.5 | feel: 3.5 | overall: 4.5
I really didn't want to shell out 13 bucks on this one, but a review got me interested and I just had to do it.
Pours thick almost syrup like thick reddish pour. Once in the snifter this turns to a deep ruby color with a tan head capping it off. This is some thick strong stuff but the head doesn't seem to ever want to leave the glass.
Sharp hops and deep dark caramel and fruit malts are everywhere. Grape fruit hops and hard candies are all here for the taking. Insanely complex and well integrated aromas.
My first thoughts where about how insanely malty this beer is. Caramel, cherries, toffee, and just more flavors than I can decipher. The second drink smacks me over the head with the intense hops here…citrus grape fruit and pushed to the furthest level by the alcohol blending with them. Make no mistake the hops balance this thing about well and they are far more intense than even their double IPA.
The carbonation does a good job of keeping this thick and strong beer in check. Alcohol is noticeable but reasonable given the style.
I really like this one. An insane amount of hops perfectly balance by a mountain of malt. This is a wonderful beer, I recommend others seek this one out.
★
1,211 characters
4.35
/5
rDev
+9.8%
look: 4 | smell: 4 | taste: 4.5 | feel: 4.5 | overall: 4.5
If this beer had some clarity to it, I'd say it looks perfect. As it is though, it's quite cloudy. Quite. Nose is heavy sweet malts and the flavor is very much along the same lines. It doesn't seem at all like 11% abv. Maybe that will be hitting me later on. Extremely smooth feel, and probably too drinkable for our own good. This is a very nice barleywine. Glad I picked it up when I had the chance. Too bad I didn't grab another to lay down for a bit.
★
454 characters

4.15
/5
rDev
+4.8%
look: 4 | smell: 4.5 | taste: 4 | feel: 4.25 | overall: 4
I guess this is named after a dog... possibly the brewer's or CEO's dog. Looks like a Maltese, Bison Frise or Lhasa Apso.
"Drop the leash."
Served in an Olde Hickory shaped glass.
A: Poured a beautiful, dark, rich, caramel color with a light reddish hue, and with some flakes swimming around in the liquid. The 1/5 finger or so head died down after a minute or two.
S: Yummy! Lots of hops and citrus underneath the caramel nougat. Grainy and rich, with a brown sugar-like undertow.
T: If it weren't for the sweetness, I might have tagged this as an English BW. I actually wish it had the same sort of hop sizzle that the nose suggested, but that's a minor quibble. Lots of pure malt, caramel, and butterscotch.
M: Yes, this is syrupy, but I think it was intended to be sort of a "dessert" beer. Much more of an "Imperial Brown" than a "DIPA." Lots of lacing left on the glass and really not much booze detected. Somewhat smooth on the finish.
O: It was tough to get through this bomber by myself, but I managed... and enjoyed it immensely.
★
1,046 characters
4.1
/5
rDev
+3.5%
look: 4 | smell: 4 | taste: 4 | feel: 4 | overall: 4.5
(Served in a tulip glass)
A- This beer pours dense glowing caramel body with a yellowish beige head that last and last. There is a microbubble carbonation that glides up the side of the glass.
S- The clean aroma has aromas of toasted malt and fresh pale malt that start to come through when the beer opens. There is also some bright woody green hops in the finish when it really opens.
T- the big fresh toasted malt flavor has a slight sweetness to it with a darker toasted malt hint underneath. There is a slightly dry finish with some hop pungent flavors that linger with some malt notes underneath. The hops grow as the beer opens up and become more pungent but never bitter.
M- This beer has a medium-full mouthfeel with no alcohol heat and a gentle fizz in the finish.
O- The full rich malt flavor has some nice blended depth and it is fresh but it is also just a touch to dry. There is a nice hop flavor that grows and overtakes the malt but it has nice depth and flavor too. This beer has some nice balance and changes as it grows.
★
1,045 characters

4
/5
rDev
+1%
look: 4 | smell: 4 | taste: 4 | feel: 4 | overall: 4
I tried finding more info on this but it hasn't been added to New Albanian's website yet.
It pours a light to medium bodied cherry wood in color with a light beige lacing around the glass. It is very sweet and reminiscent of sweet cherries, aged apples, and dried apricots. Very interesting nose, very sweet and malty but it presents you with a very interesting array of fruits. The flavors too, very sweet and fruity. It kind of tastes like a back of sweet gummies when you were a kid. You get some dark fruits, some dark cherry, prunes, raspberries?, jam, and strawberries. It's really, really interesting. It drinks light and drinkable and is impressively flavorful. Overall I like this one and it's really interesting and multifaceted. Well done NA.
★
757 characters
3.98
/5
rDev
+0.5%
look: 4.5 | smell: 4 | taste: 4 | feel: 3.5 | overall: 4
Pours a clear brown color. 1/3 inch head of an off-white color. Good retention and great lacing. Smells of hops, sweet malt, slight roasted malt, yeast, and alcohol. Fits the style of an American Barleywine. Mouth feel is sharp and crisp, with an average carbonation level. Tastes of hops, sweet malt, alcohol, yeast, and a hint of roasted malt. Overall, good appearance, aroma, body, and blend.
★
395 characters
3.97
/5
rDev
+0.3%
look: 3.5 | smell: 4 | taste: 4 | feel: 4 | overall: 4
A - Poured out a clear, copper color with a one-finger, off-white head of bubbly foam. It left thin rings of lace on the glass.
S -It smelled piney and malty with some citrusy notes.
T - It tasted sweet and malty with caramel and toffee flavors. It had a nice bitter piney bite.
M - It was crisp, sharp and smooth. A medium to full bodied ale with a dry, clean finish.
O - This is a really nice barleywine. I'd like to try more from New Albanian.
★
450 characters
3.95
/5
rDev
-0.3%
look: 4 | smell: 4 | taste: 4 | feel: 3.5 | overall: 4
As Barleywines go, the intense malt richness is met with equally intese hop bitterness, flavor, and aroma for a seriously balanced and savory delight of a beer.
The beer's appearance carries a deep garnet hue with an onyx-like sheen that's both brilliant clear and dark ruby making aboslute translusence troublesome. A dense and creamy tan head wrestles with the sugary alcohols but persists in maintaining an evenly coated sheet across the surface for the majority of the session.
Malts and hops battle out the aromatic make up of the beer in superior and intense balance throughout. Rich toffee and caramel scents set the stage while citrusy, sprucy, and piney hops balance the aromas and prevent the malts from dominance. An alcoholic scent of magic markers provides a thinning sense to the rich aromas.
Rich toffee malts carry the early taste with sweeter caramel flavors and stronger sorghum notes. Sweet breads and fruitcake make stronger marks with each sip of the beer. Orange pulp, grapefruit rinds, pine resins, sharp grasses, and mangos all contribute to the complex hop rebuttal. Not only do hop bitterness balance the beer but also contributes a plethera of flavor and variety to the beer's flavor profile. Alcoholic with the flavor of rum and acetate, the beer becomes as powerful as it does sweet and bitter. Cherry esters accompany the sweetness as well do apples, raspberries, and red grapes. Aged fruits of raisons, plumbs, prunes, figs, and dates all play into a slightly sweet nutty bit as the beer warms.
Full bodied and lightly chewy, this heavy and malty beer coats the mouth with a thin maple syrup-like feel and sticky resin bitterness that lingers on the mouth indefinately. This all lasts until very deep in the finish where a gradual dryness and alcoholic heat develops into a long-drawn impression of semi-malty, semi-bitter balance. Harsh with bite in both deep hop bitterness and alcohol grip, there's not the ultimate smooth mid palate nor finish that' so difficult to achieve in this type of beer. Designed as an after dinner appertif, this beer lives up to the billing.
A succulent and aggressive beer that has the elegant sweetness of port wines but with the assertive drinkability of IPAs. This beer isn't meant for the faint of heart, but rather than the most seasoned drinker of bitter and rich beers.
★
2,344 characters
3.89
/5
rDev
-1.8%
look: 4.25 | smell: 4 | taste: 3.75 | feel: 4.25 | overall: 3.75
Appearance: Pours a rich mahogany color with an inch of foam that pancakes down on the liquid; many strands of lace line the tulip glass
Smell: Sorghum malt aromatics, with piney hops underneath
Taste: Sorghum sweetness, up front, with brown sugar building; the pine and rustic wood flavors add bitterness in the middle (a vestige of the 100 IBUs); the finish is very sweet, perhaps overly so
Mouthfeel: Full bodied with moderate carbonation
Overall: Perhaps this beer was more balanced when the hop flavors were at their peak; now, with a few years of age (and I typically like my barleywines with age on them), it is just too sweet for my palate
★
651 characters
3.83
/5
rDev
-3.3%
look: 4 | smell: 3.5 | taste: 4 | feel: 3.5 | overall: 4
Pours into a tapered sampler glass a rusty copper color, with a thin, compact head of tan foam. It has a bright clarity and a saturated deep color. Foam sticks around for a little while, eventually fading to a wispy skim and leaving minimal spotty lace.
Dark fruit aroma at first, raisin and apricot, some light whiffs of alcohol present too. As it warms, some hop presence tempers the lightly sweet and fruity nose.
Piney hop bitterness of chinook and cascade, burly bready malt, sweet and syrupy. Sweetness is tempered by a lasting dry bitterness that lingers long into the aftertaste. Big, chewy, and syrupy with lower level carbonation that suits it. Some booze creeps out as it warms. Best shared on a cold winter night.
★
728 characters
3.56
/5
rDev
-10.1%
look: 4.5 | smell: 3.5 | taste: 3.5 | feel: 3.5 | overall: 3.5
A: deep reddish copper color, very nice creamy head that dissipated to thick veil
S: milder nose, biscuity malt, sweeter with some spicy hops but not overpowering, nothing unusual
T: well-balanced, deep roasted malt with stronger EtOH and good hop piney finish
M: a bit of heat
★
277 characters
Jaxon from New Albanian Brewing Company - Pizzeria and Public House
87
out of
100
based on
11
ratings.