Best Market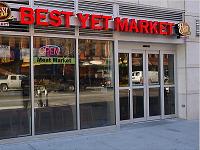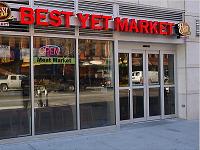 Store
2187 Frederick Douglass Blvd
New York
,
New York
, 10026-0982
United States
(212) 377-2300 |
map
bestmarket.com
Notes:
Recent ratings and reviews.
| Log in to view more ratings + sorting options.
Ratings by Crackblind:
Reviewed by Crackblind from New York
4.43
/5
rDev
+7.8%
vibe: 4.5 | quality: 4.5 | service: 3.75 | selection: 5
Incredible selection & great prices. Nice hidden gem inside a supermarket dressed up as a gourmet shop (think Fairway/Zabar's), on the second floor lift in the back. Five taps for growler fills at $9.99 for 64 oz. Though the tap selection could be better, it's not bad considering the price. However the true charm is the selection. Craft beers from all over the US and the world. You name they brewery, odds are it's represented here. Even a wall of bomber sized bottles with a large variety of styles to choose from. I've regularly found some nice rarities and other hard to find beers here. The staff is very nice but not too knowledgeable so don't expect too many suggestions. However the cell service is pretty good in the loft space so you can easily consult Beer Advocate while browsing.
Aug 02, 2015
More User Ratings:

Reviewed by Billolick from New York
4.24
/5
rDev
+3.2%
vibe: 4.25 | quality: 4 | service: 4.25 | selection: 4.5
First, this is an awesome and well stocked food market in an area without a ton of other high quality food options....lots of everything on several levels...kinda has the feel of a Fairway market or a well stocked and large Trader Joe's.

Next up is the beer and they have plenty, mostly on the top level, where you will find a LOAD of quality options from all the usual suspects...well worth a visit if you are in the area...fine place for both beer and beer...plus friendly service from happy people is always appreciated.
Dec 31, 2018
Reviewed by Gajo74 from New York
4.19
/5
rDev
+1.9%
vibe: 4.25 | quality: 4.5 | service: 3.5 | selection: 4.5
I work 1 block away from this supermarket and have lunch there almost daily. I take my lunch on the top floor where tables are set up. This top floor is a hidden gem and a mini treasure trove of beer. The whole floor is dedicated to beer. Great selection at reasonable prices. They have a growler filling station, a male your own 6 pack rack, and a diverse range of American micro brews, imports and macro. Nothing too rare, nevertheless, good stuff you won't find in your run of the mill supermarket.
The only drawback is that there isn't a knowledgeable beer person-actually there is no one around upstairs- to assist you or answer questions. I also wish they would let you consume on the premises. Other than that, this place is great and my go to place for beer shopping.
Feb 20, 2017

Reviewed by Lembeh from New York
4.9
/5
rDev
+19.2%
vibe: 4.75 | quality: 5 | service: 4.75 | selection: 5
This is by far the best beer selection in the Upper West Side\Morningside Heights\Harlem\Rest of Uptown Manhattan. Fairway (both west side locations) and Whole Foods (100st) cant beat this. They have everything from the NYC heavies like Six Point\Bronx\Kelso etc to "upstate faves" like Saranac\Ommegang\Southern Tier etc. Nice representation from LI as well. In addition they carry a lot of East Coast and a lot from West coast breweries. Not just 1 or 2 but multiple beers from these breweries. A nice singles\bombers selection on 1 wall that includes Alesmith\Cascade\Almanac etc. In addition to the Americans there is a wall of Belgian\English\German\Irish\Scottish\Czech selections. They even have some New Zealand breweries.

The great thing is that despite the vast selection the stuff moves off the shelf pretty regularly so you are not ever drinking a 10 month old skunky-dust on the bottle POS.

Highly recommend this place.
Oct 02, 2015

Reviewed by gory4d from Texas
3.66
/5
rDev
-10.9%
vibe: 3.5 | quality: 4 | service: 3 | selection: 4
One room up some stairs, with some tables for eating (can't drink beer there). They seem to rotate the stock pretty well, though they've been out of most Sly Fox cans for weeks - those aren't hard to come by, are they? If you knock on the door to the office, sometimes you can find someone who knows a little bit about beer. Far from having "the largest selection of craft beers in Manhattan," but not bad: good array of German and English beers, a nice sampling of Belgians, lots of American craft, with an emphasis on the east coast. Prices are OK, on the whole, though some six packs seem a little high. A nice addition to the neighborhood.

Edit 10/1/11: They just added growler fills - five taps. Selection is decent, more or less the standard NY stuff: Sixpoint, Blue Point, Middle Ages, Greenport Harbor, Southern Tier. We'll see if they branch out. Prices are OK: $9.99 for a 64-oz. fill, $5.99 for a 32-oz.
Aug 29, 2011

Reviewed by Errto from Connecticut
3.59
/5
rDev
-12.7%
vibe: 4 | quality: 4 | service: 2 | selection: 4.5
I tried to add this to the database yesterday when lo and behold it appeared on its own!

After the Beer for Beasts event I found myself in Harlem and still had beer on my mind when I walked by this shop, which claimed to have the "largest craft beer selection in Manhattan." I thought, well that's novel, I'll check that out.

As the reviewer before me mentioned, Harlem has changed pretty radically in recent years. According to locals I spoke to, this market was specifically brought in by the same developers who built the two buildings on either side of 119th St between Frederick Douglass and Manhattan Ave. to appeal to the sort of clientele these developers were expecting to draw. The place is otherwise an ordinary if slightly high-end supermarket (think Whole Foods Light), but walk up to the second floor and you will find yourself surrounded by beer.

Atmosphere - well, it's a store. It's clean and well organized. Not much more to say.

Quality - overall a well run place as best I could tell. No complaints.

Service - none to speak of, at least when I was there (Saturday evening).

Selection - really quite excellent. There were six packs from all of the expected breweries big and not so big (the Brooklyn, Smuttynose etc types but also Troegs, Anderson Valley and so on) as well as plenty of singles and bombers especially from some smaller brewers hard to find in NYC like Green Flash or Two Brothers. And even the import shelf had some pleasant surprises, including beers from some British and German brewers I had not seen before.

Food - apparently there's a pretty good buffet, but I didn't try it.

I can't verify their claim to be the largest in Manhattan, but this place appears quite serious about their investment in beer and it is definitely worth a look if you are nearby. It's a very short walk from the 116th St B-C stop, incidentally.
Apr 04, 2011

Reviewed by DoubleSimcoe from Pennsylvania
3.75
/5
rDev
-8.8%
vibe: 4 | quality: 4.5 | service: 2 | selection: 4.5
Some friendly, helpful BA'er added this great place to the site but didn't care enough to review it. I thank you for pointing me to it, and I shall review it myself!

I never cease to be amazed whenever I go up to Harlem. I've lived here in Manhattan for seven years and I've seen Harlem grow and change so much as to become unrecognizable. Particularly the area around Frederick Douglass Boulevard between 110th and 125th streets, which used to be "ghetto" and now looks just like Midtown Manhattan, what with all the new condos, fancy wine bars, Chase banks and Duane Reade stores.

Only in this context of renewal and gentrification could a store like "Best Yet Market" ever open and bloom (since early 2010, to be exact). White customers and minority employees are the core of this business. Indeed, this looks like Fairway or Zabar's or any other gourmet grocery store around Manhattan....

Nice charcuterie, bakery, canned goods, imported stuff. I swear it's modeled after Fairway, with the second-floor cafe where you can lounge, eat, drink (no alcohol, though) and relax. It is here, on the second floor, that the HUGE beer selection is located.

They advertise their beer selection around the store as being "the largest craft beer selection in Manhattan". They might very well be right! Perhaps better than Whole Foods Bowery...

The stuff is divided by regions- Colorado, Pennsylvania, New England, New York... and a ton of imports, with particularly strong sections of German and Belgian brews. Nowhere else but in Harlem would you find a celebration of Frederick Douglass on the wall, among pricey and rare imports from Belgium and Flanders.

They have pretty much everything here- Dogfish, Victory, North Coast, Green Flash, Ballast Point, Brooklyn, Ommegang, even Wisconsin's own Sprecher (which I have never seen in NYC).

A ton of Founders too, including a 4-pack of Nemesis 2010 ($23.99, though). They got a case of KBS too on March 31, but I visited on April 2nd, three days later, and saw none. Maybe they have it on the back, only on request?

Unfortunately, there is no service here. You are on your own. I asked a random employee and she told me that "Brian" is the beer guy, but he "was gone" when I visited. Nice. Nobody knows shit about beer here. Be warned!

Selection is exceptional for Harlem and NYC (they claim to have 1,000 bottles), but prices struck me as a little high. Perhaps a dollar higher than Whole Foods, and certainly higher than New Beer. Weird for Harlem, right!

I will be coming back here, even if it is a little far from me. I know I'll always find a rare bottle or two, and stuff will probably not run out fast like it does at Whole Foods.

Check it out!
Apr 03, 2011
Best Market in New York, NY
Place rating:
4.11
out of
5
with
10
ratings