Mendocino Brewing Company / The Hopland Brewery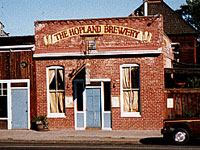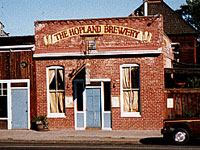 PLACE INFO
Type:
Brewery, Bar, Eatery
13351 So. Hwy 101
Hopland
,
California
, 95449
United States
(707) 744-1015
// CLOSED //
Notes:
October 8, 2010 -- The Hopland Brewery Ale House is relocating its operation from Hopland to Ukiah. Last day of operation at Hopland will be on October 10th, 2010.
ANNOUNCEMENT
The Hopland Brewery Ale House is relocating its operation from Hopland because our lease was not extended by the landlord. We are proud of our 27 years of meritorious service to the local community and to the host of beer lovers from all over the nation, to whom this Ale House was a 'Mecca'. Our last day of operation at 13351 South Highway 101 will be Sunday, October 10th, 2010.
We thank the friendly and loyal Hopland community who wholeheartedly welcomed us all these many years. The Hopland Ale House was the 'First Brew Pub' in California since prohibition and the second in the US. We are deeply indebted to the host of loyal customers for their constant support and love. They have been as passionate about our beers as we have been in brewing and serving them for these past 27 years. They have helped make our beers the Legends that they have become.
We shall be relocating our Ale House to Ukiah in the next few months and will keep our customers updated on our website, on Facebook and Twitter about the progress in acquiring a new location and the start-up schedule for once more welcoming our old and new customers to this new location with open arms. Remember, because the beers we will pour will be coming directly from our state-of-the-art brewery in Ukiah ñ they will be 12 miles fresher!
But until that happens, we want you to relive the great memories you had of your visits to the Hopland Ale House, the camaraderie, the warmth of that alehouse and the legendary beers. Hopefully in just a few months, at a new location in Ukiah, it will be yesterday once more.
Thank you for your continuing support.
Added by Todd
Ratings: 7 | Reviews: 7
Reviews by flexabull:
3.28
/5
rDev
+21%
vibe: 3 | quality: 3 | service: 4 | selection: 3
One of the birthplaces of the modern craft beer movement.
Pretty cool small old brick building right on 101. We were there on a Saturday afternoon, and it was fairly quiet inside. Had a couple of beers, watched some hoops, and played some darts on the free boards in the back.
Quality is ok. I think Mendocino's beers have declined since they have gotten bigger though.
Selection was about 7 if I remember right. The standards, and a seasonal bock beer that was decent.
Didn't try any food. I don't even think they had any.
All in all? Not a place to go out of the way to visit, but if you are driving by... then go for it. Not a bad place to sip a beer.
Service was pleasant and quick.
693 characters
More User Reviews:
2.31
/5
rDev
-14.8%
vibe: 4.5 | quality: 2 | service: 2 | selection: 2
I first stopped at this place on my way to a reggae festival some 8 years ago. At that time the service had been great and the beer tasted decent. There were only two other people in the bar. Fast forward to late last month. Same building, worse service, and the beer was completely unremarkable except for the bottle of Talon barleywine that i consumed in my hotel room days later. There were three other people in the bar at that time.
The building that houses these lackluster beers is fantastic. It seems to appear much as it must have when it was first built back in the 1880's. Tin paneling lining the walls and portions of the ceiling, nice custom wood bar, and cool hand-made metal tap handles.
I have to admit that i became worried when the only sign i saw describing the beers looked like a corporate-cheap-American-pilsner ad. Then the $1 per sample price hit me! This place was once the showpiece for California's brew-pub revolution! It has been reduced to a pusher of crazily-priced, lackluster ales. They even broke up their five or six beers into two categories of price. One side was the signature line ($4+ per pint), that tried to claim it was a line of edgy styles (so memorable i can't name them), the other was the legends line of red tail and the IPA (slightly less than $4 per pint).
Just for kicks, we had a couple of red tails and the white hawk IPA. Both tasted eerily similar and quite like boring pale ales that possessed no body or complexity. If you are looking for uncomplicated, but cold, thirst quenching beers to take a break from the long hot part of your Hwy 101 drive, stop in and think of what must have been back in the late 1980's when the place was first founded. Otherwise, play tourist and stop to take a picture of this cool-looking little fossil of American craft brewing. After you do so, put the pedal to the medal and head south to Moylan's in Novato where you won't be disappointed.
1,933 characters
3.35
/5
rDev
+23.6%
vibe: 4.5 | quality: 3.5 | service: 2.5 | selection: 3.5
A historic old building. One can just sit at the bar and think of the great past this place has had.Ah those days are over, the company was purchased by a huge beverage corporation with maybe as many as sixty different companys worldwide.
Why they keep this pub opened now I wonder.They stopped serving food years ago and I guess they are opened limited hours.
The brewery is in Ukiah and they brew and bottle a lot of beer that is sold all over America.
If anyone is interested in pub history,this one is a sad story,this is worth a stop otherwise pass this one up.
569 characters
2.28
/5
rDev
-15.9%
vibe: 2 | quality: 2 | service: 2.5 | selection: 2.5
Driving home with my family from Ukiah to San Fran, I passed this place and insisted we stop to check it out. The space is beautiful, all wood, decorated with Mendocino BC beer wares. There appears to be an upstairs area, but didn't get a chance to see it. There were maybe 3 people sitting at the bar, no one else in the two room bar. The bartender was quite nice, but new very little, and I actually overheard him tell the next people who came into the place that he didn't drink Mendocino BC beers. Luckily I understood the menu and helped the rest of the family pick out their drinks.
IMO, not even worth the stop. Everything they had on tap I could find in bombers for about the price they were charging for a pint. No obscure or unbottled beers on draught - in fact, they had Talon on the menu but just opened a bottle when I ordered it. Also, my parents wanted a quick sample of a couple beers to figure out which to get on draft - those sips cost over $1 a piece! Most bars will just put a touch of beer in a shot glass for you to taste.
A lot of excitement in the car amounts to a lot of disappointment in the bar.
1,129 characters
2.06
/5
rDev
-24%
vibe: 4 | quality: 1 | service: 2.5 | selection: 2
Really cool wooden building with an old vibe. This was the story I got when we went: they were bought out and their beers are contract brewed by Ukiah. However, I think that they brewed the kegs they serve there in Hopland. (Bottles and national sales from Ukiah, but Hopland brews their own taps). One of the worst breweries I've ever drank from. All beers tasted like amateur homebrew gone horribly wrong. I've never had a problem with any bottle of their beer, so I couldn't believe their beers all tasted this bad, and must assume they were brewed in different places by different people. The bartender was friendly, but, funny story, she actually closed the place down and locked us inside while we were finishing our sampler. Never heard of a brewery that closes before the sun goes down, but still it's hard to forget about your only customers. Shame this has happened to such a legendary place.
902 characters
1.95
/5
rDev
-28%
vibe: 2 | quality: 1 | service: 3.5 | selection: 1.5
Mendocino Brewing-Hopland is the pub/hub for Mendocino Brewing in Ukiah, which, to my knowledge, means that they don't actually brew any beer here but have it delivered from the brewery twenty miles away.
In any case, this place is divided into a large bar and gift/Mendocino paraphanalia shop. There's an outdoor patio that abuts an old brick advertisement for the Hopland Brewery, presumably the predecessor to Mendocino in this space.
There were seven Mendocino brews on tap, but I wouldn't have known it from a blind tasting, as all of the Mendocino brews taste exactly the same. The Amber ales, pale ale, marzen, and IPA are identical in color and in their lack of flavor. Only the Talon Barley Wine registered anything other than a blip on my taste buds, but it too was underflavored and had a metallic aftertaste. Bottom line: Mendocino's brews are a big thumbs down.
Too bad for this place given that it's California's 'oldest' brewpub. Maybe with twenty more years of serving they'll get some brews that actually have some flavor.
Skip this place and bee line it to Bear Republic and Russian River farther south.
1,133 characters
3.74
/5
rDev
+38%
vibe: 3 | quality: 4 | service: 4.5 | selection: 3
A nice historic looking brick type of tavern. Unfortunately the Brewery was bought out by an Indian (India) Company and this place is now just a front to display and sell the Beers. Only open from 12 to 7pm five days a week, the kitchen was walled off, the stage (band) room is now a display area for the Beers and paraphenalia for sale, and the brewing equipment is not being used. Evidently this company buys Microbrewery's all around the World and does the same thing. The only type of Beer by law that can be exported to India is an IPA style. Even the White Hawk (IPA) probably does not make a big profit as an export to India. This company appears to be in the business of right offs.
Nice pub appeal with a small loft above the bar and a large patio South of the bar. Most of the Mendocino Beers were available with a mock Cask Engine.
I think the tap nozzles were all stainless steel (was stunned by the waste of this place). The restroom was clean.
Great service, befriend your bartender, and the locals and regulars seem to know everybody.
All the Mendocino beers have a similar taste and no cask option or guest beers.
No food.
Reasonable
1,167 characters
Mendocino Brewing Company / The Hopland Brewery in Hopland, CA
Brewery rating:
0
out of
100
with
0
ratings