The Bier Baron Tavern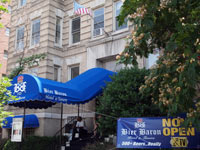 PLACE INFO
Type:
Bar, Eatery
1523 22nd St NW
Washington
,
District of Columbia
, 20037-1005
United States
(202) 293-1885 |
map
thebierbaron.com
Notes:
Former location of The Brickskeller.
Added by drabmuh on 03-16-2011
Reviews: 10 | Ratings: 32
4.21
/5
rDev
+7.1%
vibe: 5 | quality: 4.5 | service: 3.25 | selection: 5 | food: 3
Dive bar with a strong beer selection. The bottles and cans are in a book and the two floors have 48 drafts combined. Service is a little hit or miss, but the beer selection by itself it worth checking out.
★
209 characters
4.85
/5
rDev
+23.4%
vibe: 4.5 | quality: 5 | service: 5 | selection: 5 | food: 4
Great beer oriented pub. The staff go out of their way to find the right beer for the customer. Huge selection and they gave me multiple tasters of stuff outside of my local distro. Will come here regularly
★
206 characters
3.25
/5
rDev
-17.3%
This is the Brickskeller. They obviously just decided to rename the place and sanction what used to disappoint about the Brickskellar as the new normal. It's not a bad spot. The interior has mostly remained the same (I admit I love the basement, though it's a bit warren-y). I didn't try the food this time around. The beer selection is now at the level you expect from a small-town beer mecca. I hope that's fair. I mean that there is a large selection of not-so-rare brews: a seasoned beer nerd is not going to find many options (s)he hasn't tried but there are many good commonly-available domestic choices.
★
610 characters
3.84
/5
rDev
-2.3%
vibe: 4 | quality: 4.25 | service: 3 | selection: 4.25 | food: 3.5
I personally loved this place. I was staying at the Marriott just a block or two away, and ended up going every night while I was in town. Yes, it's divey. Yes, everyone who works there is super laid back and not necessarily knowledgeable, but the food was decent, and the beer selection was very good, with stuff primarily from both coasts of the US on tap, as well as a large bottle selection. I was especially interested in getting east coast beers not available in the west, and the Bier Baron had quite a few selections that met that criteria, as well as old standbys such as Arrogant Bastard.
★
598 characters
4.01
/5
rDev
+2%
vibe: 4 | quality: 3.75 | service: 3.75 | selection: 5 | food: 3
Went to Bier Baron the other night to check the place out and watch some football. The upstairs was closed, and there were no televisions in the basement. No bother, we really just wanted to have some good beer.
We ordered dinner, which was okay, and the draft/bottle list was extensive.
On the way out, I took a look at the cooler behind the bar, and saw: Black Ops, Bolt Cutter, Backwoods Bastard, This One Goes to 11, and a myriad of other things that were nowhere to be found on the bottle list. I asked the waiter about it, and he said he didn't think the menu had been updated since the place was re-named.
So while everything else is sort of average, I marked the selection a perfect 5. They have an incredible selection hiding in plain sight behind the bar, and unless you go physically look, you won't know what's there.
★
833 characters
3.69
/5
rDev
-6.1%
vibe: 3 | quality: 4.25 | service: 2.5 | selection: 4.25 | food: 4.25
I've gone to this place a few times. it's in an old hotel basement, and it feels that way. Dark and cramped, but that's not a huge deal. the beer quality is solid with a huge bottle list of vintage and standard brews. not a huge tap selection, but always great stuff on tap.
Monday - Friday you can get a Burger, Fries and a Beer on Tap for $10. awesome deal. that is the best price on beer in the city by far.
I will say service is miserable. the staff seem stoned the whole time and are real slow. This worked to my advantage once when the server brought us an extra Delirium Tremens by mistake.
Overall great place with the best prices in town.
★
651 characters
3.61
/5
rDev
-8.1%
vibe: 3.5 | quality: 3 | service: 4 | selection: 4
Visited this place while in town for a conference.
Another really divey place. Bar is actually downstairs in what looks like a converted dungeon. Pillars break up the place and tables are placed strategically arond every twist and turn. Nice and even kind of homely but not feasible for large parties. The bar is kind of small also.
Quality was actually pretty good. Beer was served at the correct temperature though the glassware wasn't always correct. They just seemed to have different sized pint glasses.
Service was decent although the place wasn't packed. Waiters were always available to get you another beer or take a food order and the bartenders were very attentive.
Selection is one of the better ones around. Although the tap list isn't impressive they have a huge bottle list comprised of a ton of imports as well as a decent selection of domestics as well as a unique collection of vintage bottles.
One of the best parts about Bier Baron is the price. Tap offerings were exceedingly cheap compared to other craft places around the area and their bottle list prices were also very reasonable. So although the establishment itself won't blow you away, Bier Baron is definitely one to pay attention to when it comes to selection and overall value.
★
1,268 characters

3.84
/5
rDev
-2.3%
vibe: 4 | quality: 3.5 | service: 4 | selection: 4
Was back in DC so decided to hit this place since under new mgmt, as my only experience at the Brickskeller was one of frustration as I had to order numerous times just to get something they had in stock. Reading first review that may still be a problem, but I was there for after a meal up the street around 6ish on a Saturday and stuck only to a couple of draft beers and didn't eat. Place still seems the same to me as before w/ the dingey/divey but chill (which is what the wife and I wanted) basement - able to chill at the bar and relax and the bartender offered great service to all since not busy. I think I may have knocked the Brickskeller a little more b/c they didn't have any beers they listed on menu (so it seemed) - I can't say same here. In otherwords, for me, this place has gone up a little from the Brick.
★
825 characters

4.13
/5
rDev
+5.1%
vibe: 4.5 | quality: 4 | service: 3.5 | selection: 5 | food: 3.5
I'm a semi-regular at Bier Baron. I go because I love craft brews, and they have lots. They've got stuff in pretty much every category, from lambics to porters to wheat beers. Prices are pretty good; imagine paying $7 for Bud Light at a baseball game, and now imagine paying $7 for a Spaten Optimator at a bar. Wait staff are helpful to newcomers, although the place is sometimes a bit too busy to get much attention. Decent food, standard for a tavern. Great atmosphere, with hundreds of obscure bottles and cans lining the walls and occasionally, live music.
★
560 characters
3.25
/5
rDev
-17.3%
vibe: 3.5 | quality: 3.5 | service: 2.5 | selection: 3.5 | food: 3.5
Prices are fair but service was weak and so was their selection. Even though they say they have 500 different bottles and 50 drafts on their website they really don't have nearly that many in stock. Went with a group of 5 each ordered 3 rounds of drinks and each round at least two of us had to choose a different beer cuz they didn't have it in stock. Maybe we went on an off day or something but I was expecting better. Service was slow for the amount of people in the bar (only a couple other groups nothing too crowded). Pizza was aright better than most places but nothing to go crazy over.
Maybe its new management but they need to step it up a little bit especially with their consistency on their beer offerings. Shouldn't be advertised if they don't have it in stock
★
776 characters
The Bier Baron Tavern in Washington, DC
3.93
out of
5
based on
32
ratings.