Spiced Winter Ale
| Adventure Brewing South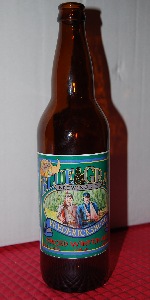 BEER INFO
Brewed by:
Adventure Brewing South
Virginia
,
United States
blueandgraybrewingco.com
Style:
Herbed / Spiced Beer
Alcohol by volume (ABV):
6.60%
Availability:
Winter
Notes / Commercial Description:
No notes at this time.
Added by oelergud on 01-15-2005
Ratings: 14 | Reviews: 12
Reviews by edmedina:
3.73
/5
rDev
+7.5%
look: 4 | smell: 3.5 | taste: 4 | feel: 3.5 | overall: 3.5
OK first I have to preface this review. Originally, I got four bottles filled at the brewery. They were infected pretty bad. I did speak to Jeff the president and took them back. He exchanged my beers for 4 new ones. He even gave me a small tasting off their fill line to verify that what I was tasting was in fact infected. The beer off their line was not what I got in my bottles. So he exchanged them out.
So this review will be about the second try of this beer.
Aroma: Hints of what smells like coriander and nutmeg. The aroma is subtle and not over powering.
Appearance: It does pour a hazy amber color. The head is low almost 1 finger. Kind of disappointed with that.
Taste: I can taste hints of orange peel, coriander, hints of something sweet but I can't really tell what it is. Nicely balanced.
Overall impression; OK as I said at the beginning this is my second try with this beer. I have to say I am glad I tried it again. This is easily a nice beer to enjoy with friends. I would recommend if you tried it and you got hints of sour notes in there give it another try. Speak to Blue & Gray and let them know where you got the beer. They are making honest attempts to get this corrected. I think if you try it again you won't be disappointed.
1,255 characters
More User Reviews:
3.97
/5
rDev
+14.4%
look: 3.5 | smell: 4 | taste: 4 | feel: 4 | overall: 4
Thanks to swillbilly and the BA Fantasy Racing league for the beer.
Hazy mahogany in color with a thin yet tight head that falls to a foggy film on top of the beer. Tight ring of lace circles the outer-edges.
Lot's of spice in the nose. Cinnamon, clove, nutmeg, corrander.
The beer boast a big caramel and sugar malt backbone with lot's of spiciness. The spices in the flavor are the same as in the aroma, and just as pronounced. Kind of taste like a sugary green tea, although this description doesn't do it justice. It's a good beer. While starting to review this beer I was thinking this would be more of a winter warmer style wise and was misplaced as a herbed spiced beer. Now I see that this is truely an herbed/spiced beer. And a damn good one at that.
Mouthfeel is on the lighter side of medium and the spices add some crispness.
Overall a good beer that I wish I could purchase locally for the holidays.
912 characters
3.94
/5
rDev
+13.5%
look: 1.5 | smell: 5 | taste: 4 | feel: 3.5 | overall: 3.5
appearance - Cloudy amber color. No lace on the glass, a ring formed when poured, but I was real slow on the pour. Since i noticed a build up on the side of the bottle. You see I had it in the fridge on its side and since this are fresh beers, alot of the ??? stuck to the side. I did not want to disturb it.
smell - Cinamon, nutmeg, lot of xmas spices here.
taste - Taste like a winter warmer. Lot of spices up front. Tad bit of bitterness at the end, mostly spices all up in this beer.
mouthfeel - Medium body, spicey.
drinkability - Not a bad beer, wish it was snwoing outside when drinking this. I like winter warmers mmm.
634 characters
3.45
/5
rDev
-0.6%
look: 3.5 | smell: 3.5 | taste: 3.5 | feel: 3 | overall: 3.5
Thanks to davidt for the trade...
Appears a dark copper with a small, off white head that fades into a mild cap and collar. Mild streaks of lacing left around the glass.
Smell is of huge amounts of ginger, brown sugar, cinnamon, all spice, and nutmeg.
Taste is of the mentioned aromas with ginger and brown sugar coming through and dominating.
Mouthfeel is medium bodied, slick, with mild citrus sticking to the palate.
419 characters

2.11
/5
rDev
-39.2%
look: 3.5 | smell: 2.5 | taste: 2 | feel: 2 | overall: 1.5
I believe I picked this up at the Alexandria Whole Foods last winter. Reviewed from notes.
Pours a moderately dark brown with a faint tan head. Right from the start, the nose is just a spice explosion. Way more clove, cinnamon, ginger, and other spicing than I could possibly handle. The taste is even more over the top, as the spicing goes to a whole new level and I feel like I'm drinking a glass of carbonated water with Rudolph's spice cabinet poured into it. Feel consists of a medium body with a dryness from all the spices. Drinkability is quite poor. This is not something I would recommend.
600 characters
3
/5
rDev
-13.5%
look: 3 | smell: 3 | taste: 3 | feel: 3 | overall: 3
22oz bottle shared courtesy of weearesomeguywhocomesover138.
Poured a medium and hazy amber color with a smaller sized white head. The name of this beer was spot on. Lots of spices, ginger, holiday spices, yankee Christmas candles with some caramel. Tastes of the same spices. If your bad is Christmas spices, get this one.
325 characters

2.88
/5
rDev
-17%
look: 3.5 | smell: 3.5 | taste: 2.5 | feel: 3.25 | overall: 2.5
Served in a Devil's Backbone willibecher.
My first seasonal from these guys. It pours a dark sienna-ruby topped by a finger of light khaki foam. The nose is a blast of spices, mostly clove, brown sugar, ginger, mace, allspice, nutmeg, and cardamom. It's all buttressed by some light gingerbread in the background. The taste brings in more of the same, but somehow more intense. Usually, I like a lot of spice, but this is overdoing it. The body is a lithe medium, with a light moderate carbonation and a drying finish. Overall, I like the idea of a heavily-spiced brew, but this shows how that idea can easily go sideways. Not a fan.
634 characters
3.93
/5
rDev
+13.3%
look: 4 | smell: 3.5 | taste: 4 | feel: 3.5 | overall: 4.5
Purchased directly from the brewery in a 22 oz bottle.
Appearance: Pours a deep amber boardering on brown with a small off white head the fades quickly to a sheer lacing on the beer.
Smell: Somewhat sweet and spicy with cinnnamon, brown sugar and caramel with hints of ripe amber fruit and citrus.
Taste: Starts with a mouthful of cinnamon, cardamon, cloves, brown sugar and other winter type spices, tasty to say the least. The middle moves the beer along to a finish that is candy sweet but also has a bit of a citrusy hop bite to slightly balance out the spices. Very tasty. The finish is very short without any lingering bitterness or sweetness.
Mouthfeel: Medium mouthfeel, actually thinner than I expected but still pretty good nonetheless. Carbonation is ample.
Drinkability/Notes: A really nice spiced winter beer with plenty of cinnamon, cloves and sweet brown sugar that is balanced by a nice hoppy bitterness in the finish. I really believe that if Blue and Gray had a wider distribution that they would be considerded one of the better small breweries on the east coast. Winter Spice adds to their small portfolio of very good beers and one I will definitely make the drive to pick from the brewery next year. For those in central Va, definitely seek and enjoy for those folks looking for a really nice Winter Spiced beer from out of the region, beermail me for a trade. Highly recommended and highly drinkable. Blue and Gray is fastly becoming a favorite.
1,483 characters
4
/5
rDev
+15.3%
look: 4 | smell: 4 | taste: 4 | feel: 4 | overall: 4
Cloudy orange/red body, creamy tan head, great lace but little retention, easily agitated back. good carbonation.
Strong sweet molasses and spice up front in the nose and especially pumpkin scent present.
Pumpkin clearly dominates the taste together with a solid malt base and molasses spiked with a solid spicy kick. Well balanced brew with the hops being the stronger part of the aftertaste, though again that persistent pumpkin flavor keeps up. Lingers well.
Very full body for a spiced ale but fits well being a winter brew.
Looks bottle conditioned but I cant be sure.
Highly drinkable, I think I've found one of the best VA breweries here and definitely looking forward to sampling some more offerings.
-Oelergud
726 characters
3.33
/5
rDev
-4%
look: 3 | smell: 2.5 | taste: 3.5 | feel: 3.5 | overall: 4
Poured from a bomber a light mahogany color, with a one finger head. Little retention, falls into no foam and no lacing.
Aroma is delicate. Smell almost lager-ish, with a hint of malt. Not a whole lot there.
Flavor is enjoyable, and well balanced. Slightly spicy, with decent malt caramel flavors. Mouthfeel is good, and drinkability decent. After 1/2 a bomber, the alcohol begins to warm a bit, but I find that as a good thing, considering this is a winter beer.
Overall, a pretty decent beer. Not overly spiced like many holiday beers, but also doesn't have a whole lot of charictaristics. Tastes more like a lager than an ale. If you can get it, it's worth picking up a bottle.
690 characters
4.15
/5
rDev
+19.6%
look: 4 | smell: 4 | taste: 4 | feel: 4.5 | overall: 4.5
Another winner from B&G. The Spiced Winter Ale is based on the Fred Red Ale with a blend of "seasonal spices" added. Pours darker than the Fred Red with a solid ring of bubbles but no head. The beer is a ruddy brown, lighter at the edges but opaque throughout. Smell is richly spicy with cinnamon, nutmeg and other savory notes. Nothing sweet at all. Taste is full-on malt with spice backing. It is beautifully blended, that is, it doesn't taste like a beer with heavy spices added. Mouthfeel is full and satisfying. Low ABV (around 5%) make this a great seasonal drinker. Available from November through January.
613 characters
3.42
/5
rDev
-1.4%
look: 3 | smell: 3.5 | taste: 3.5 | feel: 3 | overall: 3.5
Pours a murky iced tea color, with a very thin head thsat fades quickly. Aroma is strong cinammon and nutmeg. Taste has has cinnamon, nutmeg, carmel - typical mulled cider flavors. A bit of citrus hops in the background. A pretty nice spiced winter ale. I suspect its Fred Red with spices.
289 characters
Spiced Winter Ale from Adventure Brewing South
3.47
out of
5
based on
14
ratings.