Progenitor
| Crooked Stave Artisan Beer Project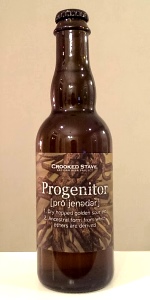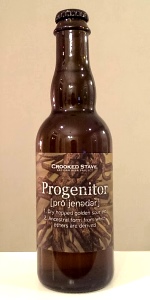 BEER INFO
Brewed by:
Crooked Stave Artisan Beer Project
Colorado
,
United States
crookedstave.com
Style:
American Wild Ale
Alcohol by volume (ABV):
6.20%
Availability:
Rotating
Notes / Commercial Description:
Dry hopped golden sour ale.
Reviews: 64 | Ratings: 364

4.2
/5
rDev
+1%
look: 4 | smell: 4 | taste: 4.25 | feel: 4.5 | overall: 4.25
hazy and orange, with a white head. reminds me of a creamsicle.
smells like lemons and funk. very bright.
taste is like the nose.
clean and crisp.
i like it.
161 characters
4
/5
rDev
-3.8%
look: 4 | smell: 4 | taste: 4 | feel: 4 | overall: 4
Pours cloudy gold with a bright white one finger head, and has nice retention and lacing. The aroma has tart lemon, grapefruit, Brett, and barnyard funk.
Acidic taste with tart grapefruit, lemon, apples, and Brett.
Light bodied with low carbonation. Has a dry finish. A welcome addition to the Minnesota beer scene, which can always use more sour beers.
356 characters
4.75
/5
rDev
+14.2%
look: 4.75 | smell: 4.75 | taste: 4.75 | feel: 4.75 | overall: 4.75
L: Pours hazy gold under a frothy, clingy, finely bubbled 1" white foam collar.
S: Funky yeast that borders on tomato, some biscuit and some floral and earthiness.
T: Wonderfully funky sour with malt and hops for a balance that tempers some of the lemony tartness. A mild tart fruit flavor suggestive of cherry is in the background.
F: Extraordinary fine soft texture with a medium body and above average carbonation.
O: I am particularly impressed by the use of hop and malt flavors to balance the wild yeast in this beer.
529 characters
4.36
/5
rDev
+4.8%
look: 4 | smell: 4.25 | taste: 4.5 | feel: 4.5 | overall: 4.25
Appearance: Hazy yellow-gold. Head is bright-white, fluffy, and loose. Drops to a small clump of cap that persists. A few clumps of thin lacing. Moderate carbonation on the pour.
Smell: Lime right up front. White wine. A sharp citric bite with some solid lactic edges. Malts are incredibly light. Some pale malt. A slight backing sweetness. Wood, oak barrel. Hops add some tropical notes. White nectarine, pineapple, lemon and lime. Slightly floral as well. Some solid funk layered throughout. Earthy, a touch poopy, wet hay and grass, damp and musty.
Taste: A touch more subdued than the nose. Tons of lime zest. Lemon juice. Sharply citric without crossing in to truly sour range. A nice layer of barrel comes through. Some slight grassy notes coupled with a solid floral push. Very slight hint of pineapple and sweet nectarine. Lactic tartness builds as it warms. Damp earth. White wine. Pilsner and pale malt. Slight leafy bitterness. Some bready sweetness layered through the back. Deeply funky. Earth and horse.
Mouthfeel: Light leaning to medium body with a moderate carbonation. Slightly effervescent. A touch dry on the very back.
Overall: Looking forward to the end.
This is damn good in its own right, but given the name I imagine it makes one hell of a base for some other stuff. The dry hopping adds a bit more depth to it. Spot on.
1,351 characters

4
/5
rDev
-3.8%
look: 4 | smell: 4 | taste: 4 | feel: 4 | overall: 4
May 2015 BO date pours a hazy golden color with a thin white head dank smells mix with garden hops and tart white fruits , taste follows nose garden hops with tart apples with lingering brett in the finish ,medium low carbonation with a tart dry feel on the palate, nice golden ale sour and hoppy it mixes well
310 characters

4.33
/5
rDev
+4.1%
look: 4.5 | smell: 4.5 | taste: 4.25 | feel: 4.25 | overall: 4.25
Smells funky and tropical. The word "hop sweat" comes to mind. Overripe passion fruit, pineapple, and mustard greens. Somewhat vegetal but not really in a bad way. Mineral water, citrus, and forest floor.
Pours hazy gold yellow with a small white head with decent retention. Some lacing.
Tropical fruit and again mustard greens. I'm not sure if I've ever encountered this mustard flavor in beer. It might be possible that I just figured out what that flavor is. Tart but not overly so. Nice mingling of hop bitterness and tartness. Clean slightly doughy pilsner malt character. Juicy fruit, pear, and apple. Very dry.
Medium high carbonation with medium light body. Nice acidity and bitterness.
Very complex. The amount of hop bitterness and acidity effects drinkability, but I keep sipping any way just to pin everything down.
831 characters

4.13
/5
rDev
-0.7%
look: 4 | smell: 4 | taste: 4.25 | feel: 3.75 | overall: 4.25
Look: dark bronze/copper; bone white head; 1/8 inch head retained through drinking
Smell: funky citrus/grapefruit notes; wet grass;
Taste: slight wood; some leather notes; lemon and grapefruit; funky brett; tart but not overbearing, happiness seems to cut that down for some reason
Feel: light to medium bodied
Overall: another great wild ale from Crooked Stave; this is the March 2015 batch and I love it.
407 characters

3.94
/5
rDev
-5.3%
look: 4 | smell: 3.75 | taste: 4 | feel: 4 | overall: 4
375ml bottle, dated December 2014. Served in a stemmed glass.
Appears hazy, darker golden body, two finger effervescent white head, nice splotchy lacing, good retention. Smells primarily of grapefruit and leather, citrus zest, pepper, musty, not particularly lactic or vinegary. Solid hop aroma, not a ton of sweetness. Flavour is Bretty; lemon zest, mild ground peppercorn, a bit of leather. A mild grapefruit flavour permeates the beer. Very straightforward flavour that isn't particularly sour and displays a bit of the dry hopping. Mouthfeel is medium-thinner bodied, typical for a Brett beer; good carbonation. Mild bitter grapefruit on the finish. Overall, a very different beer than Batch 60 was; not too sour, not too bitter, it hits somewhere in between. I enjoyed this one a fair amount for the balance it brings.
824 characters
4.49
/5
rDev
+7.9%
look: 4.25 | smell: 4.5 | taste: 4.5 | feel: 4.5 | overall: 4.5
Appearance: Hazy gold ,lasting thin head, good lacing.
Aroma/Flavor: Soft acidity and citrusy hops on the nose. More of the same on the palate. Sourness is present but not bracing. Hops are flavorful but not bitter. Brilliant balance.
Mouthfeel: Light bodied, effervescent, nice texture.
292 characters
4.22
/5
rDev
+1.4%
look: 4.25 | smell: 4 | taste: 4.25 | feel: 4.5 | overall: 4.25
December 2014 release. Poured a golden amber color with a nice fluffy half-inch head. Good retention and nice lacing. The aroma was tart and fruity, with a bit of the funk aroma coming through. The taste was quite interesting, with the funkiness very forward, but with a very nice background of citrus and melon. The mouthfeel was fairly thick for a wild ale, and kinda creamy - very nice. Overall, I've never had a bad beer from Crooked Stave, and this one keeps that record intact - very tasty!
496 characters
3.85
/5
rDev
-7.5%
look: 4 | smell: 4 | taste: 3.75 | feel: 4 | overall: 3.75
Poured into a Funky Buddha Brewery snifter. Back label says March 2015.
A- Pours a mostly opaque black color with a 1/4 inch tan head that retains a bit before becoming a thick ring around the edge of the glass and a large center patch of bubbly surface foam. Semi-resilient lacing leaves small clots behind.
S- You really get the dry-hopping in the aroma but then there's this very rubbery undercurrent. It's seriously like I'm smelling a fresh can of tennis balls...and I like it. The rubbery undercurrent becomes more prevalent to the point where it drowns out the hops and it's all I can smell.
T- Big sourness starts to sink in, followed by more rubberiness. I'm not sure where this substantial rubber element is coming from since this beer is not aged on oak (that I'm aware of) and oftentimes I perceive the oak tannins as rubber. While I normally find dark sours to contain a fruit element, this one is to the contrary. I get more of a roasty, medicinal quality out of the flavor profile.
M- Moderate pucker with medium carbonation and a fullish body.
O- Though I like the smell of a fresh can of tennis balls, I can't say I'm in love with the taste. This beer is perplexing since it takes an approach to the dark sour style that I'm unfamiliar with. Maybe one day I'll be like "Oh yeah! I love those dark sours that smell and taste like fresh rubber!" But, just like I didn't like the first Brett beer I ever tasted/smelled, I'm not really on board with this since I'm not familiar with the sensation that it brings. Wins points for uniqueness though.
1,579 characters
4.5
/5
rDev
+8.2%
look: 4.5 | smell: 4.5 | taste: 4.5 | feel: 4.5 | overall: 4.5
opened side-by-side with the batch 60 re-release that happened instead of the primitif release. enjoyed progenitor from the 13 cellar reserve teku and the 60 from a what the funk wine glass. confirmed...these are the same beer.
a - an almost neon orange yellow with a generous froth off cream colored head that left some nice streaks of lace on the on the glass. murky and cloudy to the light, but glowing. some visible carbonation bubbles could be seen dancing to the surface.
s - nose is a wonderful smartie sweet tart egginess. the dry hop also shows itself as an almost tropicana oj vibe of bitterness on the tail of the scent.
t/m/o - as with the first round of batch 60, really a wonderful brew. sweet tart sour that tickles your taste buds like candy. crisp and refreshing. one of my favorite stave beers. really just spot on. i hope that they continue to release this periodically as it is so nice to have that freshish batch 60 again. excited to have a few progenitors and a few batch 60 re-release/re-brew. although i did prefer the name primitif, i'll live as long as the elixir is this good!
1,118 characters
3.75
/5
rDev
-9.9%
look: 3.75 | smell: 3.75 | taste: 3.75 | feel: 3.75 | overall: 3.75
my least favorite crooked stave beer in some time. it doesnt have that unique funk element along with the sour that their beers usually have, it has no wood on it, and it lacks distinction. that said, its pretty tasty, although it just seems to stand out a lot less then their other beer. its only a little hazy, brassy in color, and holding less than an inch of white bubbles in the glass. it smells fine, straw and field grass sort of thing, very pale malt base, and way way less hops than i wanted in a dry hopped brew. all the hoppy editions of surette and vielle and everything are so dynamic with the hops, so good, so unique, this one seems muddled, lacking clarity, lacking clean hops or juicy hops, or in some sense hops at all. wine-like in the overall impression, moderately sour but not too intense, and clean as it finishes. not a lot of anything sticking around. carbonation is a little lighter than others, but doesnt seem flat at all. good beer, others will like this better than i did, but both this one and the noir for me were steps back, not forward for these guys.
1,085 characters
4.08
/5
rDev
-1.9%
look: 4.25 | smell: 4.25 | taste: 4 | feel: 4 | overall: 4
Appearance: Arrives with a two cap of foam atop the clear amber liquid; nice retention and lacing action
Smell: Tropical fruit and citrus; hoppy, funky and tart elements waft
Taste: Funk and fruit, up front, with nectarine, pineapple and cantaloupe; in the middle, the bitterness grow, with some tart elements underneath; moderately sour, with a funky, citrusy finish
Mouthfeel: Medium body with moderate carbonation
Overall: A nice, approachable beer here, that combines the elements of various styles; the sum is greater than its parts
546 characters
Progenitor from Crooked Stave Artisan Beer Project
Beer rating:
4.16
out of
5
with
364
ratings