Crooked Stave Wild Wild Brett "Indigo"
| Crooked Stave Artisan Beer Project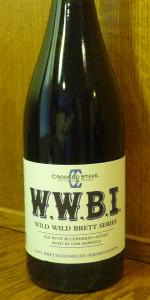 BEER INFO
Brewed by:
Crooked Stave Artisan Beer Project
Colorado
,
United States
|
website
Style:
American Wild Ale
Alcohol by volume (ABV):
7.00%
Availability:
Limited (brewed once)
Notes / Commercial Description:
Brett Ale Fermented w/ Blueberries Aged In Oak
Added by Jason on 08-09-2012
This beer is retired; no longer brewed.
Reviews: 25 | Ratings: 122

4.53
/5
rDev
+10%
look: 5 | smell: 4.5 | taste: 4.5 | feel: 4.5 | overall: 4.5
Served in Crooked Stave stemware. Pours a nice light pinkish color with a nice head and a bit of lacing. The nose is really excellent with notes of blueberry and earth. Funk in the background. Really excellent. Flavor doesn't disappoint either. Really enjoyed the combination of the Brett and blueberry character with just a bit of backing acidity. Light body; extremely drinkable.
★
383 characters

3.77
/5
rDev
-8.5%
look: 3.5 | smell: 4 | taste: 4 | feel: 3 | overall: 3.5
[Suggested Glassware: Tulip Glass]
The pour was a hazy dark burnt orange with an average (1-2 finger) off white fizzy head that dissipated quickly, down to a scattered layer of residue with a very small collar which produced not so good runny lacing.
The aroma had a bold tartness right up front with a grain malt and a musty Brett yeast along with notes of blueberry, cherries, yogurt and a bit of oak cask.
The taste was sweetly tart and rather fruity throughout, progressing with a bold sourness, a hint of oak cask and a somewhat light berry presence at the end. The flavor was gone way to fast after the swallow for such a tasty brew, basically fading very quickly from the taste buds leaving almost nothing behind.
Mouthfeel was just past light in body and dry in texture with a strong ticklish carbonation.
Overall this was a fantastic tasting brew with a very smooth and easy drinkability, what can I say this brewer did it again...
http://www.facebook.com/KAJIIsBeerReviews
★
988 characters

4.43
/5
rDev
+7.5%
look: 4.5 | smell: 4 | taste: 4.5 | feel: 5 | overall: 4.5
750mL bottle poured into a tulip. Thanks Matt for sharing! Batch 7/12 Bottle #957/1516
(A)- A brilliant ruby red grapefruit-like color to it. Some good white froth formed.
(S)- A fairly dry, but acidic oak with subtle funky strawberry/blueberry fruits.
(T)- A nice dry tartness that flows into a really nice, almost creamy vanilla oakiness. Very dry finish with subtle blueberry fruit.
(M)- A really nice crisp carbonation level. So smooth and creamy with that little bit of vanilla with the oak and fruit combo. Not a ton of Brett, but this sure is velvet-like.
(O)- A really intriguing and engaging beer. Would be extremely curious what some time would do to this if the Brett would integrate more into the main profile of the beer or not. Whatever the case, the way this beer is now is at a really interesting stage where the oak profile is almost creamy with the vanilla and blueberry fruits is really enjoyable.
★
921 characters
4.42
/5
rDev
+7.3%
look: 4 | smell: 4.5 | taste: 4.5 | feel: 4 | overall: 4.5
Bottle Number 811 from 2012, poured into a cellar reserve glass
A: light purple in color, hazy with a lingering white head. Medium to light lacing around the glass
S: mixed fruit with some barnyard funkiness. A mustiness hangs around in your nose. One of the better smelling Brett beers on the market.
T: blueberry fruit with some funk. I am surprised that this beer isn't as tart as the other crooked stave beers. Tastes amazing and one of the better tasting sours on the market.
M: medium body with a nice high carbonation bite that really brings out the flavor of the beer. Beers ends up dry and leaves a great finish in your mouth.
O: has to be my second favorite CS beer. Best f the WWB series hands down. Great beer if you can find it.
★
750 characters
4.5
/5
rDev
+9.2%
look: 4 | smell: 4 | taste: 4.5 | feel: 5 | overall: 5
Bottle (2012)
Acquired via trade
Thanks, quirkzoo!
A cloudy dark blonde and light purple with a creamy, small-bubbled head. This doesn't foam up like (all?) the other WWB series beers I've had. The creamy, light khaki-clored head remains a thin crown atop the beer and leaves irregular, messy, webs of lace down the glass. Pretty.
Not as Brett-forward as the other beers in the series, with the yeast really only playing a minor role, adding a musky basement note, next to the sweet, plump, authentic, yet earthy blueberry character. Both interesting and enjoyable--two things Crooked Stave does well.
The flavor is marvelously enjoyable; sweet, plump blueberries with just a hint of a tartness, mild but complementary basement funk, a little bit of earth and grass. Marvelously drinkable.
Again, as with many Crooked Stave offerings, the mouthfeel is simply perfect. Creamy, airy, though rich, and disappearing. Marvelously crafted, interesting, delicious, Brett beer.
My drinking buddy only had one word for this beer, "Fabulous."
★
1,040 characters

4.17
/5
rDev
+1.2%
look: 4 | smell: 4.5 | taste: 4 | feel: 4.5 | overall: 4
Pours a cloudy, hazy orange color. A billowy head settles leaving a thin film over the beer and very nice lacing down the glass.
Smell is very must, like my grandparents basement...I love it. There is just a hint of fruity sweetness in it.
First taste is very tart. I taste the blueberries that you get in a pack that are not quite ripe, a 'green' blueberry if you will. Beyond that is a nice funky finish with a great balance of sweet fruit and dry wine-like qualities,
The mouthfeel is great on this. It is a medium body with just the right amount of dryness to make you come back for more. Drinkability is awesome, it is not too sour, nor does the ABV show at all (it is 7%, not exactly hige, but still a bit higher than most sour.
This, in my opinion, is one of the best of the WWB series. Worth a try for sure.
★
820 characters
3.65
/5
rDev
-11.4%
look: 3.5 | smell: 3.5 | taste: 3.5 | feel: 4 | overall: 4
really neat beer, not quite dialed, but delicious. it pours a dense cloudy beige color, tinted blue, but slightly. it smells really bretty, tart and funky, with the sweetness from the fruit coming in next. the flavor is good, the blueberries add acid and tartness too, but the brett isnt as vibrant as it is in some of the others from this series. its sweet a little too, mostly from the fruit. the mouthfeel is a little too thick on the body, and a little too weak on the carbonation. i think i might have been near the bottom of the keg, and a bottle might serve this better, but it felt a little weighty for a sour fruit beer. overall not as exciting as some of the other WWB beers, but i liked it very well. crooked stave just makes epic beer, everything is clever and intriguing.
★
784 characters
3.82
/5
rDev
-7.3%
look: 3.5 | smell: 4 | taste: 3.5 | feel: 4.5 | overall: 4
Hmmm...as with all CS beers, this one is hard to describe. Even the name, "Indigo" doesn't really describe it well. Blueberries? Well, not really.
Pours a slightly hazed tan/golden perhaps rusty, with some big foam up front, then it settles down to a collar
Aroma is tart and apple-skin-ish. hard to pick out blueberry, but that's not a concern. If you want something like Wild Blue or Lindemans-like fruit beer, this ain't it. Light sweet caramel underneath.
I really liked the WWBB with the brett, hops and spruce playing off each other. In WWBI I don't get the cooperation as much between the brett and blueberry. The esters are fine, more tart and green apple or Gala leaning. Faint blueberry hangs around, more of the metallicness I get out of these berries.
Great feel to it, as always with CS beers. Tart and clean. Just finishes nicely
★
850 characters

3.6
/5
rDev
-12.6%
look: 3.5 | smell: 3.5 | taste: 3.5 | feel: 3.5 | overall: 4
Poured into a tulip. Big thanks to stevefinny for this. Batch 7/12, bottle #1344 of 1516.
3.5 A: Murky amber peach color. Two fingers of frothy/foamy off-white head. Retention is around average and just a couple whisps of lacing are left.
3.5 S: Lots of good brett aroma in this. Musty basement, old dry wood, and general woodziness. Blueberry comes next and I'm unsure about what to think about it. It's somewhat tart, somewhat overripened to the point of decay, and somewhat sweet. Perhaps somewhat medicinal and garbagy as well. Sweet overall for a brett beer with caramel, a light toastiness, and a touch of diacetyl butter.
3.5 T: Taste is like the nose for the most part. Musty basement, dry wood, outdoors funk from the brett. Surprisingly little tartness from the blueberries. Rather, they come off as on the sweeter side. The problem though, is that there isn't quite enough of them. Many a brewer uses too little and the result is that it comes off as watered down juice or something. It's not too bad in this beer, but it is apparent nonetheless. Again there's a touch of butter, medicine, and the slightest hints of acetone. Malty for a brett beer with caramel, toast, and apple fruitiness.
3.5 M: Lighter medium body. Good moderate carbonation that is very lightly spritzy. Smooth.
4.0 D: A couple categories were borderline next best, so a little boast here.
★
1,377 characters
4
/5
rDev
-2.9%
look: 4 | smell: 4 | taste: 4 | feel: 4 | overall: 4
Big thanks goes out to the BA who sent me this one so I could share this one at a recent tasting! Bottle #1283 of 1516! Served from bottle into a Sweetwater 15th Anniversary snifter. Poured a hazy yellow-orange with a half finger slight off-white head that subsided to a minimal amount slowly. Maintained nice lacing throughout the glass. The aroma was comprised of sweet malt, blueberry, fruit, sugar, funk, and butter. The flavor was of sweet malt, blueberry, fruit, funk, earth, and subtle tart. It had a light feel on the palate with medium-high carbonation. Overall this was a good brew. I really quite enjoyed this one if I am honest. You could definitely pick up on the blueberries in this one, but the oak was nowhere to be found on my palate which was unfortunate. While it didn't bring the oak, it was really well balanced and quite easy to drink. The funky aspect going on was really a nice touch that helped amp up the blueberry flavor. A definite must try on this one.
★
983 characters

4
/5
rDev
-2.9%
look: 4 | smell: 4 | taste: 4 | feel: 4 | overall: 4
After some beers I though were okay, but nothing amazing, Crooked Stave is killing it now. While the WWB series is known for pushing boundaries a bit, this one is more of a "traditional" sour fruit beer.
Cloudy khaki color with blue'ish/purple'ish highlights. Tons of foam.
The nose has a mix of funky brett yeast, green apple/citric sourness, and just a little bit of fresh fruity sweetness.
One the palate, the tartness hits first, with the yeast following and adding a little bit of natural bitterness and even a bit of savory character. The back end has a sweet fresh fruit note and finishes tart with the yeast popping back up a little, too. The fruitiness comes across as unmistakably blueberry when you know that what's there, but I'm curious if it would be as obvious blind. Either way, it's good, and highly drinkable. I love how every sip goes through a progression.
Probably my second favorite WWB beer behind the unfortunately discontinued Yellow.
Unique and tasty, while being a bit more familiar than some others, too.
★
1,032 characters
3.56
/5
rDev
-13.6%
look: 4.5 | smell: 3.5 | taste: 3.5 | feel: 3.5 | overall: 3.5
750 ml bottle - batch 7/12, bottle 1150/1516. Pours a hazy amber with reddish-violet hues and a medium creamy white head that retains well and laces the glass some.
The aroma is sweet bready malts with tart/sour blueberries with a little stink and funk from the brett and some slight vomit notes.
The flavor is sweet blueberries with some tart citric notes and some earthy brett and vanilla. The mouthfeel is medium bodied with smooth carbonation.
Overall, a nice blend of tart blueberries and brett. The best blueberry beer I've had. A little too sweet.
★
557 characters

4.36
/5
rDev
+5.8%
look: 5 | smell: 4 | taste: 4.5 | feel: 4 | overall: 4.5
A lovely hazy, glowing ruby red fused with some orange with a nice thumb and a quarters width khaki head and nice lacing. The play between the blueberries and brett provides some fantastic sweetness paired with tartness, the barrel provide some woodiness. Overall, the funkiness is nicely controlled and well used. Flavor starts off sweet and tart like the aroma suggested; the brett shows itself first in a very present but also very controlled manner, the blueberries then come out to play, and lastly the oak shows itself providing a nice woody finish. A nice level of tartness to this. An active, crisp mouthfeel. Overall, my favorite Crooked Stave brew I have tried. As mentioned below, I too often find my interest in checking out a CS to be > than my actual enjoyment of the beers, but in this case my expectations for it were definitely surpassed. Great beer, IMO.
★
875 characters
4.1
/5
rDev
-0.5%
look: 4 | smell: 4 | taste: 4 | feel: 4 | overall: 4.5
I keep swearing I'm going to stop buying Crooked Stave beers because I never feel like they are worthy of the price tag and then I see a new one and it sounds so interesting I buy it and repeat the cycle of disappointment. I was hoping this one would be the one that broke that cycle and it was. I think this is the one that is actually worth the price tag, maybe they are finally hitting their stride. Purple, pink color, huge head that swiftly dissipated. Smell is funky, sort of manure like, hints of blueberries. Taste is nice and funky with a strong fruit component, blueberries. I almost wonder if they used a concentrate or just really good berries because the fruit really shows up well here. Nice job, crooked stave, I might buy a second one.
★
751 characters
4.22
/5
rDev
+2.4%
look: 4 | smell: 4.5 | taste: 4 | feel: 4 | overall: 4.5
Poured from tap into tulip at falling rock Denver. Pours a blood orange no head. Smells of funk...I mean funk. That's it.
Taste is great funky fruit. Its hard to review really funky beers but this is really nice. Tart, sweet, funky, orange, with a bit of some mild french or german noble hops. Such a good wild. Get it if you see it!
★
334 characters
Crooked Stave Wild Wild Brett "Indigo" from Crooked Stave Artisan Beer Project
90
out of
100
based on
25
ratings.