L'Brett D'Or - Dry Hopped
| Crooked Stave Artisan Beer Project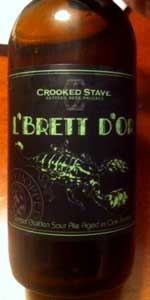 BEER INFO
Brewed by:
Crooked Stave Artisan Beer Project
Colorado
,
United States
crookedstave.com
Style:
American Wild Ale
Alcohol by volume (ABV):
7.00%
Availability:
Rotating
Notes / Commercial Description:
No notes at this time.
Added by Mebuzzard on 12-16-2012
Reviews: 15 | Ratings: 106
3.14
/5
rDev
-29.1%
look: 3 | smell: 3.25 | taste: 3.25 | feel: 2.75 | overall: 3
This one pours an exceptionally light straw yellow, it basically looks like Miller Lite. There's a small head, and not a lot of lacing.
Smells like sour lemon and some light grassiness, but not a whole lot else- this smells quite muted.
This is really, really puzzling. There's a nice sour tart lemon flavor up front, tastes pretty hoppy, and mildly sour, but then the flavor just drops off absolutely and completely. It's so watery, and disappointing. This can't be as it was intended- the look was certainly off, and the taste was off- I have to wonder what happened here.
This is super light bodied- it's very drinkable, because it tastes practically like water. The carbonation is smooth.
This is exceptionally disappointing. There has to be some bottle variation.
★
772 characters

4.31
/5
rDev
-2.7%
look: 4.25 | smell: 4.5 | taste: 4.25 | feel: 4.25 | overall: 4.25
Drank from a 375 ml (12.7 fl oz) bottle purchased at Julio's Liquors, Westborough, MA
Served in a tulip
Nearly clear, pale straw yellow appearance. The liquid was topped by an inch tall, fluffy, bone white crown that quickly fell to a bubbly collar. A bit of streaky lacing stuck along the glass.
The aroma was really interesting and complex. Crisp and moderarely tart. Bretty. Fairly lemony. Good amount of mustiness. Oaky. Bit of fresh hay and grassy hops. Slightly fruity and sweet. The must and oak intensified as the beer warmed, and the nose eventually took on an almost gueuze-like quality.
Lots of interesting stuff happening in the flavor as well. Big tart, lemony notes on the front end. Somewhat acidic but not overly so. A crackery malt base anchored the beer. Lots of crisp wheatiness in the center. Grassy hops also came through strong. More hops and lemony tartness on the back end and the finish. Slightly bitter. Good amount of oaky dryness. All in all, really flavorful and complex. With time, musty notes appeared. Like the nose, the flavor profile eventually resembled that of a gueuze.
Solid mouthfeel. Medium bodied for the style. The liquid felt a bit flat initially but as it moved along the palate, a super fine, lively effervescence turned the beer frothy and fluffy. Really crisp and sprightly. Almost Champagne-like.
L'Brett D'Or - Dry Hopped started out solid and eventually turned even more interesting and complex. I definitively understand why reviewers have compared this beer to a gueuze. All in all, an incredibly flavorful and immensely enjoyable golden sour ale by the folks at Crooked Stave.
★
1,634 characters

4.34
/5
rDev
-2%
look: 4 | smell: 4.25 | taste: 4.5 | feel: 4.25 | overall: 4.25
375ml bottle. Served in a stemmed glass.
Pours a light golden straw yellow body, two finger white head, thick tree rings of lacing. Smells of grapefruit and citrus, lemon and a bit of funk. Moderate acetic acidity. Light oak. Flavour follows, with a hefty grapefruit and citrus bite; with a light leatheriness, mild oak, with a solid citrus bitterness on the finish. Mouthfeel is lighter medium bodied, good carbonation, plenty tart with a nice grapefruit bitterness on the finish. It's about what I expected; an excellent hoppy wild ale.
★
539 characters
4.36
/5
rDev
-1.6%
look: 4 | smell: 4.25 | taste: 4.5 | feel: 4.5 | overall: 4.25
Pale yellow in color and very hazy. There's a fingernail of off white on top. I smell citrus hops and light malt. I taste light malt, citrus hops, and green apple. The mouth is moderately carbonated, crisp. And refreshing.
★
226 characters
4.54
/5
rDev
+2.5%
look: 4.25 | smell: 4.5 | taste: 4.5 | feel: 4.5 | overall: 4.75
this is so good, one of the best beers in colorado, and in my opinion, far superior to any of the fruited versions of this. in my top couple of favorites of all time from these guys, just so sensational. no clue what hops they use, but it ends up being so complex and funky that it tastes to me like a hoppy gueuze, like a blend of sour and funky beers, wheaty based but clean without sacrificing anything. the hops are juicy but not real bitter, both oak and wheat tannic properties, tons and tons of woody mellowing properties, a smoothness, without necessarily the sweet flavor of the oak, its like older, oude if you will, more earthy and deep, but the hops keep it fresh and lively too, that juxtaposition makes this one of a kind. i drank mine way too fast, but this warms up really well too, more funk than sour, way more funk than any of the fruited ones seem to have. champagne carbonation is epic, nice jazzy medium body, hearty and grainy still at its base. really fun and attractive beer, i have yet to have it from the bottle, but i am going to make a point to do just that. seriously amazing beer. this keeps them near the top for me.
★
1,148 characters
4.8
/5
rDev
+8.4%
look: 4.5 | smell: 5 | taste: 4.75 | feel: 4.75 | overall: 4.75
2016 bottling
Appearance: Pours a hazy goldenstraw capped by an impressive three fingers of foam;
Smell: I am giving this aroma a rare "5" rating - tropical fruit perfume layered with funky Brett
Taste: Funk and fruit forward, mostly tropical tones, with apricot, pear, pineapple, starfruit, passion fruit and mango; lemony tartness builds, through the middle; surprisingly acetic, for a Brett beer, after the swallow, with a dry, oaky finish
Mouthfeel: Light to medium body with moderate carbonation
Overall: An outstanding achievement - crowns a great night in Denver tasting some of Crooked Stave's best offerings
★
627 characters

4.79
/5
rDev
+8.1%
look: 4.75 | smell: 5 | taste: 4.75 | feel: 4.5 | overall: 4.75
Green wax. 2012
Pours clear golden with short lived white head. Smells of oaky Chardonnay and sour warheads. Not much hops but this bottle is not fresh. Taste is tart pineapple, oak, white wine. The sourness is fairly strong. Especially for a brett beer. It's also slightly acetic. A bit of a burn on the outside of the tongue and throat. Fantastic beer. I may have missed the intended dry hop character but this beer is still prime time. Crooked Stave hit a home run with this beer.
★
485 characters
4.73
/5
rDev
+6.8%
look: 3.75 | smell: 4.5 | taste: 5 | feel: 4.25 | overall: 5
Bottle (2012)
Acquired via trade
Thanks, quirkzoo!
(Aged for ~6 months)
Dark, slightly hazed, but bright, heavy, burnt orange. Not a large head. A small, though persistent, ring of off-white bubbles. Leaves the glass irregularly spotted on the way down. A pretty beer, but largely unremarkable.
Absolutely righteous aroma. This is stunning. Juicy, bright, tropical fruit, tons of apricot, pineapple, a tiny hint of a wooden funk. Amazing. Bright, pungent, stinging, and glorious.
The flavor is magnificent. I don't use that word lightly. Juicy, bright apricots, sharp pineapple, a bit of oak, earth, and funk, bright, powerful, citrus hop character, and just a bit of grass. Juice flavors. Clean. Amazing. One of the finest flavors that I've ever experienced.
Medium to nearly full bodied with lower carbonation. Lingering apricot flavors. Gulpable.
Incredible. Perfect. More complex than Persica. Pairs favorably with Fou Foune--I may even like it more.
★
962 characters

4.82
/5
rDev
+8.8%
look: 4 | smell: 5 | taste: 4.75 | feel: 4.75 | overall: 5
This beer poured out as a hazy golden color with a white head on top. Some soapy bubbles hanging around the glass. The retention is thin and some scattered lacing. The smell of the beer is funky as hell out of the bottle. The aroma from the glass is still quite pungent on the nose. The taste of the beer is tart up front with a really nice oat or wheat-like finish. Some subtle notes of honey and plenty of Brett. But the grains finish on a very impressive clean note in the after taste. The mouthfeel is easy going, nice carbonation and drinkable. Overall I'm very impressed with this beer. Really impressive flavor. Just all around very good.
★
645 characters
4.11
/5
rDev
-7.2%
look: 4 | smell: 4.25 | taste: 4 | feel: 4 | overall: 4.25
Bottle opened on 3.12.13
A - Pours a cloudy darker orange with an active fizzy light tan head that fades quickly.
S - Funk, Brett, Hops, pears, subtle citrus-unique and nice.
T - Brett, oak, hoppy-grass, citrus, buttery wood.
D - Mild carbonation with a medium body.
O - A very unique and delightful beer. It's a hard one to place at this point, but who cares, it is good.
★
377 characters
4.92
/5
rDev
+11.1%
look: 4.5 | smell: 5 | taste: 5 | feel: 5 | overall: 4.75
Chilled in the fridge, split into 2 HF stems. Big thanks to my CO connect!
A: light amber, pale, golden. Less then 1cm head when aggressively agitated. Clings the rim to from a circle
S: passion fruit kiwi mango smoothies.
T: unripe mango, lemon rind, finish is dry+oaky.
M: medium light mouthfeel
O: super fresh fruit sweet yet complex beer with multiple levels of juicy bitterness. This beer is exotic fruit forward with an oaky finish similar to the regular lbrett dor. Although there are similarities between the varieties, the dry hopping really juices this beer up. would absolutely love to revisit!
★
608 characters
4.34
/5
rDev
-2%
look: 4 | smell: 4.25 | taste: 4.5 | feel: 4.25 | overall: 4.25
Pours a hazy dark golden color with a small white soapy head that recedes to leave some really minimal spotty lacing.
Aromas begin with woody and earthy oak and hops. A nice funk with some light citrus and green fruitiness adds to the rustic grassy and woodiness.
The tastes follow the nose but are so much more intense. Lots of green fruit and some tropical fruit flavors as well. Green apple, clementine, some white vinous flavors, peach. The funk and oak are also there as well and dry out the finish. As it warms the oak and some lactic acid emerge more.
The mouthfeel is medium bodied with medium to light carbonation. The finish is nice and oaky with plenty of tart fruits and some mild earthy funk as well.
Overall this is a star. I have not sampled the non-dry-hopped version but I wouldn't want to after having this. It was apparently dry-hopped with Simcoe which is a hop that can add a multitude of flavors from oniony to pine to tropical and citrusy. These hops must have been the fruity ones because this is beer has an amazing flavor profile of unripened fruits and mild citrus. Anyway, CS is really honing in and cranking out super solid beers recently. After not loving a lot of the WWB series beers early on, the most recent releases have been some of, if not the best American Wild ales I have had to date.
★
1,329 characters

4.73
/5
rDev
+6.8%
look: 4.75 | smell: 4.75 | taste: 4.75 | feel: 4.5 | overall: 4.75
Reviewing the Dry Hopped L'Brett D'or from the Crooked Stave Artisan Beer Project out of Denver, Colorado.
Score: 98
2012 vintage bottle served in a Perennial tulip/snifter hybrid glass and enjoyed on 05/07/13. Review is from iPhone notes.
Appearance: Pours a nice and vibrant orange peel color with a thin layer of bubbly head that settles to a bubbly ring around glass. Poor lacing and retention, but I love the lively color! 4.75/5
Smell: Grapefruit, mango, apricot, peach, and orange. This smells like a soured tropical fruit IPA. A little eucalyptus menthol too. Complex tropical qualities galore. 4.75/5
Taste: Super tart grapefruit/mango/peach juice. Tastes like a tropically juicy version of the regular L'Brett D'or. Imagine what a freshly juiced tropical fruit medley would smell like if bretted and fermented -- that is this beer. Some grassy hoppiness towards the finish gives this beer a nice bitterness to boot with the tart finish. Grows in tartness as it warms up. A hint of oak comes through as the beer warms up. Truly delicious and refreshing. I could drink this beer all summer long. 4.75/5
Mouthfeel: Medium bodied, spot on carbonation. Nice zesty tartness and juiciness. 4.5/5
Overall: A truly outstanding beer. This is like a soured Heady Topper; it's so juicy and citrusy. I wish I had a case of this; I would drink it all summer long. Do yourself a favor and seek out a bottle.
Cost: $10 for a 375 ml bottle.
★
1,441 characters

4.83
/5
rDev
+9%
look: 3.75 | smell: 5 | taste: 5 | feel: 4.5 | overall: 4.75
1683rd Review on BA
Bottle to Snifter
375 ml
Split with Johnboots and JcDenver
App- A dark solid orange with a bit of a thicker pour and more dense than I woudlve thought. Not so much a head to speak of but more of a ring of bubbles and some nicer cling down the side. A nice looking color. Needed a bit more bubbles to it.
Smell- HOLY HELL!!! One of the best smelling beers I have ever smelled. Dry, fruity, funky and a bit oaky. The dry hopped brings out a wonderful grassy aroma and then the fruits. OMG! Tropical for days and the oak brings the wood and brett adds an amazing funk.
Taste- Very similar to the nose on all accounts. A great amount of flavor behind this one. A bit of a dry brett then flows into the amazing citrus notes. I cant imagine a more tropical beer and thats after reviewing Tropical thunder from Bootleggers. A great sour. Would love many 750's and 375s of this.
Mouth- A touch dry, a touch of brett. A great medium body with a semi dry-medium carbonation level. Great residual tropical fruit. A ton of oak behind it as well.
Drink- WOULD LOVE MORE OF THIS....Thanks to Jacob for sharing!!!!
★
1,125 characters
3.88
/5
rDev
-12.4%
look: 4 | smell: 3.5 | taste: 4 | feel: 4 | overall: 4
This is the L'Brett d'Or dry hopped with simcoe--I believe.
A golden color pour, a bit murky. Soft white head, a bit more pronounced than other CS beers. Must be the hops, money.
Aroma is pleasant with a touch of musk. Fruity and floral. The hops give it a nice pine touch that goes well with the aging.
Flavor is subtle orchard fruits. Some apple, peach, dirty orange and crabapple. Somewhat 'green'. Some puckering, but nothing sour. Dry and acidic on the end. Easy drinking.
★
487 characters
L'Brett D'Or - Dry Hopped from Crooked Stave Artisan Beer Project
4.43
out of
5
based on
106
ratings.