Weihenstephaner Alkoholfrei Hefeweizen
| Bayerische Staatsbrauerei Weihenstephan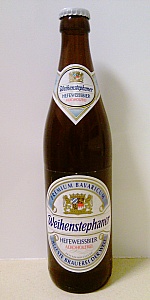 BEER INFO
Brewed by:
Bayerische Staatsbrauerei Weihenstephan
Germany
brauerei-weihenstephan.de
Style:
Low Alcohol Beer
Alcohol by volume (ABV):
0.50%
Availability:
Year-round
Notes / Commercial Description:
No notes at this time.
Added by Todd on 03-01-2005
Reviews: 9 | Ratings: 32
2.66
/5
rDev
-19.9%
look: 4 | smell: 3 | taste: 2.5 | feel: 2 | overall: 2.5
Weihenstephaner Hefeweissbier Alkoholfrei, ABV: 0.5%.
500 ml bottle, 12.90 SEK at Systembolaget.
A: The liquid is hazy, light golden, almost orange in colour. The head is white, thick and foamy, and fades slowly.
S: A somewhat earthy, yeasty aroma of spices and banana candy, with hints of lemons, honey and flowers.
T: Well, it's very watery, but here are many candy-like flavours of yeast, lemons, spices and some honey. Weisse, it is.
M: Light, in all aspects, but somehow sticky - from the carbonation, or the tart of sour lemon candy flavours.
O: I'm not impressed, although I'm not an "expert" on weissbiers, I've had better non-alcoholic wheat beers. The traditional flavours are there, but it seems watered down, and the mouthfeel is kind of nasty. Perhaps it could work better with food.
801 characters

2.71
/5
rDev
-18.4%
look: 4 | smell: 3 | taste: 2.5 | feel: 2.5 | overall: 2.5
A: This beer is hazy light golden with a tall creamy white head. Only some lacings after dissipation.
S: Ripe bananas from the wheat and an off-smell, almost like smoked ham. Bready.
T: Very mild taste; only faint flavours; ripe bananas and bread.
M: Light body and rich carbonation - what you could expect from a non-alcoholic beer. Aftertaste is short.
O: Well, this beer is clearly for those who can't enjoy real beer, considering that - not too bad.
458 characters
2.76
/5
rDev
-16.9%
look: 4 | smell: 3 | taste: 2.5 | feel: 3 | overall: 2.5
Bottle. Damned drink driving laws in Australia (limit is 0.05%) :-(. Was forced to have one of these at a German restaurant after downing its big brother first. I should have done it in the reverse order. Appearance is what what you would expect of a hefe, hazy luminous straw yellow with a nice fluffy white head. Smell was very much attenuated in comparison to real beer, although the bread, banana, clove combination was in evidence. Same goes for the taste, but slight latex and metalic notes where evident. Palate was a little watery and heavily carbonated. Damned good attempt at a LA beer, but beer without alcohol is just not beer.
639 characters
3.01
/5
rDev
-9.3%
look: 4 | smell: 3 | taste: 3 | feel: 2.5 | overall: 3
This pours a cloudy light golden with a two finger head which drops to minimal covering.
The banana and cloves noticeable on the nose carry through to the palate.
Overall slightly watery and a touch metallic but still drinkable. Much better than dealing with most light beers out there if you have to drive.
309 characters
3.09
/5
rDev
-6.9%
look: 4.5 | smell: 3 | taste: 3 | feel: 3 | overall: 3
Drank from my Stella tulip
A - Pours a beautiful honeycomb colour witha two fingered head that laces and retains well.
S - Small amounts of sweet banana.
T - A little dit watery up fron but some nice flavour ensue with bana and clove witha little citrus on the finish.
M - Body is medium carbonation is also medium
O - The best alcohol free beer that I have tried so far.
376 characters

3.14
/5
rDev
-5.4%
look: 5 | smell: 3.5 | taste: 3 | feel: 2 | overall: 3
A - Typical Weihenstephan head - huge, fluffy, white with great retention. Cloudy pale amber body with sticky, chunky lacing all the way to the finish.
S - Banana, wheat and crackers.
T - Wheat, banana, bread, yeast.
M - Thin body, moderate carbonation, very watery.
O - Surprisingly good for a non-alcoholic beer. Easily as good as many macros.
349 characters
3.48
/5
rDev
+4.8%
look: 4 | smell: 3.5 | taste: 3.5 | feel: 3 | overall: 3.5
Found these at a local German grocer, this poured a cloudy amber with abundant head much like it's big brother. Smells much like him too except not quite as pronounced. Flavor starts off nice with banana-clove aromas, but finishes with a very slight bit of that funky unfermented malt flavor that you normally get with Non-Alcoholic beer. Aftertaste contains a bit of a metallic undertone but not so much that it is offensive.
If you want something that actually tastes like beer without the alcohol this is actually quite good. Worth a shot.
543 characters

4.34
/5
rDev
+30.7%
look: 4.5 | smell: 3 | taste: 5 | feel: 4.5 | overall: 4.5
I went for a walk today to the Stockenhof in the Stubai valley in Austria. Because i was with my car i decided to take this alcoholfree beer.
To be fast in this one...this is the best alcoholfree beer by far. Poured in a original glass for Weihenstephaner alcoholfree beer this ber looks like a normal beer. Cloudy fluid and a great head which stays the whole distance.
For a non-alcoholic beer this is the best i ever had. Period!
Soft and creamy taste with a nice aftertaste.
481 characters

4.46
/5
rDev
+34.3%
look: 4.5 | smell: 4 | taste: 4.75 | feel: 4.25 | overall: 4.5
Hazy gold, highly active, foam explosion, 4 fingers island head that last for around 10 minutes, good lacing. Flavors of wheat, lemon, banana yeast, clove, floral spices. Good thickness, balanced finish, although a little lighter than the alcohol version. Lingers with a bread and clove feel. Overall excellent quality craft for a low alcohol beer. Almost the exact same original flavors. Filling, delicious, and super fresh.
425 characters
Weihenstephaner Alkoholfrei Hefeweizen from Bayerische Staatsbrauerei Weihenstephan
3.32
out of
5
based on
32
ratings.