Weihenstephaner Festbier

Bayerische Staatsbrauerei Weihenstephan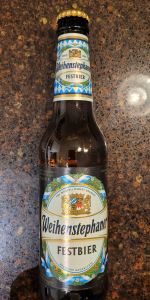 Write a Review
Beer Geek Stats:
| Print Shelf Talker
Style:

ABV:

5.8%

Score:

Avg:

3.76

| pDev:

12.5%

Reviews:

689

Ratings:

From:

Avail:

Year-round

Wants

Gots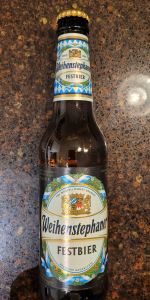 Notes: A full rich bodied, hoppy, seasonal lager. Especially brewed for the Festbier season. This beer truly represents the Bavarian way of celebrating. Deep gold color, great mouth-feel and lots of flavor. Prost!
Reviews: 689 | Ratings: 1,749
3.28
/5
rDev
-12.8%
look: 3 | smell: 2.5 | taste: 3 | feel: 3 | overall: 5
Presentation: 1pt 9oz bottle, poured into a hefty mug.
Appearance: A crystalline, pale gold with a 3 finger head that dwindled slightly with nice lacing.
Aroma: A very nice noble hop aroma along with a grainy, slightly sweet malt, but otherwise clean. Smells like a Helles.
Taste and Mouthfeel: Very good German malt and hop flavor, blending well. Very crisp and clean, with the hop balance just barely on the bitter side. Thin mouthfeel and very easy to drink. You could pound these all day.
Notes: Not at all what I expected an Oktoberfest to be like. This is way more like a Helles. The color was too light, the malt flavor and aroma wasn't what it should have been. This was a great beer, and I think a great crossover beer as well, but not what I'd seek out if I'm in the mood for an Oktoberfest.
813 characters

3.55
/5
rDev
-5.6%
look: 4 | smell: 4 | taste: 3.5 | feel: 2.5 | overall: 3.5
$2.49 at Ramsey Liquors... I've never seen this one before. 8266 is lasered into the gold area on the back label. Served at slightly over fridge temperature in an imperial pint glass.
Appearance- Pours a crystal clear very pale yellow gold, by far the lightest I've ever seen for the style. Gentle carbonation emerges from the depths of my glass, and the head is snow white and dropping from a full three fingers down to a soapy, wet hat. Gobs of spotty lacing ornament the walls of the vessel.
Smell- Strong, undeniable German hop profile... smelling husky and raw, the Purity Law takes hold and showcases a damn clean aroma, no bullshit. It smells quenching, like this could most certainly be an all-day quaffer.
Taste- It's almost like every ounce of barley malt, hops, water, and yeast is placed under a microscope and zoomed in 1000X... this is good German beer, but it's overamplified. I appreciate the big flavors completely... they're enormously clean... but food is really essential here. I'm sure that with traditional Oktoberfest vittles this beer would shine... but right now, it's got bedhead.
Mouthfeel/Drinkability- In the mouth, it stumbles and awkwardly takes its first steps... there isn't much coordination or grace here. The beer flattens prematurely and, although not terrible, isn't interesting in the least. It feels like a beer brewed to be guzzled by the barrel, and maybe that's the intent since it is a festbier. I could see myself enjoying this in the right context, with the right food, with the right weather... damn I'm reaching here. All in all, a clean, honest beer for the Fall... but it doesn't even rank in my top 10 for this year's Marzen beers.
1,695 characters
4
/5
rDev
+6.4%
look: 4 | smell: 4 | taste: 4 | feel: 4 | overall: 4
hmm, this beer pours blonde with a fizzy white head, pretty light for a Marzen.
aroma is hey and sweet malt.
taste is exactly like a really solid Helles Lager, i would certainly identify it as one if I was tasting this blind.
mouthfeel is appropriate and drinkablility is high.
overall, this is a very delicious beer, tastes like a great Helles, does not taste anything like any Marzen i've ever had but it is still pretty darn good whatever it is.
462 characters

3.63
/5
rDev
-3.5%
look: 4 | smell: 3.5 | taste: 3.5 | feel: 3.5 | overall: 4
The beer poure into the glass clear pale straw with a white and moderately frothy head which rose well and fell to lace the glass.
The aroma was strong Saaz character when first opened. After the head retreated a bit the aroma became spicy noble hops with hints of light caramel and malt. The aroma also contained a lightly grassy character to it and as the head diminished some lightly nutty Munich and Vienna malt presence could be detected.
The flavor was fairly dry, moderately spicy and just a bit metallic. The malt flavor in the beer was very low and only had traces of the nuttiness one might expect from a fest beer. The hop level was fairly high and though nothing was overpowering in the beer the balance was decidedly toward hop bittering.
The finish was dry with lasting hop bittering and a bit of spicy hop presence into the aftertaste. The body was just below medium with a moderate level of carbonation. An easy drinking beer, but without much character except for what the hops provide.
16.9 ounce bottle.
1,034 characters
3.68
/5
rDev
-2.1%
look: 4 | smell: 3.5 | taste: 3.5 | feel: 3 | overall: 4.5
I've never seen this available before and judging by the brewerie's other offerings I knew I had to pick some of this up. Pours a glimmering bright gold in color with noticable carbonation. Has a bright white head that fizzled into a creamy crown throughout the pint. Nose is lightly malty, quite clean. Taste again is lightly malty with nice hop balance. Nothing over the top here, but easy to see how they are trying for something easily sessionable and at that they have succeeded marvelously. Body is medium, a bit heavier than the appearance might suggest.
This isn't a huge beer by any stretch, just a good solid beer to be quaffed in good amounts when the occasion calls for it.
Slàinte!
701 characters
4.45
/5
rDev
+18.4%
look: 4.5 | smell: 4.5 | taste: 4.5 | feel: 4 | overall: 4.5
Consumed vom Fass at both Hotel Lerner and Staatbrauerei Weihenstephan in Freising, Germany during my Bavarian sojourn in September of 2006.
Straw-golden in color, this brew left a pillowy head atop itself. This vanished to a respectable lacing along the side of my 0.5L mug all thoughout. Bready malty goodness and floral, earthy hops fill the sinuses. Very easy to drink, the balance of this offering was a pleasure to behold. The flavor was not overly malty in any way. Well worth the price of admission.
Zum wohl!
524 characters

3.88
/5
rDev
+3.2%
look: 4 | smell: 3.5 | taste: 4 | feel: 4 | overall: 4
I was really surprised with this one. Pours an awesome head with good lacing down the glass. Looks more like a pilsner, very clean looking and clear, unlike most Festbiers. Very nutty on the palate with some nice corny and bready features. Goes down smooth, seems like an all barley malt beer. Highly recommended, wish I'd have picked up more than one.
352 characters

3.89
/5
rDev
+3.5%
look: 3 | smell: 4 | taste: 4 | feel: 3.5 | overall: 4
Pours a pale golden yellow with a small white head that quickly turns into sporadic lace. Aroma is biscuity malt and a bit of spicey hops. Taste is bready malts followed by some more of the spicey hop notes that were present in the aroma. Mouthfeel is light bodied that is a bit prickly from the carbonation. Overall, this really is not your typical Marzen but a good brew nonetheless.
385 characters
3.68
/5
rDev
-2.1%
look: 4 | smell: 3.5 | taste: 3.5 | feel: 4 | overall: 4
Unusual appearance for an Oktoberfest, a pale golden yellow body with a small and trim vanilla head. Some sparse patchy lacing is left on the glass. Aroma has a mixture of biscuity, lightly toasted pale malt and earthy and spicy hops. Mouthfeel is light bodied with a healthy, medium carbonation. Taste lacks the expected, Munich maltiness. Assertive, earthy, hops bitterness rules the taste. Some spicy and floral hops make their presence known, as well. Maltiness is grainy and toasty, lacking expected sweetness for the style. Still, pretty tasty stuff with excellent drinkability. More sessionable than most of its counterparts.
632 characters
3.32
/5
rDev
-11.7%
look: 3 | smell: 3.5 | taste: 3.5 | feel: 3 | overall: 3
Purchased at Holiday Market in Canton and poured into a mug.
Pale yellow with a small head of white that fizzles to a veiled ring in under a minute.
Biscuity malts with some suggestion of floral hops. Slight graininess. Rather mild overall.
The taste carries more grains than the nose. Bitterness from the hops is also up a notch as it takes on a more grassy profile. Clean finish with just a bit of lingering hop.
Light in the mouth as it should be but I would like more crisp from the carbonation. A middle of the road octo.
539 characters
4.4
/5
rDev
+17%
look: 4 | smell: 4 | taste: 4.5 | feel: 4 | overall: 5
Pours a clear straw golden color. A few bubbles stream from the bottom of my mug as I glance at it. Nice thick white foamy head holds together very well. Bready, pale lager aroma, along with some floral notes. Good amount of bready malt flavor, which is still pale, not like other Marzens. Seems almost more like a Helles. Earthy floral hops balance the malt very well. Light to medium body, with a good amount of carbonation, but not too much. This was way too easy to drink. I could picture this at Oktoberfest in a gian liter mug. Very nice, although not very much like other Marzens.
587 characters
3.92
/5
rDev
+4.3%
look: 3.5 | smell: 4 | taste: 4 | feel: 3.5 | overall: 4
Draught @ Papago Brewery
The beer pours a limpid golden amber color, the head is statuesque, and a brilliant white, creamy in texture and as it evaporates, the lace forms a tight and sealing sheet upon the glass. The aroma of sweet malt and a citrus like crispness dominate the nose, fresh, clean and inviting with a lightly sweet and malt laden start, the top is light to moderate in feel. Finish is pleasing in its hop spiciness, the acidity mellow, the aftertaste desert dry, and a fine drinking beer as is all of this breweries beer.
540 characters

4.32
/5
rDev
+14.9%
look: 3.5 | smell: 4 | taste: 4.5 | feel: 4.5 | overall: 4.5
cloudy, dark lemon yellow color...there are white flecks floating around everywhere in my glass. a head that has staying power and a bit of lace. aroma of nutty, toasty malts and a bit of almost fruity hops...very inviting. a sort of sourdough bread flavor, like a bakery in a bottle. a rich, creamy and VERY smooth mouthfeel. no hop bite...just a floral reminder to add to the tremendous balance. wow is this a good beer. it's not necessarily a true oktoberfest, since the bottle has a x-mas wreath adourning it's label. a brew to celebrate any season! search it out if you can. weihenstephaner is two for two in my book with the korbinian up next.
658 characters
4
/5
rDev
+6.4%
look: 4 | smell: 4 | taste: 4 | feel: 4 | overall: 4
Slightly sour, nutty aroma. Very fruity in taste -- almost wine like. Honey like sweetness on the main palate, with a sourdough like flavor undergirding. Slightly dry finish with noticeable hop bitterness. Fairly full-bodied. Sour aftertaste.
248 characters
Weihenstephaner Festbier from Bayerische Staatsbrauerei Weihenstephan
Beer rating:
85
out of
100
with
1749
ratings