Lancelot
| Brasserie Lancelot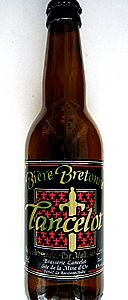 BEER INFO
Brewed by:
Brasserie Lancelot
France
brasserie-lancelot.com
Style:
Belgian Pale Ale
Alcohol by volume (ABV):
6.00%
Availability:
Year-round
Notes / Commercial Description:
No notes at this time.
Added by stcules on 08-25-2004
Reviews: 8 | Ratings: 17
3.76
/5
rDev
+18.2%
look: 4 | smell: 3 | taste: 4 | feel: 4 | overall: 4
Looks like we've got a new label here. At least the Lancelot website says that the beer titled "Lancelot" looks exactly like what I had.
Pours a cloudy brown hued orange with a thick frothy head. Nose is almost non-existent it seems. Barely any touches of orange citrus. Flavor is interesting. Bitter and sweet at the same time. Definite yeast tones. Overall earthy tone shows more than anything else.. Feel is fairly full on carbonation. Liquid is well bodied. A nice ale that is refreshing, yet robust and a bit hearty at the same time.
539 characters
2.99
/5
rDev
-6%
look: 3.25 | smell: 3 | taste: 3 | feel: 2.75 | overall: 3
A decent attempt at a Belgian with a few shortcomings. Aroma is very light and hints at fruit (apricots). Appearance is good, Orange gold color with milky beige head. Flavor is a bit better with fruity sweetness, but over all palate is dry and disappears and mouthfeel leans to watery. Decent, but not great.
308 characters
3.23
/5
rDev
+1.6%
look: 4 | smell: 3.5 | taste: 3.5 | feel: 2.5 | overall: 2.5
Bottle-conditioned beer, bought at the Beer Circus last week. The BB date is 27/04/07.
A: served in a goblet, it pours a cloudy, dark ooh-long tea colour, almost like scrumpy cider. The white beer head is tight and foamy, with rather good retention and leaves nice, tight lacing...
S: deeply sweet malty and spicy, like sweet grass+coriander+dried tangerine peel+very light hint of red-bean paste kind of sugary note. Very lively, spicy and malty, with a touch of yeast in the background. Yet the stimulating part of aroma outweighs the more settled, complex elements, a pity IMO.
T: very intrusive mouthfeel at first, full of fizz... a sweet yet spicy, semi-dryish flavour mixed of grainy malts and zesty hops comes forward, while a light peppery and yeasty touch lags behind, leaving a spicy and dry aftertaste. Overall the flavour is, not bad, but overly simple compared with lots of Belgian pale ales.
M&D: overall the mouthfeel is floating, quite spicy, almost dancing on the palate, but then settling down to an overly flat and thin mouthfeel towards the finish. The beer starts from an enticing appearance, through attractive aroma, towards a rather dull taste and finish. Just O.K. beer and the drinkability is low at such a high price (2.5 pounds!!).
1,265 characters
2.62
/5
rDev
-17.6%
look: 2 | smell: 2.5 | taste: 2.5 | feel: 3 | overall: 3
Clear yellow colour, almost like a pils. The head it is not too compact. Too carboanted.
Smell: bitter from fresh hop, then malt (just a hint), grassy. Maybe hay. Pineapple?
At the taste the bitterness prevails again, grassy, and with some honey notes. No floral.
The aftertaste is malty in the beginning, then yeast, and at the last, some bitterness, less strong.
Medium body.
382 characters

3.5
/5
rDev
+10.1%
look: 3.5 | smell: 3.5 | taste: 3.5 | feel: 3.5 | overall: 3.5
Beer bottle (33cl.), tasted in 1999.
Appearance : amber coloured with a huge white head.
Smell : malty and spices aroamas.
Taste and mouthfeel : sweet malty flavour with notes of caramel and herbs. Hoppy finish with notes of alcohol.
Drinkability : a good beer in the style Belgian Pale ale.
292 characters
3.12
/5
rDev
-1.9%
look: 3 | smell: 3.5 | taste: 3 | feel: 3 | overall: 3
Found in Moscow's largest discount grocery store, the 33cl bottle is dark brown, with a brown and gold label featuring a sword and what looks like a heraldic banner. The Russian import label lists only purity law ingredients. Best before 7/3/07, I opened it on 9/24/05.
Has the color and clarity of a Hefeweizen - cloudy, slightly raspberry tinted yellow gold. The head musters about 1.5 fingers, but fades quickly, without body or lace. The nose is strong of sweet yeast - what I refer to as typical francophone sweetness, as an uncanny number of French and French-speaking beers have it. Think Leffe. The mouth is very prickly and quite light. This brew is dominated by the sweet yeast, almost raspberry-like but a bit more abrupt. There's a decent amount of hops here, offering a twang of metallic bitter towards the finish, before that infernally persistent sweetness comes back. Nothing special here, indeed quite one-sided.
932 characters
3.42
/5
rDev
+7.5%
look: 3.5 | smell: 4 | taste: 3 | feel: 3.5 | overall: 3.5
A: Cloudy brown/orange with a tinge of red. Lots of carbonation. Quickly disappating head. Bits of sediment.
S: Dried apricot, sweet, yeast, nutmeg, fruit. Presense of alcohol but no direct smell.
T: Semimuted flavor. Muted sourness, apricot. Mediocre.
M: Grainy texture, numbing sting. Barely astringent.
D: Fine but not special.
336 characters
2.57
/5
rDev
-19.2%
look: 3 | smell: 3.5 | taste: 2 | feel: 2.5 | overall: 2.5
A -Small head dissipates quickly.
Dark for a blonde, almost amber color. Quite cloudy.
S - Grassy nose, slightly fruity.
T - Floral hops, quite sweet overall. Maybe a bit of the dreaded cooked corn taste. Yeasty finish lingers in the mouth.
M -Mouthfeel is kind of sticky. Carbonation okay.
D - I'll finish it, but skip it in the future.
341 characters
Lancelot from Brasserie Lancelot
3.18
out of
5
based on
17
ratings.