Morgane
| Brasserie Lancelot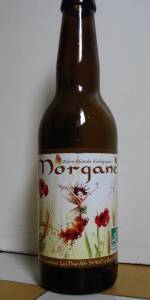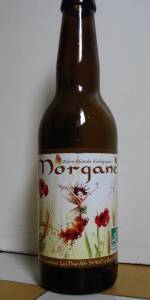 BEER INFO
Brewed by:
Brasserie Lancelot
France
brasserie-lancelot.com
Style:
Belgian Pale Ale
Alcohol by volume (ABV):
5.50%
Availability:
Year-round
Notes / Commercial Description:
No notes at this time.
Added by thierrynantes on 11-17-2007
HISTOGRAM
Ratings: 10 | Reviews: 7
Reviews by sfprint:
4.37
/5
rDev
+21.1%
look: 3.5 | smell: 4 | taste: 4.5 | feel: 4 | overall: 5
A: a bit cloudy, slightly orangy yellow with an inch of head.
S: Fruity malt, a bit sweet.
T: It's strange because for me basically all of the flavor resides in the aftertaste. But this aftertaste is quite nice. There's a nice dirty, planty flavor. Slightly fruity and a bit sweet. Yeasty. The only downside to the flavor is that it tastes barely more alcoholic than it is.
M: Nice soft carbonation. Slight dry finish.
D: An excellent beer. Very drinkable and different.
475 characters
More User Reviews:

2.33
/5
rDev
-35.5%
look: 2.5 | smell: 2 | taste: 2.5 | feel: 2 | overall: 2.5
.33cl bottle into Guinness brewhouse series true imperial pint glass in Belfort, France. Reviewed live.
A: Pours a 2.5 finger head of no cream, decent thickness, and average retention. Yeast particles float about. Cloudy yellow-orange colour.
Sm: Yeasty hazy hops of indeterminate nature to me broken nose.
T: Lemon citrus ester hops, yeast, and barley foundation. Refreshing, if a bit simple. Fairly balanced. Built below avg for the style.
Mf: Too smooth and wet. Fairly complementary of the flavours on the body.
Dr: Average ABV, fair quality, and very affordable.
576 characters
3.91
/5
rDev
+8.3%
look: 3.5 | smell: 5 | taste: 3.5 | feel: 3 | overall: 4
Poured from 33cl bottle. When uncapped, it flowed quite vigorously. I think it's just bottle conditioning at slightly warm temperature instead of contamination.
All the foam gives a nice head which has decent retention. The golden colored beer is quite opaque. The bouquet is intense, very floral with some spiciness and earthiness.
Compared to the rich aroma, the taste is a little disappointing. There is an earthy, malty background. This part is complex, maybe coming from the black wheat (sarrasin). It could use some more hoppiness for balance. The mouthfeel is overly light, a bit too watery for the complexity of the nose and the earthiness of the taste. The finish gives notes of spiciness that weren't apparent at first taste.
There is good complexity to this beer. With a bit of tweaking I think it could be great.
827 characters
3.63
/5
rDev
+0.6%
look: 3.75 | smell: 3.75 | taste: 3.5 | feel: 3.5 | overall: 3.75
Nice lookling beer. Pale blonde with a nice white head with fine bubbles. Lots of visible carbonation streaming upwards.
Smells like you would expect. Light, slightly bready malts with citrus peel, floral and some light spice. Yeast and maybe a slight metallic thing from the yeast or hops. I often get that when I chill beers too much. As I thought this was some lager I did chill it in the fridge.
The taste is simple but pleasant. Light malts, light fruitiness (citrus) and such.
It has a dry mouthfeel, thin but the big carbonation makes it more creamy.
Overall a perfectly decent beer to drink.
Tasty for its low ABV, but nothing special.
Ecologic by the way.
669 characters
4.32
/5
rDev
+19.7%
look: 4 | smell: 4.5 | taste: 4.5 | feel: 4 | overall: 4
I think this is one of the coolest pieces of art on a beer label I have ever seen.
Pours a quite foggy orange with slight brown touches and comes with a thin creme head. Nose is a lot of dough. Citrus and yeasty funk are there as well. Comes off more like a saison to me. Either way, it is clearly a Belgian ale. Flavor is moderately sweet. A hoppy, bitter tang is there also. Overall quite earthy. And there is that almost clay character that I have found in so many artisanal French beers. Feel is fairly full on carbonation and the liquid is thicker bodied. This is a nice ale. It comes off as a bit of a doughy saison to me. If you have the chance, I say try it.
So far, this is the best artisanal French beer I have tried. So far.
737 characters
3.1
/5
rDev
-14.1%
look: 3.5 | smell: 3.5 | taste: 3 | feel: 2.5 | overall: 3
Got this one at the grocery store in Brittany, France.
From a bottle into a snifter
APPEARANCE: Pours a two finger, medium, fluffy white head with very good retention. Cloudy amber with medium levels of carbonation. Head fades to a foam cap. A foamy ring and half wisp remain leaving some clingy lacing down the glass.
SMELL: Pale malts, green fruits, apples, some hay and cloves with some floral hops on the nose. Medium strength.
TASTE: Pale malts, hay, green fruits and then some floral hops at the swallow. Milder and drier finish of spicy yeast, cloves, floral bitterness and some grainy sweetness as well. Okay, but the hay and grain are a little less desirable.
PALATE: Thinner body with higher levels of carbonation. Somewhat airy on the palate, goes down fine and finishes dry.
OVERALL: Okay, but a standard blond at best. The spiciness is interesting, but the grainy flavors and hay kind of get in the way. The feel could also be improved as well. Not bad, but not a repeat.
995 characters

3.74
/5
rDev
+3.6%
look: 4 | smell: 3.75 | taste: 3.75 | feel: 3.5 | overall: 3.75

3.7
/5
rDev
+2.5%
look: 3.5 | smell: 3.5 | taste: 4 | feel: 3.5 | overall: 3.5
beer bottle 33 cl, tasted in 2007.
Appearance : Blonde pulling on the golden trouble. Abundant white foam, exuberante, good persistency
Smell : Fresh, vegetal, cereal
Taste and mouthfeel : softness and roundness, vegetal with thin spikes citrus. Good length in the mouth, though refreshing
Drinkability : good BIO beer
Morgane, fairy encheteresse reigns on the island of Avalon, the Other World Celts. Known for the art of healing and metamorphosis, it also flies like a bird.
Reviewed 11-17-2007, translated to english 1-5-2008.
531 characters
Morgane from Brasserie Lancelot
Beer rating:
3.61
out of
5
with
10
ratings