Tullycross Tavern & Microbrewery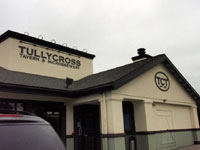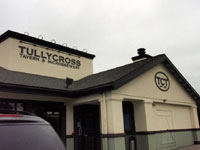 PLACE INFO
Type:
Brewery, Bar, Eatery, Beer-to-go
1487 Pleasant Valley Rd
Manchester
,
Connecticut
, 06042-1664
United States
(860) 644-2739
// CLOSED //
Notes:
No notes at this time.
Added by Todd on 03-21-2011
HISTOGRAM
Ratings: 7 | Reviews: 7
Reviews by Hibernator:
3.75
/5
rDev
+3%
vibe: 3.5 | quality: 3.5 | service: 4 | selection: 4 | food: 3.5
I went to Tullycross Tavern & Microbrewery last week with a few friends. I was down in CT for the weekend and this was my first time visiting since it changed from John Harvard's.
In terms of atmosphere and decor, it's the same inside as I remembered it from before. I did find it odd that they still have the Harvard's sign up outside with a temporary Tullycross logo. Pretty sure they've been open a couple months now. Weird.
As far as featured beers, they were about 9 beers on draft with options like TCT Pale Ale, Catcher In the Rye-P.A., Irish Stout, Belgian Perti at Night, Tempting Murphy Imperial Stout, Spring Bock and a Brown Ale on cask. The bartender said the cask had been on tap for a week.
I tried the "Tavern Sampler" which was enjoyable. I also had the Imperial Stout that was tasty. The bartender was solid overall with responsive & prompt service.
Our food experience was mixed, the nachos with chili were tasty. Some of the other dishes like the steak sandwich had some chewy shaved steak and just wasn't that good.
A solid tavern/microbrewery that appears to have some initial growing pains. I think they've been open since mid-March, so it might cool to change some of the marketing and branding of this place with a new identity.
Hopefully these details will work out. I'll have to check this place out again during any future visits to the area.
1,381 characters
More User Reviews:
3.86
/5
rDev
+6%
vibe: 3.5 | quality: 4 | service: 4 | selection: 3.75 | food: 3.75
Stopped here with my wife not long ago and enjoyed a decent dinner and some surprisingly good beer. I've been here a few times over the years though only once since it changed over from John Harvard's to Tullycross. It's a pretty big place with lots of room for dining tables around/outside the periphery of the bar section, and lots of seating around the big, square bar. There is an apparent effort to make sure the staff is attentive and professionally friendly. Our waitress was very nice though not necessarily very beer savvy. The food was more than decent but probably short of being a huge attraction. I did find the beer to be notably better than average, which has been my experience with some other samples from this brewer of late. I think there has been an appreciable upgrade in the brewing results since John Harvard left town (I wasn't so impressed with those efforts). The atmosphere is fine, with an Irish theme that seems to draw on old time / historical references that offers something of interest, but personally I think the effort could and should be brought a lot further forward to make a better impression on their customers. Although the bar area is somewhat a dark and social setting, overall I find it a bit stark and lacking character. The Irish theme is there and it has potential, but it just seems sort of half ass and weak. But otherwise, I'd have to recommend it for anyone going through the Vernon, CT area. It's right off the highway (I-84) so it's convenient and it will provide good food and better beer.
1,543 characters

3.5
/5
rDev
-3.8%
vibe: 3.5 | quality: 3.5 | service: 3 | selection: 4 | food: 3.5
I've been here twice, both dates exactly one year apart. The place has turned around since my first visit in 2011, so my review is based on the most recent experience I had this year.
Atmosphere is docile, as if the pub and restaurant are prepared for a herd of lions but all they have are gazelle. Booths are the most common furnishing, able to accommodate between 2 - 4 people. There are some tall tables set up for groups of four. The bar appears to be able to accommodate between 15 - 20 people.
The waitstaff is friendly, but you can tell that the beers brewed on premise is a topic that's a bit overhead for them. Regardless, they're polite and happy to answer any questions to the best of their abilities. Our waitress checked on us frequently to ensure that we were satisfied with our brews and grub.
Don't come here if you are looking for familiar favorites from the local distributors. The only beers on tab are what the pub brews on premise, which can be seen easily from within the brewhouse as well as from large bay windows that are seen from outside, situated by the front door. The beer has definitely approved from a year ago. A rotating variety is offered based on availability and the season. Growlers are available.
The food is standard Irish pub fare with a few tastefully quirks added, such as a spinach salad with shredded corned beef. The helpings are generous, so unless you're a big fattie fattie fat pants, plan on bringing home leftovers.
1,470 characters

3.3
/5
rDev
-9.3%
vibe: 3 | quality: 3.5 | service: 3.5 | selection: 3
Located in the former John Harvard's right off of I-84 in Manchester. Again, this place is conveniently located and easy to find. Pub is off to the left with the dining room seating slightly to the right. The brewing equipment is in plain view behind an enclosure of glass located to the right of the dining room. Basically the atmosphere is identical and unchanged from its J.H. days.
We stopped in at Tullycross for a beer and dessert at 10:00 PM on a Wednesday night; possibly a pretty atypical experience so take what you will from this review. Anyway, approximately 6 beers on tap; 4 of the regulars and two seasonal offerings. I went with the Russian Imperial Stout which was above average, but not entirely memorable. What really complimented and enhanced the RIS was the chocolate cheesecake that I grabbed for dessert.
Overall, I felt a little depressed during my visit to Tullycross. Maybe it was the time of day or the fact that the place was practically empty, but everything seemed pretty run down and almost untouched from the failed John Harvard establishment. I'll reserve complete judgment until having gone back during a dinner service; however, I'm in no rush to do so.
1,191 characters

3.65
/5
rDev
+0.3%
vibe: 3.5 | quality: 3.5 | service: 4 | selection: 4 | food: 2.5
The family and I stopped in here this past weekend on the way home from a small trip. Slightly generic in appearance from the outside a pale white building with a brewpub sign on a hugely busy street near the mall and tons of shopping. The inside has a decent sized dining area and an area by the bar with seating and tables. Ubiquitous brew system sits off to the right of the entrance behind glass. The interior of the dining area with its high ceilings and lack of wall hangings reminded me of a pancake house, but I digress. The food was typical pub grub and all at our table called their meals ok but not great. The beer was generally solid with one standout and one disappointment in my sampling. This day they had seven of their brews on tap. I found our meal to be a bit on the pricey side with our family of four spending 90 dollars plus tip on dinner. Overall this was decent, but nothing special. I would go here again if I needed to be in Manchester CT, but I wouldn't make a special trip to come here.
1,014 characters
3.68
/5
rDev
+1.1%
vibe: 3 | quality: 4 | service: 4 | selection: 3.5 | food: 3
This used to be a John Harvard's Brew House, and the decor still shows that. Walls around the bar are a little bare and could use a dash of touching up. Just ignore the walls and pay attention to the flatscreens they have hanging around.
The beer is a funny thing because Tullycross knocks it out of the park when they get something right, but there are a few that just don't work. The Whickham Wit was lackluster and bland, as was the brown ale I had here not long ago. The imperial stout was bloody amazing, and they have a great pale ale with the TCT.
Food is about average, though I haven't had anything really complicated there. Crispy fries. Decent kettle chips and BLT sliders. Their menu is not super complicated but has enough that there's something for everyone.
Service can be a touch slow, but I don't know if that's because the waitresses are leaving me alone to enjoy my beer or if they're slow. Long story short: I'm inclined to think it's the former. Mostly because I brought some work with me on my recent visit and I think the server could sense it.
This is a place that is going through some growing pains since they decided to part ways with JHBH. But they're getting better and are a good local option.
1,227 characters

3.75
/5
rDev
+3%
vibe: 4 | quality: 4 | service: 3.5 | selection: 3.5 | food: 4
Used to go here a lot with my cousin from manchester when it was Harvards. Good feeling inside. Homey and pleasant. The pale ale was ok and the stout a little bland. Really enjoyed the west coast ipa however! Good nachos and pizzas. Nice place to watch a game since it's never too too busy. The bar tender didn't know much about the beers, and she seemed a bit confused overall. Still a solid spot, and hopefully gets better as the transition continues. I would also love to see more seating in the pub area
507 characters
Tullycross Tavern & Microbrewery in Manchester, CT
Brewery rating:
0
out of
5
with
0
ratings