Elevation 66 Brewing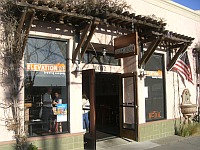 PLACE INFO
Type:
Brewery, Bar, Eatery, Beer-to-go
10082 San Pablo Ave
El Cerrito
,
California
, 94530-3927
United States
(510) 848-9176 |
map
elevation66.com
Notes:
No notes at this time.
Added by t0rin0 on 04-02-2011
Ratings: 12 | Reviews: 9
Reviews by colonelforbin:
3.7
/5
rDev
-6.6%
vibe: 4 | quality: 3.5 | service: 4 | selection: 3.5
Fairly new brewpub in the east bay. First time I stopped in, they only had three house brews on tap. Was there this evening and they had six brews on the menu, but were only serving four. Had the Old 66 this evening. Tasty, decent old ale.
Nice layout, all the tanks are behind the bar. Hope they keep cranking out a variety of brews. Food seems legitimate. Seem to have a few vegan options, which is the only thing that concerns me.
All in all, they are still only a few months old but seem to be doing well. If they keep churning out a variety of brews, that would be great.
An excellent addition to the area and well worth checking out, only a few blocks off I-80.
673 characters
More User Reviews:
3.98
/5
rDev
+0.5%
vibe: 4 | quality: 4.25 | service: 3.5 | selection: 4 | food: 4.25
2.58
/5
rDev
-34.8%
vibe: 3.5 | quality: 2.25 | service: 3 | selection: 2 | food: 3
It is so sad. A great little place near work to hang out and try some beers.
The problem is the beers here are just plain bad,
I went first to the IPA and it had no flavor and was just plain boring.
I switched to the pale ale and this is the first time I have ever done this, I sent it back.
It was undrinkable. Terible over sweet yuck...
I then tried the red ale which was just OK.
Too bad, I really wanted to like these guys.
427 characters
4.5
/5
rDev
+13.6%
vibe: 4.5 | quality: 4.5 | service: 4.5 | selection: 4.5
Cool little brewery with the production fermenters behind the bar. 12 beers on tap. Great strong ale. Recommend.
114 characters

3.75
/5
rDev
-5.3%
Their East Bay IPA is very good. They have a better than average guest selection. The food is better than average. The seating is weird, but OK. They only had one person on staff the day we went in - so he was serving the food and working the bar at the same time - and with that, I will say he was very pleasant and accommodating. There were 3 kitchen staff watching him work, and it would have been nice to see them at least help with the serving.
450 characters
3.86
/5
rDev
-2.5%
vibe: 4 | quality: 4 | service: 3.75 | selection: 3.75
Nice tiny little brewery in El Cerrito.
Just off Interstate 80, this small little place has a nice clean and simple look to it. Fairly busy on a Wednesday night, with a long bar to the left, brewing equipment behind it, and a row of tables along the left.
Quality was good. I had the East Bay IPA and a Brown that were both tasty and enjoyable. Not mind blowing, but very solid.
Service was good. The guy wasn't overly friendly, but he was quick and timely. Not sure why he said they didn't do growler fills. Maybe limited production?
Selection was small, but this place is small, so that's no surprise. 5 of their own on tap along with a few guest brews.
Prices were pretty reasonable and comparable to other places in the area.
Overall, a worthy stop in the East Bay.
775 characters

4.72
/5
rDev
+19.2%
vibe: 4.5 | quality: 4.75 | service: 5 | selection: 4.5
This is a cozy spot in El Cerrito that was no where on my radar until the day I visited. Chances are, judging by the low presence it has on the site, I'm not alone in this. And that's a shame because my experience at Elevation 66 was one of the most enjoyable times I've had at a bay area brewery or brewpub in recent memory.
Their selection is split between their own beers and guest taps from locals. Beers are $5 a pint. I tried three of their brews and found them all solidly enjoyable. The IPA in particular reminded me of a Two Hearted clone, almost, and I just loved the grapefruit dominance in their hoppy red ale. No growler fills or I would have taken at least one of those beauts home with me. Came in after dinner but the food options look 'classier' than your average pub fare—definitely in step with the bay area's foodie gourmet standards.
The place died down after the dinnertime rush thinned out but service remained spot-on. It's not often I'm in the area but after this visit I'll gladly return!
1,038 characters

4.05
/5
rDev
+2.3%
vibe: 4 | quality: 4 | service: 4 | selection: 4 | food: 4.5
I find a lot to like about Elevation 66. It's located right next to the El Cerrito theatre and yoga studio, so it feels like it really belongs to and in the community. It's also 2 blocks from the BART station, a very handy location for me both times I've visited.
Layout is without pretense - shotgun room, tanks and bar on left, tables on right, kitchen, more tables, and restrooms in rear. Not much decoration, high ceilings maybe?, not crowded. So what's special? Good beer and good food. I've only had the Bay IPA, but it was fresh, hoppy, and worthy. My lunch was outstanding, a cheese sandwich with some sort of cheese made into a delicious spread, on tasty, substantial (sourdough?) bread, with a delicious fresh salad, lots of different greens.
Service was good, selection is adequate for a small establishment. Recommended.
834 characters
3.43
/5
rDev
-13.4%
vibe: 2.5 | quality: 3.5 | service: 4 | selection: 3.5 | food: 2.5
I finally made it to this brewpub after it's opening a few months ago. It was highly recommended by some friends of mine and I am always excited to see new craft beer related establishments open nearby.
We arrived at 9 pm on a Monday night. I know that it pretty much the least climatic time to go to a brewpub but the Warriors were playing their second game of the belated basketball season and I am on Winter break from my job as a teacher. No time is better than now.
I was excited by the variety of offerings. They do everything from a Belgian Golden ale to a Vanilla flavored stout. I choose the American IPA known as the "East Bay IPA." IPA's are a style I drink a lot of, especially CA made ales. I figured I could chime in on this drink. The beer was good (check out my review). The price is fine. 5$ is definitely standard. I've seen cheaper but I won't complain.
The crowd was mainly local types. My wife grew up in El Cerrito, so she recognized most the folks in the bar. I am sort of a lone wolf so I am sort of more intrigued by the wide range of individuals that some other more well-known beerpubs draw. However, I'll settle for townie folks. A bustling locally oriented community like El Cerrito deserves a brewpub. Cheers to that.
What is up with the music though? Much of this music I enjoy, such as Morissey and Joy Division however I prefer something a little more traditional when going to a brew pub. It was like a long stream of songs to mourn to, culminating in Fleetwood Mac's emotionally rich "Landslide." I don't need to cry into my ale, I'm just trying to have a good time. Also, the music was too loud.
The interior is a little bland. Blase pastel colored walls lined with inferior locally produces art. Why is this such a trend around here. I'll take it and leave it. I am here for the beer.
The food is bar fare. My wife ordered the fish and chips and I shared it with her. It's too salty and I feel like it was warmed up because the kitchen was closing. At $13.00 a plate, I'll pass on the food next time. If I want bar food I'll go to Pyramid.
The service was fine. Our server was polite and likeable. The beer was decent. It's nothing to rave about but I will commend the owners for bringing local craft beer to El Cerrito.
Cheers.
2,277 characters

3.83
/5
rDev
-3.3%
vibe: 3.5 | quality: 4 | service: 4 | selection: 3.5 | food: 4
Despite being on the edge of a pretty grungy strip of stores, this place is clean and friendly, with a hip, casual vibe, friendly and casual staff, and pretty good beer and food. The dining room is spare and bright and large, which means it is a little noisy for its size, and I didn't find it particularly intimate for a chat with my dining companion, but it was not intolerable. The menu is fairly limited, but leans toward the California fresh standard of the region, with a whiff of the ethnic cuisines that mark this area - korean, middle eastern, and Mexican - without departing from a general gastropub vibe.
The beer was limited - they only have a handful of their own offerings, supplemented with some decent regional guest taps. Of their own brews, the East Bay IPA is the tastiest.
This is a pretty good place, though not up to the standards of some of the high-end gastropubs of the East Coast.
908 characters
4.45
/5
rDev
+12.4%
vibe: 3.5 | quality: 4.5 | service: 5 | selection: 4 | food: 5
Three weeks after its opening, I was finally able to go check out this new "gastropub" in the East Bay. It's named for the elevation of its location above sea level, and indications are that it will be safe from sea level rise for the next few hundred years or so. That's good news for locals who have embraced this new place with open arms. Apparently, they can't brew beer fast enough to keep up with demand. Good thing they've got a half dozen guest taps, with beers from Linden Street Brewery in Oakland, Rubicon in Sacramento, and Black Diamond in Concord.
The food is upscale, and in keeping with food trends, they source local, organic, and seasonal ingredients. The grilled cheese sandwich on sourdough featured local cheeses; the wagyu beef burger was fantastic, big and served medium rare with crispy fries and curry mayo. All the food is nicely plated on modern square white plates. It was smiles all around and everyone seemed to be enjoying their food. Prices are a bit higher than at a typical pub, but the value is very good for the quality.
And the beer... only three of their own beers were on tap on the night I went, because of how fast it's flying out of the taps. The Golden Age Golden Ale was smooth and drinkable, and the Big Ben British IPA was pleasingly bitter. Both tasted very fresh, and were served in a proper British pint glass. All the beers we tried were a bit cloudy, and we were told that everything they serve is unfiltered. There was also a vanilla stout on offer which I might have tried if I had room for dessert. I think comparisons to Magnolia Brewpub in SF are inevitable--I'll have to wait and taste a few more to see if they're in the same league.
The atmosphere is modern and spare, with blue walls and plenty of stainless steel. The brewing setup is all on plain view right behind the bar.
Elevation 66 is apparently the brainchild of three Pyramid Alumni, Brian Kelly, Kayvan Sabeghi and Dave Goodstal. I hear that one or more of them are also grads from the UC Davis "fermentation program" also.
Thrilled to have this place so close to home, and will definitely be going back again and again. My hope is that since they're smaller than the other Bay Area craft brewers that they'll be willing to take more risks and brew up some interesting beers. The challenge will be getting a pint or two before they sell out!
2,366 characters
Elevation 66 Brewing in El Cerrito, CA
3.9
out of
5
based on
37
ratings.