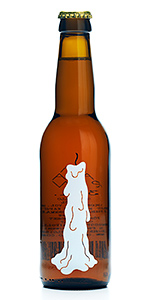 BEER INFO
Brewed by:
Omnipollo
Sweden
omnipollo.com
Style:
American Pale Ale (APA)
Alcohol by volume (ABV):
5.60%
Availability:
Rotating
Notes / Commercial Description:
Columbus, Amarillo, Chinook, Citra and Simcoe. 48 IBU. No hops were added during the start of the boil.
Added by bark on 03-08-2012
Reviews: 32 | Ratings: 149

3.95
/5
rDev
-0.3%
look: 4 | smell: 4 | taste: 4 | feel: 3.5 | overall: 4
330 ml bottle. Poured into my HF snifter. Thanks to the lady for buying this for me.
Beer pours a typical IPA/APA w inch of white head
Nose is of grapefruit and nectarine and clementine.
Taste follows the nose with a decent hop bite but not too overwhelming.
Decent and happy to tick it but I would not seek it out again.
325 characters
4
/5
rDev
+1%
look: 4 | smell: 4 | taste: 4 | feel: 4 | overall: 4
330 ml bottle. Served in a nonic pint glass, the beer pours a slightly hazy orange/amber color with an inch and a half off-white head. Aroma is nice, the brew smells like citrusy hops (tropical fruit, tangerines, grapefruit), and some bready malt. The taste is pretty much just like the aroma, it's mostly citrusy hops (tropical fruit, grapefruit) and bready/grainy malt. Mouthfeel/body is medium, it's a bit coating and slick with a good amount of carbonation. I think this is a good overall brew. Not sure if it's worth $5.59 a bottle or not, but it is worth trying.
568 characters

3.33
/5
rDev
-15.9%
look: 3.5 | smell: 3 | taste: 3.5 | feel: 3 | overall: 3.5
This beer poured out as a slightly hazy yellow color. The head on top was white and had a good amoun of retention to it. The smell of the beer had a pretty good balance of hoppy aromas and yeasty grains in the mix. The taste of the beer had a subtle sweetness up front that quickly faded into a sharp bitterness. The mouthfeel is crisp and clean feeling. It's drinkable but a little too sharp to be sessionible I think. Overall it's a pretty good brew. I wouldn't have to buy it again though.
492 characters

4.19
/5
rDev
+5.8%
look: 4 | smell: 5 | taste: 4 | feel: 3.5 | overall: 4
Poured into a Black Raven pint glass. Pours a cloudy medium orange amber with a massive white head with good retention and tons of lacing. Great aroma of citrus hops, sweet malt and pineapple immediately after opening and during pour. Flavor is suprisingly dry, grapefruit, citrus hops, faint malt. Not as aromatic as the aroma, but nice. The dry, hoppy taste is unusual and interesting in an american pale ale. At first I was hoping for more intense flavor, but grew to really enjoy the subtle flavors underlying the aggressive hops in this brew. Medium bodied with active carbonation. Well done and satisfying.
612 characters

3.97
/5
rDev
+0.3%
look: 3.5 | smell: 4 | taste: 4 | feel: 4 | overall: 4
De proef gypsy brew on draught at City Beer, Mazarin is a clear, slightly dull gold, with a small white collar leaving light lace.
Smell is really muted, a little tangerine. Yeasty.
Taste is really hoppy, earthy, a little citrus, modest sweetness, and a little biscuit malt.
Mouthfeel is dry, medium-light bodied.
Drinkability is pretty high, this is very well done. A great showcase of yeast and hops in a managable device.
432 characters

4
/5
rDev
+1%
look: 4 | smell: 4 | taste: 4 | feel: 4 | overall: 4
A: Poured from a bottle to a pint glass. Had an orange color and a hazy consistency. There was an inch and a half of foamy, fairly long-lasting head. Good lacing.
S: A very nice aroma of citrus (a lot of it), hops, and malt as well.
T: Tasted of hops (a decent amount), some malt, citrus (grapefruit), and a slight graininess. While it doesn't quite live up to the expectations of the smell, this is a pretty good flavor.
M: A good amount of carbonation with a dry, smooth finish. Medium-bodied.
O: On the whole, a solidly made, drinkable beer. Not groundbreaking, but still very likeable.
593 characters
4.54
/5
rDev
+14.6%
look: 3.5 | smell: 4.5 | taste: 4.5 | feel: 4.5 | overall: 5
The colour is pale amber with some red (20 EBC), the liquid is clear. The finger thick warm beige head is compact. Good head retention. Some lacing. There is yeas sediment in the bottle.
The smell is dry fruity and very hoppy with a mild bitter note. Grapefruit peels, kiwi fruits, green bananas and cream candy flavours. Some light clean sweetness and lemon candy. It is very fresh.
The taste is at first bitter, but it fades leaving room for green fruits and berries, citric fruits/juice/peels. Some lightly roasted hints of malt. Light to medium body. There is some smooth bitter flavours in the aftertaste as well as notes of lemonade and (dry) orange juice. The finish is mellow, balanced and citric with a hint of alcohol.
The carbonation is strong, almost soda-like, with lots of medium sized short-lived bubbles. The liquid is dry and medium smooth.
The most drinkable and refreshing beer for the summer of 2012? I vote for this one.
949 characters
Mazarin from Omnipollo
3.96
out of
5
based on
149
ratings.