Penn Quarter Porter
| DC Brau Brewing Co.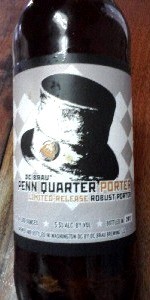 BEER INFO
Brewed by:
DC Brau Brewing Co.
District of Columbia
,
United States
dcbrau.com
Style:
American Porter
Alcohol by volume (ABV):
5.50%
Availability:
Rotating
Notes / Commercial Description:
Penn Quarter Porter is our first in a line of draft-only limited-release beer, and it's a robust porter! In the way that The Public is on the line between a pale ale and an IPA, this is on the line between a porter and a stout - with chocolate notes and a dry, roasted finish.
Added by starrdogg on 05-12-2011
Reviews: 108 | Ratings: 542
3.74
/5
rDev
-4.6%
look: 3.75 | smell: 2.75 | taste: 4.25 | feel: 4 | overall: 3.75
Poured from 12 ounce can into pint glass. Jet black, solid, opaque. Very little odor. Hard to detect any scent at all. Faint malt odor... As I drink it, I detect a slight toast odor... Smooth, heavy porter like molasses. Sweet, creamy, heavy porter taste with some hops balancing. Overall very tasty and creamy with a bit of bitter bite. More flavorful than its English cousins.
★
388 characters
4.12
/5
rDev
+5.1%
look: 4 | smell: 3.75 | taste: 4.25 | feel: 4.25 | overall: 4.25
Appearance: Dark brown, light brown head, about one finger.
Smell: Dark cherry, woody
Taste: woody, cherry, bitter chocolate
Mouthfeel: heavy bodied, but not syrupy
Overall: Great winter beer. This is a porter I'll return to, preferably with a peppercorn steak.
★
262 characters
4.83
/5
rDev
+23.2%
look: 5 | smell: 4.5 | taste: 5 | feel: 4.5 | overall: 5
i think DC Brau was the first real experience that made me knew i was hooked on the good craft beers
this beer is no exception, i love it
nearly jet black beer with a little bit of head on it, poured out of my growler at home :-)
roasted malt aroma and some chocolate too, even there is some spice and nutmeg in there, kind of weird but i like it! :-)
oh wow what a nice taste, especially in the end there its real smooth nice dark character without the annoying ashtray flavor so clean
overall this is one of the best if not the best local beers right now in DC I salivate when I think of it
★
597 characters
4.52
/5
rDev
+15.3%
look: 4.75 | smell: 4.5 | taste: 4.5 | feel: 4.5 | overall: 4.5
Porter? Stout?
Appearance: Poured Dark Brown/Black with a creamy 3 finger beige head that lingered for a few minutes.
Smell: Heavy odor of long roasted coffee with some maltiness. Nothing offensive at all.
(I am a RIS lover and the taste is great for me.) Taste is just like the smell nuff said, so I loved the smell. Medium body and carbonation, I did not find this thin but rather hearty for what it was. Bitterness was appropriate and pleasant. Dry finish
Solid! I wish this was not limited. Thanks DC Brau!
★
515 characters

4.42
/5
rDev
+12.8%
look: 4 | smell: 4.5 | taste: 4.5 | feel: 4 | overall: 4.5
Smell: Smokey; roasted; coffee
Appearance: Dark brown with a brown head; nice lacing.
Taste: Bitter on the front and back with bits of chocolate and coffee.
Mouthfeel: this beer has a nice feeling on the pallet.
Overall: This is a good beer, I would drink it again but it is not the best porter I have tasted.
★
316 characters

4.63
/5
rDev
+18.1%
look: 4 | smell: 4.75 | taste: 4.75 | feel: 4.5 | overall: 4.5
From the can and into the rather large snifter.
Lighter weight pour than expected, effervescent, faint carbonation present - thick, mocha head over an inch plus - Almost sugary, hickory, slight almandine aroma.
My first taste was cocoa, small amount of sea salt, creamy mouth feel and taste, not too heavy or syrupy. The middle of the palette is typical caramel hops and that gives way to the expected coffee bitterness, still cafe au lait, the slight bubbling carries the butteriness through to cut hard acidic earthy bitter taste short.Lacing is a little chunky, but I drank it so quickly, not entirely certain it had tie to set up.
*The light carbonation was different but I really enjoyed the effect it had on the brew overall.
Lacing is a little chunky, but I drank it so quickly, not entirely certain it had tie to set up.
My best friend had been crowing about this local brew for weeks and I have to admit I'm excited about it as well. Beautifully made beer that I plan on sharing with other beer geeks.
★
1,013 characters
4.5
/5
rDev
+14.8%
look: 4.5 | smell: 4.5 | taste: 4.5 | feel: 4.5 | overall: 4.5
Now here's a great porter. Tan head is all pillow-y and inviting. Smells and tastes like robust yet smooth roasted malts with dark chocolate first, then maybe some coffee.
At 5.5% it goes down a little softer and lighter in the mouth while still having a full roasted character and just the right weight on the tongue.
This goes on my list of good dark beers to have with hamburgers or steak. Or chili. Or a big waffle with lots of butter and maple syrup and a side of bacon and eggs. That's the brunch for me.
★
512 characters
4.88
/5
rDev
+24.5%
look: 5 | smell: 4.5 | taste: 5 | feel: 5 | overall: 5
Finest porter I've ever had. "Chocolate" always sounded fake in descriptions of beer before I tried this one today. There is a sizzle at the end, the kind of zest that reminds me of peppered chocolate. Not bitter, not sweet, not so dark you can't taste the light inside. Absolutely superb. My new all time favorite porter. You should move to DC just to be close to a fresh keg of this stuff.
★
391 characters
Penn Quarter Porter from DC Brau Brewing Co.
3.92
out of
5
based on
542
ratings.