The Citizen
| DC Brau Brewing Co.
BA SCORE
81
good
89
Reviews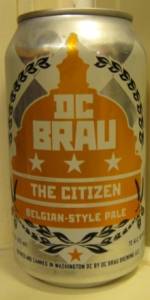 BEER INFO
Brewed by:
DC Brau Brewing Co.
District of Columbia
,
United States
dcbrau.com
Style:
Belgian Pale Ale
Alcohol by volume (ABV):
7.00%
Availability:
Year-round
Notes / Commercial Description:
The Citizen Belgian Ale is inspired by the timeless Tripel style ales of Belgium. Using a traditional high gravity "Abbey" yeast strain that encourages the production of highly palatable ethanol notes supported by Aromatic and "The Citizen" also exhibits the noble hop spiciness that is common to most Belgian Ales. Reigning in at 7.0% ABV this is the Brau's strongest offering in our flagship portfolio. Become a Citizen of the world, one sip at a time!
Added by t0rin0 on 07-13-2011
Reviews: 89 | Ratings: 491

3.23
/5
rDev
-8.8%
look: 3.5 | smell: 3 | taste: 3.5 | feel: 3 | overall: 3
The beer has a translucent golden color with a small head of white foam. Lots of carbonation is visible within. Slowly receding walls of foam coat the walls of the glass after I swirl it.
There is some Belgian yeast and candi sugar in the nose, but not any of the peppery spice that one usually finds with this variety of yeast.
The flavor is more complex than the nose. It's a little spicy and a little sweet. A dry mustiness lingers briefly.
The beer is pretty carbonated; all of the bubbles tingle the roof of my mouth. A good amount of coating is left behind. It retains some of the Belgian pepper flavors.
This is an enjoyable beer. It's not going to blow anybody away, but if it were local to me, I could see myself drinking it occasionally.
753 characters

3.58
/5
rDev
+1.1%
look: 4 | smell: 3.5 | taste: 3.5 | feel: 4 | overall: 3.5
Had on tap tonight at Pizzeria Paradiso in Dupont DC. Served in a 12 oz. tulip.
a - Pours a hazy bright orange color with one inch of off white head and light to moderate carbonation evident.
s - Smells of wheat, citrus hops, light spices, and some yeast. Nice but not too strong.
t - Tastes of citrus hops, wheat, bready malts,
grains, and fruity malts.
m - Medium body and moderate carbonation. Easy to drink.
o - Overall a pretty nice beer. Not one of their best, but some nice wheat and citrus mixing, and easy to drink. Would seek out a few of their other beers before this one.
589 characters
4.23
/5
rDev
+19.5%
look: 4.5 | smell: 4 | taste: 4.5 | feel: 4 | overall: 4
i almost wonder if this beer was made for me because "the citizen" would be a great way to describe me considering i am a true citizen of the world traveling and living all over the place slopping up beer every where i go
pours out a nice hazy apricot but the head is a real unexpected cream soda color. not what i was expecting but looks tasty!
and tasty it was, it did also have a cream soda taste. now i don't know if that's because i thought it looked like cream soda, but it had a nice vanilla and spice flavor too
overall i like this beer a lot and i am glad to see DC brau getting more and more distribution here in the capitol area, they deserve it imho
664 characters
3.88
/5
rDev
+9.6%
look: 4 | smell: 3.5 | taste: 4 | feel: 4 | overall: 4
A rather approachable and easy take on a Belgian Golden Ale.
Presentation: Growler from DC Brau's NE headquarters. Small dry board with general growler offering notes. Served in a tulip glass.
A - Hazy pale amber pour, nice frothy head with fair retention, nice surface memory and some touches of lacing.
S - Soft yeasty nose, caramel, and a touch of fruity spice...
T - Nice yeasty flow, floral and caramel sweetness follows… faint spicy hint, remote punctuation of bubble gum… Maybe it is me, but as I go through a second serving I can see a parallel in the structure of this and their el Heffe, in particular around the malty sweet sense… Pleasing in any case.
M - Medium body soft carbonation with a nice smooth feel.
O - Maybe not as crisp or astringent for some as this should be but it is rather pleasing and quaffable.
Notes: Nothing that remarkable, true. But it has a pretty nice flow and feels like quality. While not something I would eagerly repeat on my own often I´d love to show up socially with a growler of this now and then. I´d say it might be rather engaging for the early curious about craft brews, other styles, without offering a pushy beer.
1,181 characters
3.08
/5
rDev
-13%
look: 4 | smell: 3.5 | taste: 3 | feel: 3 | overall: 2.5
Sampled on tap at the brewery.
Hazy golden yellow with a nice white head. Sweet, yeasty aroma with a mild grain and hop finish. Flavor is also exceptionally sweet and yeasty with a mild bitter finish. Not much in the way of hops and a relatively thin body. I'll pass on this.
276 characters

3.62
/5
rDev
+2.3%
look: 3.5 | smell: 4 | taste: 3.5 | feel: 3.5 | overall: 3.5
From tap to snifter at ChurchKey in DC on 10/4/11
*From notes
A: Cloudy off-white yellow. Minimal head and no lacing.
S: It smells like you typical Belgian pale: yeasty, with hints of banana peel and a very faint trace of hops.
T: Quite standard for the style. It's dry up front, and as it moves back, the yeast attacks the tastebuds.
M: A bit undercarbed for my liking. Slightly oily, yet the weight helps to pick up the slack.
O: DC Brau's The Citizen Belgian Pale is pretty much on par for the style, one of which that I'm not a typical fan. Having said that, if I was gonna have a Belgian Pale, I'd most likely reach for this, as it's local and quite nice.
On to the next one, Jeff & Brandon.
702 characters
3.42
/5
rDev
-3.4%
look: 2.5 | smell: 3 | taste: 3.5 | feel: 4.5 | overall: 3.5
Poured from DC Brau growler (acquired same day) into a standard pint glass.
A - Pours a slightly murky golden color. Minimal head retention and no lacing.
S - Yeast is the predominant smell. Smells slightly sweet and bready as well. Not very strong, but pleasant enough.
T - Yeast is the predominant flavor; it has that stereotypical "Belgian" taste to it. There's mild hops and spice flavors (cloves perhaps?) present as well.
F - Full bodied with a nice level of carbonation. Pleasant aftertaste as well.
Overall, The Citizen is an enjoyable beer despite its mediocre appearance. It's quite drinkable for its ABV (it tastes more like a 5% beer) and works well for the hybrid it is. I would have it again.
712 characters

3.42
/5
rDev
-3.4%
look: 3 | smell: 3.5 | taste: 3.5 | feel: 3 | overall: 3.5
The appearance is a cloudy orange to amber color, with moderate head. Yeast and clove aromas, which carry over to the palate with a mild hop profile. There was limited carbonation combined with a light mouthfeel that created a watery sensation. Pleasant enough to drink but not something I would seek out.
305 characters

3.53
/5
rDev
-0.3%
look: 4 | smell: 3.5 | taste: 3.5 | feel: 3.5 | overall: 3.5
On tap at Churchkey in D.C.
The beer is a hazy, light orange hue with a half inch of white head that leaves plenty of lacing on the snifter. The aroma consists primarily of hops and yeast, with additional notes of grain, citrus, and bread. The flavor is OK. Nothing really stands out and takes charge. The hop character is underwhelming, and the beer is generally unexciting. Yeast and citrus flavors are there, but don't implore me to drink more. I'm hopeful this beer undergoes some improvements in subsequent batches.
521 characters
3.12
/5
rDev
-11.9%
look: 3 | smell: 3.5 | taste: 3 | feel: 3 | overall: 3
Got this as a growler fill on a visit to the brewery. For the tasting I poured it into a tulip shaped glass.
It's not real impressive in appearance. The color is a dull yellowy gold and its quite murky looking. There was about 1 finger of head when I poured it into the glass but it did not last long. There's no lacing as the beer disappears from the glass.
Its got some lemony citrus, banana, peppery spiciness, and yeast in the nose. The taste is made up of grains, spiciness, and booze with some faint fruit.
Overall its pretty mediocre. I'm kind of surprised because I had this on tap at the Argonaut in DC a few weeks back and quite liked it but this batch doesn't seem to be as good.
696 characters

3.65
/5
rDev
+3.1%
look: 4 | smell: 4 | taste: 3.5 | feel: 3.5 | overall: 3.5
Beer on tap at Meridian. Served in a shaker pint glass. Beer is yellow to amber and hazy with a soft white head, moderate carbonation, some lacing, looks good.
Aroma is a little grainy, a little sweet, mild yeast character.
Beer is thin with a mild sweetness up front with a little yeast in the middle. The finish is a little acidic from the grain and light on the palate with a mild aftertaste. Not my favorite from them but a solid little ale.
447 characters
3.66
/5
rDev
+3.4%
look: 4 | smell: 3 | taste: 4 | feel: 4 | overall: 3.5
Poured on tap at Meridian Pint into a shaker pint glass.
A soupy foamy head of off white color, but very uniform in appearance and size. Cloudy, sort of dull lemon gold in color, giving away to nice light clumps of ringing lace while drinking.
Bouquet is small, if not almost non existent. Small sense of yeast and fruit like esters. Just overall very tiny and muted, not too much going on here.
Taste is interesting. Very hop forward and some lemon sharp fruit. Some good feel to for body it feels fairly full for a Belgian Pale, giving way to a sense of Hefe wheat like style density and chewyness. There is no sweetness on this at all, which is not a bad thing but I am use to finding a bit of that on this style. Faint quinine like tonic water finish also.
Overall not bad, kind of distinct but also sort of unusual. Not a bad job I say.
845 characters

3.68
/5
rDev
+4%
look: 4 | smell: 3.5 | taste: 3.5 | feel: 4 | overall: 4
On tap at Elephant & Castle in DC over Fourth of July weekend. Served in a pint glass. Reviewed from notes.
Pours a fairly-cloudy yellow-gold with a good white head and a good bit of spotty lacing on the way down. The nose brings some light bready malt and a bit of grain. Faint spice and a bit of light fruit. The flavor has a moderate amount of yeast, more so than hops. Hops are more there with the bitterness. Faint Belgian spice and some light fruity esters. Medium body and somewhat chewy. Refreshing on a very, very hot day. Good beer, though not as good as the APA or IPA.
581 characters
3.54
/5
rDev 0%
look: 2 | smell: 3 | taste: 4 | feel: 4 | overall: 3.5
Sampled 7/11/2011 on tap at Brasserie Beck. According to the DC Brau website this is also available in cans.
Pours an ugly murky brown/orange with some white head that dissipates quickly and leaves no lacing.
Aroma is bread, a little pepper, and some booze. Not as bad as it sounds, basically a pale with a light Belgian influence.
Flavor is slightly sweet, bready, more Belgian than the nose, medium bitterness, and a little boozy. Belgian Pale or Belgian Strong Pale; this could go either way.
Body is light which enhances drinkability.
Ƭίcƙ.
563 characters
The Citizen from DC Brau Brewing Co.
3.54
out of
5
based on
491
ratings.