Taproom No. 307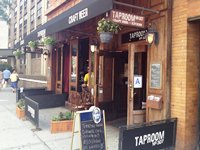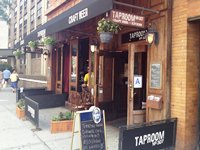 PLACE INFO
Type:
Bar, Eatery
307 3rd Ave
New York
,
New York
, 10010-3731
United States
(212) 725-4766 |
map
taproom307.com
Notes:
No notes at this time.
Added by david18 on 04-15-2011
PLACE STATS
Reviews:

7

Ratings:

pDev:

7.75%
HISTOGRAM
Ratings: 14 | Reviews: 7
Reviews by slander:
3.2
/5
rDev
-17.3%
vibe: 3.5 | quality: 3 | service: 2.5 | selection: 4
Murray Hill meter madness. What thinks you; park closer in ½ hour increments or twice as far away for a 2 hour clip? Tough one, I mean further is more but so is the walk, and how long will I reasonably be here? In the end, I moved the car and fed the meter; would've been better off not playing this way but I was Butkus'd. Around the corner, storefront in the strip and in...
Tea candle lined "L" shaped wood bar with panel fronted base and a foot rail seating 15 on backed chairs off to the right. 2 handpumps along the bar (not quite sure why they're not together), and a row of 40 taps over a slight light panel backing on the barback. Glassware of all sizes and shapes over the taps and a quad of 3' x 3' boards running horizontally above listing tap selections (Most of the beers listed do not show the name of the brewery from wherest they come; I consider this to be a goddamn annoyance). Tiered boozings to each side with a shelf of specialty scotch atop. Flatscreens mounted above, and others in the corners. More glassware & specialty booze sectioned on a piece on the end. Bottled offerings coolered below the bar. Wonder what an Orval goes for here? (Orval runs $13.50, it really ought not to, in a 'somebody should be punched for that' way).
Wood slat floors, walls of a light burgundy color scheme blend with brick & wood, and newish pressed tin ceilings with crown molding. Some center spinny fans, blended ductwork, and drop filament bulbings caged over the bar and in a row behind us, with baby spots intermingled alternating. Far wall holds growlers shelved on brick, and a mounted mirror on the center of the wall. Holiday sprucing & lights abound, and wall mounted lamps. 3 long bar counter tables sitting adjacent to the bar, and a dozen+ booths & tables running along the far wall and up front, in the foldy vertical windows that probably open out over 3rd Avenue. Which reminds me, it's that time again; 'scuse me while I feed the meter (things look funny, and I don't know why). And a few more hightops on common benchings below a rear horizontal mirror.
40 taps, a mix of all things. 2/3 of them American craft localish (Kelso Nut Brown, Empire Cream Ale, Chelsea Wheat Wine, Blue Point Toxic Sludge, Defiant Muddy Creek Lager, River Horse Belgian Freeze), regional (Ommegang Aphrodite, Bronx Pale Ale, Wandering Star Mild at Heart, Berkshire Saison & Zingari Wit, Stillwater Cellar Door, Smuttynose Robust Porter, and the Taproom 307 Lager, read: Lionhead), someone else's regionals (Left Hand Milk Stout, Cigar City Jai Alai IPA, Shmaltz He'Brew Barrel Aged Messiah & Origin, Anchor OSA, Lagunitas Pils, Stevens Point Special Lager, Jolly Pumpkin Noel de Calabaza, Firestone Walker Union Jack IPA, North Coast Red Seal, Dick's Dick Danger Ale, Rogue John John Hazelnut Brown Nectar, Stone Vertical Epic 2011), and the other 1/3 import play (Duvel Single, Liefmans Cuvee Brut, Weihenstephaner Vitus, Hofbrau Original, Ridgeway Lump of Coal, Old Speckled Hen, O'Hara's Irish Stout, Hitachino Nest Red Rice Ale, Evil Twin The Talented Mr. Orangutan Orange Stout, Yin Imperial Stout & Yang Imperial IPA), with a few non beerys thrown in there for good measure (Brooklyn Kombucha, Crispen Glover Cider). And a pair of casks (Southern Tier Harvest Ale & Greenport Harbor Black Duck Porter).
Tasted a few things 'cause I wanted to know what they were about before committing to a pint of pain, and I'm glad I did, as a few were sour (Southern Tier Harvest Ale & Rogue John John Hazelnut should not taste like this). Settled on the Stillwater Cellar Door and the cask Greenport Harbor Black Duck Porter.
So, some of the beers were off, and I've got to tell you, service was very much so not on. We were virtually invisible in direct contrast with our awesomeness. Other patrons around us also commented on the service, or the lack thereof, and no, the place was not jammin' or even remotely so this Sunday afternoon.
Revisited the day after St Patrick's Day, and it wasn't much better. If you kicked a lot of things during yesterday's "celebration", then get your act together before opening. At least 3 things listed and ordered were not on, and the beer listed as the Som's favorite was a murky mess and questionably the correct beer in the first place. I settled on the Wandering Star Zingari Wit, having missed it at Randy's event at the BT back in December. It's a nice Wit, not coriander and orangey overdone like most. Server was helpful and polite but Two Brothers is not a local. Hard to say just what exactly but I'm just not feeling it.
4,634 characters
More User Reviews:

4
/5
rDev
+3.4%
vibe: 4 | quality: 4 | service: 4 | selection: 4 | food: 4
3.93
/5
rDev
+1.6%
vibe: 3.5 | quality: 3.75 | service: 4.25 | selection: 4

4.31
/5
rDev
+11.4%
vibe: 4.25 | quality: 4.25 | service: 4 | selection: 4.75 | food: 4.25
4.11
/5
rDev
+6.2%
vibe: 3 | quality: 4.25 | service: 3.25 | selection: 5 | food: 4.75


3.7
/5
rDev
-4.4%
vibe: 3.5 | quality: 3.75 | service: 3.5 | selection: 4 | food: 3.5
I visited on a late Saturday afternoon and it was packed but mostly with young college football fans that did not seem to be here for the good beer selection. I sat at a high top table right by the hostess stand and I got constantly bumped into from people looking for tables and the serving staff. It was really loud as well.
Beers were served at the proper temperature in a variety of glassware with a reasonable amount of head.
Service was friendly, speedy, and attentive but I'm not sure that they had any clue about the beers they were serving - in fact, she had no idea what we were ordering and we need to show her it on the menu so she could go back and get it poured.
The place had an interesting selection for the 40 beers they had on tap considering the clientele when I visited. There was a fairly wide range of styles and some breweries I had not found before.
The menu had some interesting items on it but they did not really deliver on being any better than bar food at any other place.
Prices were a little higher than other places in the area.
1,066 characters
3.75
/5
rDev
-3.1%
vibe: 3.75 | quality: 3.75 | service: 3.75 | selection: 3.75 | food: 3.75
Vibe: I went to this place on a late Saturday afternoon and it was packed. I was only able to get a spot at a high table, which runs lengthwise and is sandwiched between the bar and the seats alongside the opposite wall. It didn't seem like most of the customers were here for craft beer.
Quality: Beers were served at the proper temperature in a variety of glassware.
Service: Although the bar was crowded, they had a lot of wait staff working so service was never slow.
Selection: The place has 40 beers available on-tap, there are some interesting selections. I tried a rum barrel-aged beer from SingleCut while I was there.
Food: I tried the beer battered cheese curds and tiger shrimp hush puppies as appetizers, followed by the 307 burger. The food was good, but wasn't exceptional and seemed a little pricey.
819 characters
3.94
/5
rDev
+1.8%
vibe: 3.5 | quality: 4 | service: 4 | selection: 4
This is a pretty nice beer bar in Murray Hill. I just moved to the area, but my impression is this neighborhood may be a bit light on beer bars and heavy on "I wish I were still in college" bars, so I imagine I will be coming back. They had a nice variety on tap (I went with the Big A IPA), and the beer tasted like it came from clean lines. Bottle selection was not quite encyclopedic, but again, there was a nice variety of styles, so you shouldn't have any problem finding something you'd like to drink. Prices were a little high but not too bad. Glassware needs improvement, but I came for the beer.
Despite the massive cluster in the front of the bar, we were able to slide through to the back and actually get seats at the bar, so don't get discouraged at the door. At the bar, the service was friendly, and we did not have to wait long when we needed to place an order.
This is a great place to start a night, with a solid beer selection, and an energetic atomosphere (may be too loud for some, but it's not over the top). All in all, I'm glad this place is in my neighborhood.
1,090 characters
3.63
/5
rDev
-6.2%
vibe: 3.5 | quality: 3.5 | service: 3.5 | selection: 4 | food: 3.5
New Place on Third Avenue just above 23rd street. My friend lives in the area so I have been there a couple of times.
Up front there are a couple of tables with good views onto the street for good people watching on a busy block. to the left is the bar, the right some booths and a couple of communal high tops in the middle. It seems like you get an after work suit crowd which morphs into Murray Hill douches as the night wears on.
Beer wise they have a good but not great selection so far. A lot of the popular local and national craft brews are well represented across the style spectrum. There are some good imports as well. It is still early and I would imagine they are just getting their footing but there wasn't anything too rare just yet. They do get points for two cask ales, one of which was Harevstoun Bitter and Twisted the other day which is a great session ale. I haven't checked their bottle selection so I cannot comment on that.
They are new but so far so good in terms of the beers. The beers all tasted fresh.
The only food I tried is their Charcuterie plate which came with bresaola, prosciutto and soppresatta along with some olives and pickled asparagus. Serviceable but a bit pricey. The other items on the menu seem a bit too much to for pub food. I think they are going for some type of gastropub style but really should a burger cost $16?
Beers range from $7 up with a couple of $5 happy hour specials.
All in all not a bad place to get a beer and one needed in a neighbourhood that was lacking a beer bar. Still the proximity to Murray Hill can lead to being annoyed. This place has potential
1,633 characters

4.04
/5
rDev
+4.4%
vibe: 3.5 | quality: 4 | service: 4 | selection: 4.25 | food: 4.25
Taproom 307 opened not that long ago and I've been there twice for lunch as it's close to my office, and enjoyed it both times. The waiters are still learning their craft and the trying to get beer expertise, but this place is in a great location near Baruch College and Madison Square Park so it has a good chance of success.
There are 40 taps beers and 2 cask ales all listed with decent detail above the bar, and a pretty good selection of basic macro and standard craft beers in bottle and can. Seems like they have a good plan in place to build a loyal crowd.
The tap beer selection was good, and I had the Founders Red's Rye on my last visit with a burger and side of deviled eggs, both of which were quite tasty. My friend ordered a personal pizza, which looked excellent since this place has a wood burning oven since it used to be an Italian restaurant. The food has been good on both occasions, and I am encouraged that this place will do well since they have good food and good beer and that is a recipe for success.
This place is on the expensive side, but I hope it does well as it will be a great after work spot to gather and enjoy some solid tap beers.
2012: This place settled in and became a great beer bar. It can get crowded, but the quality brews available makes navigating the crowd worth the effort. The pizza's are excellent, but Beer Sommelier Hayley Jensen is the difference at this place. She hosts a kick ass party and knows her beer.
1,466 characters

4.33
/5
rDev
+11.9%
vibe: 4.5 | quality: 4.5 | service: 4.5 | selection: 4 | food: 4
I had heard about this place before it opened because a friend of a friend worked there. It was touted as a new beer bar on the east side of Manhattan, 307 Third Avenue to be exact. This is another great beer bar, in a neighborhood with a lot of great beer bars, not too far from Rattle & Hum.
I went there the first week it opened, met my friends friend, who took care of me very well, and we had a great time. A bit of an afterwork business crowd mixed with some hard core beer people. The place has multiple cask ales as well as multiple nitro drafts and not just the usual nitro suspects.
Selection is quite wide, including Duvel Green, Firestone Walker, numerous Sixpoints, Mikkeller, Left Hand, Stone, Boulder, Speakeasy, Captain Lawrence, Founders and Bear Republic.
The menu is along the lines of a typical gastropub with many selections of high end comfort food including deviled eggs, five-cheese mac and cheese, three types of sliders (pulled pork, lamb and beef) as well as numerous pizzas and sandwiches.
This is a great place that I highly recommend to anyone, in the neighborhood or not.
1,110 characters
Taproom No. 307 in New York, NY
Place rating:
3.87
out of
5
with
14
ratings