Eddie's Roadhouse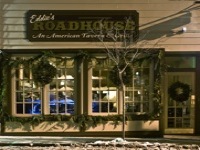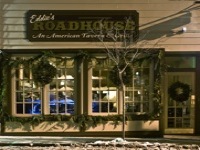 Bar, Eatery
18 Main St
Warwick
,
New York
, 10990-1333
United States
(845) 986-7623 |
map
eddiesroadhouse.com
Notes:
Recent ratings and reviews.
| Log in to view more ratings + sorting options.
Ratings by digitalflood:

More User Ratings:
Reviewed by beerbully from New Jersey
4.35
/5
rDev
-3.8%
vibe: 4.5 | quality: 4.5 | service: 4 | selection: 4.5 | food: 4.25
V-small little tavern with a few tables huddled around the bar

Q-food and beer were solid

S-took a while for the waiter to take our drink orders but once that happened the service was fine

S-tap list was solid with offerings from Hudson Valley, Grimm and other locals plus some Vermont beers Zero Gravity HF.......unfortunately the Hill Farmstead that was on tap list was kicked

F- had the Cuban sandwich which was very tasty and a good portion........could have used a few more French fries than were provided but especially since the fries were hand cut

Certainly worth another visit and would recommend to friends
Dec 30, 2017

Reviewed by MacMalt from New Jersey
4.25
/5
rDev
-6%
vibe: 4.25 | quality: 4.25 | service: 4.5 | selection: 4 | food: 4.25
This well-known establishment in downtown Warwick, NY is a fine tavern and grill featuring an excellent rotating selection of craft beers, including some of the finest in New York. The food is very good: well prepared and tasty. This is a favorite place to eat and drink whenever I'm in Warwick.
Dec 29, 2016
Reviewed by slander from New York
3.94
/5
rDev
-12.8%
vibe: 4 | quality: 4 | service: 4 | selection: 3.75 | food: 4
'cause we were in Chester at Rushing Duck, and I had never taken the jaunt down 94 towards the state line. The black dirt farms, and okay, past the hospital some, big intersection at West Street coming up, must be in here somewhere; this strip or that strip. Parked and hoofed it back up a half block. So, exactly not what I was expecting. This is a tiny clean, neat place. Somehow I was thinking of that movie with Patrick Swayze…

'L' shaped cut tree slab action topped bar, wood panel base, and brass foot rail. Seating for 14 on black leather wood chairs. Barback wall of brick with wood post uprights holding glass shelves singlewide & doublewide below and a bit more on the counter copper holding booze and glassware stacked to one side. Cupboardings below, most likely housing bottles and the like.

Beige walls rear and far, over wood panel lowers with black & white framed prints and others of wine. Tables adjacent to the bar and a few up front in the folding panel door windows over Main Street. Light brewery tins and art above the booze boards on the end posts listing beer dinners upcoming, and drink specials on a board to the rear. Wood slat floorings worn, drop thimble lamps tracing the bar, track lighting over the booze with colorful bramble blue leaves, balls of all colors, and stars.

Copper 'T' tower on the bar with 8 handles, a mix of local (SingleCut Kim Hibiscus Sour Lagrrr), regional (Jacks Abby Mass Rising, DogFish Head Namaste, and an early July appearance of Southern Tier Pumking), craft afar (Founders Devil Dancer, Double Trouble, & Pale Ale; the latter of the three on nitro), and import (Chimay Tripel). I drank the Jacks Abby Mass Rising (lovely) & SingleCut Kim Hibiscus Sour Lagrrr (I still don't like their attitude but this one isn't a bad beer). Plus nearly a dozen bottles; specialty stuff in mostly big bottle format but some not so (Brooklyn Black Ops & Local 2, Allagash Merveilleux, DogFish Head Urkontinent, Founders Backwards Bastard, Avery 21, Avery/Russian River Collaboration Not Litigation Ale, Bruery Oude Tart, Cascade Apricot, De Proef/Cigar City Tropical Tripel, Corsendonk Christmas 2012).

Bitty kitchen to the rear from wherest food happens. I did wings, 6 BBQ & 6 Ranch Jerk. Both were good and I didn't cry from the Jerk wings at all as far as you know. Witz did the steak frites, which were poutinesque. He said they were 'absurd but very good' and then followed up with 'delicious', as he does.

Service was good, bar girl was chipper. Nice breeze, lots of 90's music today (Peppers, Melon, U2, Nirvana). A nice little find in the corner of the county. Definitely NOT like the Road House in the movie where red necks come fuck you up. Diverse crowd; family friendly meets inked & pierced. Oh, Warwick.
Mar 09, 2015
Reviewed by Theogrondel from New York
4.88
/5
rDev
+8%
vibe: 5 | quality: 5 | service: 5 | selection: 4.5 | food: 5
Eddie's love of good food is matched by his love of fine beers. Add to the mix a wonderful staff and a great crowd and you have the makings of a perfect afternoon/evening. The place is admittedly small(-ish), but that only adds to the ambiance. There is never a disappointing item on the menu or the tap. I also welcome his decision not to have any TVs in the place; this ensures people interact rather than become hypnotized. All in all, this is my favorite hangout, bar none.
Aug 06, 2013
Reviewed by bceagles39 from Massachusetts
4.6
/5
rDev
+1.8%
vibe: 4.5 | quality: 5 | service: 5 | selection: 4 | food: 4
My wife and I stopped in for a few beers in the late afternoon on a Saturday, the place was quiet but started to fill up as dinnertime grew near. There is a long comfortable bar and great big windows that open to the main street. I don't recall there being televisions, this definitely did not have a sports-bar vibe.

We were very excited about the selection of craft brews on draft for this neck of the woods. They have eight taps, seven of which roate regularly (the only permanent is Chimay triple). There was a good spectrum of offerings, from NY (Blue Point, Ithaca, Captain Lawrence), west coast (Green Flash IPA, Left Hand Milk Stout) and other mainstream regional craft selections (Dogfish Head 90 Minute, Long Trail Coffee Stout). Unfortunately there were limited bottle selections (there is no published list, though there were some random gems in the cooler, some stuff from Victory and Southampton).

We sat at the bar and the service was excellent. The bartenders were very friendly without being invasive, they offered samples of any beers we wanted to dry and made sure our waters were kept filled. We didn't get the sense that the bartenders were exactly beer geeks but they knew the current offerings and service was generally made in proper glassware. Certainly no pretense here.

We were informed that they regularly hold beer dinners and so far have had at least Sierra Nevada and Dogfish Head in.

We got the wings which were great, big serving size and very meaty. The menu looked to be a bit limited, pretty straighforward American pub and comfort food, hopefully we will dine here at some point.
Jun 27, 2011
Reviewed by BeerNecks from New Jersey
5
/5
rDev
+10.6%
vibe: 5 | quality: 5 | service: 5 | selection: 5 | food: 5
It's easy to find a great craft beer here, because that's all they serve. Constantly changing the taps makes my visit better and better every time. Dogfish Head 90 Minute and Chimay are constantly pouring...it's about as dependable as your chances of finding tasteless watered down beer at most other places. One of the many delicious Rogue brews is typically flowing as well. I've had Chateau Dirtoir, Double Dead Guy, Shakespeare Stout, John John Dead Guy, and the sessionable Dead Guy of course.

Last night I attended the Dogfish Head beer dinner at The Roadhouse, which prompted this review. A phenomenal selection of six "occasional brews" including Sah'tea (first in the country to have it on draft according to DFH), Chateau Jiahu, Black & Blue, Hellhound, & Shelter Pale Ale, paired with one of the finest meals I have had in years. I learned all of the salad dressings and sauces were home made by Eddie and his signature Flat Iron Steak with chimmichurri & creamy gorgonzola dipping sauces was the best steak I have ever had.
May 19, 2011
Reviewed by pjt34122 from New Jersey
5
/5
rDev
+10.6%
vibe: 5 | quality: 5 | service: 5 | selection: 5 | food: 5
This place has an excellent selection of craft beers on tap and in bottles. Of the six taps, one usually has a Dogfish Head, last time I was in they had a two year aged World Wide Stout, Another is a Rogue, and the other four could have a range of products. The owners are very knowlegable of the beers on tap. While sampling the fine selctions, I have had long conversations about beer, with them. The food is always excellent quality and a well thought out menu. I had the wings one night and asked for the hottest and the were extremely hot... So be careful! The steaks are fine quality and very tasty.
Apr 21, 2011
Eddie's Roadhouse in Warwick, NY
Place rating:
4.52
out of
5
with
13
ratings