Muddy River Smokehouse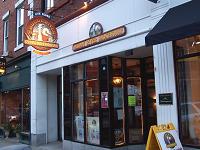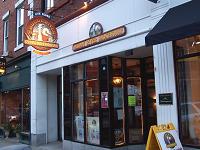 PLACE INFO
Type:
Bar, Eatery
21 Congress St
Portsmouth
,
New Hampshire
, 03801-4004
United States
(603) 430-9099
// CLOSED //
Notes:
No notes at this time.
Added by bewareOFpenguin
PLACE STATS
Reviews:

13

Ratings:

pDev:

18.31%
HISTOGRAM
View: Place Reviews
Ratings: 13 | Reviews: 13
Reviews by mltobin:

3.65
/5
rDev
+2.8%
vibe: 4 | quality: 3.5 | service: 3.5 | selection: 3.5 | food: 4.5
Located in downtown Portsmouth, New Hampshire is Muddy River.
From the outside, I expected a smaller place focused on take-out. I was surprised to see a long bar and all the tables in the back. There is quite a bit of bric-a-brac on the walls for the atmosphere. Service is above average from a nice hostess to a knowledgeable server. The selection of beer is good for a restaurant with a focus on beers from New England. Food is above average, very good BBQ. And the prices are fair, so if you are passing through or live in the area, this is a place that is well worth you while.
581 characters
More User Reviews:
2.65
/5
rDev
-25.4%
vibe: 3.5 | quality: 2 | service: 2.5 | selection: 3.5 | food: 2
Having been here before in the past and, reluctantly, passing over the Portsmouth Brewery, I was not impressed. I was happy to see a pretty decent selection of beer, include an extensive selection of Rogue, but they were out of Chocolate and Shakespeare stout. Had a couple pints of Dead Guy, so it wasn't a total loss. We came primarly for the ribs, which have always been great...not this time. Service was a little slow, especially since we were there when only a handful of table were occupied. Good fries though.
517 characters

3.53
/5
rDev
-0.6%
vibe: 3.5 | quality: 3.5 | service: 4 | selection: 3.5 | food: 2.5
Been meaning to come here for a long time and it wasn't worth it. The atmosphere was OK,alittle dark,but OK. The quality was good with a fare amount of beers and a big menu. Our waitress was very good and helped out our selection of food and beer. She even gave directions to another pub. The selection was pretty decent for a BBQ joint.Rouge chocolate stout,bitter,and Dead Guy Ale were on tap along with some New England micros. Not bad,but not the best either. The food was average at best. The ribs were overcooked,the beans average,and chicken was nothing special. They did have some very good beers,but the food isn't worth the trip and I suggest going to a local Mom and Pop BBQ joint along the coast.The fried pickles were the best thing on the menu.
758 characters

3.14
/5
rDev
-11.5%
vibe: 3 | quality: 3 | service: 3.5 | selection: 3
Our 5th and final stop on our Portsmouth pub crawl. After dinner at the Brewery, we wandered down the street and stopped in here. Went downstairs to check on the Saturday night live band (cover charge waived by the nice bouncer dude). Kinda not my style of music, so we head upstairs. Chilled at the bar for a bit. Not crowded at all, so I would not say that this is a happening spot for nightlife. Waitress was nice and came to check on us. Decent selection of taps. Maybe about 1/4 locals (Redhook, Tuckermans, etc). I finished my night with a Shipyard Brewer's Choice Brown. Not bad, but not what I was craving at that point in the evening. I ate in this place years ago (I remember the food was good) and it was an OK place to revisit. But I think I would prefer to come here looking for lunch/dinner and beers instead. As a stand-alone place to grab a beer at night, it's nothing too exciting.
898 characters

4.15
/5
rDev
+16.9%
vibe: 4 | quality: 4.5 | service: 4 | selection: 4 | food: 4
A great place to visit. Lively, noisy. I've eaten there many times, and the BBQ offerings are consistently good. My wife, not a BBQ fan, can always find something she likes. The portions are generous.
The main dining room is large and, as mentioned, noisy. The bar is a litlle more intimate and a little less noisy (but not much). Plus, there are two TVs in the bar for the sporting crowd. Unless we have kids with us, we try to sit in the bar area.
The beer selection is pretty good. 20 or so taps. New England micros and some macros primarily. Had a DFH 60 my last visit, which goes well with pulled pork.
Good food, decent beer selection. Try it.
653 characters
4.38
/5
rDev
+23.4%
vibe: 4.5 | quality: 4.5 | service: 4.5 | selection: 4 | food: 4.5
It's strange to see anyone slam this place. From the five or six times that I've been there, everything has been great.
The beer list has always included Red Hook, Portsmouth, and Shipyard offerings. There is always a Stout, IPA, Pale Ale, and often a Porter. With over 20 taps, I think the selection has to be considered at least "good".
Maybe some of the mixed reviews come from the fact that there are three distinct parts of the restaurant. You can eat upstairs at the bar. This cramped little area features tiny chairs and stools that make you feel like a giant. It's fun but gets a little crowded. The next section is the main dining area out back. It is decorated with cool trees and wood decking to create down south atmosphere. There are also stars painted on the cieling and lots of murals on the walls.
The third section is almost a completely different place. It's downstairs where the band plays. Nothing too exciting by way of furnishings or atmosphere, but the do get some decent talent to pack the house on weekends.
The food is very good and has won all sorts of Phantom Gourmet and Restaurant Magazine awards. No it's not Red Bones, but it's got to be one of the top five places in New England for barbeque. The pulled pork gets the highest raves from critics.
There are a lot of choices for good food in Portsmouth, but this is always a solid recomendation.
1,392 characters

3.38
/5
rDev
-4.8%
vibe: 3 | quality: 3.5 | service: 4 | selection: 2.5 | food: 4
I think my experience of the place was affected somewhat by the fact that I suffered through watching the Patriots lose a playoff game to the Broncos there... but I'll try not to let that cloud my judgement. Walking into the place, I had a hankering for some blackened catfish, and to my excitement, they had it on the menu. It was done exactly as I like it - spicy and crispy on the outside, but a thick cut of fish, so still juicy on the inside. Excellent mashed potatoes, too. I thought the beer selection was a tad thin - only ~20 beers - but I found a good local coffee porter that kept me entertained for the evening. I believe there's live music downstairs or in an adjacent room - we could hear a band playing, but didn't venture down. Sounded good, though. Had a plasma TV in the bar area - perfect for watching the (awful) game - though it would have been nice if they synched up the plasma TV with the other 2 TV's so we didn't keep hearing the outcome of plays before we saw them. Good experience overall - and the waitress was friendly and helpful.
1,061 characters
4.38
/5
rDev
+23.4%
vibe: 4 | quality: 4.5 | service: 4.5 | selection: 4 | food: 5
I wandered over here after getting a recommendation from a local cop (who said he ate a lot of BBQ, and this was THE place to go in New England). As it turned out, I dropped in on a Monday evening when Muddy River offers all the ribs you can eat for about $14.
I sat at the bar, which has an unusual low-boy configuration, but one which promotes comfort and makes interacting with the bartender exceptionally intimate by comparison to other tall-bar layouts.
The beer selection was pretty good, with varietals mostly matched to the BBQ menu (can't blame them for that). The partons that night were mostly the tequila shots and Bud Light crowd, which might explain the lack of micros (or the lack of micros might explain the crowd--hard to decide).
Anyhow, I ended up ordering the AYCE rib platter paired with a Smuttynose IPA. The combination really worked well. The beer was fresh, not overly chilled, and the slight apple notes/hard hoppiness in the IPA worked beautifully with the sweet/sour BBQ sauce on the meaty ribs. I had two IPAs and four servings of ribs and staggered out into the fading light of the evening sky. A very pleasant experience.
1,162 characters

2.35
/5
rDev
-33.8%
vibe: 3 | quality: 2 | service: 3 | selection: 2 | food: 2
I cannot believe the high scores for this place. Average BBQ place at best. They have about 20 taps and the selection on them was pretty lame. After reviewing all 20, I was so uninspired, I asked if they had bottled beer. I was told that they take their beer seriously but only draught beer. I got Smutty Shoals pale, Out of 20 this was the only somewhat craft beer and when you are in the town where it is made, extremely unimpressive. Maudite and Fin du Monde seem to be in many places around the neighborhood but they no have it here. I am downgrading my scores. I have been to this place at least 5-6 X in the last 4 or 5 years and it was never spectacular but I think it is going downhill by the day.
705 characters
4.05
/5
rDev
+14.1%
vibe: 4 | quality: 4 | service: 4 | selection: 4 | food: 4.5
Part of a one-extended-block stroll that makes for one of the quickest good pub crawls in the northern NE. (Upstairs at the Portsmouth brewery, downstairs at the Brewery, the Smoke House and the Coat of Arms, with Gaslight if you need pizza and Legends if you need pool.)
The Smoke House is one of the two places I know that has perfected the exquisite salty-fried crunch bar food known as deep fried pickles. And since I ain't sending you to Bangor for the other one, get 'em here.
You'd hardly know what kind of good beer list they have from their official website, but the upstairs bar will learn you quick. Plenty of NH local choices (Smuttynose and Red Hook predominate,) a smattering of New England (Shipyard a go-go,) and good European choices. Suffice it to say, every style you might want with a slab of ribs, or some cole slaw and corn bread.
They have a downstairs room that hosts some of the big names in touring blues units.
This is not to say that this is Redbones north. The only category I would put the Muddy above Redbones is atmosphere-if-you-want-style-and-class. It's very clean. It probably won't catch on fire anytime soon, like Redbones did.The pictures and memorabilia featuring the blues masters have been laminated right onto the bar rather than dangling them behind some plexi.
Just a damn good find for fans of pulled pork and quality ales.
1,385 characters
4.4
/5
rDev
+23.9%
vibe: 4 | quality: 4.5 | service: 4.5 | selection: 4.5 | food: 4
I have to agree with the Penguin. Drink at the Portsmouth Brewery, but eat at the Smoke House. Had a terrific fried Haddock sandwich with Red Bliss potato salad.
I love the feel of the place, especially sitting at the bar. You sit on low stools, and the bar staff is in a sunken bat. You are not perched on a stool, but sitting comfortably and looking right at the taps.
(Is it me, or do most bars put the PBRs, Coors and Buds to the extreme left of the tapline?)
Nice selection of local (Black Hook, Portsmouth, Smutty, etc.) and some other interesting stuff.
I will drive 45 minutes to have .lunch and a couple beers up here. (Again, there's a great antique and used book store -- Portsmouth Bookshop -- right around the corner, as well as the Brewery and the Red Hook alehosue not too far away (plus the British pub, maybe I should move here).
Oh, and all you can eat BBQ on Mondays.
901 characters

4.03
/5
rDev
+13.5%
vibe: 4 | quality: 3.5 | service: 4 | selection: 4.5 | food: 4.5
The Muddy River Smoke House is one of my favorite restaurants for barbecue, and certainly one of my top 3 restaurants in Portsmouth, NH. The food is quite good (try the deep fried pickle slices appetizer). As for the beers, they have a very decent selection, with 26 taps. Most of the beers are pretty standard offerings, but there are handful of better ones, incl several local brews (e.g., Redhook, Shipyard, Geary's, Smuttynose). There is a bar upstairs, leading into the restaurant section, and there is a bar downstairs where live musical acts perform. Overall this is a very good place to eat, drink, and be merry.
Review edited 3/09/03
645 characters
3.93
/5
rDev
+10.7%
vibe: 4 | quality: 4 | service: 3.5 | selection: 4 | food: 4.5
This is an excellent place to get barberque and beer in Portsmouth. Just around the corner from the Brewery, the food is much better. It is located in a basement, down a steep flight stairs. But don't let that prevent you from going. There is a high ceiling, and ample seating. There is entertainment on certain nights, usually of the Blues variety. There are several beers on tap, nothing really exoctic, but a lot refreshing. If you like that "southern" or "New Orleans" kind of feel, this is the place.
505 characters
Muddy River Smokehouse in Portsmouth, NH
Place rating:
3.55
out of
5
with
13
ratings