Knight Of The Garter
| Windsor & Eton Brewery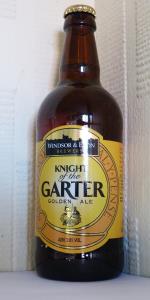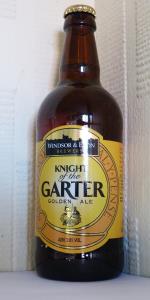 BEER INFO
Brewed by:
Windsor & Eton Brewery
England
,
United Kingdom
webrew.co.uk
Style:
English Pale Mild Ale
Alcohol by volume (ABV):
3.80%
Availability:
Year-round
Notes / Commercial Description:
No notes at this time.
Added by kojevergas on 10-04-2011
HISTOGRAM
Ratings: 14 | Reviews: 7
None found.
More User Reviews:

3.43
/5
rDev
-9.7%
look: 3.75 | smell: 3.75 | taste: 3.25 | feel: 3.5 | overall: 3.25

3.27
/5
rDev
-13.9%
look: 3.25 | smell: 3 | taste: 3.5 | feel: 3 | overall: 3.25
4.32
/5
rDev
+13.7%
look: 4 | smell: 4.5 | taste: 4.5 | feel: 4 | overall: 4
On cask at the Half Moon, Windlesham dispensed into a UK pint glass.
Pours a clear golden blonde colour with a small frothy white head.
Bitter floral hopped aroma - wonderful, this was freshly tapped and as good it gets !
Very well hopped for a 3.8% session beer in my opinion, all citrus notes - pineapple, orange, grapefruit showing up. A little sweet malt flavour also come into play.
Light in body, low in carbonation leaves you with a tangy but not too bitter aftertaste.
Another great beer from Wndsor & Eton, in the true 'session' mould. I'm very happy that they are one of my local breweries (7 miles away).
620 characters

3.53
/5
rDev
-7.1%
look: 4 | smell: 3.5 | taste: 3.5 | feel: 3.5 | overall: 3.5
Golden in colour. Thin but long lasting head. Gentle effervescence.
Dried grass and fresh silage aroma. Some citrus and light biscuit malt.
Not much flavour. Mild hop with a slight hint of malt..
Medium body. Quite soft.
No great shakes.
237 characters

3.46
/5
rDev
-8.9%
look: 2 | smell: 3.5 | taste: 4 | feel: 3 | overall: 3
Served from a cask into a pint glass in a pub in London. Reviewed from notes.
A: Pours a half finger head of nice white colour, milky lactic cream, and restrained thickness. Colour is a transparent gold.
Sm: Cream, full expressive barley, slight bittering hops, and pleasant golden grain. A very nice aroma. Moderate in strength.
T: Cream, a nice grain & barley foundation (one of the most refreshing I've had), and a milky undercurrent that surfaces on the climax, recoiling bitterly on the finish. It's simple but light and refreshing. Built well for its aims, and pretty balanced.
Mf: Smooth and wet. Not too thick; maybe a bit thin. Complements the flavours of the body. Crisp.
Dr: Very drinkable, but borderline watery. The low ABV is intentional, meant to allow it to be more refreshing. It's priced typically by London standards. Overall, I think it'd be far better on-draught; casking lends itself to that awful watery character that holds it back.
966 characters

3.98
/5
rDev
+4.7%
look: 4 | smell: 3.5 | taste: 4 | feel: 4 | overall: 4.5
On cask at The Anglers, Walton-on-Thames, England.
Creamy white (sparkler?) meringue head that rings over honey gold body. Lychee and golden crunch biscuit nose.
Husky grain gets two seconds before getting bum rushed by lemon rind and Seville marmalade hops.
Lightly lemon curd finish and dry linger. Smooth, light, round and creamy.
Hops are for real! A great blonde summer quencher. Windsor & Eton win again.
414 characters

3.75
/5
rDev
-1.3%
look: 3.75 | smell: 3.75 | taste: 3.75 | feel: 3.75 | overall: 3.75
4.33
/5
rDev
+13.9%
look: 4.5 | smell: 4 | taste: 4.5 | feel: 4 | overall: 4.5
Poured from a 500ml bottle into a pint glass.
Pours a clear reddy gold colour with only a small head. It looks delicious though.
Smells quite hoppy and refreshing - flowery and grassy, like summer in a glass really.
Tastes citrusy and sweet, again quite hoppy but nicely balanced, with a hint of almost honey like sweetness in there. A faint bitter kick on the finish.
Overall a lovely beer, as well as low in abv and drinkable, always a plus in my book.
459 characters

4.3
/5
rDev
+13.2%
look: 4 | smell: 4 | taste: 4.5 | feel: 4 | overall: 4.5
Handpump halfpint at The Albany.
A: Clear very pale amber body; the head is thin and white, and clumps up into sticky patches; nice lace. Solid - that clumpy foam on a real ale always seems to adumbrate delicious hoppiness.
S: Light and lively: snappy citrus hops (I knew it!) are dominant, with some slight breadiness underneath. Clean and pleasant.
T: Follows the nose: delicate interplay of pale malt and bright, grapefruity hops, with some floral honey as well. Clean, citrusy, bitter finish. Hugely refreshing.
M: Substantial but far from heavy, and moderately carbonated; a bit prickly for a cask pour, but I like it.
O: Great beer; it definitely makes me want to try more from this brewery - one I'd never heard of before. I ordered the beer mainly because I liked its name: honi soit qui mal y pense!
Cheers!
822 characters

4.08
/5
rDev
+7.4%
look: 3.75 | smell: 3.75 | taste: 4.25 | feel: 4 | overall: 4.25
From bottle.
Pale gold. Very clear. Single spiral of bubbles. Thin, pale head recedes to patchy cap.
Citrus...but delicate. This is not an APA at all. Good use of American hops to lift a traditional English style.
Solid malt base complemented by a good measure of citrus hops. Tastes more hoppy than it smells. Low level of bitterness.
Light to medium body. A little carbonation helps lift the body and saves it from being watery. The finish is a bit thin but overall this beer is very refreshing.
At sub 4% ABV this is a remarkable session beer for pub or bbq. Very impressed with the quality of beers produced by this small brewery.
639 characters
3.44
/5
rDev
-9.5%
look: 3.5 | smell: 3.25 | taste: 3.5 | feel: 3.5 | overall: 3.5
Knight Of The Garter from Windsor & Eton Brewery
Beer rating:
3.8
out of
5
with
14
ratings