Republika
| Windsor & Eton Brewery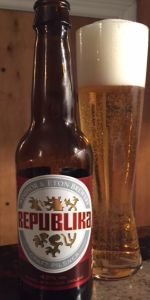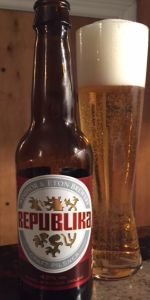 BEER INFO
Brewed by:
Windsor & Eton Brewery
England
,
United Kingdom
webrew.co.uk
Style:
Bohemian Pilsener
Alcohol by volume (ABV):
4.80%
Availability:
Year-round
Notes / Commercial Description:
No notes at this time.
Added by Ruds on 01-15-2012
HISTOGRAM
Ratings: 11 | Reviews: 9
Reviews by Sigmund:
3.79
/5
rDev 0%
look: 3.75 | smell: 3.5 | taste: 4 | feel: 3.75 | overall: 3.75
Halfpint (keg) at JDW, The Flying Horse, London Gatwick Airport. Golden colour, moderate white head. Moderate aroma, a hint of hops. Distinctly hoppy flavour, with a well balanced bitterness throughout. A good pilsener.
219 characters
More User Reviews:
3.33
/5
rDev
-12.1%
look: 3.5 | smell: 3 | taste: 3.5 | feel: 3.5 | overall: 3.25
L- Mid amber, pours with a 1Cm white head which holds well.
S- Thought I got a strong waft during pouring, so surprised to get little striking up close. Smells nice enough overall, but not anything meriting special mention.
T- That's nice, it has it's own profile going on and I like it. It's one of those beers that if it were a regular of yours you'd clearly know it even blind tasted.
F- It has the richness you expect to come parallel with a 4.8%.
O- Nice. Would buy this again; probably works better in hotter weather, then chilled down to 'Best served cold' stated on it's lable. I could have chilled this one a touch more, but it's refreshing either way.
Bought from Waitrose, Windsor. BBE 2Apr19
709 characters

3.85
/5
rDev
+1.6%
look: 3.5 | smell: 3.5 | taste: 4 | feel: 4 | overall: 4
A 330ml bottle with a BB of July 2012, so it's just out of date. Purchased a while back from a webshop. I've heard good things about this brew - looking forward to it.
Poured into a straight pint glass. A clear light-gold colour with fine carbonation. Forms a nice head of creamy white foam that lasts for a minute or two before subsiding. Aroma of light malt with notes of spicy, floral noble hops and hints of subtle yeast and stewed hops.
Tastes of light malt with a crisp bitter finish. Notes of peppery noble hop aroma, yeast and stewed hops. Dry and well-attenuated, with a subtle spiciness and a prickly bitterness upon swallowing. Mouthfeel is light, crisp and spritzy - perfect. Mildly astringent. Aftertaste of bitter hops and faint yeast.
Tasty - this has got to be one of the best UK-brewed lagers I've tried. Lovely balance, with good aromatic hop flavours and solid bitterness that doesn't overwhelm. Lagers are attempted only infrequently over here, and a good result is rarer still. Well worth sampling.
1,022 characters

3.7
/5
rDev
-2.4%
look: 3.25 | smell: 3.75 | taste: 3.75 | feel: 3.5 | overall: 3.75
4.42
/5
rDev
+16.6%
look: 4 | smell: 4.5 | taste: 4.5 | feel: 4 | overall: 4.5
Poured from a brown 330ml bottle into a 0.3l handled glass
Pale blonde in colour with a small frothy white head and plenty of carbonation in the glass
Saaz hops, Czech yeast and Pilsner malts, fermented for 2 weeks before 6 weeks 'lagering'
Grassy/Hoppy to the nose, perhaps with a hint of citrus
Great tasting lager, toasted Czech malts, straw, medium sweet flavour, light spice and I get a hint of honey in the aftertaste
Very crisp and refreshing!
Good body to this lager and a crisp dry bitter finish, they really have done their homework and made a great first effort at producing a Czech pils!
Will be stocking up on these for the summer BBQ season (if we get one!)
679 characters
3.92
/5
rDev
+3.4%
look: 4 | smell: 4.5 | taste: 3.5 | feel: 4 | overall: 4
Thanks to Ruds for this one.
Poured from a 330ml. bottle, best before 18 Jul 12.
Appearance: A clear, pale gold body with lots of tiny bubbles racing upwards. 3 finger head that goes to a thin ring with average lacing.
Smell: Lemon, nice lager aroma with citrus fruit, a bit of dough and a herbal quality.
Taste: Earth hops, Saaz really shines with some fruit.
Mouthfeel: Really crisp, good carbonation and a real good bitterness.
Overall: A well made and refreshing lager.
479 characters
4.06
/5
rDev
+7.1%
look: 3.5 | smell: 3.75 | taste: 4.25 | feel: 4 | overall: 4.25
330ml bottle bought from Ales By Mail
Poured a pale straw yellow colour... slightly off white head poured quite loose and frothy then faded fairly quickly to almost nothing... only the faintest trace of carbonation... some light lacing...
Aroma - Good citrusy and grassy hops to the fore, sweet biscuity and grainy malts, quite peppery, some marzipan notes, juicy fruits (lemons, grapefruits, pears and light mangoes), floral honey, cut wet grass and hay, faint caramel...
Taste - Good blast of earthy, citrusy and peppery hop bitterness, spicy juicy fruits (grapefruits, sour apples, pears), light biscuity malts, some sweet floral honey, grassy, sweet grains, lightly perfumed, quite herbal, some saltiness, light traces of chalk...
Feel - Quite sharp and dry... Light body... An extremely quaffable and sessionable pilsener...
Overall - An excellent example of a Pilsener - as good as i've had... recommended..
918 characters

3.68
/5
rDev
-2.9%
look: 3.5 | smell: 3 | taste: 4 | feel: 3.5 | overall: 4
The colour is gold (7 EBC), the two finger head is compact and off-white. Fine lacing occurs when the head sinks down.
The smell got some dry minerals (chalk). It is a little unclean and rather sweet. Margarine and flowers. Smooth mild bitterness, too mild I think.
The taste is sweet-bitter with some buttery flavours. It is fresh with elegant malt flavours and some fresh flowers. Clean bitter notes, smooth yet growing. The malt becomes a bit biscuit-y in an English way. Light body. The light aftertaste got minerals, green plants/flowers and Saaz hop notes of herbs and earth. Tree sap in the finish as well as a smooth bitterness.
The carbonation is strong, yet the small bubbles are short lived. The liquid is light.
A pleasant Pilsener that focuses more on the fine malts than the Czech hops, giving it some complexity. Not bad at all.
849 characters
4.15
/5
rDev
+9.5%
look: 4.5 | smell: 4.5 | taste: 4 | feel: 4 | overall: 4
Poured from a 330ml bottle into a pint glass.
Pours the loveliest deep but not dark golden colour. Minimal head and lacing.
Smells lovely too, malty yet refreshing. A hint of yeast as well.
Tastes very refreshing yet wholesome. Rather thicker than a regular macro-lager, but full of malty tasty wonderful-ness, delicately balanced by a citrusy hoppiness and a lip smacking hop bitterness on the finish.
Overall a lovely beer, I wish I had more!
448 characters

3.75
/5
rDev
-1.1%
look: 4.25 | smell: 3.5 | taste: 3.75 | feel: 4 | overall: 3.75
L: Pale gold. Three finger, soapy head with excellent staying power. Lots of chunky lacing. Masses of carbonation that slows after a couple of minutes.
S & T: Sweet grains. Grassy. Clean.
F: Soft mouthfeel. Moderate carbonation. Dry, hoppy finish. Eminently drinkable. Smooth.
O: This is an excellent representation of the type. Would be interesting to blind taste it with 3-4 examples of genuine Czech pilsners and lagers. Something for a Friday night this summer.
468 characters
Republika from Windsor & Eton Brewery
Beer rating:
3.79
out of
5
with
11
ratings