Naale Stoutbeer
| Tangshan Jinbaili Brewery (Beijing Naale)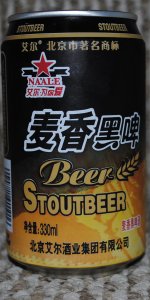 BEER INFO
Brewed by:
Tangshan Jinbaili Brewery (Beijing Naale)
China
Style:
English Stout
Alcohol by volume (ABV):
not listed
Availability:
Year-round
Notes / Commercial Description:
No notes at this time.
Added by flagmantho on 04-28-2011
Reviews: 4 | Ratings: 8
Reviews by beertunes:
2.89
/5
rDev
-7.1%
look: 2.5 | smell: 2.75 | taste: 3 | feel: 2.75 | overall: 3
Thank you to my friend Tom for getting this one in China for me. Pull tab can!!! Hells yeah pull tabs! I miss pull tabs! Sadly the pull tab was the highlight of this brew. Poured into 10oz goblet. Poured a translucent light black, I've had darker Porters. There was just a very light head that had no retention or lacing.
Other than some very soft maltiness, the aroma was very neutral, it didn't smell like anything. Again, the beer was bland and featureless. Other than some malt and sweetness, nothing.
The body was thin, but OK. Drinkability was OK, but nothing that I'd seek out. On the other hand, if I were in China, I'd probably be pretty happy that the comrades gave me any choice. Hey look, a hundred bajillionleventy Chinese dudes can't be all wrong, can they?
773 characters
More User Reviews:

3.57
/5
rDev
+14.8%
look: 3 | smell: 3.5 | taste: 3.5 | feel: 3.5 | overall: 4
A friend of mine brought me back a 500mL can of this from China a few days ago. Poured from the can into a pint glass.
Appearance: very dark brown with a crystal clear body and a thin tan head which dissipated quickly. Not what I think of when I think of a stout, really, but overall not too bad an appearance.
Smell: light aroma of a dry stout or a nut brown ale. Some nice nuttiness with a tiny hint of coffeelike roast and absolutely no hops. Again, not bad.
Taste: not particularly stouty, but interesting. It's got hints of maybe a baltic porter with a light nuttiness continuing from the aroma. There's a fruitiness here which I quite like, but it's bordering on the artificial in its quality. I'm not saying that there's anything necessarily artificial here, but it just doesn't seem to taste quite ... natural. Still, not bad.
Mouthfeel: pretty light in body with a decent level of carbonation. I'd say it is a bit light for a stout, but I'm not sure really that this beer *is* a stout. I think the light tingliness of the texture complements the lightly fruity aspects of the flavor quite well.
Drinkability: oddly quite drinkable. I would actually quaff a couple cans of this if given the chance.
1,222 characters
2.96
/5
rDev
-4.8%
look: 3.5 | smell: 2.5 | taste: 3 | feel: 2.5 | overall: 3.5
Pours dark brown with decent amount of tan to cream colored head. About an inch on an aggressive pour. Head retention is okay. The smell is a bit faint, a bit of roasted malt, maybe a whiff of chocolate in there.
The taste is pretty thin. A little malty, but the carbonation masks what little is there. Tastes more like a dark lager than a stout.
Overall, not great, but if you're drinking this, you're probably in China, where your options are generally not great. This stuff is widely available and is a better option than most of the other domestics.
556 characters
4.93
/5
rDev
+58.5%
look: 4.75 | smell: 4.75 | taste: 5 | feel: 5 | overall: 5

2.88
/5
rDev
-7.4%
look: 3 | smell: 2.5 | taste: 3 | feel: 3 | overall: 3
Naale stout exits the pull-tab can a dark chocolate brown with a small settled head above. The aroma has thin chocolaty notes but little else. The palate is also thin and carbonated. Very little flavor to speak of beyond the diluted one-horse chocolate train. Not very distinct with little resemblance to a stout. The beer goes down easy enough, though.
353 characters

Naale Stoutbeer from Tangshan Jinbaili Brewery (Beijing Naale)
3.11
out of
5
based on
8
ratings.